Samsung Galaxy A3 (2016) review: triple-A battery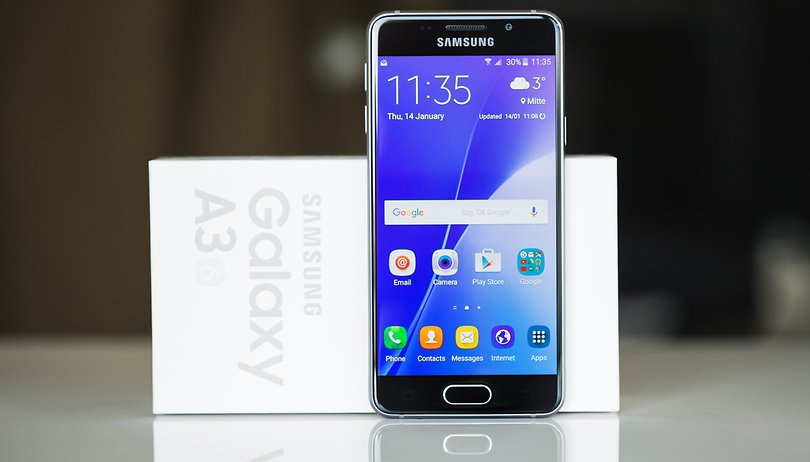 Good
Design

Battery life

MicroSD support
Samsung Galaxy A3 (2016) release date and price
The Galaxy A3 (2016) sits in the middle of the 2016 Galaxy range, between the expensive S devices and budget lineups. The A series is touted as the successor to the S5 Mini, although the A3 (2016) is closer in size to the Galaxy Alpha (although it is cheaper and slower).
The Galaxy A3 is not yet available in the US, but its price in Europe equates to around US$300, which is close to the previous A3's asking price and considerably cheaper that the S5 Mini and Galaxy Alpha. Other phones in this price range include the OnePlus X and the Moto G (2015).
Samsung Galaxy A3 (2016) design and build quality
The Galaxy A3 (2016) is an improvement on the A3 (2015) both inside and out. Its design is a feast for the eyes, with an aluminum frame and resistant Gorilla Glass 4 on the front and back, both strongly reminiscent of its big brother, the Galaxy S6.
The metal frame is susceptible to nicks and dings, but otherwise the build quality is very solid.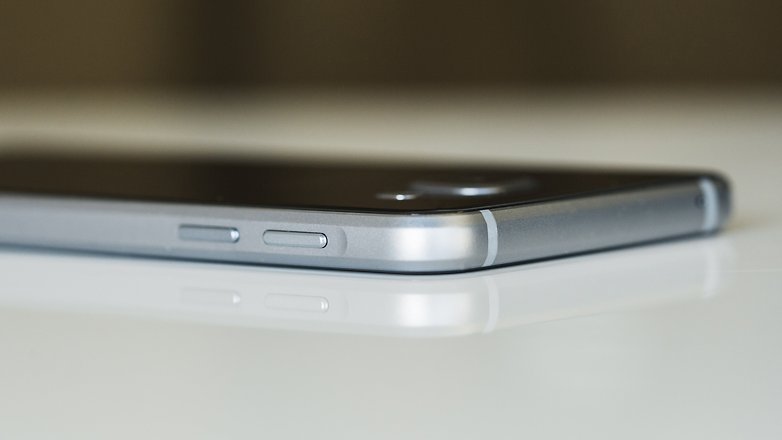 The metal frame suffered its first scratches early on during our multi-day test. While it can handle small accidents without serious damage, every knock seems to leave a mark.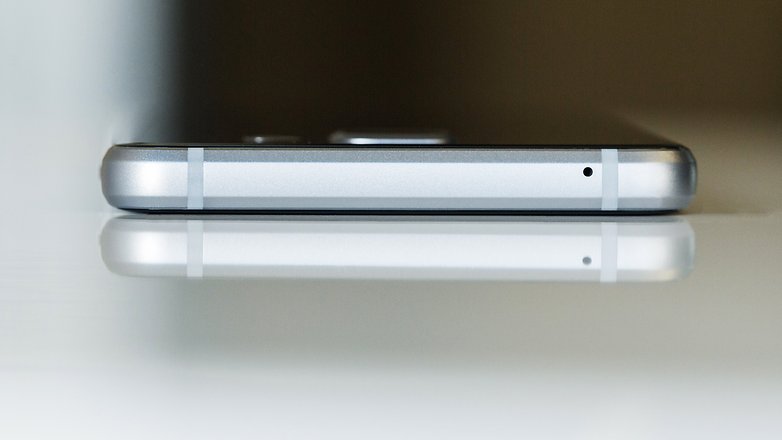 The curved glass edges (2.5D glass) on the front and back transition very smoothly over into the frame. The lightweight 132 g, 4.7-inch housing is very comfortable to hold. Unfortunately, the smooth edges mean that the Galaxy A3 (2016) is prone to sliding out of your grasp and onto the floor.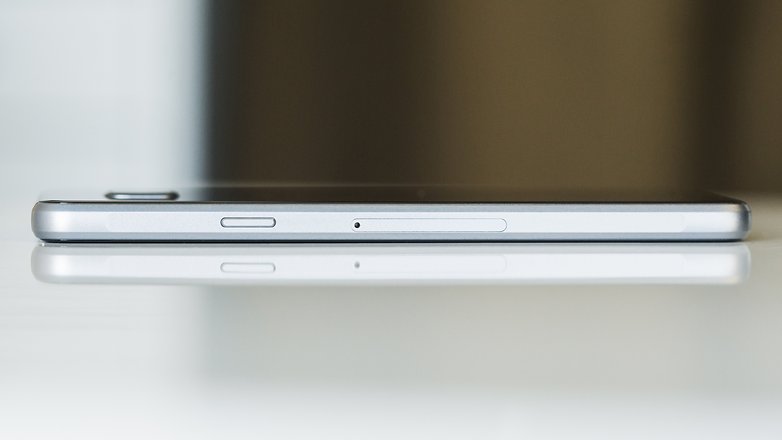 The volume rockers and power button are made of aluminum. They are placed a bit too high up the side of the phone for my taste; they're difficult to reach when you hold the phone in your right hand, supported by your pinkie.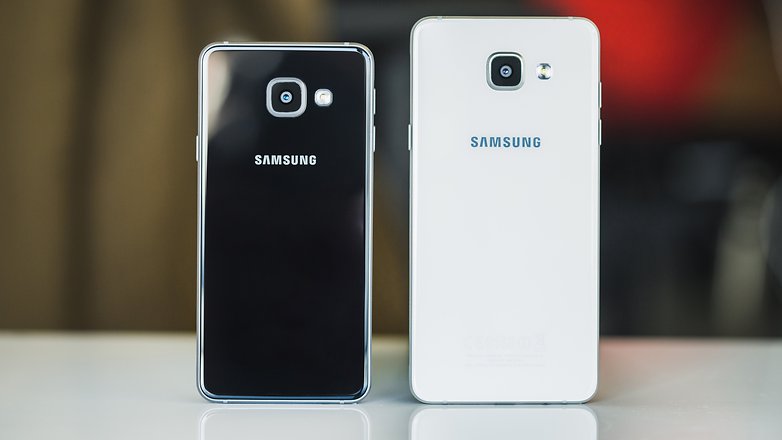 The Galaxy A3 (2016) is available in black and white as well as gold and pink. You can find images of the different color options in the Samsung Shop.
Samsung Galaxy A3 (2016) display
The Galaxy A3 (2016)'s display has an excellent range of contrast, which provides rich colors. The brightness is widely adjustable, making the display suitable for use in any everyday situation, whether that's outside in the sun or reading in bed at night.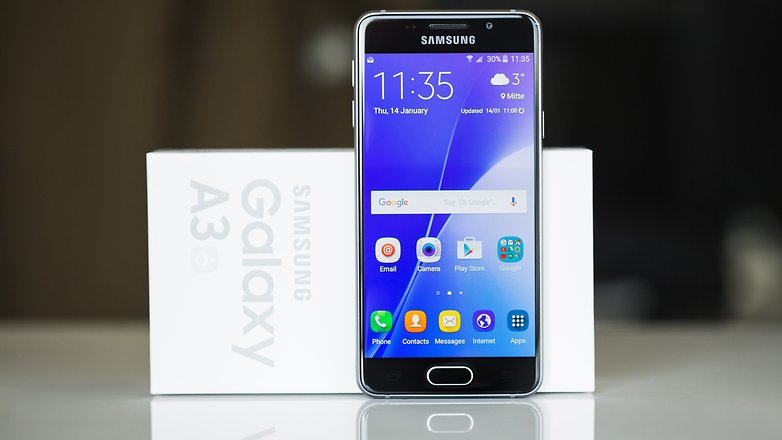 The A3 has a 4.71-inch (11.95 cm) wide Super AMOLED HD (1,280 x 720 pixels) display. Upon very close inspection, you can make out individual pixels, but not so much that it affects the legibility of small fonts.
Samsung Galaxy A3 (2016) software
Samsung has made cutbacks to the number of preloaded apps it puts on its phones. This is welcome news because it means the software is now very lean and fast, theoretically facilitating the delivery of faster updates and ensuring increased security against unauthorized access.
The device we evaluated was the German model, A310F, running Android 5.1.1 Lollipop (Build LMY47X). Samsung's TouchWiz user interface comprises a launcher, Samsung's usual set of notification sounds and a theme engine, which allows a certain degree of customization.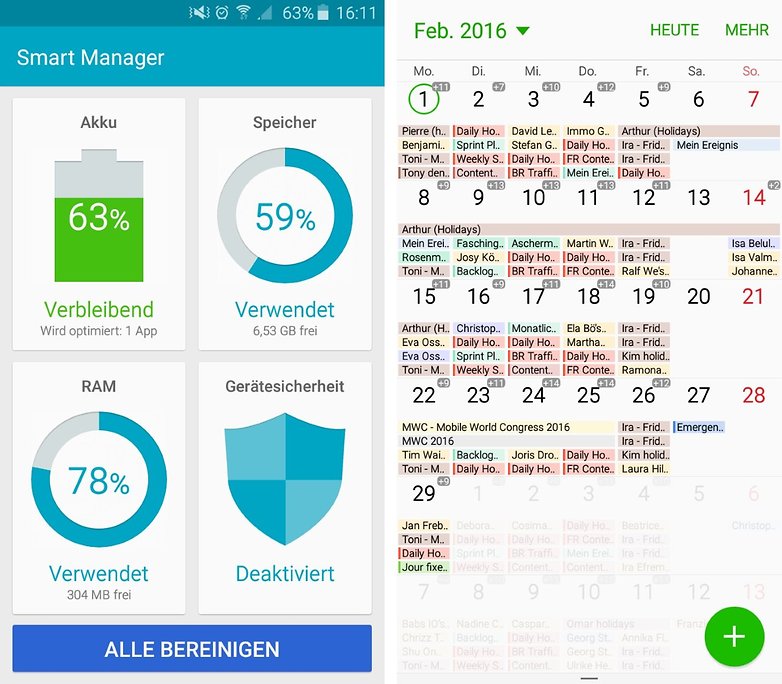 The list of unremovable apps has become pleasingly short. In addition to the usual Google Apps, there are a number of Microsoft apps (Excel, OneDrive, OneNote, PowerPoint, Skype, Word) and the following Samsung Apps:
Dictaphone
Own files
Memo (note app)
Galaxy Apps (App Store)
Gallery
Camera
Messages
Radio
S Planner (calendar)
S Voice (voice control)
Smart Manager (optimization)
Clock
The TouchWiz user interface offers some advantages over Google's bare bones stock Android: the Quick Settings are easier to customize and small counters appear at the corner of the app icons when there are unread messages or notifications (a feature that will be familiar to iPhone users).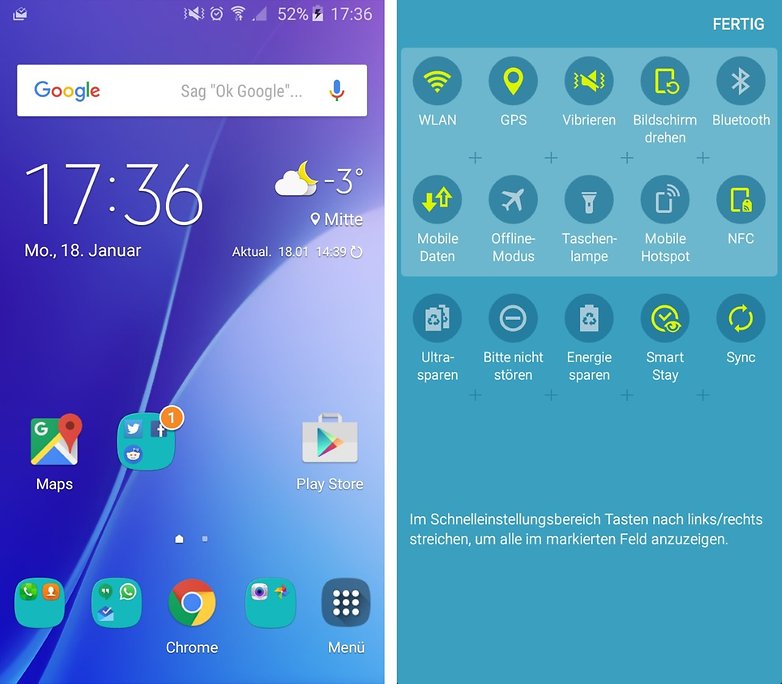 Samsung Galaxy A3 (2016) performance
Samsung has equipped the Galaxy A3 (2016) with its own quad-core Exynos 7578 processor. It is clocked at 1.5 GHz and draws on 1.5 GB of RAM. When multitasking between Chrome, Facebook, WhatsApp and Twitter, loading times quickly started to drop off.
In our benchmarks, the Galaxy A3 (2016) left a lot to be desired. In practice, app load times are occasionally noticeable, and from time to time an app will crash when you open it a second time.
| | Vellamo Metal 3.2.3 | Vellamo Multicore 3.2.3 | AnTuTu 6.0.1 | Geekbench 3.3.2 single core | Geekbench 3.3.2 multi core | Basemark X Medium | Basemark X High | |
| --- | --- | --- | --- | --- | --- | --- | --- | --- |
| Samsung Galaxy A3 | 1024 | 1585 | 35735 | 683 | 2030 | 9169 | 3965 | |
| OnePlus X | 1546 | 1743 | 47818 | 910 | 2390 | 20207 | 11746 | |
Neither gamers nor the generally impatient are going to be thrilled with the Galaxy A3. In this price bracket, you're probably better off with the OnePlus X, which, despite bearing older innards, works much faster.
The 16 GB of internal memory is quickly filled up once you've installed most of your essential apps too, but you'll have enough space left over for about 3,000 photos. If you need more room, manufacturer-specified microSD cards up to 128 GB are supported.
Samsung Galaxy A3 (2016) audio
The internal speaker offers solid sound quality, with clear mids ensuring you can hear voices in a call well. The supplied headset has a button for answer/end call or play/pause and a volume rocker. The in-ear speakers are supplied with one set of buds, which work well so long as they fit your ears.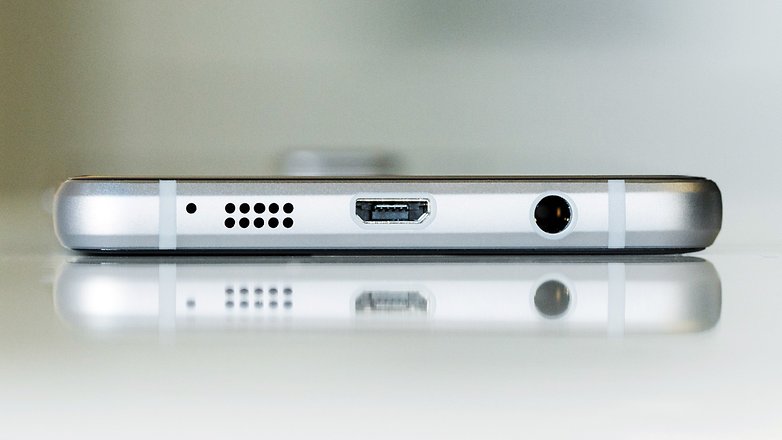 Samsung also provides the Galaxy A3 (2016) with a software equalizer. The SoundAlive equalizer has additional optimizations called SoundAlive+ and a tube amp effect placed in the audio options to the side when you connect the headset.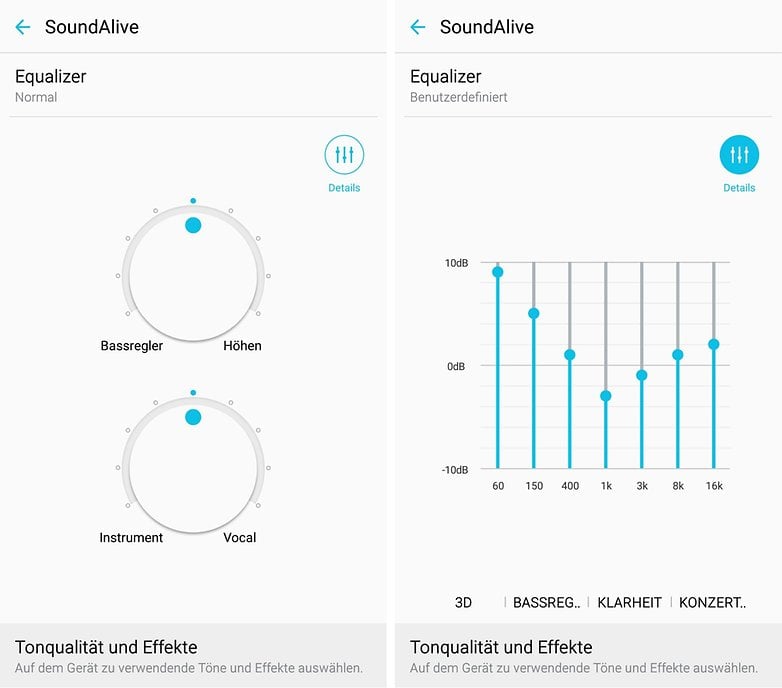 Samsung Galaxy A3 (2016) camera
Unfortunately, the Galaxy A3 (2016) camera is a disappointment. Quick snapshots only really work under very strong lighting and when taken with a steady hand. When indoors, the focus rarely works fast enough to achieve anythng but blurry photos.
It is possible to take sporadically beautiful shots with the A3, as long as you have plenty of light and something to rest your arm on.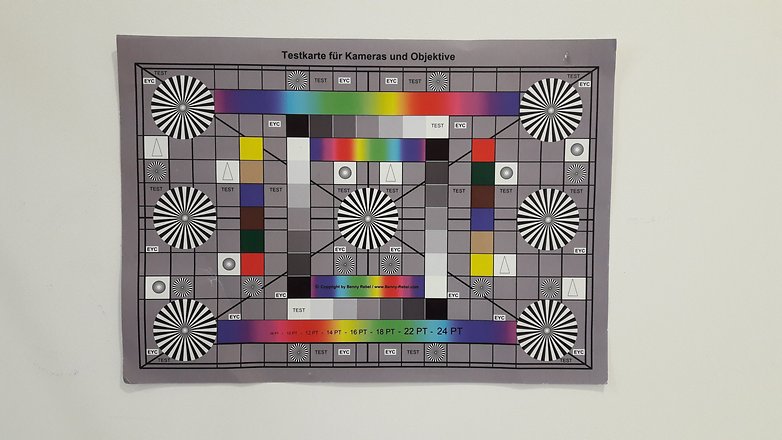 The main camera is 13 MP when used in 4:3 format or 10 MP in 16.9 format and has an F1.9 aperture. The front-facing camera is 5 MP and has a F1.9 aperture. A double tap of the physical home button triggers the camera quick launch.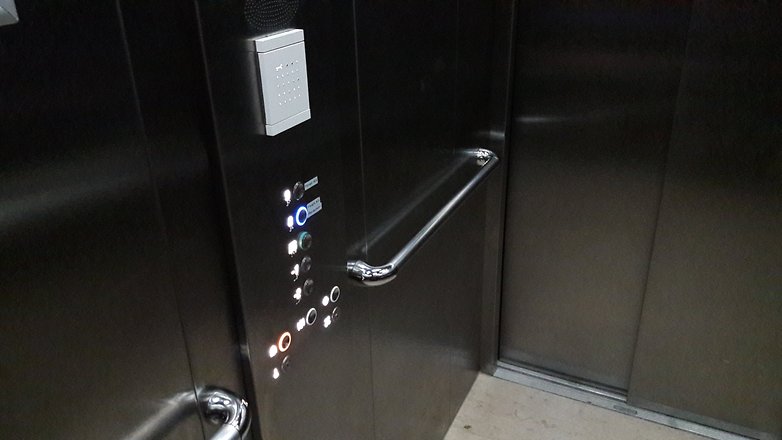 When it comes to cameras, good alternatives in this price range would be the Moto G (2015) or even the LG G3. The latter is an aging high-end device and also features a replaceable battery.
Samsung Galaxy A3 (2016) battery
The battery life is an outstanding strength of the Samsung Galaxy A3 (2016). You can get about two days of use out of it and it seems well equipped to deal well with heavy use. Integrated energy-saving features also afford you great control over which apps are disabled in standby mode.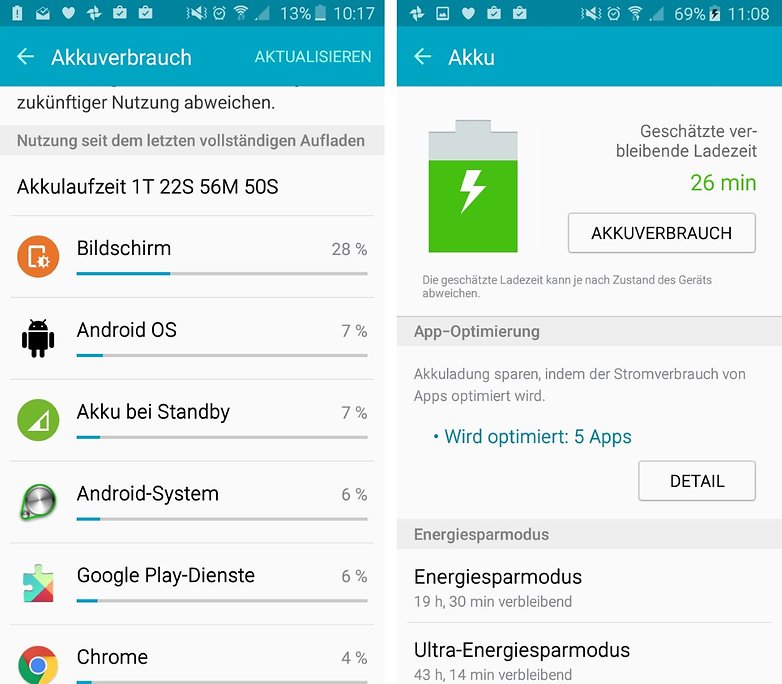 With 13 hours of screen-on battery life, the Galaxy A3 is a genuine long-distance runner. Quick charge and wireless charging are, unfortunately, not on offer, but the battery can still be fully charged in under 90 minutes.
The battery is 2,300 mAh and cannot be swapped out. It is charged via a micro USB port and an appropriate USB cable and power supply are included.
Samsung Galaxy A3 (2016) technical specifications
Final verdict
The new Samsung Galaxy A3 (2016) is not as big a disappointment as the old A3 (2015) but it's not as impressive as the Galaxy S5 Mini was, either. The performance is not outstanding, but it is adequate for the price. Its shortcomings are, however, offset to a degree by its strong battery life. The storage space on offer is probably not enough for many users, but Samsung has been so kind as to include a microSD card slot, so this isn't of such great concern.
The camera is not as convincing as that of the Galaxy S5 Mini. Since the S5 Mini was a hit off the back of its strong camera and replaceable battery, it would be a mistake to deem the A3 a worthy heir to that throne.
So, let's consider some alternatives. If you're looking for a cheap smartphone that's going to take great pictures, you should pick up the Moto G (2015). If you want something that's going to perform better when it comes to games and multitasking, the OnePlus X is perhaps your best option.