Poll results: How much storage do you need for your smartphone?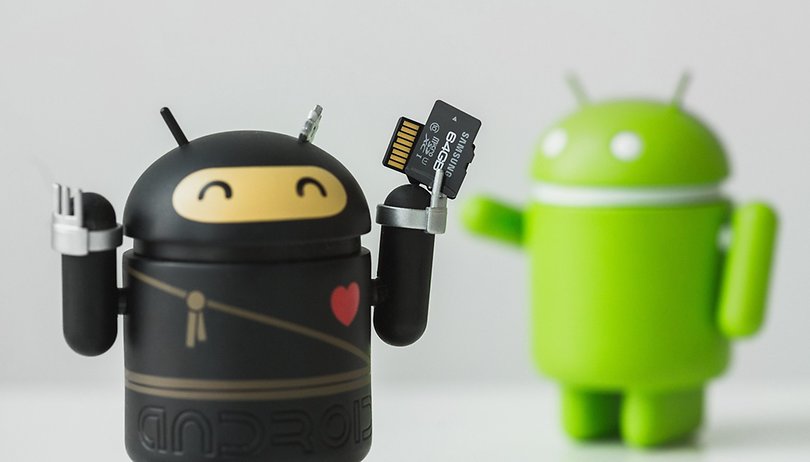 While it may not be the first thing to cross your mind when evaluating which smartphone to buy, storage capacity is one spec that can make or break a user's smartphone experience. In our poll last week, we asked what you consider to be the minimum storage amount you'll accept in a smartphone. Here are the results.
Smartphone users require more and more storage with each passing year thanks to system updates, photos, videos and other files increasing in both size and quantity. Once you get down to just a few GB left, you'll find yourself hesitating to download new apps and take new photos, and constantly trying to find old ones to get rid of to make space. Lack of storage space can turn an otherwise great phone into a nightmare.
In our poll last week, we asked what your minimum storage requirements are, and the top result, with 40 percent of the vote, was 64 GB. That seems to be just right for most users. 128 GB was the second most popular choice with 21 percent of the vote, leaving the smaller end of the storage spectrum decisively in the dust, finally. Let's hope manufacturers take notice of that! 32 GB and 16 GB are hardly contenders anymore, with just 12 and 3 percent of the vote, respectively. 256 GB is still off most people's minds, for now, with only 10 percent saying this is their desired minimum storage amount.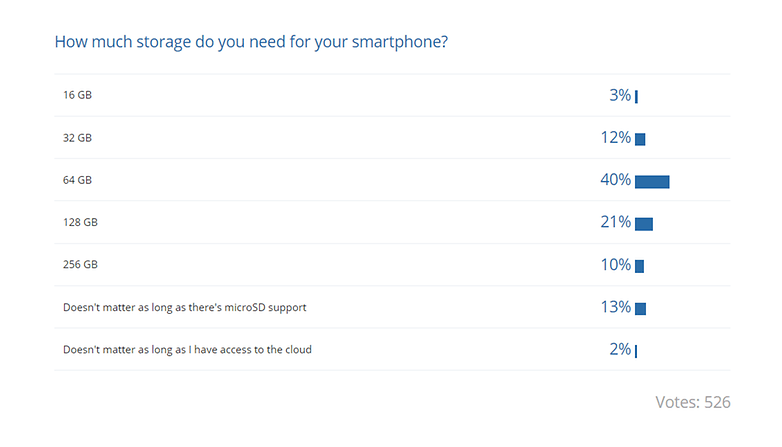 It's not just about internal storage, though. 13 percent of voters said that the amount of internal storage didn't matter to them as long as the smartphone has microSD support. Cloud storage hasn't quite caught on as a favored, reliable storage method, with only 2 percent of voters saying it matters more to them than internal storage.
The comments reveal that users often use a combination of internal storage, microSD cards and cloud services for all their storage needs. Each has their own advantages and disadvantages, of course.
Buying a phone with more internal storage can cost significantly more. Cloud storage sometimes isn't accessible, with mobile data dead zones and the near-extinction of reasonable unlimited data plans. Even microSD cards have their downsides, despite offering a ton of storage space for relatively little money compared to what the equivalent internal storage would cost.
One commenter, BHO, had plenty of storage with a 16 GB Honor 7 with a 32 GB SD card and cloud storage, however, it was too much of a pain to manually move apps after each update, which ruined the experience. BHO has since upgraded to a 128 GB Huawei Mate 10 Pro and is much happier. Still, several users said they wouldn't consider buying a device without microSD card compatibility.
Do you agree with the results? Should 64 GB be the bare minimum for internal storage on new smartphones from now on? Let us know what you think in the comments.