This new app is designed to make mobile data faster on any Android smartphone
Nothing is ever fast enough. Your car, your computer, your mobile data. But Shoelace Wireless has a plan to improve mobile data speeds on any Android phone with an impressive-sounding new app which combines a phone's Wi-Fi and cellphone downloads. NEXTPITTV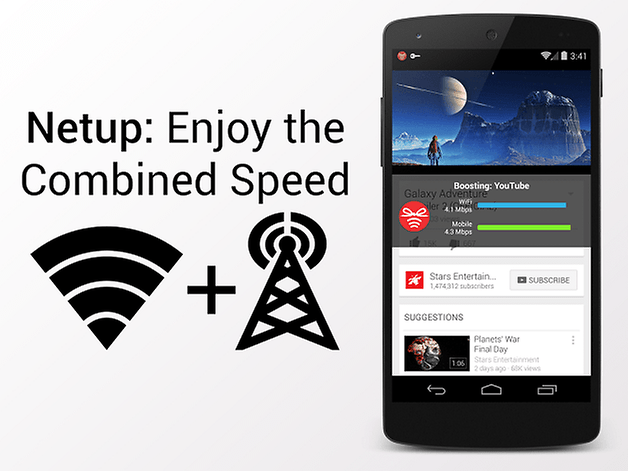 The Californian startup company is currently seeking a 20,000 USD investment to bring to life Netup, an app that it is claiming is the "world's first Android app that speeds up mobile internet by combining Wi-Fi and celluar networks".
The idea is that by combining the collective powers of Wi-Fi and mobile data, Netup will provide a faster and more stable internet connection. It's a concept which will no doubt be familiar to a number of Samsung device owners, given the Download Booster function it provides on its latest handsets, and also of OPByte's Super Download app.
Shoelace Wireless co-founder Anh Le is well aware of these services, telling AndroidPIT: "Both Super Download and Download Booster allow the use of Wi-Fi and cellular simultaneously. But they have very limited functionalities: they do not support all traffic, they do not support you favorite apps. Netup does."
The other striking thing Netup has to offer over other so-called "Wi-Fi boosting" apps found in the Play Store is that it does not require root. You will simply install the Netup app, select which apps you would like it to "boost", and that's it.
But Netup isn't all about speed. As demonstrated in the Netup Kickstarter video promo, an unstable internet connection is the cause of many browsing headaches, including frequent buffering when watching YouTube videos, or long waits when loading images. Le says the "increased reliability" that Netup provides is even more important than a faster raw download speed alone. Check out the Kickstarter pitch below.
When asked what sets Netup apart from other speed-boosting apps Le said "Mobile users nowadays are surrounded with multiple wireless networks and they only use one network at a time, very inefficiently. Netup will empower the users to utilize all networks around them to get the best (faster, cheaper, more reliable) internet experience."
If the project is successfully backed, Netup will launch as a subscription-based Android exclusive app (exact pricing details have not been announced, but you can check the Kickstarter backer rewards to get an idea), with a beta expected in April 2015. For more information, and to see how the fundraising drive is going, head over to the Netup Kickstarter page.
Are you excited by the possibilities of Netup?