Liquid Lens: Is this the next big smartphone camera innovation?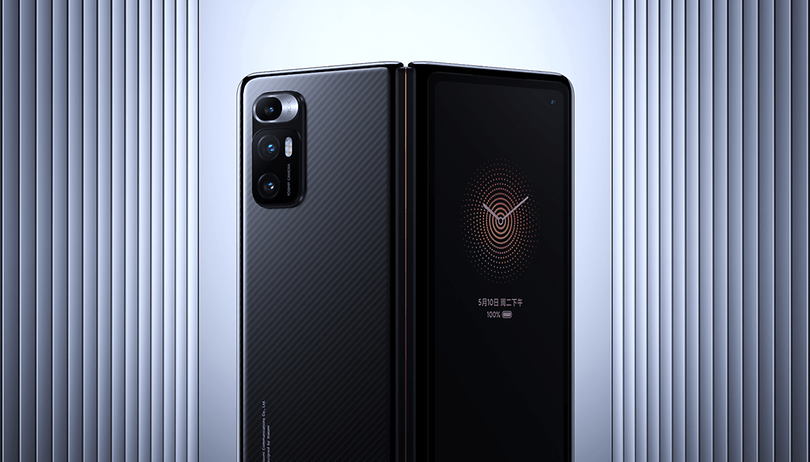 It's been just a few days since Xiaomi took the covers off its first-ever foldable smartphone – the Mi Mix Fold. While it was mainly in the news for being the company's first foldable, the phone did come with an interesting piece of camera technology. Liquid Lens. In this article, we explore what this new lens technology really is and speculate whether we are at the cusp of a smartphone camera revolution aided by this new development.
Without beating around the bush, let's dive right in.
What is 'Liquid Lens' and how does it work?
in case we did not mention it before, the Mi Mix Fold is also notable in the fact Xiaomi claims it to be the world's first smartphone to feature liquid lens technology. As evident from the name, the 'liquid' in Liquid Lens indicates that we are talking about a lens that is flexible in nature. In simpler words, liquid lens technology finds inspiration from the human body and is actually mimics the bionics of the human eye. The liquid lens is encapsulated within a transparent liquid that is itself encased in a film - quite unlike the rigid glass lenses that we are used to on modern smartphones.
In the press release announcing the Mi Mix Fold, Xiaomi explains:
The liquid lens uses the principle of human eye bionics, forming a lens-like structure with a transparent fluid wrapped in film, very different from traditional optical lenses. The radius of curvature of the spherical surface can be accurately changed thanks to a high-precision motor based on Xiaomi's self-developed technology, which allows for 3X optical zoom, up to 30X telephoto, and a minimum focus distance of 3cm.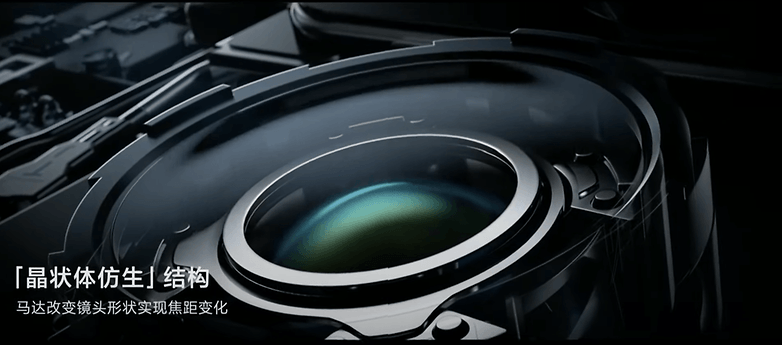 With Liquid Lens, Xiaomi ensures that in an array consisting of four cameras, only three camera lenses are needed because a single lens can perform the role of two lenses by simply changing its shape or 'deforming'. In this case, for example, the same lens offers users the capability to zoom in 3x and also offer 30x magnification when it functions as a microscope camera.
Xiaomi also claims that the technology is more durable than traditional lenses. What it does not reveal, however, is the cost component. After all, there's a difference between implementing something like this in a device that costs over EUR 1000 and putting it on a device that costs EUR 600. However, there is no denying that Xiaomi has been a pioneer at bringing high-end features to mid-range smartphones and they will somehow find a way to bring this technology to less expensive smartphones in the future.
Huawei and OnePlus are also experimenting with bionic lenses
If this technology could actually be produced and installed in the smartphone at a comparatively low cost, other smartphone manufacturers are also likely to register their interest in these Liquid Lenses. That said, the technology itself is anything but brand new. Corning, which we know mainly for its Gorilla Glass, has already been producing its Varioptic Liquid Lenses for the industrial sector for many years and already celebrated the sale of two million of these lenses in 2019.
Corning also touts the benefits of liquid lenses some of which include:
No moving parts, which significantly increases the life of the lens
Hundreds of millions of cycles of endurance
Higher focusing speed
Ruggedness and unmatched vibration and mechanical shock resistance
Close focus capability
Low power consumption
Silent operation
So now it's just a matter of making sure that this technology, which is already being used in industry, is also put into use on our smartphones. There's not much happening in that regard at the moment, but at least there are already rumours that Huawei might also take a liquid lens approach for its P50 Pro. It was a little over a year ago that we heard about Huawei filing a patent for a lens based on the same technology.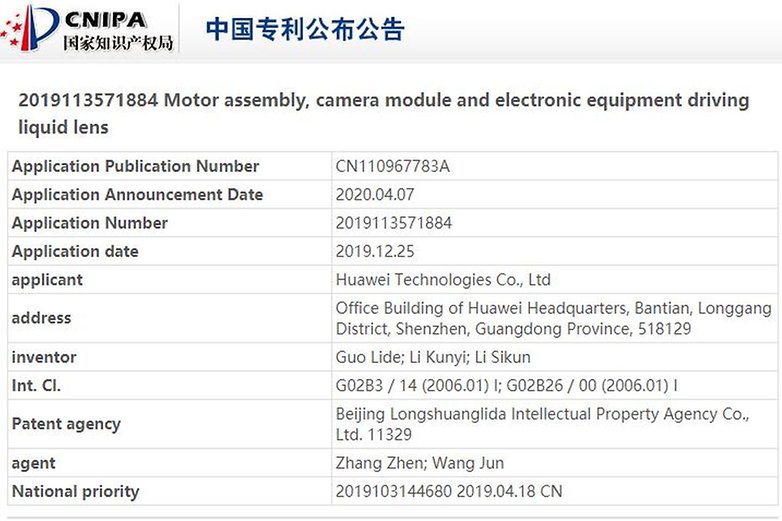 OnePlus is also already promising exciting changes in the camera department in this regard. Shortly after announcing the Hasselblad partnership, which will first benefit the OnePlus 9 and OnePlus 9 Pro, the company talked about upcoming innovations that included liquid lens technology.
"This was inspired by the human eye, which leads to the current name: Bionic Lens. This lens replaces the traditional coil motor for near-instantaneous autofocus under a millisecond, 5 to 10 times faster than the coil motor. This technology can also reduce power consumption during the focusing process while shrinking the front camera sensor."
Will liquid lenses be the next big camera trend on smartphones?
With Xiaomi, OnePlus and Huawei, at least three companies have already jumped on to the liquid lens bandwagon and I'd have to be very wrong if other manufacturers didn't follow suit soon. After all, there are several advantages to this technology: It would possibly eliminate optical image stabilizers and the ToF sensor, and if you could then also save a lens. In fact, the liquid lens would be a worthwhile alternative for space reasons alone. Fewer moving parts means less risk of defects and the lightning-fast focusing is certainly another pro argument.
The only thing needed to know is if liquid lenses could actually be built in a cost-effective manner. Maybe it's still a bit early to be so optimistic about the future of liquid lens, but there's a lot to be said for it. But I don't want to leave that up in the air without you giving us your opinion. So please take part in our poll and let us know in the comments if you think this technology will become more widespread or if you think this is a niche feature.