LG G4 review: big, leathery, and impressive in all the right places
Update:

LG will repair devices affected by bootloop fault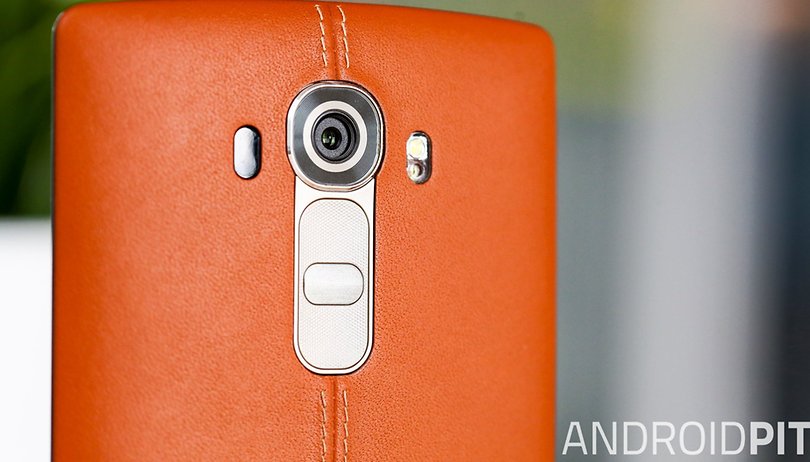 The LG G4 is the company's contender for 2015's finest smartphone. With an ever-so-slightly curved screen, QHD resolution, and seductive leather back, the G4 certainly has chart-topping potential. But does it improve on its predecessor enough to have that 'wow' factor or is LG settled on 'more of the same'? Read our LG G4 review to find out.
If your LG G4 is stuck in an infinite bootloop, LG has finally owned up to the problem and promises to fix your device. Skip to the Software section for more details.
Good
Unique, comfortable design

Fast performance

Fantastic camera

Stunning display
Bad
Battery doesn't last long

Uninspiring UI
LG G4 release date and price
The global LG G4 release date was early June 2015. It's selling for US$599/£490 for the model with the plastic (sorry, 'ceramic') back panel and US$610/£510 for the leather-backed model. The latter also comes with a spare plastic battery cover.
The LG G4 price undercuts its rivals by US$50-100. The prices can be attributed to a lack of extraneous gadgets (see the 'Special features' section below) and a cheaper-than-the-competition Snapdragon 808 chipset. Do these factors make it a lesser phone than its rivals though?
US
UK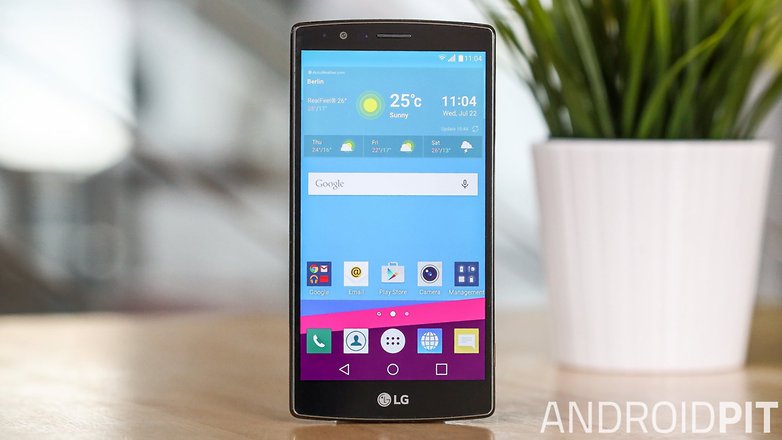 LG G4 design and build quality
The first thing you might notice about the LG G4 is that its screen curves ever so slightly. If you found the crescent-shaped LG G Flex 2 a bit too outrageous, don't panic; the curve of the LG G4 is much more subtle.
This design means that the Gorilla Glass 4-covered screen is better protected from scratches when you place it face down, because most of the screen doesn't actually touch the surface you placed it on. To this end, there is also a slight 'lip' around the edge of the screen.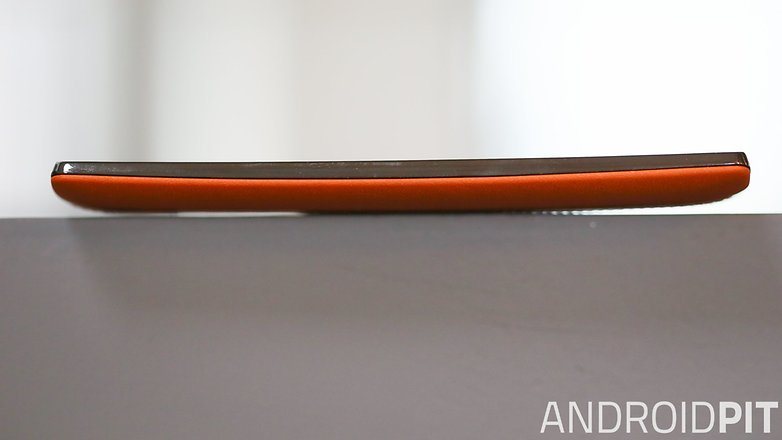 LG claims that this design also makes the screen more shatterproof. It's 20 percent stronger than the LG G3, apparently, though we'd be interested to see how many phones it had to destroy to test this.
The curved display is framed by super-slim bezels on the sides, and there's an elegant carbon-fiber effect under the glass.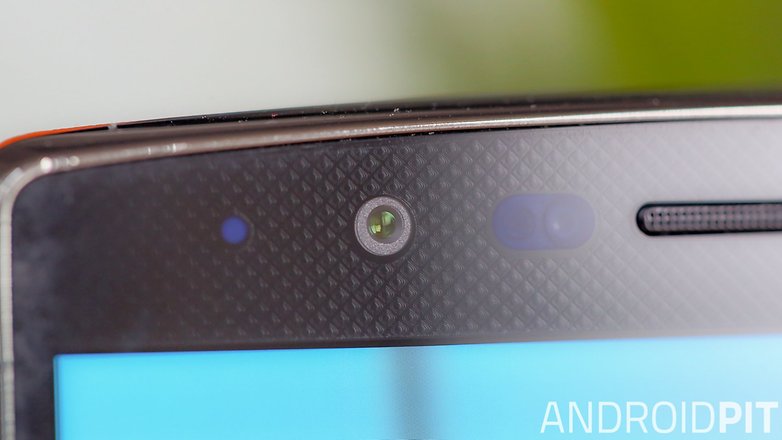 A key thing to consider about the leather rear plate is that it inevitably gets worn down over time. LG spins this positively, saying that this will make each LG G4 unique to its owner, as the leather will wear and adapt depending on how you hold, use and treat your phone.
This is, of course, just a romantic way of saying that leather degrades faster than aluminum or plastic, and it's up to you to decide whether the resulting look appeals to you.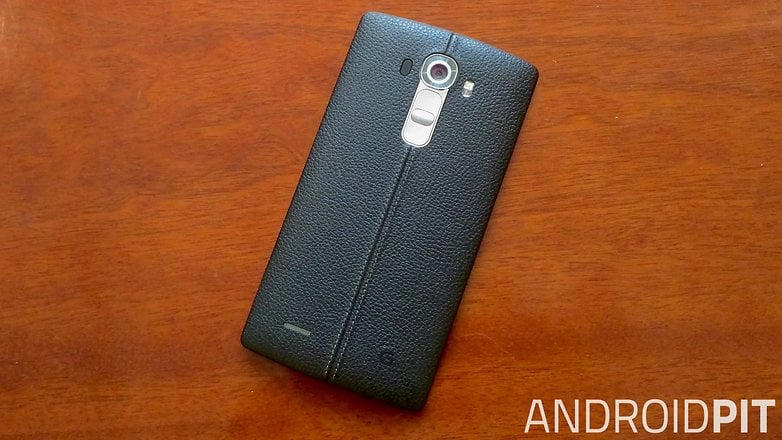 The other case option for the LG G4 is ceramic. This still looks and feels unique and classy, though we are certainly still more drawn to the leather-backed version.
One of the best design features of the LG G3 was the rear-mounted volume rocker and power button, and we're pleased that LG has retained this on the G4. The positioning of these controls is perfect, because you operate them using fingers that naturally wrap around the back of your phone, leaving your thumb free to carry out on-screen actions. It might just take you a while to stop instinctively trying to find them on the sides of the phone.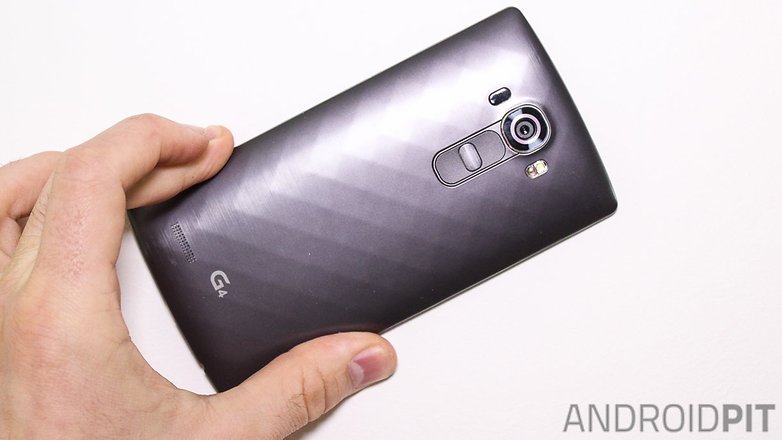 The removable back cover conceals the SIM and microSD slots, meaning that the only slots around the outside of the phone are the USB port and audio jack, which makes for a clean design. There is also a virtually invisible pinprick of an IR blaster at the top of the phone, which lets you use your G4 as a remote control.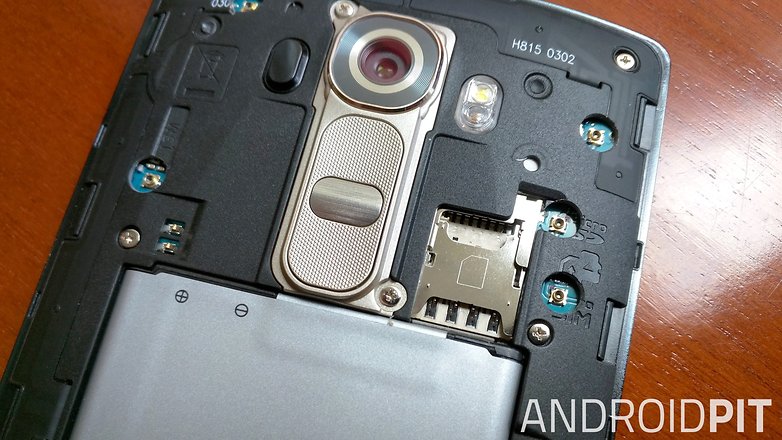 The curve of the screen and the relatively big battery in the LG G4 means that it's not the slimmest of phones. It's 9.8 mm deep, but this seems a reasonable trade-off, because the vast majority of smartphone users – including ourselves – prioritize battery life over svelteness.
The LG G4 design makes a bold statement, giving it a strong identity next to other, more delicate-looking flagships.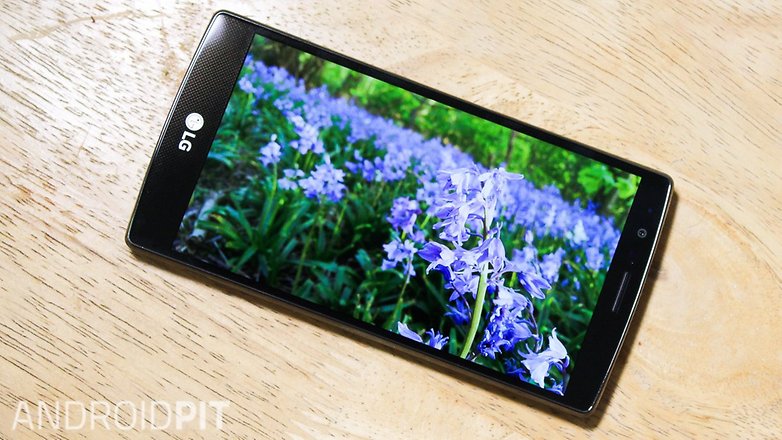 LG G4 display
The LG G3 was the first smartphone to have a QHD resolution (2,560 x 1,440) display. The LG G4 retains a QHD display, while this time aiming for the Digital Cinema Initiatives (DCI) color standard, which focuses on recreating more natural colors than the sRGB standard, which most other smartphones use.
Its viewing angles are perfect, and the display is blindingly bright when turned all the way up (although not quite as bright as the competing Galaxy S6). Being an IPS LCD display, blacks aren't as deep as on the AMOLED screen of the LG G Flex 2, but this doesn't make the screen inferior.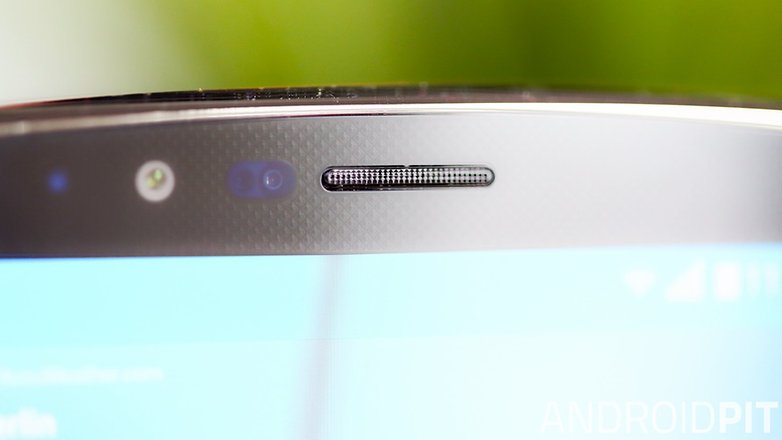 The LG G4 display achieves 98 percent DCI color reproduction, sacrificing eye-searing saturation for more subtle, nuanced colors. While it's not as eye-catching as an AMOLED display, there's something to be said for the images you see on screen accurately representing real-life.
It's always impressive when you get the feeling that nothing more could be squeezed out of a given feature on a phone, and yet LG has managed it here. The G4 had a tough task in topping the game-changing display of its predecessor, but it's done so in every little way possible – particularly in terms of brightness and color reproduction.
While resolution and ppi are the same as on the LG G3, we think that QHD is the sweet spot for smartphone resolutions, and will continue to be for some time yet.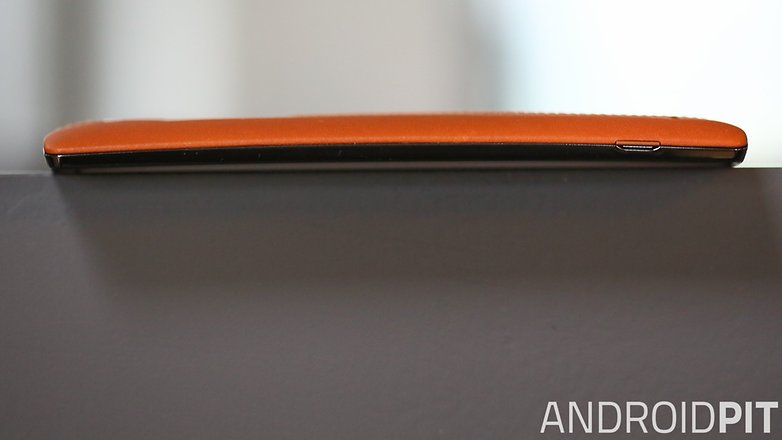 LG G4 special features
You'd normally expect the 'Special features' section of a flagship phone review to be filled with various gadgets, gizmos and 'wow' features, that you're just as likely to love as never use in your life. However, the LG G4 gives us surprisingly little to write about on this front.
A case could be made that features such as wireless charging, heartbeat monitors and fingerprint sensors are all superfluous at this point in time, but they do indicate a desire to try new things with smartphones that could eventually prove life-changing. Has LG just been lazy in omitting these?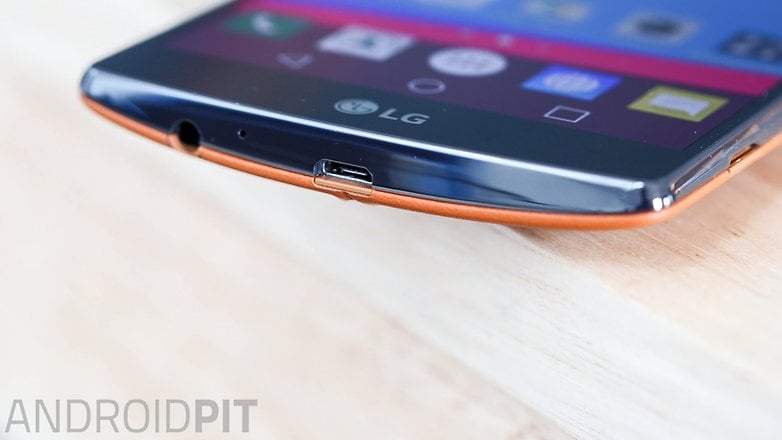 Another way of looking at it is that the LG G4 is a no-nonsense smartphone, eschewing all unnecessary add-ons and focusing on delivering a top-quality user experience at a very reasonable price for a flagship. We're leaning towards this point of view, and think that the LG G4 price easily justifies the phone not being quite the James Bond gizmo that the Galaxy S6 Edge is.
Aside from a host of voice commands for taking photos, rejecting phone calls and switching off alarms, the most noteworthy special feature on the LG G4 is MirrorLink, which lets you beam a car-friendly version of the G4 interface onto compatible car's in-dash display.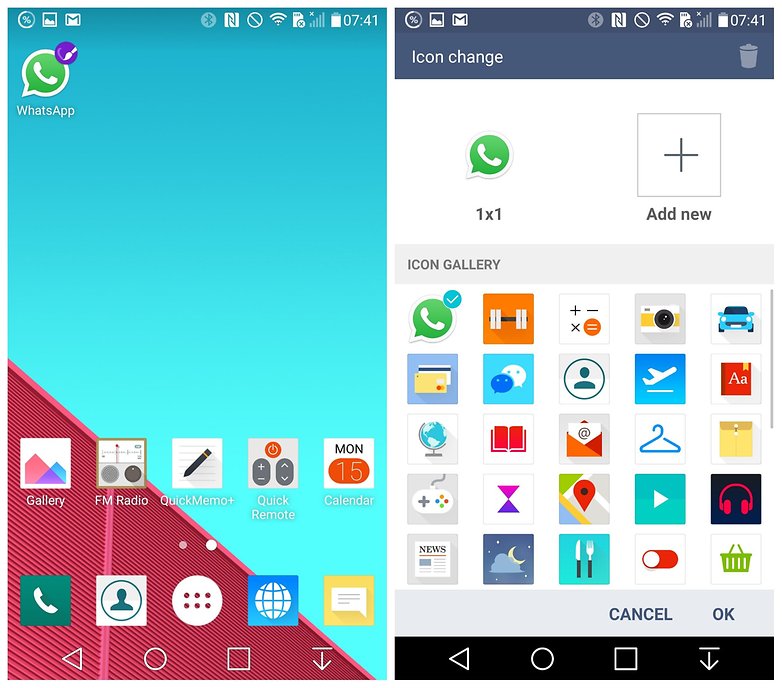 LG G4 software
LG has come a very long way on the software side of things in recent years, and its new UX 4.0 UI, running on Android 5.1 Lollipop, is its slimmest, simplest offering yet. But as with all manufacturer skins, it won't be to everybody's tastes.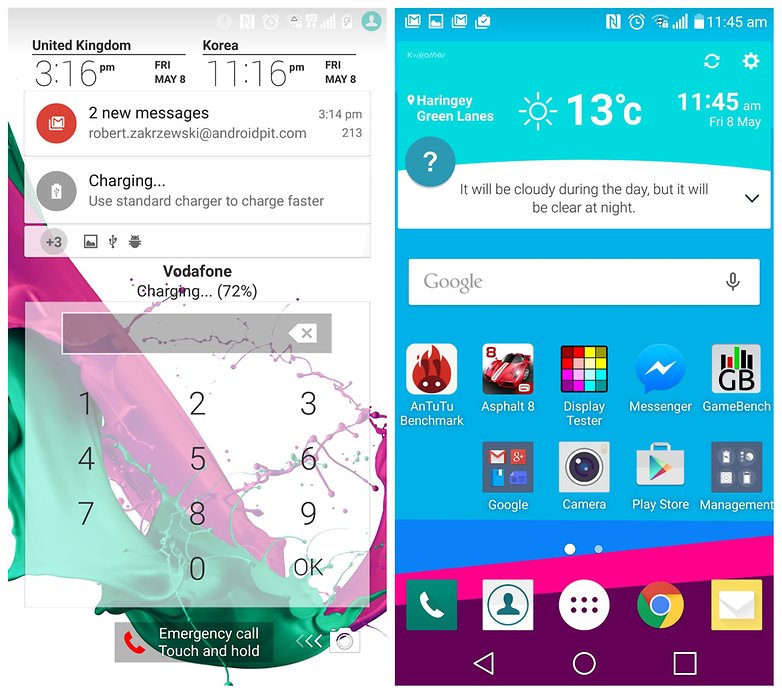 Smart Notice – the large widget at the top of the main home screen – is arguably more useful than equivalent widgets on other phones. It provides the usual weather, time and temperature information, but also has a small message underneath that forecasts the weather for the rest of the day. It reminds you, for example, that it may be clear now, but will rain later so you'd best have an umbrella on standby.
Tapping the Smart Notice message expands the widget, showing key information about your phone – which apps are using up the most battery, for example – with the option to stop them instantly.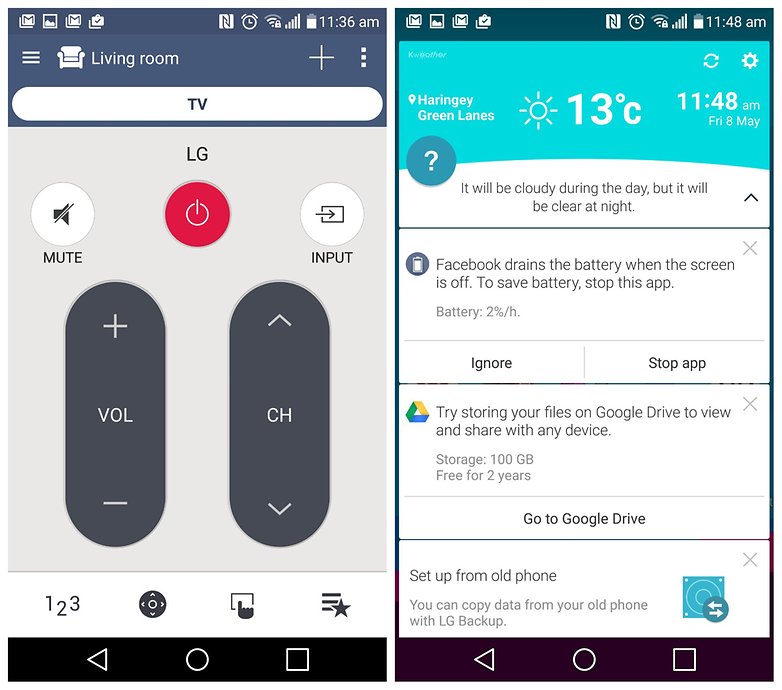 Smart Settings is a particularly useful feature that syncs with Lollipop's My Places, in which you can set various locations where you don't need a password to unlock your phone.
Smart Settings builds on this by letting you set Wi-Fi and Bluetooth to automatically switch on when you're at home, for example, or set a silent profile when your phone detects you arrive at work. You can also order your G4 to automatically switch to your favorite music app when your plug your headphones in.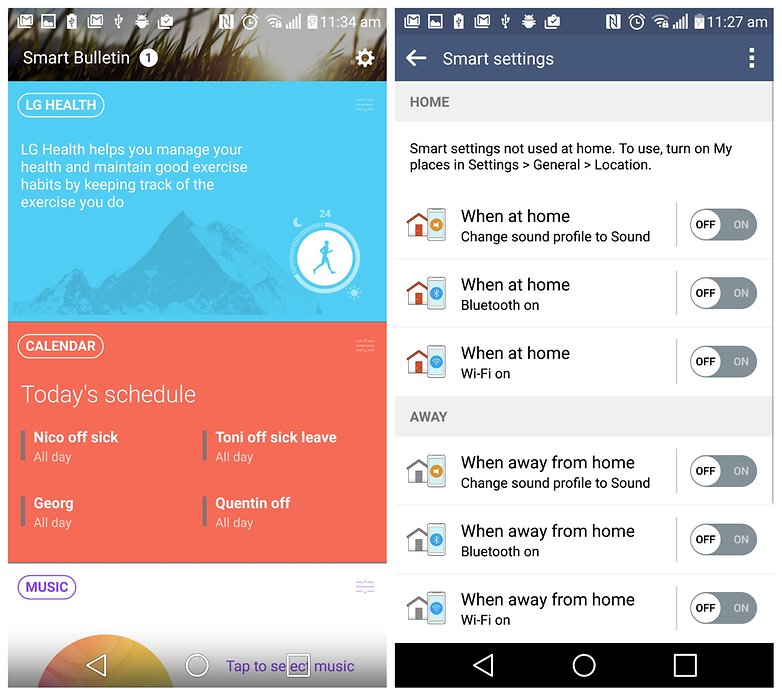 The Smart Bulletin board makes a return in the LG G4, and can be accessed by going left from the home screen. It features tabs pointing you to LG's Health, Calendar, Music, Smart Settings, and QRemote (IR remote control).
None of LG's own apps have any exceptional qualities, so you may find this feature of little use if you end up using third-party apps. Thankfully, you can switch it off so it won't get in your way.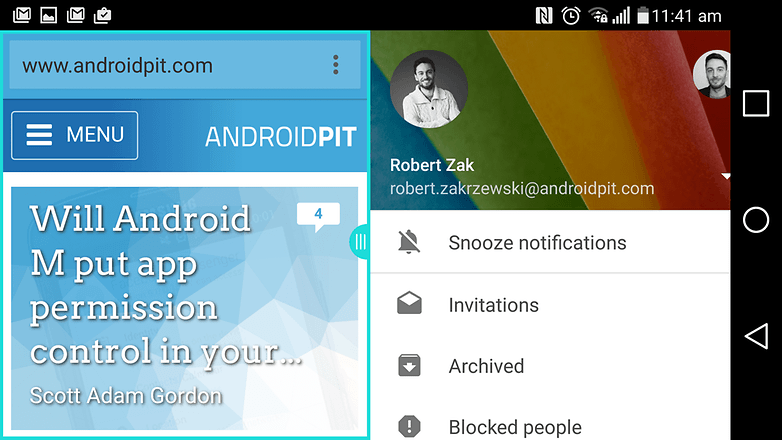 The Dual Window feature also returns from the LG G3, and can be accessed by tapping the Recent Apps navigation button. It's a nice touch, letting you view two apps on the screen at the same time, and even adjust the sizes of the windows they are displayed in. Perhaps the 5.5-inch LG G4 display is a bit tight on space for this to be fully functional, but it's a feature that we hope will evolve to become more practical with time.
Several months of user complaints regarding a persistent bootloop issue went unignored by LG until Android Authority took matters into their own hands and elicited a response from the Korean firm, which now promises to repair affected devices.
LG states that the problem stems from "a loose contact between components". If your G4 suffers from this problem, take it into the carrier branch where you bought it, or into a local LG Service Center, and LG will repair it under full warranty.
LG G4 performance
It goes without saying that the LG G4 specs ensure it runs perfectly smoothly even under a fair amount of strain. The hexa-core Snapdragon 808 chipset – with its two Cortex-A57 cores clocking speeds up to 2.5 GHz – handles standard tasks swimmingly, though when put under strain it does wane a bit compared with the octa-core Snapdragon 810.
When running high-end graphics benchmarks on GFXBench, the Adreno 418 GPU couldn't handle the demanding Manhattan ES 3.1 test, which ran at a hopeless 5.8 fps. This was at 1,440p resolution to be fair, but even at 1,080p, it only managed around 11 fps, whereas the Snapdragon 810 GPU managed 18 fps (which makes a big difference in the low fps range).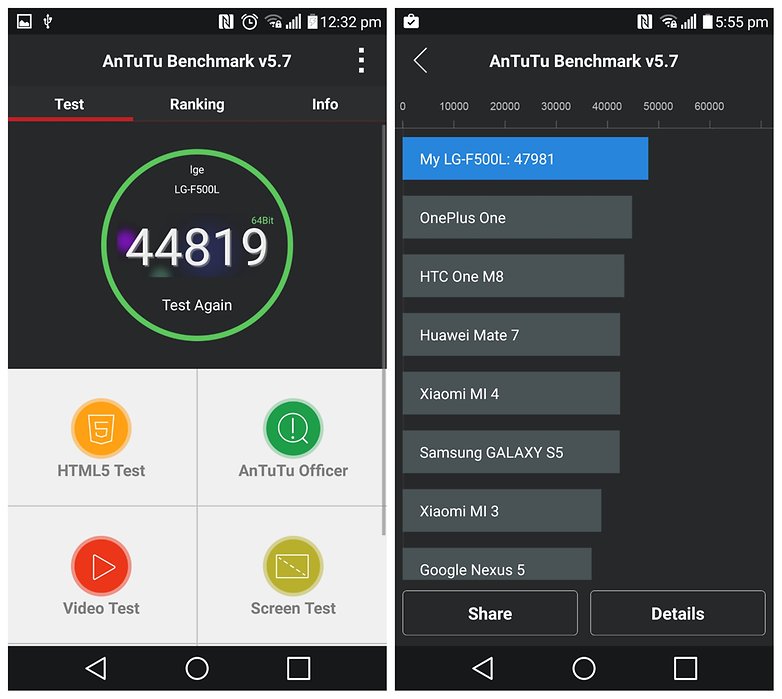 All the lovely animations of Android Lollipop run smoothly on the Snapdragon 808, web browsing is a cinch, and switching between open apps – even demanding games like Asphalt 8 and Real Boxing – is smooth. Along with these apps, we had around 10 tabs open in Chrome at the same time and the 3 GB of RAM never showed signs of suffering.
Frame-rates in games were a little bit lower than on other flagships, which can be attributed to the QHD resolution rather than any deficiency in the Adreno 418 graphics processor. It's a trade-off between a super-crispy 2,560 x 1,440 resolution and a lower frame-rate, and whether this is preferable or not comes down to personal taste.
For us, the graphics in Android games don't quite warrant 1,440p resolution, so we prefer to stick with 1,080p resolution and get faster performance for the time being. When our games demand 1,440p, we'll reconsider.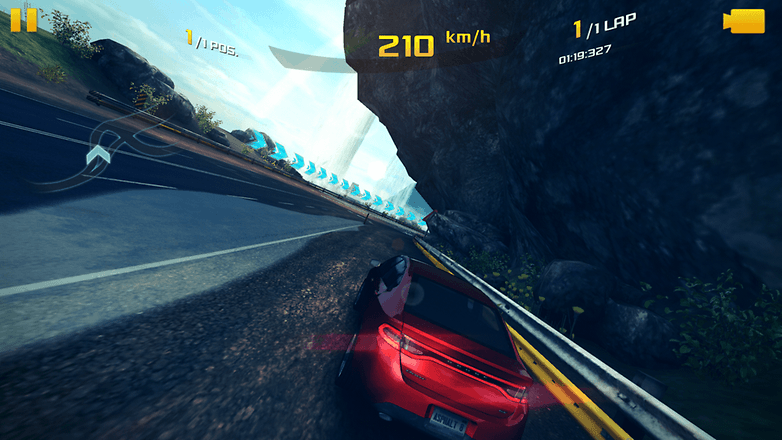 The LG G4 does a decent job of multitasking, easily handling 10 open Chrome tabs along with one high-end game in the background. When we tried running two or three high-end games in the background though, the G4 would automatically close them until there was just one open, which is a bit less than the Snapdragon 810 can handle.
The Snapdragon 808 offers flagship-worthy performance that's great value for money, though after some time with it, we can say that it's noticeably – though not drastically – weaker than its octa-core rivals.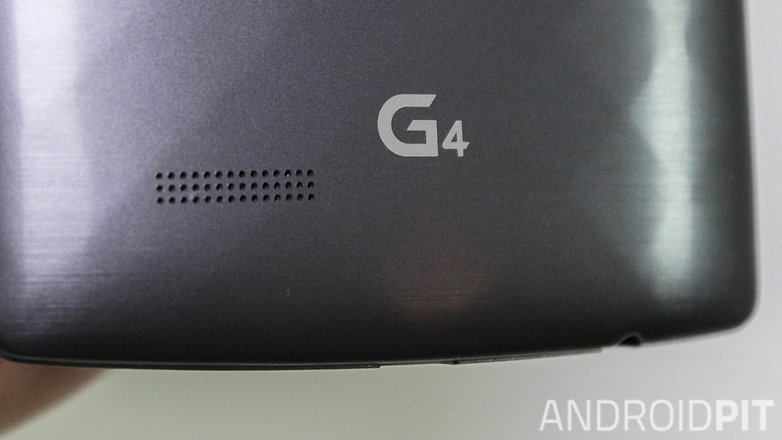 LG G4 audio
Another area in which LG didn't go above and beyond the flagship call of duty is the speaker, which is a mono offering tucked away at the bottom corner of the phone's pretty rear. It pales in comparison to the stereo blasters on the HTC One M9, but still does a good job of delivering loud – if not entirely crisp – music on a similar level to the Galaxy S6.
A little-known trick on the LG G4 is that you can connect a pair of wired and bluetooth headphones to the phone simultaneously, and listen to the same thing on both of them, which is pretty cool.
Call quality and volume is perfectly sufficient and there is little background interference when speaking to people in loud environments.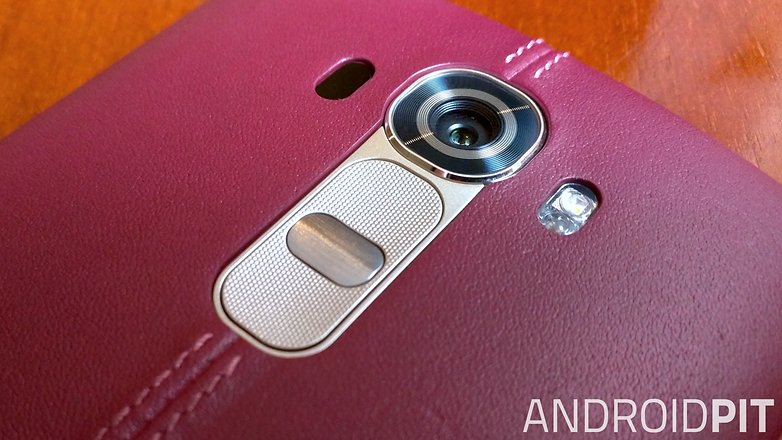 LG G4 camera
The LG G4 camera takes a bump up to 16 MP, but perhaps more crucially it has a large f/1.8 aperture and OIS 2.0 (Optical Image Stabilization 2.0). This means it captures plenty of light, and also gives a good amount of leeway for those with shaky hands to not end up with blurry images.
More so than any of its rivals, LG has focused on making the G4 camera a worthy secondary camera for people interested in DSLR photography. To this end, there is a robust manual mode alongside the standard 'auto' mode and a 'simple' mode, in which you simply tap anywhere on the screen to take a photo.
The manual mode is filled with options, letting you change ISO, shutter speeds and focal depth of the G4 camera. You can also change the color temperature, and even save photos in RAW format – great for advanced photographers who do their own image processing.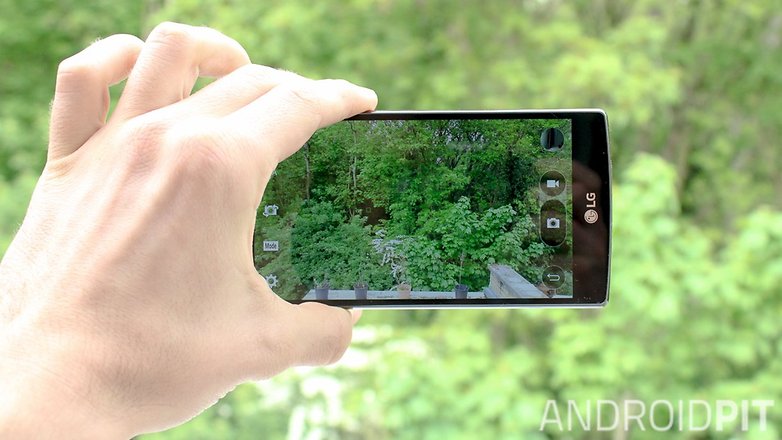 The camera features LG's color spectrum sensor (CSS) instead of a dual LED flash. This technology, in line with the display itself, measures the light conditions of your environment and determines the white point of an image accordingly.
In plain English, this means that colors in photos come out balanced, with no yellow or blue tints, which some smartphone cameras suffer from. The sensor also captures natural, nuanced reds well, as you can see by looking at the tomatoes in our image gallery.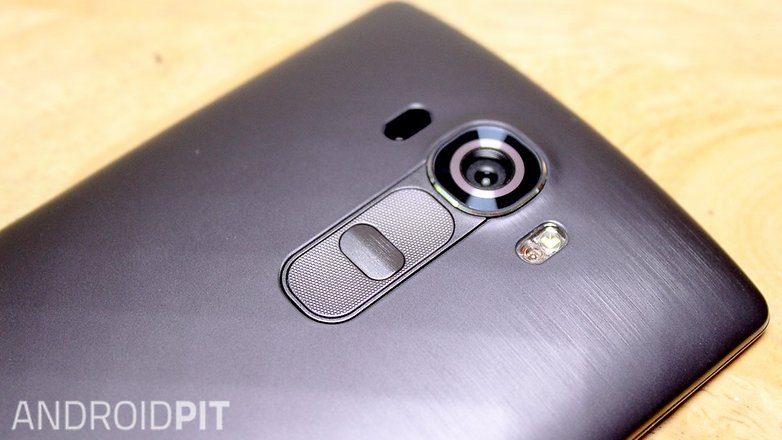 At their best, photos taken with the LG G4 camera look spectacular, capturing a level of detail that's only matched by the Galaxy S6. Night shots are well-balanced, and the flash captures plenty of detail without making the subject look over-exposed against a dark background.
Does the LG G4 camera beat the top-dog Galaxy S6 camera? Based on our time with it, it's not quite there, but we'll give a more definitive answer when we do a side-by-side comparison of the two. In the meantime, check out our LG G4 camera snaps gallery below.
LG G4 battery
LG was adamant that the 3,000 mAh LG G4 battery was going to more than justify the added bulkiness of the phone. Longer battery life was also a key reason for opting for the six-core Snapdragon 808 chipset rather than the hotter and hungrier eight-core Snapdragon 810.
From our time with the LG G4, its battery power wasn't all that impressive. Using the phone moderately – making a few phone calls, playing about half an hour's worth of videos, but cranking the screen up to full brightness – we got just under 18 hours use out of it before it needed a recharge (that included around seven hours of sleep, when the phone wasn't being used).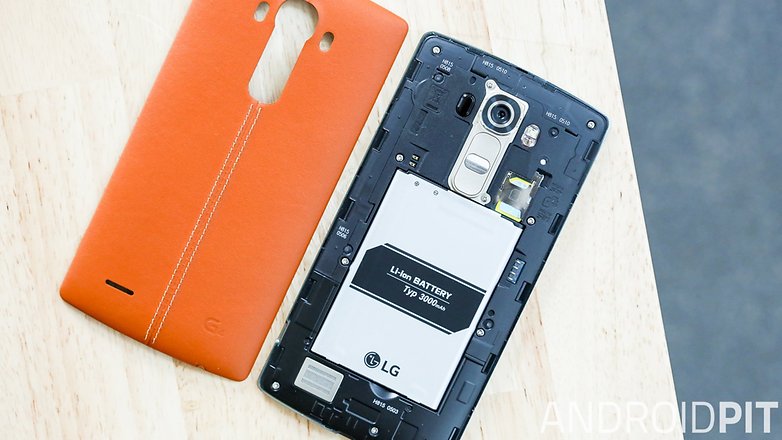 The majority of battery use was attributed to the notoriously battery-draining Facebook app, immediately followed by the screen. While a screen is expected to be a big battery drain, we think that the QHD resolution and undeniably top-quality display took a bigger-than-expected toll on battery. The Smart Notice feature and the useful native battery monitor help make up for this to some extent – they both let you pick out and close battery-hogging apps.
Contrary to early reports, the LG G4 battery does have Quick Charge 2.0, a built-in feature of the Snapdragon 808 chipset. This means you can charge around 60 percent of the LG G4 battery in just half an hour.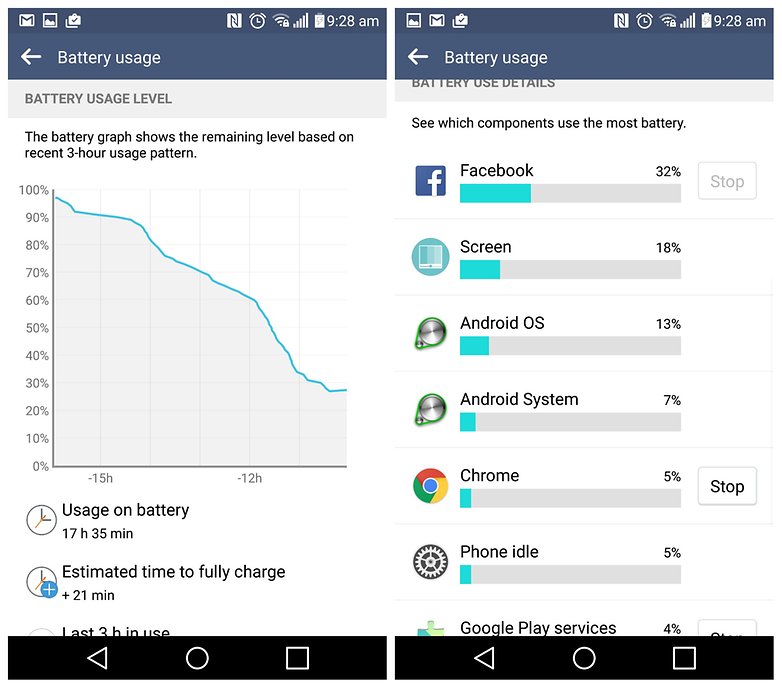 LG G4 technical specifications
Final verdict
The LG G4 is a fantastic phone, and makes the necessary improvements in performance, camera quality and screen clarity to make it a worthy successor to the LG G3.
It's bigger and bulkier than any other major flagship out there, which may attract some people while putting others off. Even if you are looking for a slightly more svelte top-end phone, you may want to give the LG G4 some consideration on account of its very reasonable asking price.
Is the LG G4 the best smartphone in the world? We think not, but only by the thinnest of margins. Samsung really came good this year with the Galaxy S6 and S6 Edge, and those two phones remain the ones to beat on account of their record-breaking performance, cameras and design. But they'll cost you significantly more than the LG G4.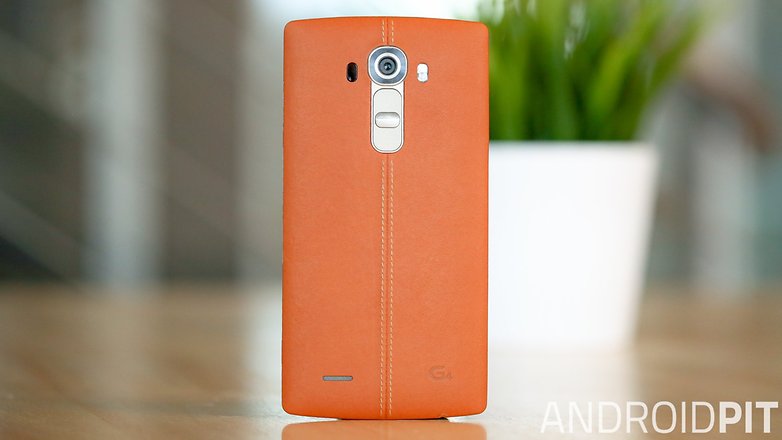 The LG G4 screen is bold and beautiful and the phone's unique design, particularly the leather version,may well attract Android die-hards who think the Galaxy S6 looks a bit too Apple. It may not feature gizmos galore, but LG's latest flagship does everything it needs to really well.
Has our LG G4 review persuaded you to take a look at this big boy, or is it missing that special something? Leave a comment and let us know.
LG G4 - where to buy?
Please note: only the lowest tariffs and main networks are shown. Cheaper deals may be found with re-sellers.
UK
Three £39/£42/£45 p/m (£19 upfront) with unlimited minutes, unlimited texts, 1 GB/2 GB/4 GB data.
O2 £37.50/£41 p/m (£0 upfront) with unlimited minutes, unlimited texts, 1 GB/3 GB data
Vodafone £40/£45 p/m (£0 upfront) with unlimited minutes, unlimited texts, 2 GB/6 GB data
US
Verizon $22.91 p/m ($10 upfront) with unlimited minutes, unlimited texts, 2 GB data
T-Mobile $74.99 p/m ($0 upfront, $24.99 p/m handset, $50 plan) with unlimited minutes, unlimited texts, unlimited data (3 GB 4G LTE data)
AT&T $65 p/m ($199 upfront) with unlimited minutes, unlimited texts, 1 GB data.
All information correct at the time of writing (July 16, 2015)