Huawei Watch GT: can't do much, but maybe that's a good thing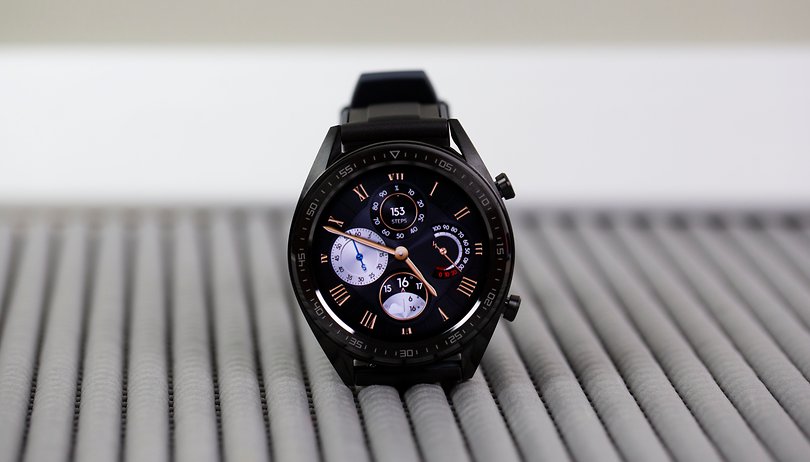 Smartwatches and fitness trackers are hot right now, but many don't have enough battery life. Enter the Huawei Watch GT. The device lasts longer than almost all other smartwatches on the market - and can do quite a lot.
Good
Extremely long battery life

Comfortable to wear

Easy to use
Bad
Not many features on Lite OS

Jerky performance

Notifications are often useless
Cheaper than many smartwatches
The Huawei Watch GT costs either €199 ($230) or €229 ($260) in Europe, depending on which version you choose. The black version with a silicone strap is 30 euros cheaper than the silver watch with a leather strap.
A real watch with a metal housing
First to the design. The Huawei Watch GT looks like a classic watch and has a round stainless steel case. Two buttons are on hand for operation. Huawei opted for an OLED panel for the display, which is a good idea in light of the contrasts and the always-on display.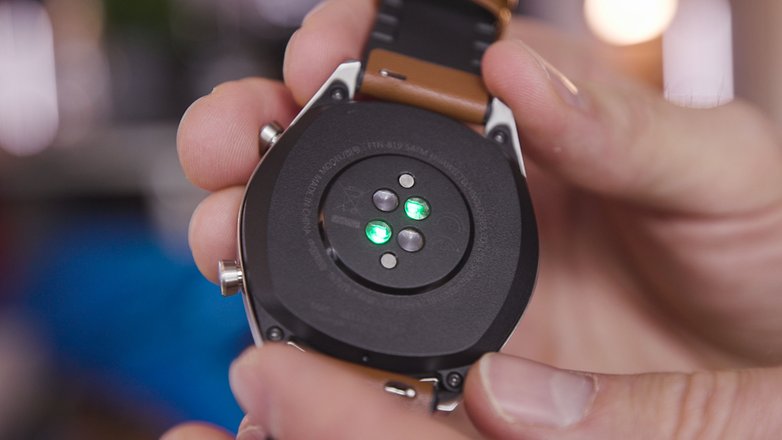 The watch straps of the Watch GT are made of silicone or leather. The Huawei watch is waterproof and can also be used for swimming. The Watch GT also recognizes walking, running, cycling and climbing activities. Sleep analysis and health functions are also available. The workmanship has been successful here, and the watch is very light. This is good for comfort and the Watch GT is very pleasant on the wrist.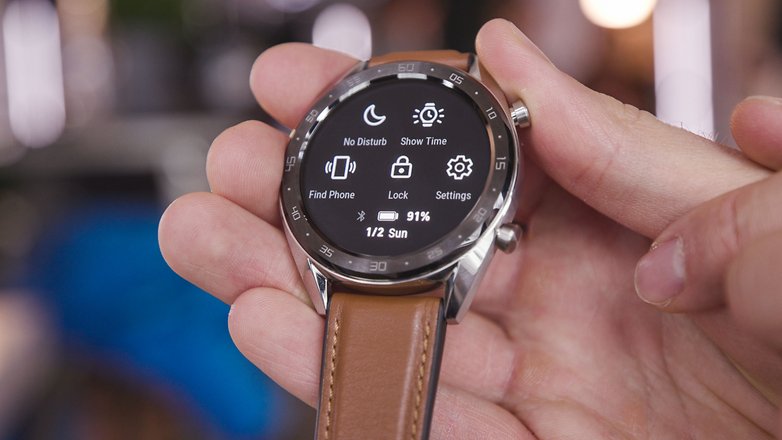 Definitely a sharp display, but too bright in the dark
The Watch GT has a 1.39-inch AMOLED display . For a long time, AMOLED was only available on luxury smartphones, but it's in almost all smartwatches, and rightly so. The deep black and extremely high contrast that characterize a good panel are extremely important to the watch's readability and power consumption. The 454 x 454 pixel resolution results in a pixel density of 326 ppi.
I really like the Watch GT's screen. The readability is excellent and everything is nice and sharp. The only thing I could wish for would be a lower minimum brightness. In the dark, for example in bed at night or at the cinema, it's almost like a torch on your wrist when the screen is on. I guess less is sometimes more.
There's a lot the Watch GT can't do
Huawei has opted against Wear OS for the Watch GT and has instead gone for its own system , which is named Lite OS. This sounds incomprehensible at first, since Lite OS has fewer functions and doesn't even have an app store. But Huawei is positioning the Watch GT as less of a smartwatch and more of a fitness tracker, so fewer software features are needed. Huawei could have never achieved such a great battery life otherwise.
There are many things that Lite OS can't do, and you should know this before you think about buying the Watch GT. You won't be able to pay with the watch, you can't use it as a remote control for you music, you can't use it to make phone calls, and you can't read or answer messages with it. You also won't be able to install apps or store music on it. You also can't permanently display the time with an Always on display. Those are quite a few restrictions.
The watch can actually receive notifications. In the health app on your smartphone you can set up which apps you want to receive notifications from. The only problem is that everything but pure text is useless. Pictures from WhatsApp messages? You won't be able to see them. The contents of an email? Forget about it. Even the text from messages isn't clearly displayed. I'll be honest with you: the notifications don't look good. I switched off notifications for most apps besides WhatsApp and Telegram. I do still receive text messages on the Watch GT.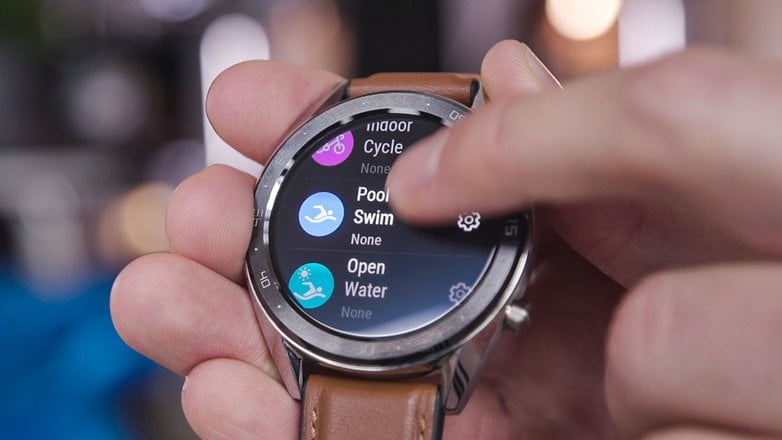 Lots of fitness functions
The watch is good at classic fitness tracker tasks: counting steps, measuring your pulse, adjusting the heart rate alarm, recording physical activity, and encouraging movement. I also found the sleep tracking quite interesting. If you want to use this feature, remember setting the clock to "Do not disturb" when you go to bed. Otherwise, the bright display will turn on every now and then while you roll around in bed.
You can track several sports with the Watch GT: whether it's running (indoor/outdoor), walking, hiking, cycling (indoor/outdoor), swimming, or "free training". The Watch GT will search for a GPS signal for all outdoor activities.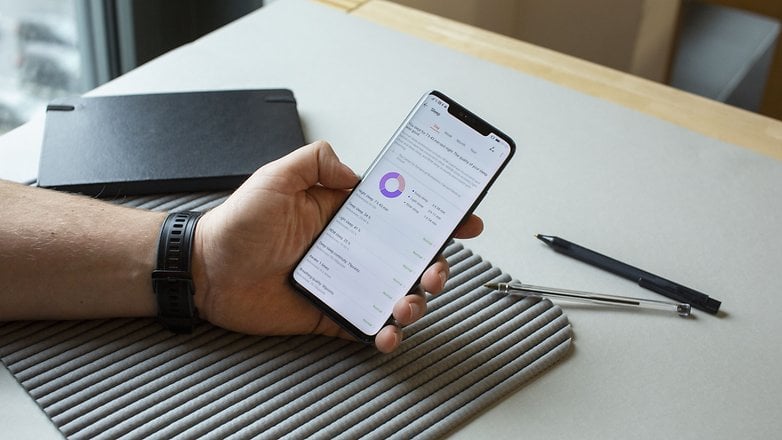 Not a coach on your wrist
You shouldn't expect a coach on your wrist that steers your training in the right direction. There are four running courses, one for beginners and one for burning fat, but not much else. After all, most people who buy a smartwatch like this already train with Runtastic, Strava or another fitness app, so you don't necessarily need another one. There are other smartwatches that come with more software.
Oh and there's one more thing: Watchfaces. There are exactly eleven to choose from since there's no app store where you can download more. This is all a matter of taste: I don't think the Watchfaces are really great. Since there's no Wear OS on board, you can't individually configure the display.
Not the fastest watch either
So if the software on the watch isn't that special, it should perform well, right? Not exactly. The Watch GT doesn't really run that quickly, and that bothers me and every now and again. It's not as if I've been spoiled by the many Wear OS smartwatches that are powered by the old Qualcomm Snapdragon Wear 2100 with speedy performance. The Watch GT is just slow.
The operation is always a bit jerky, and sometimes the watch doesn't react to swiping gestures or react correctly . Yes, this isn't a matter of life or death, especially since the Watch GT isn't insanely expensive, but it's still annoying.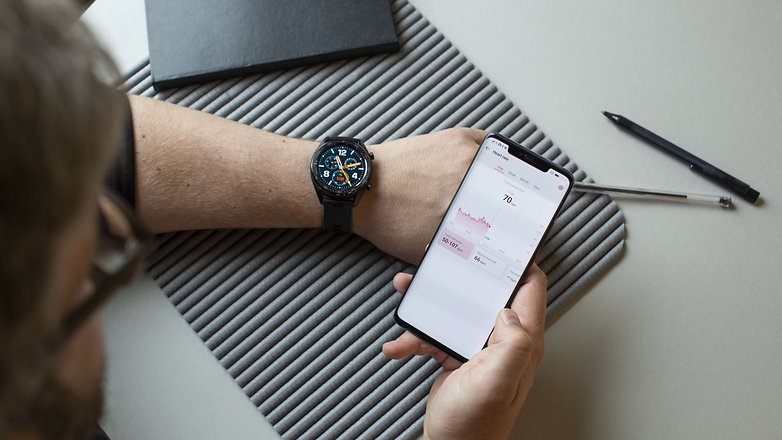 Not worth much without a smartphone
By the way, the Watch GT only has Bluetooth available, there's no Wi-Fi onboard. There is also no option for an LTE modem. So without a smartphone in your pocket, you're pretty limited. GPS, Glonass and Galileo/Beidou are all supported, and work simultaneously to improve the accuracy of the geo tracking.
Huawei's TruSee 3.0 heart rate monitor measures your heart rate. Thanks to machine learning, the measurement should be very accurate. It's hard to compare the heart rate monitor to those on other devices. The Watch GT always reads my pulse correctly even when I'm exercising.
Two heads are better than one
What sets the Huawei Watch GT apart from most other Smartwatches is the battery life. The watch can last up to a whole month without recharging - at least if it is only used for the time and without a paired smartphone. According to Huawei, anyone who has activated notifications, regular heart rate monitoring and other things and has not completed more than 90 minutes of tracking per week will still get two weeks of battery life.
That's an extremely good number if you compare it to the running time of most Wear OS watches, which have to be plugged in almost every evening. If you have all the sensors including GPS and pulse monitoring active and track your activities, you'll still get 22 hours of battery life - that's excellent!
And best of all, this information is actually realistic. Even with permanently activated pulse management and notifications, the Watch GT actually lasts two weeks without any problems. I even had the sleep tracking on. Yes, the Huawei watch offers fewer possibilities than a real smartwatch, but the battery domes somewhat compensate for most of its shortcomings.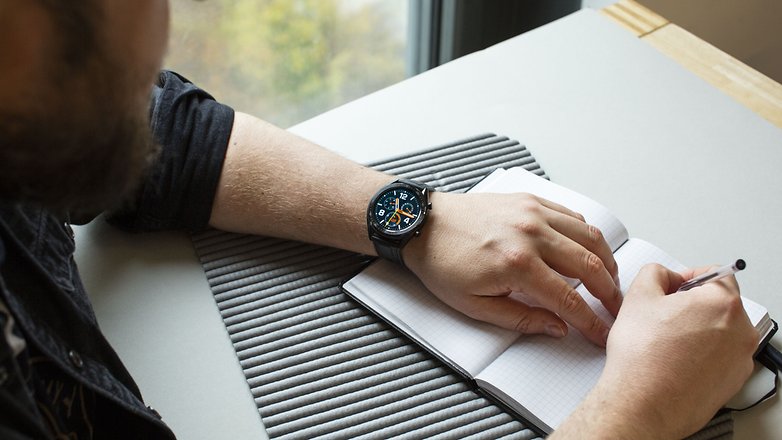 Huawei achieves this mega endurance by having not one but two MPUs on the SoC in the Watch GT. One is responsible for the basic functions and is extremely economical, the other does everything else. The chipset does not come from HiSilicon, but is an ARM Cortex M4. The battery in the Huawei Watch GT has a capacity of 420 mAh and is powered with the included charging cable via USB.
Huawei Watch GT technical specifications
Conclusion: I like the Watch GT
Even when I just first started using the Watch GT, it was already clear to me what conclusion I would reach: the watch is pleasant to wear and doesn't have many functions, but it has an extremely strong battery that it almost doesn't matter to me how little the watch can do. It's a bit paradoxical: I don't ordinarily wear a watch, but I kind of like this modern smartwatch. Yes, I know it's more of a fitness tracker and can't do much more, but at least I can count on using it for two weeks without recharging it. So all in all, I like the Huawei Watch GT and it's not too pricey.