How to factory reset the Galaxy S4 for better performance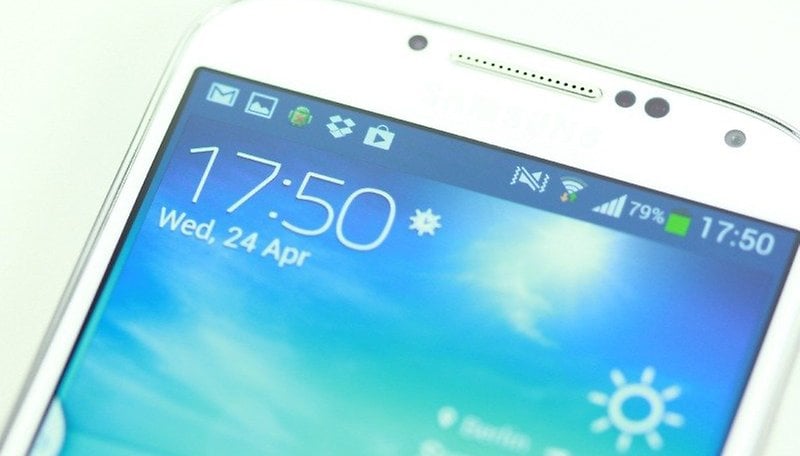 We've been trying to remind everyone of the benefits of regular factory resets lately and now we have the Galaxy S4 in our sights. An old device is a prime candidate for a factory reset, especially so if you've never done one before. Follow our steps below and you'll marvel at how much smoother and faster your phone is afterward. Find out how to reset the Galaxy S4 here. NEXTPITTV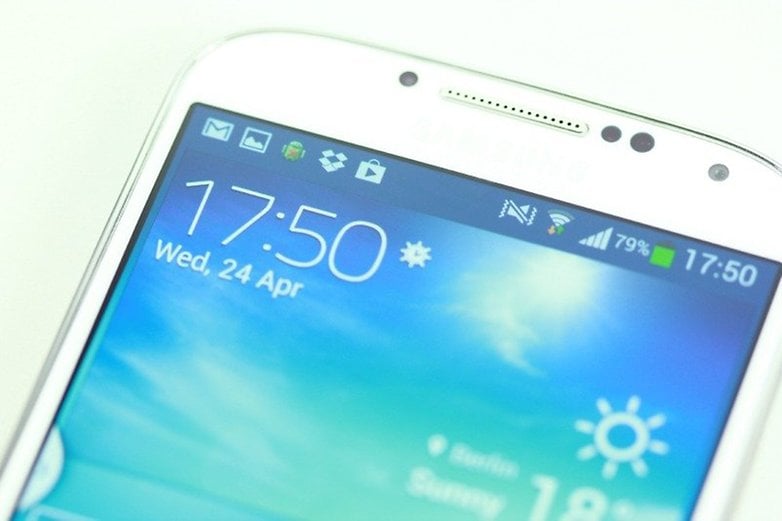 Backup first!
This is even more important than the reset itself. If you don't back everything up properly and then your factory reset your phone, you'll find yourself with a nice fast phone just as it came out of the box, but without your accumulated photos, games, messages, and downloads. So before you even think about doing a reset make sure you're backed up good and proper first. Google gives you options and there's plenty of third party options available too.
​
How to reset the Galaxy S4
Hold up your right hand and repeat after me: ''I solemnly swear that I have done a proper backup.'' Ok, we can proceed. You have a couple of options for the reset procedure. There's a super simple dialer option, one through the settings menu and then a hard reset using the hardware buttons when the phone is off. The third option gives you a little more control but the first two options work perfectly fine for the average user.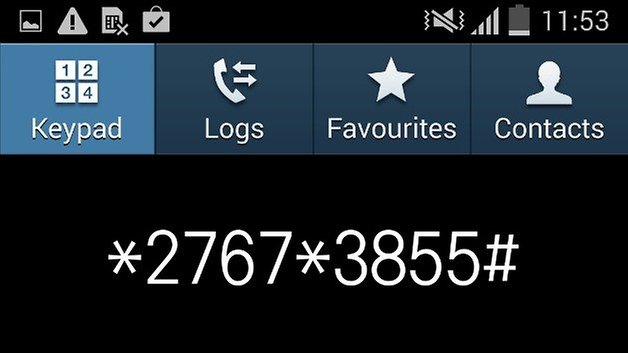 Option 1- Dialer method
1. Go to the dialer on your phone and enter the following: *2767*3855#
2. That's it. You're phone will reset and everything will be like new. You can then restore all of your apps and data and get on with your day. Note that this dialer option does not work on every device (it didn't work for me, that's why it's not in the video).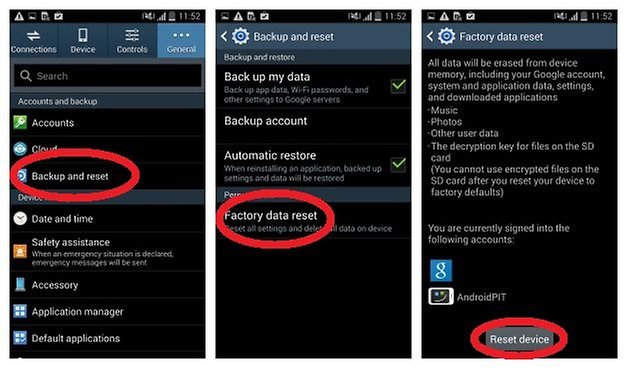 Option 2 – Settings menu
Go to Settings > Backup & Restore and have a good read. You'll see your stock backup and restore options from Google but I highly recommend using another backup option on top of these (you can find more options in the link at the bottom of the ''Backup first'' section above). You simply tap the Factory Data Reset option and read the warning text, then hit ''Reset Device'' once you're ready. Your device will reboot and wipe itself clean. If only the dirty dishes were that easy.
Option 3 – Hard reset
If your phone is stuck in a bootloop or some other issue stops you from simply using the settings menu option, you can get your hands dirty and reset your S4 manually using the hardware buttons.
1. Turn your phone off, then press and hold the Power, Volume Up and Home buttons at the same time.
2. When you see the little ''Recovery Booting'' message in tiny blue letters in the top left hand corner of the screen you can let go of the Power button but keep holding the other two until you see the ''Recovery Booting'' message for the second time. You will be brought to the Android Recovery screen.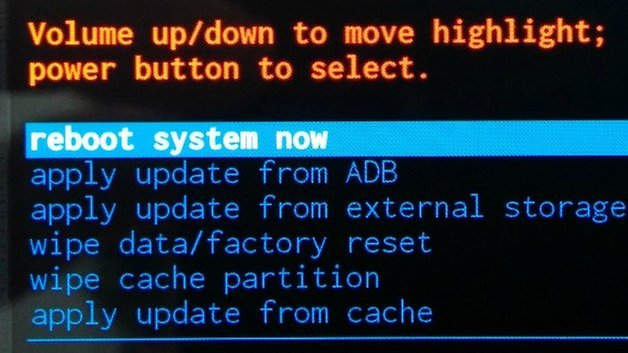 3. In Recovery, you use the volume buttons to navigate up and down and the Power button to confirm your choice. If you want to be a good reset-er, scroll to wipe cache partition and hit Power to confirm.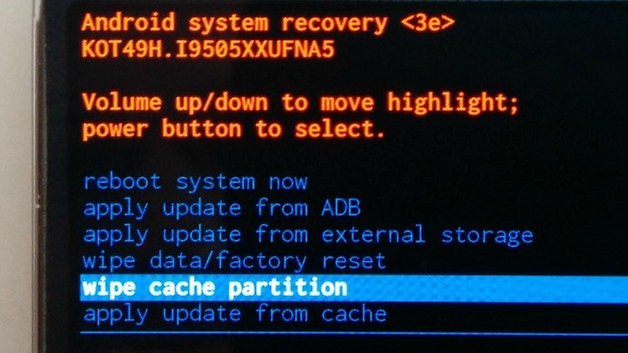 4. Scroll down to wipe data/factory reset and hit Power.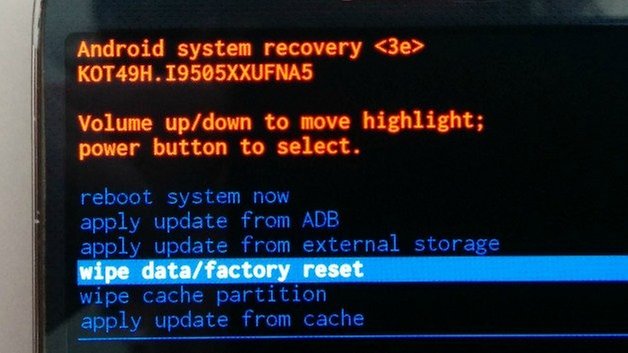 5. You'll be asked to reconfirm your choice. Scroll down to ''Yes'' and hit Power to confirm again.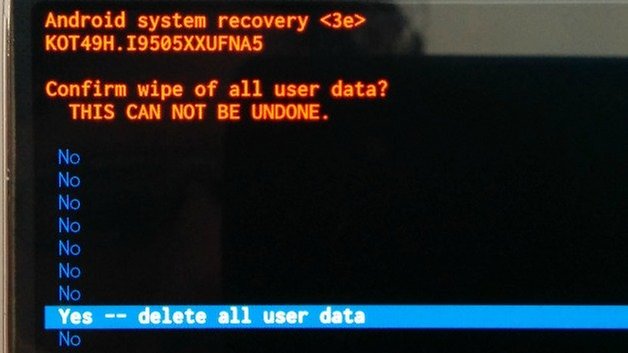 6. If you want to be an even better reset-er, then clear the cache partition again. This may seem pointless (and maybe it is) but it's added insurance that everything is as clean and tidy in your system as possible.
7. Scroll up to ''Reboot system now'' and hit Power.
8. Your Galaxy S4 will reboot and you'll have the option to restore your data and apps when you set everything up again. Your phone should now be a lot smoother, faster and bug free than it was before the reset process.
If you're looking for other ways to speed up your Galaxy S4, we've covered that too.
How often do you reset your phone? What other things do you do to look after your system performance?