Apr 26, 2020, 8:08:33 PM via Website
Apr 26, 2020 8:08:33 PM via Website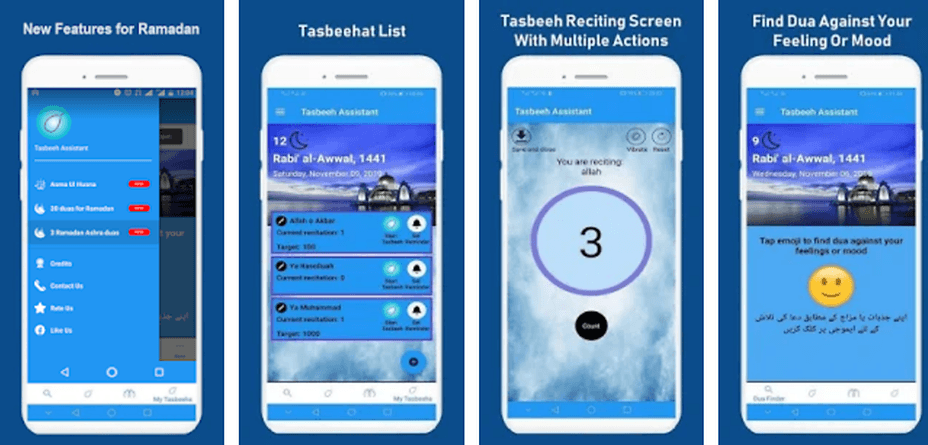 Explore all the Tasbih, Zikr (dhikr), Masnoon Duas, Asma Ul Husna, 3 Ramadan Ashra Duas, and more with our effective Tasbeeh Assistant app. It's a free app especially for Muslims to practice daily remembrance of Allah so hearts can find rest.
With the sections – Ammals, Duas, Tasbeehs (Tasbih), and Asma Ul Husna, 30 special Duas for whole Ramadan, and 3 Ramadan Ashra Duas this app different from any other Tasbih Counter and suitable for always in Ramadan or outside Ramadan.
We have also created an interesting MOOD feature so you can find Duas accordingly to recite. Whether you are sad, angry, weak, or happy you'll find the Dua and can recite to feel rest in mind.
Tasbeeh Assistant available in 3 different languages English, Urdu, and Arabic right now. More will be added frequently.
After downloading our Tasbih Counter Zikar app you don't need an internet connection to use it for most functionalities which means you're able to use the app offline. Even if you want to share Duas and Ammals with your friends you can do that from the app using WhatsApp, Messenger, Facebook, Imo, Wechat, etc.
Tasbeeh Assistant Features
Find DUA against your Feelings or Mood with English, Arabic, and Urdu translation.
Asma Ul Husna — 99 names of Almighty Allah
30 special Duas for whole Ramadan — 30 Duas for 30 days
Ashra Duas — first, second, and third Ramadan Ashra Duas
Islamic Calendar Date.
Categorized Amal's list of common problems.
Masnoon dua's section with English, Arabic, and Urdu translation and audio.
Search option to find specific Duas
Option to Add Custom Tasbeeh with start and target count.
Option to Edit Tasbeeh and make your own
Ability to set reminders for each Tasbih.
Ability to set Custom vibration option during recitations of Tasbeeh.
Can reset the count, save the count.
Easy and simple recitation screen for everyone.
Ability to share Amals and Duas with your friends and family.
What are you waiting for? Download this one the best (Tasbeeh) Tasbih counter and zikr app right now, use every day to find peace in mind remembering of Allah.
Support us in providing your potential feedback, so we can make Tasbeeh Assistant more useful and versatile.
Download Tasbeeh Assistant for Android