Nov 8, 2019, 7:53:25 AM via Website
Nov 8, 2019 7:53:25 AM via Website
Would you like to generate Stylish Names of your Nickname? if you're interested in making stylish names in different Designs. So you can download the Stylish Name generator app. there is a bundle of stylish name maker apps but we have listed the best android app for making the stylish name generator.
Stylish Nickname generator - Stylish Nickname generator and Fantasy Cool Text Symbol consists of 1000+ Styles Nickname maker frame for Free. through this application, you can make a stylish Nicknames, Pet Names, Your Friends Names, your Family names in different text, Font and style. this application has a user-friendly user interface and very simple to use.
Photo - The photo app is one of the best App for calligraphy to making Unique Text in different styles, designs, and Symboles. this app is more popular among the people to allow the user to add text on a photo and create a unique photo for free. this app is free and easy to use the app with more than 400 fonts with changeable and customizable font size, color and other options.
Name Art – Stylish is an amazing calligraphy app that helps you to create a stylish name on your smartphone. There are more than 100 different and unique font styles that can be used to create a name in different styles. You can also use this app as font style apps to create stylish fonts. It helps you to easily save your created name as text or images and also share them with your friends and family via different social networking apps. Along with these, you can also write text on a photo to add a watermark.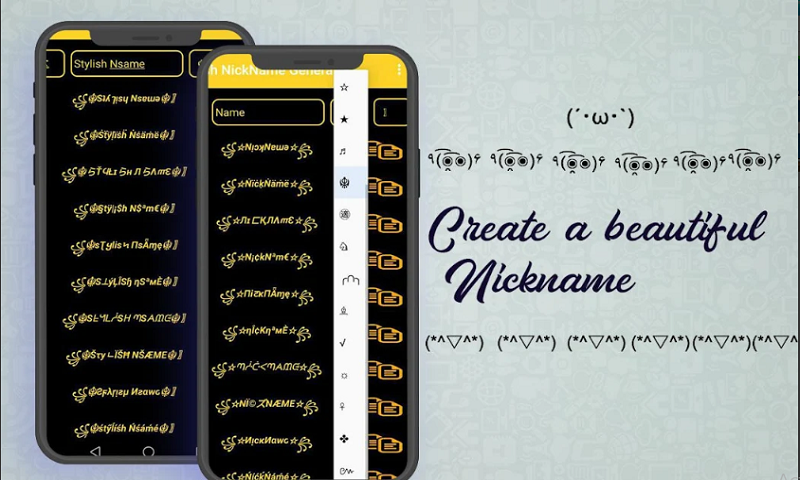 Calligraphy Art helps you to replicate the strokes of the pen in real life to change the angle, thickness, and colors of the font. It let you draw beautiful letters on papers with easy steps. You can easily write unique names in unique styles and different font styles using this app. This app has decorative text symbols, emojis, and sketches so that you can also use it as emoji apps to add emojis to your text.
Smoke effect name art is a unique calligraphy app for android users which helps you to create wonderful smoke art text effects on text. Using this app you will be able to easily create artistic style of name for the signature. Along with these, you can also use this app as a photo editor app to add a smoke effect on a photo and provide a new look to an image. There are 15 different and unique smoke backgrounds listed in this app. You can also use this app as cartoon picture apps to create a cartoon picture of your friends.