Apr 27, 2016, 10:30:22 AM via Website
Apr 27, 2016 10:30:22 AM via Website
(New Delhi/ Bangalore, 27 April) LeEco, the multinational internet ecosystem conglomerate successfully makes it to Top 2 brands with most market attention in India in April, after entering into India for less than four months. It has garnered market attention of 25%, closely following Apple (35%) and far ahead of Samsung (11%), according to the latest report by a leading Research and Measurement agency in India.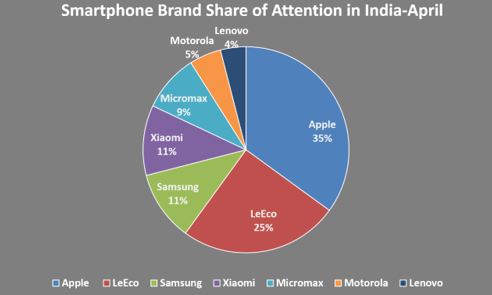 The figures from the report show that LeEco secured greater percentage of market attention of 25%, and the ranking has remarkable risen to Top 2, right behind Apple now, from the 4th position back in January. It has well surpassed Samsung and other competitors within no more than four months since its first entrance to the market.
LeEco has grabbed heavy attention and disrupted the Indian smartphone industry with the launch of Le 1s and Le Max, making foray into the Indian market in January this year. It has sold 2 lakhs Superphones within 30 days, receiving overwhelming responses from the public and in the first flash sale, 70,000 units of the flagship killer Le 1s were gone within 2 seconds, breaking three industry records and making it the No.1 best- selling smartphones online in India.
More than that, LeEco has a long-term and highly-anticipated plan for India and is committed to bringing the complete vertically-integrated Ecosystem to India. In order to take the user experience to a new height, LeEco has already signed deals with ErosNow for Video-on-demand (VOD) and with YuppTV for TV content streaming. To facilitate the seamless streaming of high-quality content, LeEco plans to invest 10 million USD to set up in-house Content Delivery Networks (CDN) across 10 cities in India by the end of this year. Besides, it has recently applied for the Foreign Investment Promotion Board's (FIPB) approval to undertake the single brand retail trading of "Le" branded electronic products both through offline stores and e-commerce platform.
Globally, the disruptive Ecosystem business model has proved to be huge success and continued to transform people's internet lifestyle with best-in-line ecosystem products and services powered by breakthrough technology and comprehensive ecosystem and disruptive pricing. Meanwhile, LeEco announced the pioneering and jaw-dropping "Free Hardware Day" in 14 April and lead the global industry to a brand new era where users should only pay for high-quality services and content, rather than the premium of hardware and the brand. The powerful and highly connected Ecosystem that LeEco boasts has shown enormous potential and attracted partnerships with various world-renowned companies, including establishing the joint-venture with Aston Martin to develop electric vehicles, and inking strategic cooperation with Faraday Future.
A week ago on 20 April, LeEco unveiled impressive and long-awaited new range of products in Beijing, being the first internet ecosystem company in the world to release products belonging to distinct industries-electric vehicle, smartphone, TV, and VR. It has wowed the world, showcasing LeSEE's first self-driving concept car and launching the ground-breaking second generation Superphones-Le 2, Le Max2 and Le 2Pro, the 4th generation Super TVs, LeVR device and the latest eUI 5.8 OS.
As the world's first phone to come with USB Type-C audio port supported by CDLA (Continual Digital Lossless Audio) technology, the new Superphones have received a historic-high 23 million registrations, and achieved sales of 1.22 billion RMB (188 million USD), with a whopping 1 million units sold out in two hours after its first official sale kicks off across all platforms at 10am, 26 April, 2016. LeEco has broken two industry records as the fastest sales with the largest amount in China, and created a new record on JD. com with the biggest sales amount in a single day. Within 24 hours, the total sales of Superphones mount to 1.61 million units, breaking the sales of more than 1.9 billion RMB (293 million USD), which is unprecedented in the industry.
— modified on Apr 27, 2016, 10:31:34 AM