Jan 20, 2016, 3:55:50 AM via Website
Jan 20, 2016 3:55:50 AM via Website
Rooting an Android phone allows Android users to boost their handset's performance, install non-approved applications, expand internal storage and block advertisements. Inexperienced users, however, are likely to "brick" their phones (make them useless by modifying them incorrectly) if they try the rooting their Android phone or tablet without following proper instructions.
Tips and Warnings
• *Advantages & Risks:*Familiarize yourself with the instructions before attempting to root your phone. Doing a "dry run" is a great way to guard against bricking your Android phone. You can go our previous article to learn advantages & risks of rooting Android.
• Backup before rooting: Backup! Backup! Backup! It really can't be emphasized enough. The rooting process could erase all of your phone content and setting, make it totally a new phone. Data loss on your phone could cost a lot, so make sure all of your phone data was baked up successfully, such as contacts, sms, videos, photos, music, apps, notes, calendars, call logs, etc.
How to Root Your Android Phone or Tablet?
Before getting started, it is important to charge your phone, preferably with 100% capacity of the battery. Then, follow these steps to root your Android device using Kingo Root:
Step 1: Download and install Kingo Android Root which is a free one-click Android root software . Double click the desktop icon to launch it.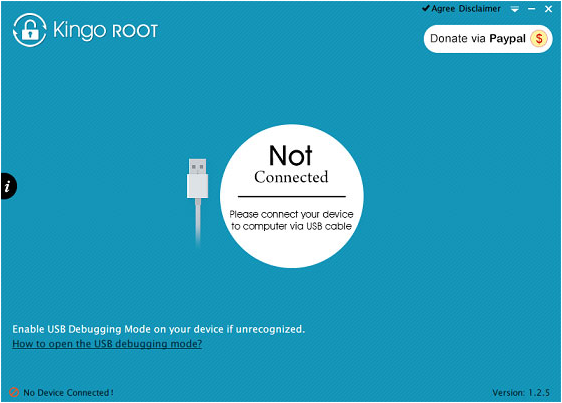 Step 2: Connect your Android device into your computer via USB cable. Don't forget to enable USB Debugging mode on your Android device.
Step 3: Read notifications carefully and click "ROOT" to start the process. During rooting, please do not touch, move, unplug or perform any operation on your device. The process will take a while, please be patient.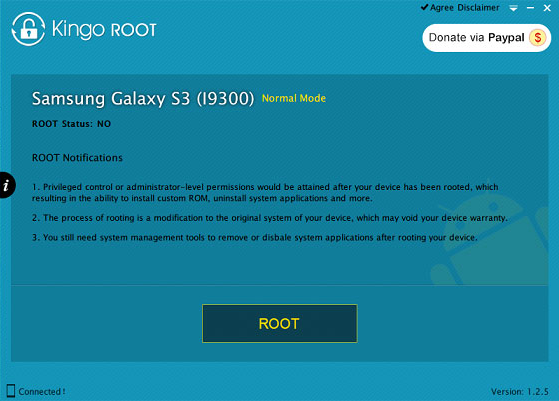 Step 4: After completed, click "Finish" to reboot your device. Until your device reboots itself, do not operate. Normally, you will find an app named "SuperUser" installed on your device after successful rooting.