Dec 20, 2015, 8:30:55 PM via Website
Dec 20, 2015 8:30:55 PM via Website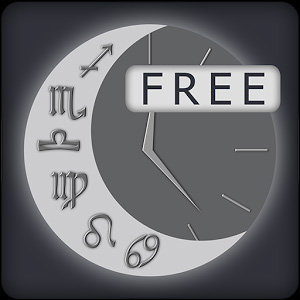 Free Moon Organizer uses astronomical algorithms and ancient astrological knowledge to help you plan and organize your time and activities according to classical Moon astrology.
This is a free version of Moon Organizer:
play.google.com/store/apps/details?id=change.gwpto.astromoonorganizer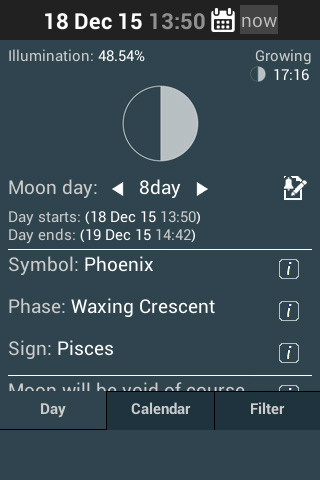 Features in Free Moon Organizer:
Calculates Moon days via classic astrological algorithm, based on rise time for corresponding location (from 1st to 29 or 30th day)
Setting notes and alarms for a given Moon day
Moon illumination and direction of growth
Moon phases
Moon astrological signs
Moon void of course for any time period (availiable in paid version)
Detailed info about lunar days, phases and zodiac signs
Moon rise and set time
Useful icons for fast glimpse on suitable and not-suitable activities for given day
Calendar with Moon days as interactive links for each day of the month
Exact times of main lunar phases
Filter for searching by suitable or inappropriate activity (extended time periods availiable in paid version)
Real-time calculation and auto-refreshing of all features
No time period limitations
Suitable for use in every place on Earth (GPS hardware not obligatory)
Light and minimalistic design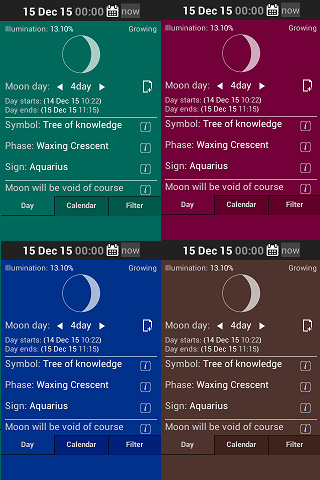 Languages:
- English, Spanish, Bulgarian.
Requirements:
Android version: 2.3+
Internet connection
Permissions needed:
- Internet access
- Access fine location (GPS coordinates)
- Vibrate
- Set alarm
Resolutions:
Supports all device screen resolutions
Our astronomy algorithm is based on Mark Huss' Java AstroLib (mhuss.com/AstroLib) algorithm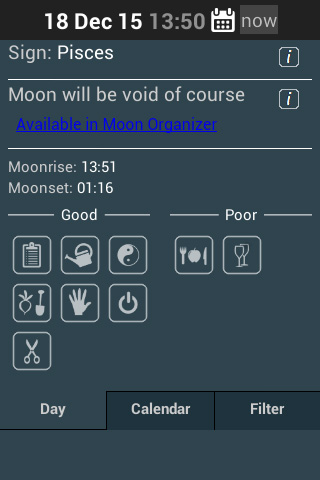 Moon Organizer presents the notion of astrology for the lunar influence on our activities. It is proven that the Moon phases and position on its orbit regulate crucial process on Earth like tidal cycles, animal reproductive cycles and behavior and plant growing and adaptation.
We hope you enjoy and have fun with Moon Organizer!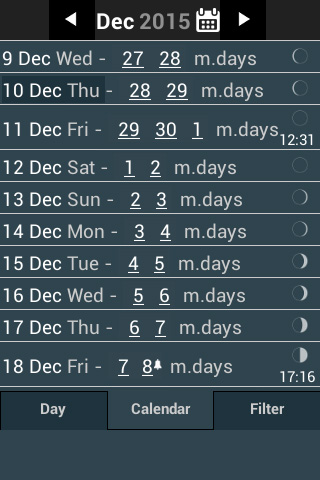 Download Here: play.google.com/store/apps/details?id=change.gwpto.free.astromoonorganizer