Nov 24, 2015, 10:20:23 AM via Website
Nov 24, 2015 10:20:23 AM via Website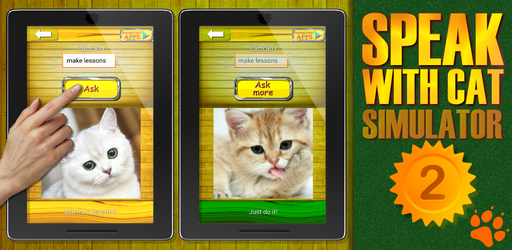 https://play.google.com/store/apps/details?id=good.storyapps.ask_cat2&hl=en
In this game, you can communicate with the cat, he is sure to give you some friendly advice, as you do in a difficult situation! This is the second part of the game Ask Cat Conversation Simulator. The new answers, tips, new cats. Males are much funnier and more fun. Now the entire conversation with a cat just in case, a whole new intelligence recognition of your questions. In this part of the cat is easy to translate into the language of your cat's obscene and violent language, so do not hurt the cat!
Features:
- New cats and answers are much wittier and funnier
- Assistant and counselor for all occasions - more than 25 practical advice
Think of the game as a joke, it was created for entertainment purposes. The game simulates the only communication with the cat. Be sure to show the app to your friends! Ask the cat, for example, can I have an ice cream?