Nov 14, 2015, 5:20:31 PM via Website
Nov 14, 2015 5:20:31 PM via Website
Bubble Adventure: Dragon Land - shoot the bubble to rescue your dragon kids!
Let's begin the journey with Draco to fight against the Giant Monster, save the dragon eggs and drop your way to victory!
You can enjoy & compete the game with Facebook friends, join the adventure across dragon worlds, defeat the enemy to save Draco's dragons... This free game will give you new-fresh & exciting joys! Come on, let begin the journey on challenging lands & become the master of bubble shooter!
Download free game here:https://play.google.com/store/apps/details?id=com.asqteam.bubbleshooter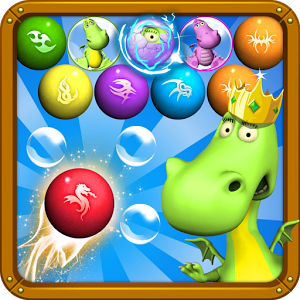 ★ ★ MAIN FEATURES ★ ★
✔ Lots of well-designed & addictive levels
✔ A challenging journey across dragon worlds:
Grassland - kingdom of Draco
Seaside - journey through nice ocean & river
Desert - be careful with Giant Monster!
Freezing land - enjoy shooter for this summer!
Highland - a dreamy world
✔ Innovative & challenging gameplay
✔ Powerful boosters: Burst Boom, Rainbow Blaze, Thunder Lightning, Magic Line
✔ Play & compete your Facebook friends
✔ Fun & easy to start, but challenge to get 3 stars on each level
✔ Get special Achievements to master this journey game
✔ Leaderboard to compare score with Facebook friends. Sync your game progress.
✔ Collect free coins & buy boosters in magic shop
✔ Polished Bubble, lovely Dragons with kute emotion, sweet fairy, impressive journey map, wicked Giant Monster & other cool characters will bring you back bubble age!
✔ Bright and vibrant effects: boom explosion, popping, blaze thunder, Snow/Spring/Night weather, object breaker
✔ Exciting music & sound
✔ We'll add more levels & update gameplay regularly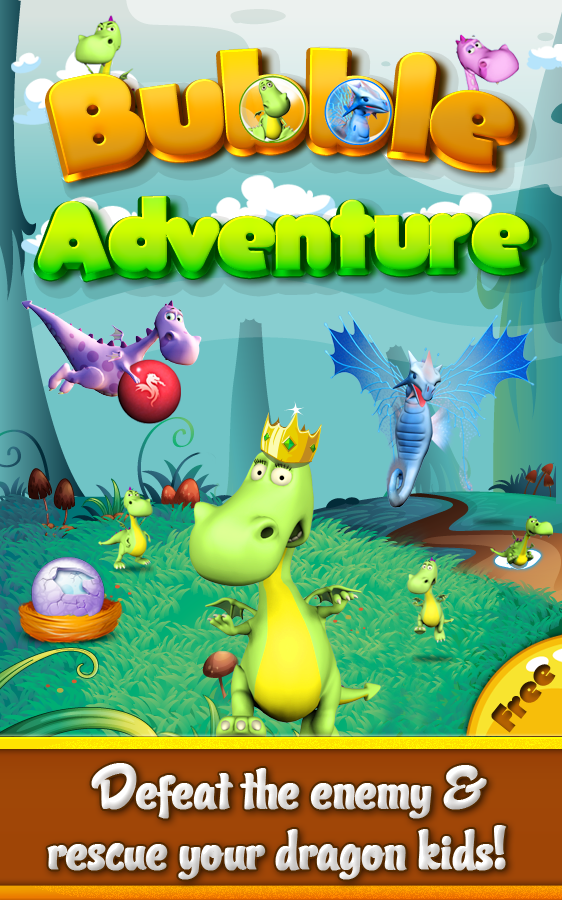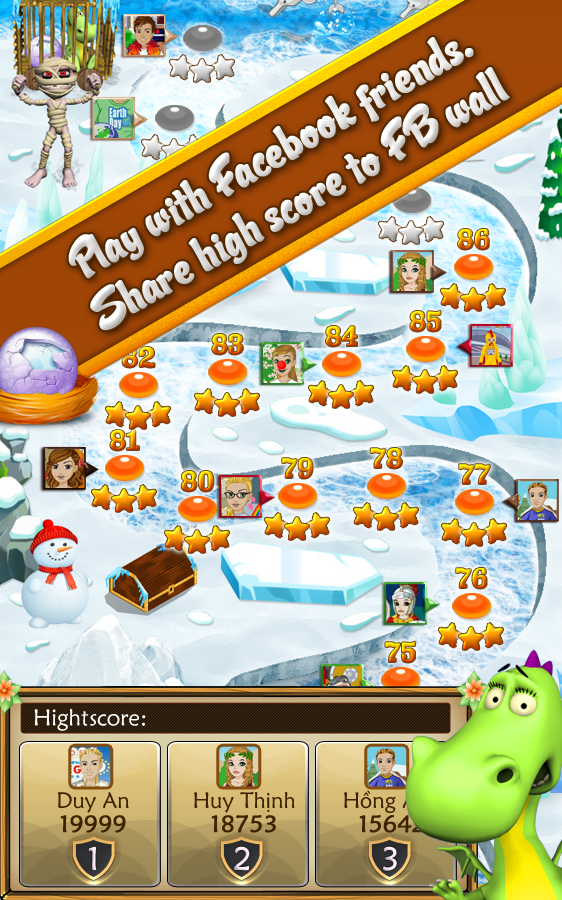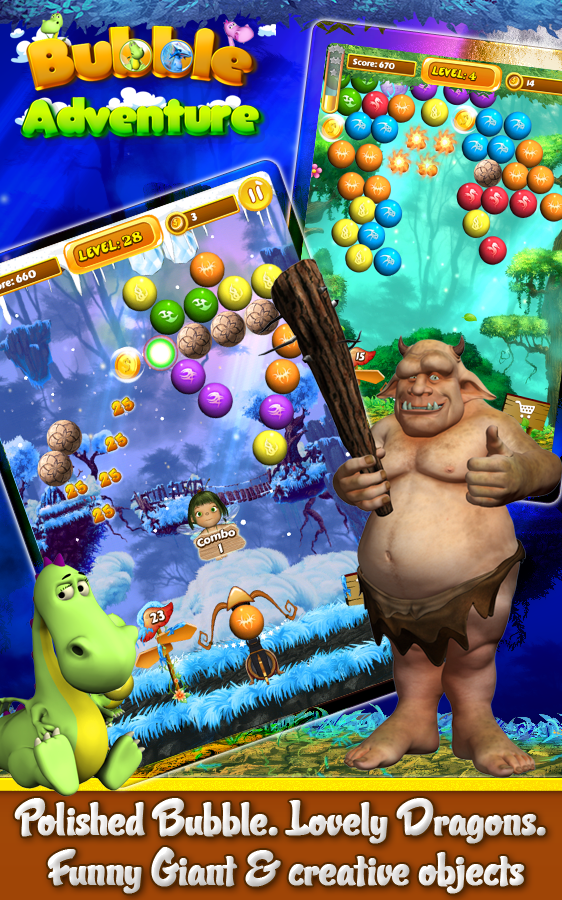 ★ ★ HOW TO PLAY ★ ★
✔ Tap the screen to shoot the items of group 3 or more the same color items to make them burst
✔ Shoot the egg for rescuing your kid
✔ Defeat the enemy: pop the ice, try not reach the giant monster - this will reduce your move, use booster to destroy rock, monster...
✔ Control Draco to pop: touch down to adjust the aiming line and touch up to shoot
✔ Try to destroy obstacles for easy rescue your kid
✔ Collect coins for buying boosters in magic shop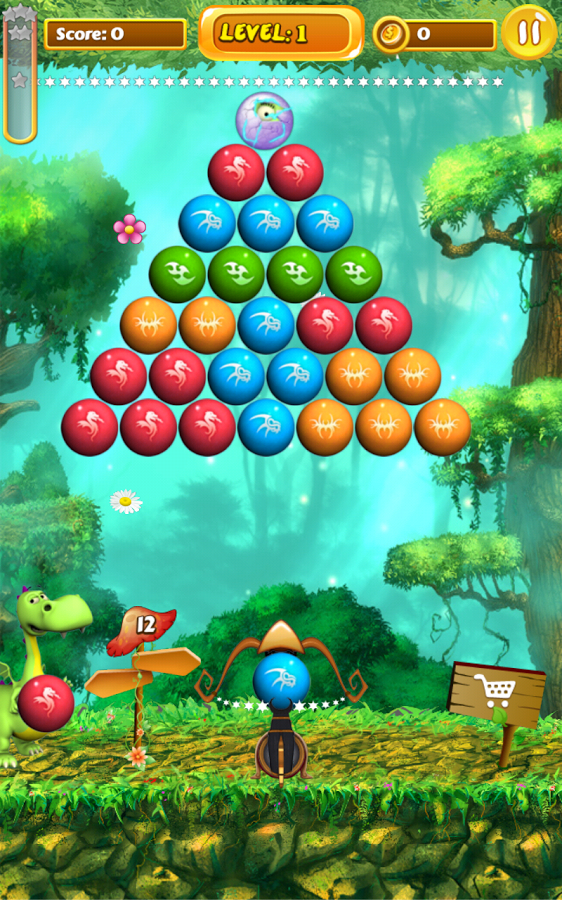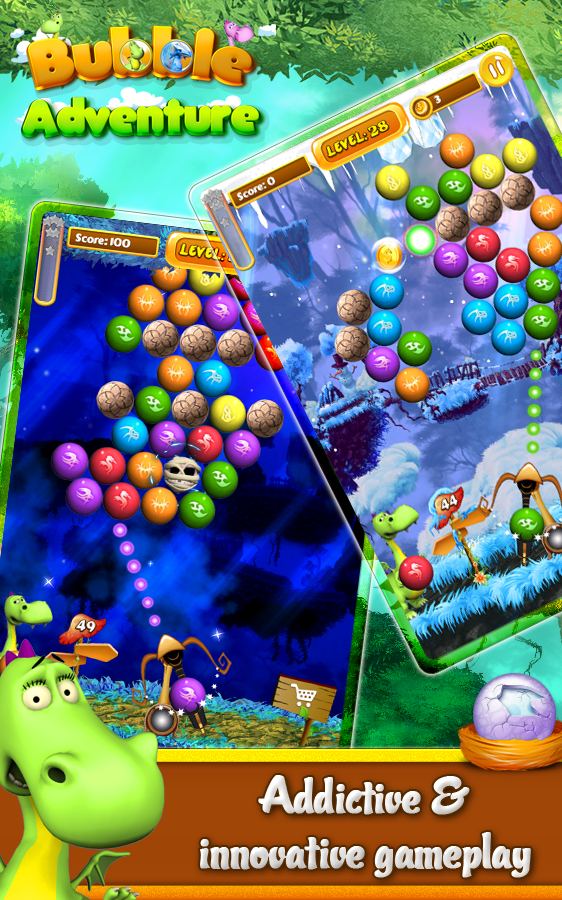 ★ ★ BOOSTERS ★ ★
✔ Burst Boom: explosion to blaze a large group of items
✔Rainbow Blaze: a special weapon can blaze any color of items
✔ Thunder Lightning: a thunder to pop all objects in a line
✔ Burst Boom & Thunder Lightning can kill Giant Monster
✔ Magic Line: a long line to easily direct popping to a specific position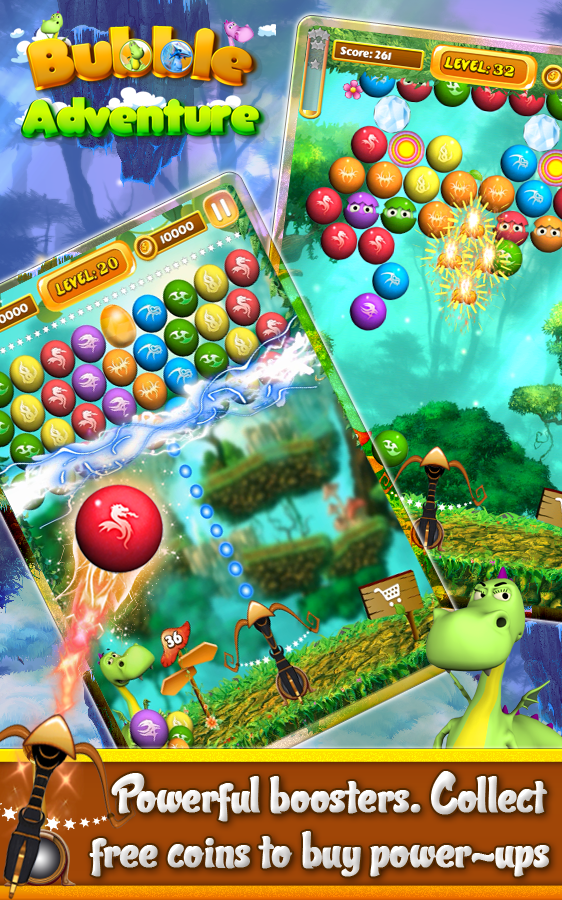 Journey in dragon worlds with Draco
Long time ago in bubble kingdom, the dragons lived in peace with their king Draco. Unluckily, the enemy of them - Giant Monsters - wants to become the ruler of the world. They tried to make Draco weaker by stole his eggs. Then they make black magic to prevent Draco rescue the eggs: rock, ice, black hole, and monster ... Draco must try his best to shoot accurately, defeat the obstacles, & kill the Giant Monster to rescue the eggs. This game will take you to the childish & bubble age!
Link download free game: https://play.google.com/store/apps/details?id=com.asqteam.bubbleshooter
We love to hear from you
✔ To help us meet your desire about this bubble shooter game, please send your feedback to: asqteam.mobile@gmail.com
✔ Like us on Facebook for the latest news:
https://www.facebook.com/ateamdroid
✔ We want to say a sweetest THANK YOU to everyone who has played this free game & gave us 5 star review!
ASQTeam is a young team & our remarkable free games are: Cookie Star, Monster Bubble, Jelly Pop, Cookie Blast, Jewels Blast, Farm Journey, Jelly Smash. This game will surely bring you back to bubble age!
ASQTeam