Jul 12, 2014, 12:32:00 PM via Website
Jul 12, 2014 12:32:00 PM via Website
Monster Getaway - Can you escape the authorities?
Go head-to-head as you try to outrun the authorities in this fun monster racing game.
Brace yourself for an amazing adventure in Monster Getaway.
Instantly playable and simple to control, the action speeds up and changes gears as you progress.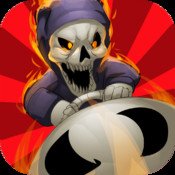 Highlights:
+ Simple yet addictive gameplay.
+ Five menacing monsters to unlock.
+ Suitable for adults, kids, boys and girls.
+ Must-have entertainment for the entire family.
+ Great app to play with the kids or a quick time-out.
+ New adventures coming soon.
+ All...for FREE.
How To Play:
+ Swipe up or down to move
+ Tap or press the screen to shoot
Monster Getaway presents a FREE monster racing game a unique design that ensures you'll always have a unique adventure and will never play the same game twice.
Easy gameplay encourages players to pick up the game with ease while the game speed increases as your go along to constantly keep you challenged.
Don't miss the chance to see how long you can last in this action packed adventure.
Take control of the five fearsome monsters as they try to make a run for freedom. See how far you can take them in the fun monster racing game.
Join the fun and download today: play.googleDOTcom/store/apps/details?id=com.monstergetaway.monstergetaway