Fitbit Versa 3 review: A great sports smartwatch with a catch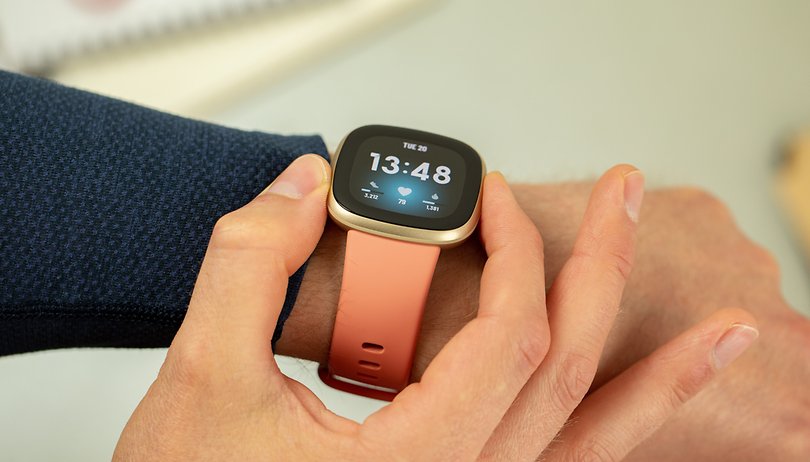 With the Versa 3, Fitbit continues the successful Versa series in a meaningful manner. The smartwatch offers pretty much every fitness tracking feature that you want on your wrist in a compact and lightweight form factor in addition to excellent battery life. Unlike its predecessor, GPS connectivity is also included with this bad boy. However: One problem presists - in addition to one or two new ones showing up.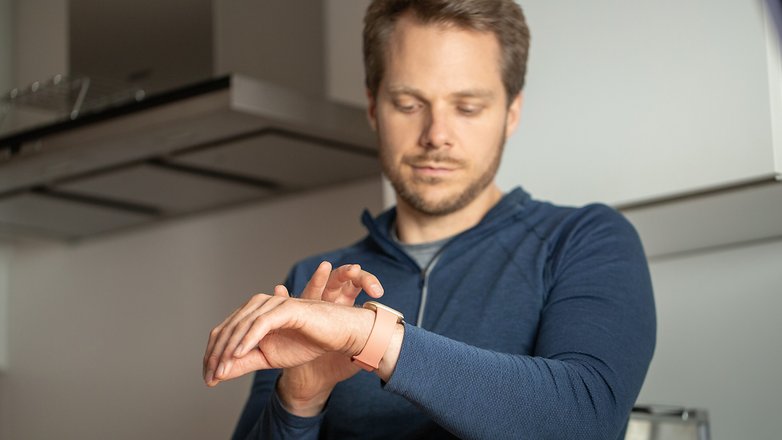 Good
Great and versatile fitness tracking capability

Sophisticated and well-designed app

Robust design
Bad
Closed ecosystem

User experience could be better

Restrictions without a premium subscription
Summary: Premium prices comes with a premium subscription
Fitness trackers from Fitbit have never been and are still not the cheapest option that is available on the market. However, the US company also offers excellent hardware (for now, at least), and the Versa 3 is no exception. This smartwatch is extremely light, offers a countless number of sensors for fitness tracking, and comes with an all-round successful app for Android, iOS, and Windows 10.
But even though the Versa 3 offers comprehensive features for the amount of money paid, it is annoying that the app is constantly peddling you in one way or another. There are times when a banner pops up for a mindfulness session that is only available with a premium subscription, while sometimes the "Subscribe to Premium Now" screen is hidden behind a "Details" button. If you've just dropped around $200 bucks for this bad boy, it is certainly unbecoming of it to behave that way.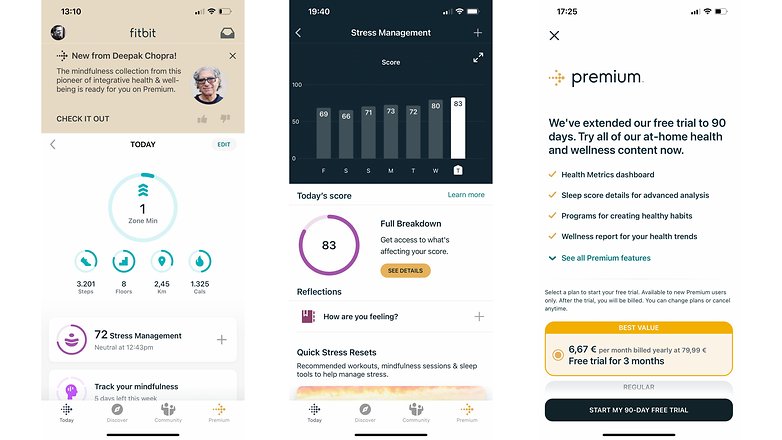 At least you are able to try the Premium subscription out for three months for free. Once the honeymoon period is over, Fitbit would like to charge you 9.99 USD monthly. If you opt for the annual subscription, you will pay a slightly less amount at 80 USD, which amounts to 6.67 USD per month.
Good design, better comfort
The Fitbit Versa 3 comes in a solid and chic case that looks really classy, especially the "soft gold" model. The straps can be changed within a matter of seconds with the watch being really light and comfortable.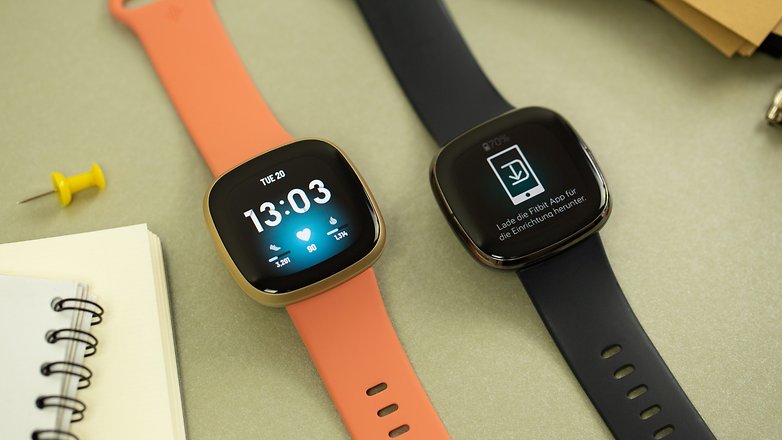 What I liked:
Solid build quality
Easily interchangeable wristbands
Comfortable to wear
What I disliked:
Black model looks rather plain
Admittedly: Our Fitbit Versa 3 review unit looks pretty fancy with the golden case and orange wristband, which is significantly fancier than our black model of the Fitbit Sense, which I had attributed to having the charm of a weight bench in its review.
Instead of using stainless steel like in the Sense, Fitbit decided to rely on aluminum for the Versa 3. This would automatically mean the case is a bit more sensitive to scratches than usual, however, I had to apply a reasonable amount of pressure with a pair of scissors in order to leave slight marks. The display uses Gorilla Glass 3 which means the scissors are unable to do much.
Apologies to Felix Baumgartner and Reinhold Messner: The maximum operating altitude of the Fitbit Versa 3 is 8535 meters according to the hardware specifications. Space tourists, on the other hand, need not have to worry about that reading in their pressurized cabin.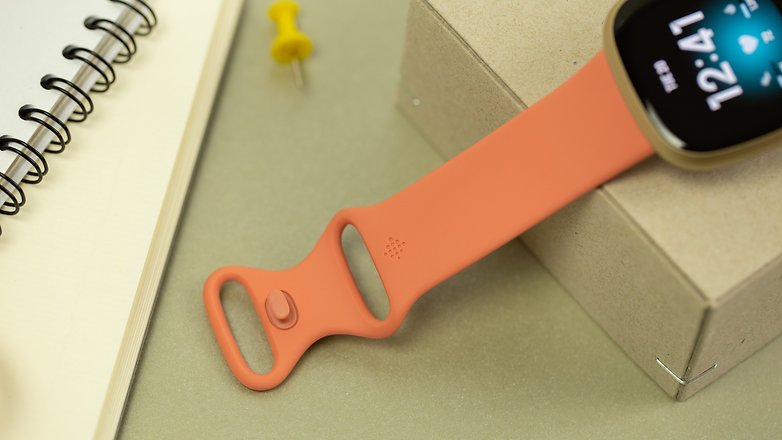 The Versa 3 was really comfortable to wear all day lone. Armed with its silicone wristband, those who are hirsute around the arms might want to take note since there is a tendency for the wristband to pull against your arm hair from time to time. Based on my experience, however, Fitbit's wristbands do not last forever and are not exactly cheap to replace with the original accessories costing anywhere from 30 to 50 USD. If you are not so picking, you can always settle for numerous third-party wristbands that are available on Amazon and other online stores for a few euros.
The Fitbit Versa 3 is really great to wear. It sits lightly and inconspicuously on the wrist unlike other smartwatches, and is even more comfortable to wear than many fitness trackers. I never felt the need to remove the watch when I retire for the night.
Display is almost flawless, virtual home button response is spotty
The Versa 3 shows off Fitbit's numerous years of experience when it comes to fitness trackers and smartwatches. While navigating through the user interface should be a painless affair for many, there are still kinks to be worked out as the virtual home button causes frustration occasionally. The display itself is almost flawless, leaving nearly nothing to be desired.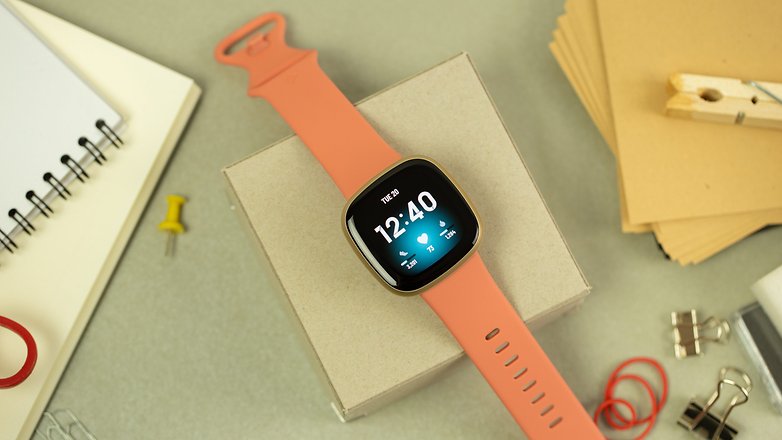 What I liked:
High-resolution AMOLED display
Easy to read even under direct sunlight
Sophisticated operating concept
What I disliked:
User interface takes some getting used to
Incorrect home button response happens sometimes
Under the aforementioned Gorilla Glass 3, Fitbit installed an AMOLED panel with a 336 x 336 pixel resolution. The pixel density on the 1.58-inch display is excellent, with the display brightness being adjustable across three levels. Fitbit would automatically adjust the brightness level accordingly based on your ambient lighting to maximize battery life, and I found legibility to be excellent under all lighting conditions without feeling blinded at night.
I do admit, however, that using the Fitbit Versa 3 will take a little getting used to at first. Instead of a mechanical button that is found on its predecessor, there's only a squeeze gesture to work with here: where you squeeze the case between your thumb (left) and index finger (right) to activate the "home button". You must first get used to activating the "home button" properly before proceeding.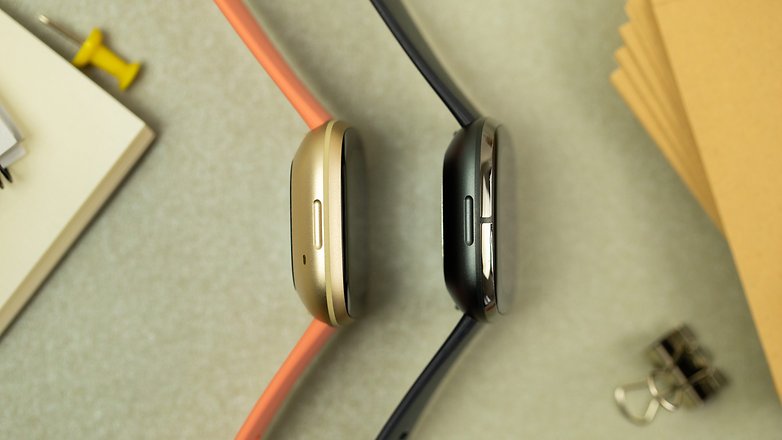 When my wrist was bent, I often pressed activated the "home button" by mistake, including moments when I indulge in my push-up sessions as well as other everyday life activities. When the display is turned off, a long press launches the standard pre-configured Fitbit Pay each time. However, you can also reconfigure the shortcut or disable it completely. It also helps to prevent this from happening by wearing the watch further away from your wrist.
Aside from these quibbles, the controls are really well executed. On the left of the home screen are the quick settings, where you can swipe from the the top to view notifications. On the right, Fitbit will depict various available functions and installed apps. Everything is presented in a tidy manner and are easy to find.
Despite the occasional input error, the Versa 3's user interface works well. You will eventually get used to the squeeze gesture and it performs reliably for the most part. Navigating through the user interface would then becomes second nature to you by then.
Tracking: Everything important is included!
The Fitbit Versa 3 offers a generous number of sensors that should keep most people happy. Compared to its bigger sibling, the Fitbit Sense, only the ECG function and the skin temperature sensor are missing which in turn slightly limits the stress measurement capability on the Versa 3.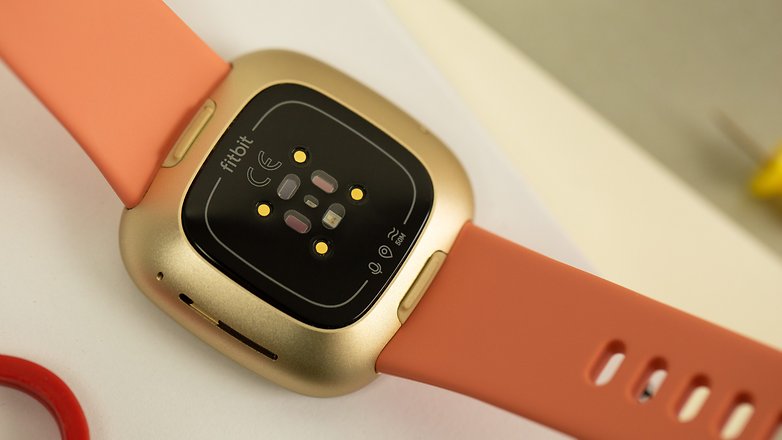 Die Fitbit Versa 3 has almost the same sensors as its older sister Fitbit Sense. / © NextPit
What I liked:
Great features in terms of sensors
Good accuracy for endurance sports
What I disliked:
BUY ME NOW! GET A PREMIUM ACCOUNT!
Closed ecosystem
Activity tracking
Tracking activity with the Fitbit Versa 3 is a simple process. Wake the watch up, swipe right, launch the workout menu, select the appropriate activity, and get going! Fitbit offers a total of 20 different sports to choose from, from jogging and yoga to swimming and tennis.
The selected sporting activity influences the data that is collected during the workout as well as the processed information shown on the display when you are halfway through the activity. In addition to time and heart rate, you can see the distance covered during jogging and the calories burned so far. You can also set certain goals before beginning the workout, such as a specific amount of time or distance that you would like to cover.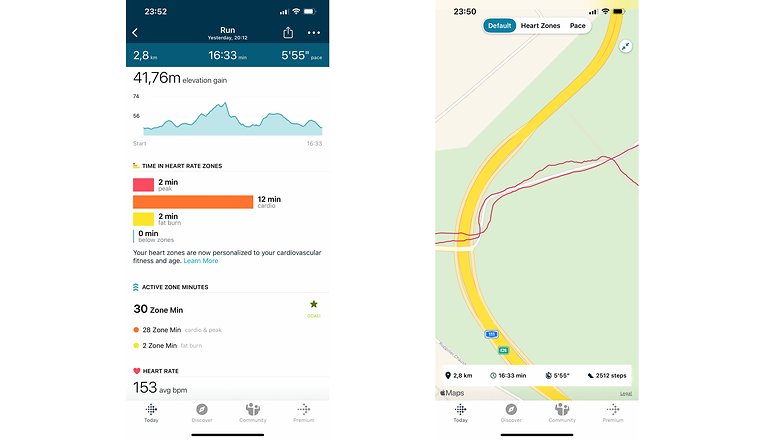 Squeezing the display pauses the workout, which can happens suddenly in the heat of the moment, especially when you are performing push-ups and other intensive physical activities. At least you can be aware of it when it happens via haptic feedback. However, I never ran into this issue with the Sense due to slightly different sensor modules.
In addition to starting workouts manually, the Fitbit Versa 3 is also capable of knowing when you begin exercising. This works well for selected activities like walking or cycling. However, you will have to make do without GPS tracking for these automatic workouts.
Heart rate measurement
The Versa 3 relies on optical sensors to measure the wearer's pulse. This function works very well when the wrists are not particularly stressed during sports such as when you are running or cycling on a reasonably smooth surface. The deviation compared to a wearing a more precise chest strap system is negligible here. When jogging, I found a deviation of 1 or 2 beats per minute for the average or maximum pulse rate.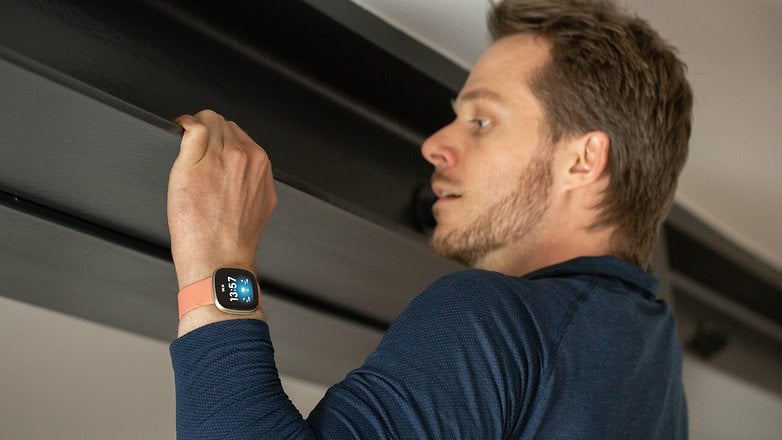 When my wrists are in a bent position or under stress, the difference becomes clear. During a full-body workout that lasted around 60 minutes, I clocked an average pulse of 114 and a maximum pulse rate of 159 beats per minute on the Versa 3. Here, my chest strap system recorded an average pulse of 120 and a maximum pulse rate of 178 bpm. If I hadn't tracked both my warm up and cool down sessions, the average difference would have been even more noticeable.
Below are a few comparative examples that I have noted down for each workout, shortly after completing the exercise. The more my hands/arms/wrists are involved in the activity, the less accurate the result.
Heart rate measurement: Fitbit Versa 3 vs. chest strap system
| Exercise | Pulse (Fitbit Versa 3) | Pulse (Sigma chest strap) |
| --- | --- | --- |
| Plyo Push-Ups | 115 | 165 |
| Single leg medicine ball burpees | 132 | 177 |
| Medicine Ball Reverse Roll | 145 | 160 |
| Side Plank Crunches | 144 | 153 |
| Gym Ball Crunches | 155 | 155 |
| Lateral single-leg jumps | 140 | 140 |
It should also be mentioned here that I have very little body hair and have reasonably fair skin, which are optimal conditions for measuring my pulse rate. This is where a major weakness of Fitbit comes to light: As of today, the Fitbit system is completely closed. There is no way to connect a third-party chest strap to the Versa 3 and Fitbit itself does not offer one.
Sleep
Like pretty much any other piece of technology that you (voluntarily) strap around your wrist, the Fitbit Versa 3 is capable of tracking your sleep. As a rough guide, it worked pretty well, where the times when I fell asleep and woke up roughly matched my bedtime and alarm times.
However, the Versa 3 also registered times when I laid down and showered immediately after getting up as light sleep and thus extended my sleep time by about half an hour to 4h 31min. How did I get a sleep score of 70 with the short number of hours and at least one too many beers? That's what my puffy eyes were wondering all Tuesday long.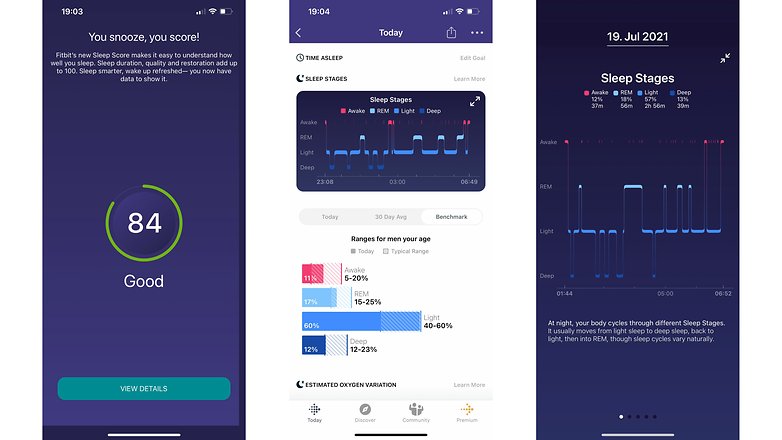 Further down in the sleep screen, you can see your pulse rate during your sleep as well as a measure your nocturnal restlessness - at least if you're a Premium user. Otherwise, there's just a little lock that teases you by urging you to pay up.
Due to the lack of a sleep lab, we were unable to make sense of the sleep phases in detail. At least the logged sleeping and waking times up are adequate enough to deliver information which can then be used by the software to indicate the optimal number of hours of sleep that is required to remain alert and healthy.
Stress
The Fitbit Versa 3 combines various metrics to determine the wearer's stress level. The smartwatch integrates heart rate variability, exercise levels, and sleep regularity into a single score. Premium users will be able to view the detailed breakdown here, while fitness peasants will have to settle for a figure between 0 and 100, with a higher figure being better.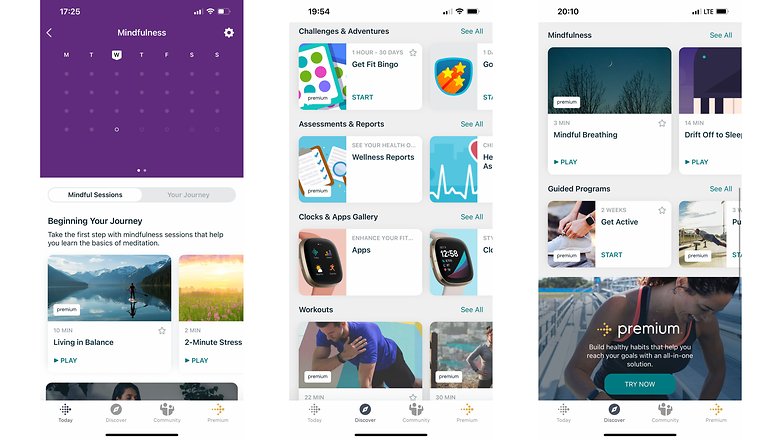 Health Values
Under the "Health Values" section, you'll find a number of other metrics, such as nightly breathing rate, heart rate variability, skin temperature, and resting heart rate. Non-premium customers will only be able to view the results of the last seven days. Aww!
Still, those who want to see their resting heart rate across a longer period of time can also find it under the "Heart Rate" section in the app.
GPS
Last but not least, the Fitbit Versa 3 has a GPS module that was missing in its predecessor, the Versa 2. The accuracy is generally adequate for casual athletes. However, if you were to go trail running in a forest, do expect the tracking to be less than satisfactory.
As far as the sensor technology used is concerned, the Fitbit Versa 3 leaves hardly anything to be desired. Sure, the Sense still offers a few additional functions, but personally, I think that those are overkill for the average Joe. It bothers me more that I cannot connect to external sensors such as third-party chest straps or cadence sensors. However, sensors in the Versa 3 are completely sufficient for hiking, jogging, cycling or for keeping track of your resting pulse rate.
Smartwatch functionality
The Versa 3 is explicitly listed as a smartwatch by Fitbit albeit with the typical fitness functions also offered by the manufacturer. But what does the watch have to offer in terms of smartwatch functionality?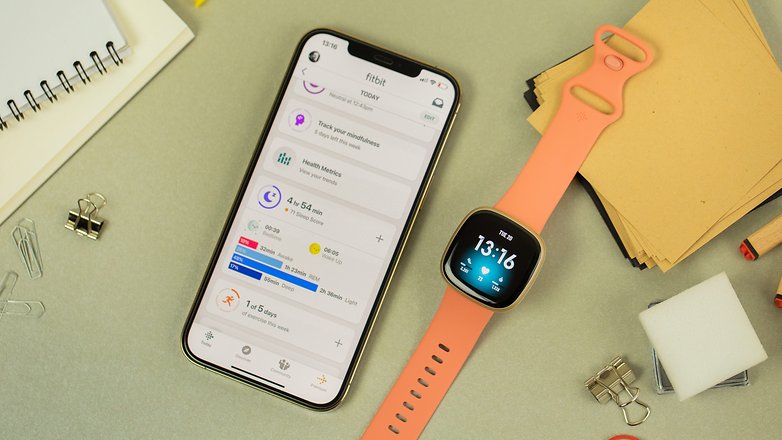 What I liked:
Sportify controls
Supports apps
What I disliked:
Fitbit Pay is poorly executed
Basically, the Fitbit Versa 3 also offers the usual deluge of smartwatch features, although not quite on the level of the best smartwatches. For example, notifications are only available on standard apps such as the calendar, SMS, and calls, with direct answering being possible only on Android devices.
There are also a few apps that are available on Fitbit OS, limited to only a few prominent ones such as Uber and Starbucks app. Google Navigation or Komoot are sorely missing. It's a shame, really, because I personally find navigation instructions on my wrist to be incredibly practical.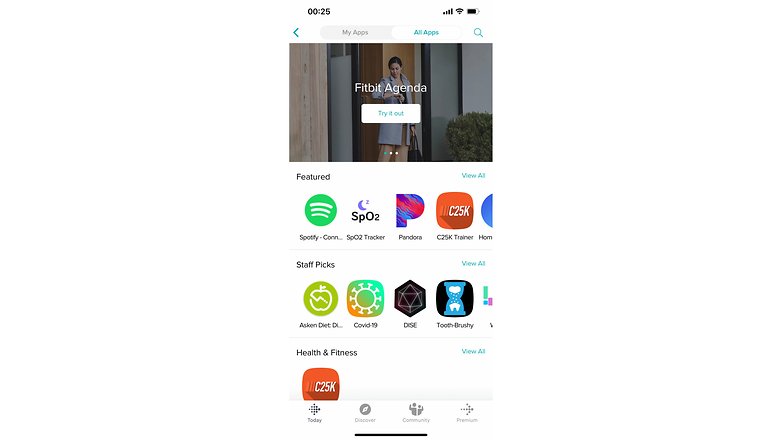 What I liked is the Spotify integration. Once you're logged in to your account, you can control playback on your smartphone from the watch itself and even play back sources that are connected to your network, such as compatible speaker systems.
Support for digital voice assistants is also included. If you have set up the Google Assistant, you can begin workouts by a voice command or ask about the weather. Fitbit will also feed Google Assistant with your sleep data and your Nest speaker can then inform you just how much sleep you had the night before, if your puffy eyes don't already tell you that in the first place when you stare at the mirror.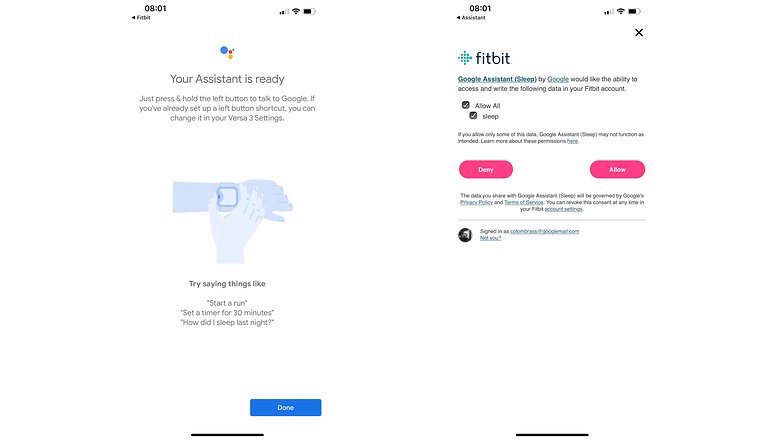 And then there's Fitbit Pay. You can include credit card information here for payment purposes to facilitate a quick and painless payment process at compatible terminals. However, you must first activate a code lock for the Versa 3 when setting up Fitbit Pay. From that point onward, the smartwatch would request for the code each time you access it. If you don't want to do that every time you use the Versa 3, you can enable the PIN lock only for using Fitbit Pay.
The bottom line? This fitness smartwatch is more fitness-oriented and less smartwatch. However, the watch does master the basics rather well and should satisfy casual users.
Battery life: One week is possible!
While the Fitbit Versa 3 isn't quite as smart as its competitors, it still offers one of the most important smartwatch features that users look for: a long battery life. More importantly, it doesn't require you to charge it every day!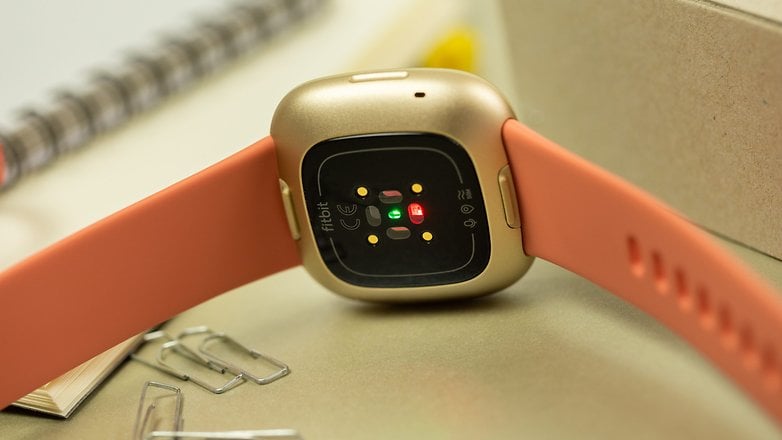 What I liked:
Very long battery life
Fast charging: A day's worth in just twelve minutes
What I disliked:
Proprietary charging port
No wireless charging support
The manufacturer claimed to offer a battery life of up to six days for the Fitbit Versa 3, which I can confirm in my review by using approximately one hour of activity tracking per day (without GPS). Sure, if you were to run for two hours every day with GPS, you'll need to recharge it at shorter intervals.
Another factor that comes into play here is the always-on display, which can be turned on and off in the quick settings. You can also prolong the battery life here as well, although the difference should be minimal thanks to the AMOLED panel and razor-thin font used.
IMAGE
The bottom line is, the Fitbit Versa 3 has one similar problem to other devices that boast of a long battery life: you don't have a daily charging routine. With that in mind, you might be caught unawares that your Versa 3 does not have enough juice to last you for the rest of the day! This is where the fast charging feature comes in handy: into in just twelve minutes, the Fitbit Versa 3 can be charged to carry enough juice to last an entire day.
The bottom line? Like all other Fitbit devices, the Versa 3 offers an excellent battery life that smartwatches with Wear OS or watchOS can only dream of. However, I find it to be a shame that there is still no wireless charging support.
Final verdict
At the end of the day, Fitbit has released a really good fitness smartwatch with the Versa 3, but it's important to be aware of and accept its limitations. While the smartwatch excels in the "fitness" department, Fitbit's closed ecosystem might be a no-go for the more ambitious athletes out there. At the same time, it always leaves a bitter taste in the mouth that quite a number of features in the 200 USD smartwatch are only available when you indulge yourself with an additional premium subscription.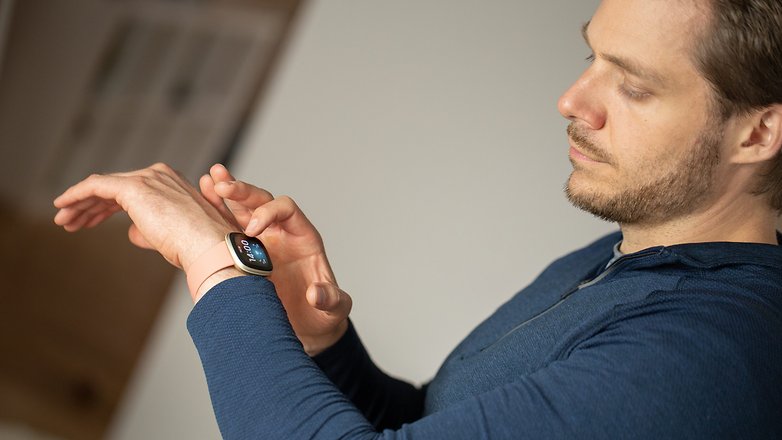 In terms of its smartwatch functionality, there are countless features that we have not even dived into (in greater detail) in this review: You can pay with the watch, listen to music, make phone calls, use Google Assistant or Amazon Alexa, and a whole lot more.
Finally, it should also be noted that the Versa 3 will probably be the last Versa device to run on Fitbit's proprietary operating system. In the future, Fitbit will most likely rely on the new Google-Samsung Wear OS, and a corresponding software upgrade for the Versa 3 is highly unlikely. Hence, it might be worth holding out for the upcoming generation. And who knows? Perhaps Fitbit might finally decide to open up its ecosystem then.