Cell phones then and now - have things really improved?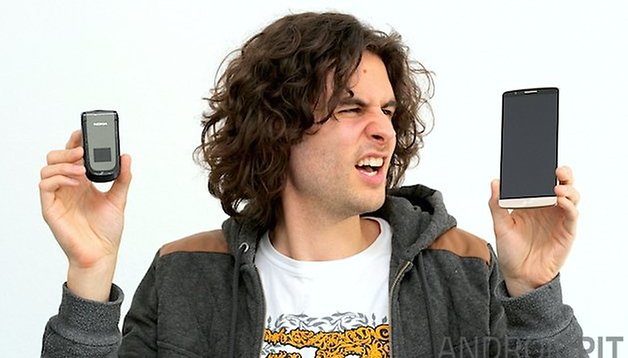 We all love selfies. We get excited about high resolution displays and the latest software updates. We drool over our news feeds and the megapixels on our shiny LG G3 or Samsung Galaxy S5 cameras. But we've got it all wrong. There was a simpler time - a better time. Let's take a look back at the features of our old handsets, and see if things really have improved. NEXTPITTV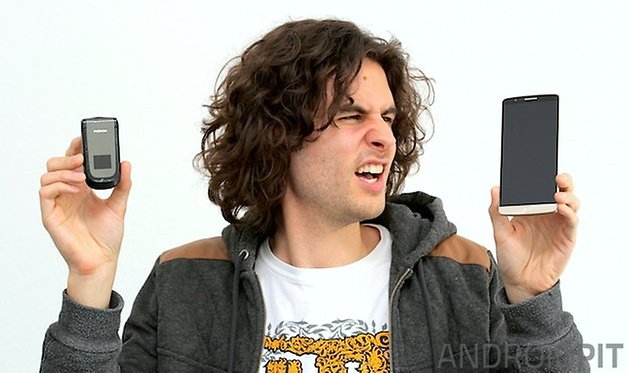 Build
Do you know from what height I could drop my Nokia 3210 without smashing the screen? From Laura McCormack's garage roof, that height. How far can we drop phones now? I smashed my last phone just stepping out of my car. Nowadays smartphone manufacturers insist upon producing these giant breakable christmas tree decorations, when all we want is a phone we can comfortably throw down a flight of stairs or two.
Camera
Cameras are overrated. Ten years ago, I didn't go to a festival to record some grainy footage of my favorite band to watch later on a tiny screen with terrible audio. I savored the moment, I lost myself in the performance, I didn't stop to think whether my video orientation should be horizontal or vertical, or whether the file size would be too big to email. The phones of the ancients were only used to call your friend and ask which side of the festival they'd found the cheapest beer at, not to record them chugging it.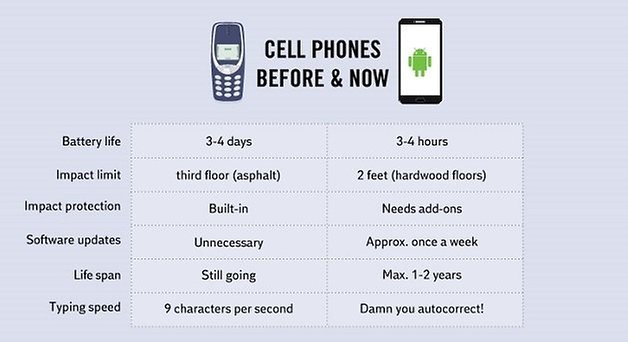 Size
"Why are you staring at a black chopping board, Scott?" - 'nuff said.
Maps
Where would we be without Google Maps, eh? How would the backpackers survive? How would we arrive early for that interview? How would we find that pizza place? Oh I know, like somebody who doesn't have a phone. We've all become babies - we're so dependent. At one time, getting lost on your journey was part of the fun. Now we're never lost, we're never unsure, we have all the answers, all the time, at the touch of a button. And deary me is it boring.
Games
Games were much better in the past. Not just on consoles, but phones too. Snake was a REAL game, a test of skill and reflexes. No hand holding, no in-app purchases and advertising. Your Snake score wasn't determined by how much money you'd spent on it, it was determined by technical ability and passion.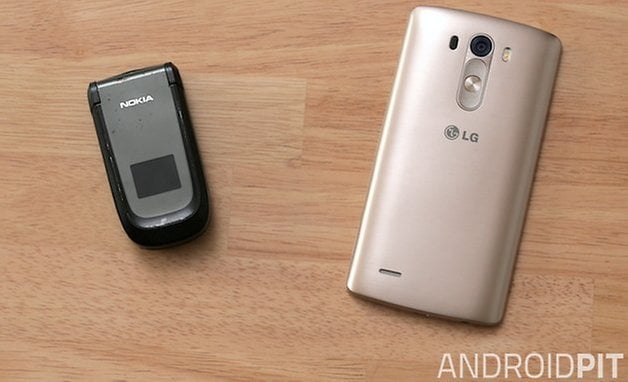 Battery
In 2014, sometimes my smartphone battery even survives the commute to work(!)
Sexting
Before the turn of the century, if you wanted to win the affections of a prospective partner, you had to become a veritable wordsmith. Limited to only a few hundred characters, words weren't something you could just throw away, you had to be sure about them. They had to mean something. Shakespeares were being born overnight as they wooed their loved ones with metaphors and symbolism and imagery. Now we send grim snaps of our tired genetalia in disposable messages. Where's the suspense? Where's the romance? Where's the love, people?
Conclusion
I am constantly being impressed by new developments in the smartphone world, but in some ways their capabilities have definitely diminished. And... I don't know, in our ever more connected world (see what's coming up in Android 5.0 in our Google I/O coverage), sometimes I worry we're becoming more distant. Last century we used a phone to talk to people. Now, we just talk to the phone. Bring back the limited, crude looking, button riddled mess of my childhood, because I miss it.
What do you think? Do you ever miss the phones of yesteryear?