Xperia Z3 Tablet Compact review: the Nexus 9 challenger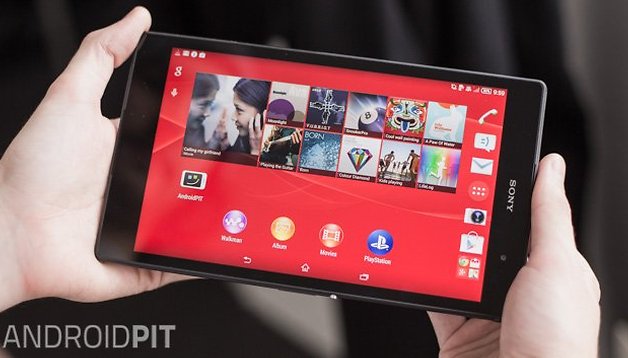 The Xperia Z3 Tablet Compact, Sony's 8-inch waterproof tablet seen at this year's IFA conference, recently arrived through AndroidPIT doors. Though you won't be able to get your hands on the world's "most powerful and lightest waterproof tablet" until November 2nd at the earliest, we've got all of the details on this stunning device right here to help you decide whether it's worth the investment. This is our Xperia Z3 Tablet Compact review.
Good
Ultra-cool, super-slim design

Luscious screen

Fantastic battery life

Fast processing
Bad
Hefty asking price

Weak camera
Sony Xperia Z3 Tablet Compact: All deals
Sony Xperia Z3 Tablet Compact design and build quality
The Sony Xperia Z3 Tablet Compact is one of the nicest tablets I've ever held. Beautifully weighted, ultra slim, soft matte finish on the back, it's just a pleasure to hold. The design is subtle, with no overbearing camera sensors or marks, just a sony sign, volume up and down, and possibly the cutest power button I've ever seen.
At only 6.4 mm slim and weighing 270 g, Sony claims that the Xperia Z3 Tablet Compact is the "most powerful and lightest waterproof tablet" on the market. Technically, this isn't such a huge statement, given the current lack of waterproof tablets available. Still, I can't deny the results, and I expect few will have complaints about the overall design and finish, even with the lack of aluminium that is seen on the Xperia Z3 and Xperia Z3 Compact smartphones. The plastic casing is the reason it feels so incredibly comfortable in the hand, after all.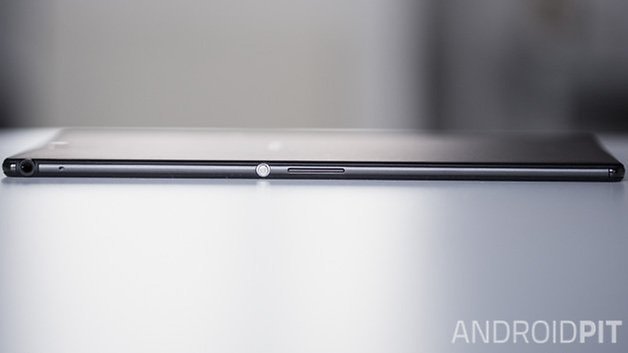 At times I thought the Z3 Tablet Compact was almost too thin - I worried it could break apart in my hand (or, heaven forbid, bend). But no, it's sturdy too, and the aforementioned ever-so-slightly textured rear provides just enough grip, without looking ugly.
Sony Xperia Z3 Tablet Compact display
This is why you bought the tablet, right? Without an impressive screen your new tablet wouldn't count for much. Thankfully, Sony delivers in this department. It's an 8-inch, full-HD (1920 x 1200 pixels) screen at roughly 283 ppi. The colors are rich, the palate has incredible depth (probably thanks to it's 16 million colors and triluminos/X-Reality technology), even if the pixel count cannot compete with the likes of the new Nexus 9 (which sits at a hefty 2048 x 1536 pixel resolution).
The LCD panel has impressive luminosity; throw some high-resolutions videos and images at it with the brightness whacked up and it's almost like looking into a rectangle full of magic. However, the viewing angles could be better. Some of the tonal vibrosity diminishes when looking at it even 20 degrees off-centre, and the result is a noticeably cooler-looking picture. Glare can also be a problem at more extreme angles when the brightness isn't at full capacity. Still, when viewing it head-on view, the Xperia Z3 Compact screen is wonderful.
iPad Mini vs Xperia Z3 Tablet Compact comparison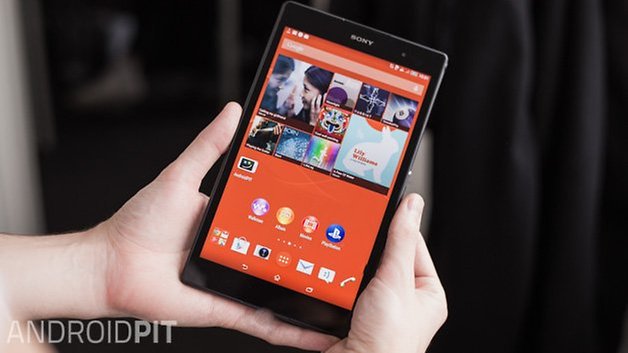 Sony Xperia Z3 Tablet Compact special features
Sony won't hesitate to tell you that the Sony Xperia Z3 tablet compact comes with IP65 and IP68 certification, meaning that the Xperia Z3 tablet compact is both dustproof and waterproof. In real terms this means that, with all ports closed, the device won't allow any dust inside (because we all know how many tablets, without this certification, have become damaged as a result of dust...) and can be kept under 1.5 m of fresh water for up to 30 minutes. If you want to put Sony's Xperia Z3 tablet compact water resistance claims to the test, by all means do, but try and remember that if your bathtub isn't filled with Evian, and your tablet malfunctions, you can kiss goodbye to your warranty.
One of the most notable features of the Xperia Z3 tablet compact is its ability to play PS4 games using a PS4 DualShock controller. You can buy a separate mount attachment to sit the tablet on your controller, or just prop the tablet against something instead.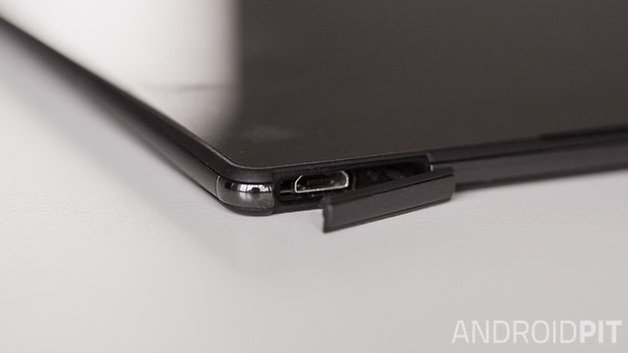 This Remote Play feature will work in the same way as it does on the PS vita: the Xperia Z3 Tablet Compact will act as an alternative display with the PS4 still providing the horsepower. Sadly, we haven't been able to test this aspect of the device software just yet, as it won't be made available until November.
The Xperia Z3 Tablet Compact also has a sim-card slot, for use as an incredibly awkward looking smartphone, should you wish to do this. (Please don't.)
Sony Xperia Z3 Tablet Compact software
Sony puts a lot of energy into its entertainment software for any of its trademarked hardware properties. Its tablets are no different, and the Xperia Z3 Table Compact arrives with the usual suspects - Sony's Walkman, Album, Movies and Playstation apps.
Fortunately for music fans, Sony's speaker technology is up to snuff, with Xperia Z3 Tablet Compact the same audio features as can be found on the Xperia Z3 and Z3 Compact smartphones. This means you're treated to high-resolution audio, with the ability to upscale poorer quality music (a setting which can only be found in Sony's Walkman app), and digital noise cancelling, providing you have compatible headphones.
The DSEE HX option for upgrading audio quality is hidden deep within the walkman options menu (settings > sound effects > enhancements), and it's turned off by default, but it's unique to Sony, and might be worth searching for if you're something of an audiophile.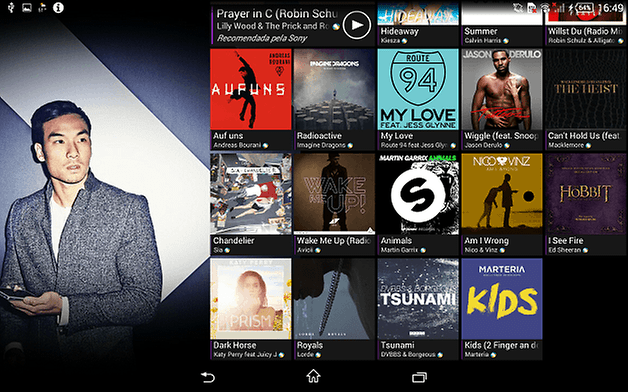 The Sony Movies app is easy to use, with its own store that exists across all of your Sony devices. Download a movie on your PS4 and you will be able to stream it on your Xperia Z3 compact, or PS Vita too, for example. However, the app excludes content from other sources like the Play Store, which is disappointing. Having all of your digital movie collection in one place would be much more intuitive.
If you do want to load up your tablet with music, videos and apps, you have 16 GB of internal memory to do this with (around 11 GB after the system and bloatware), which can be upgraded to 128 GB thanks to a micro-SD slot.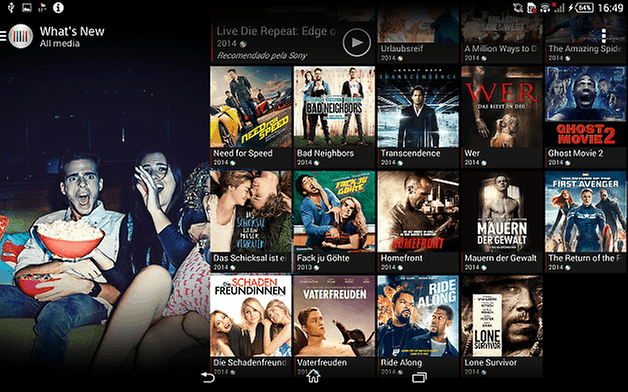 Sony Xperia Z3 Tablet Compact performance
Coming with a 2.5 Ghz quad-core Snapdragon 801 processor, 3 GB of RAM and Adreno 330 graphics, the Xperia Z3 Tablet Compact performance is outstanding. It boots up in a second, there was no lag or stuttering in my experience with it, and apps install, launch, and uninstall, in a flash. Jumping between the different home-screen and menus is like watching dolphins diving into water. Fluid.
Playing games, which typically takes quite a toll on performance, is also breeze, you can comfortably run any title from the Play Store currently offers at maximum settings, no questions asked. You can also open and work within a frightening number of browser tabs before things start to get a little sticky (and it's something I find myself needing to do often). As a side note, the actual tab scrolling design, where older tabs roll behind newer ones, rather than having twenty tabs squished together, is really neat.
Since some of you will be desperate to see it, here is the Antutu benchmarking score for you to pour over.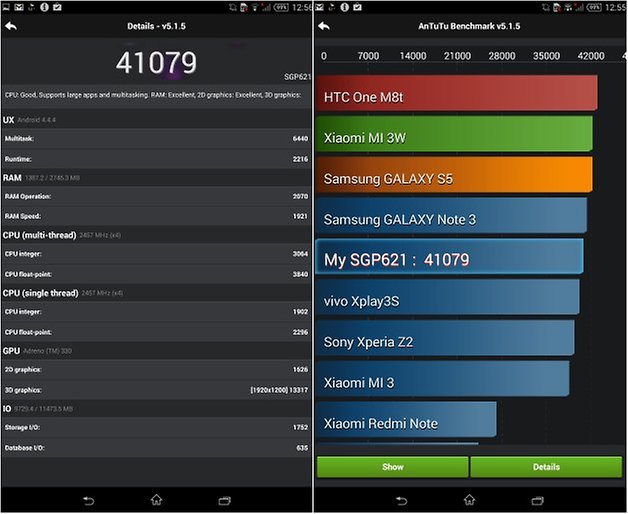 Sony Xperia Z3 Tablet Compact camera
The Xperia Z3 Tablet Compact camera is a little disappointing, in low light settings in particular. It's grainy, the autofocus tends to be slow and inaccurate, and the images produced were often blurry - given Sony's camera history I was really quite surprised by how poorly it performed.
Things get a better when we take the tablet outdoors. Pinks and purples are a little biased (I think this is common on a number of other Sony gadgets), and the 8 MP sensor is actually more limiting than you might expect in terms of overall definition (or the maybe cracks in snaps produced by an 8 MP camera show just a little more when viewed on a bigger screen than a smartphone.) Overall, though, the image replication is pretty true to real life, and as long as you can keep the tablet steady, and don't care too much for fine detail, you should get some decent shots if you're out and about.
The 2.1 MP front camera is of a very poor standard in low light too, but as it's mainly used for selfies people will probably find it sufficient.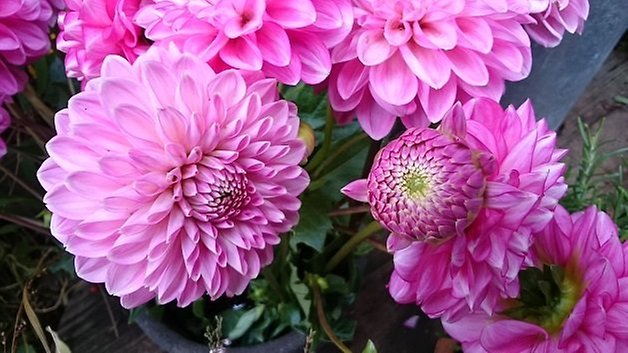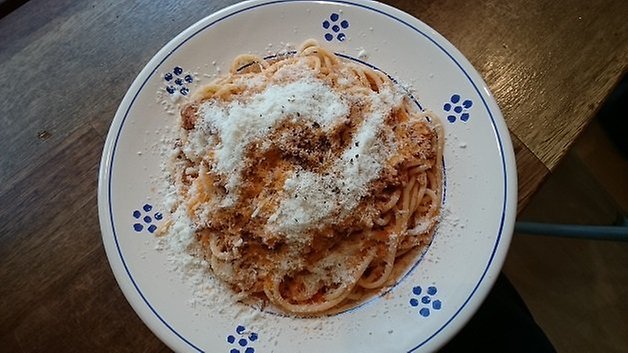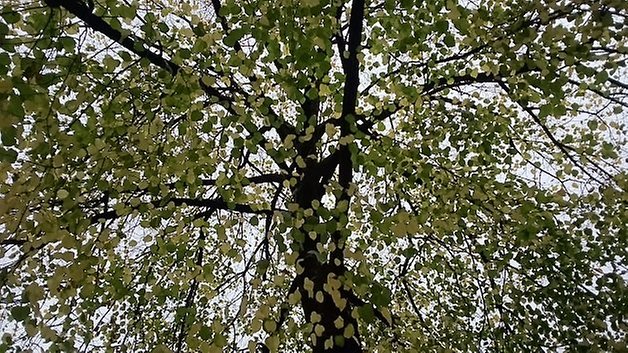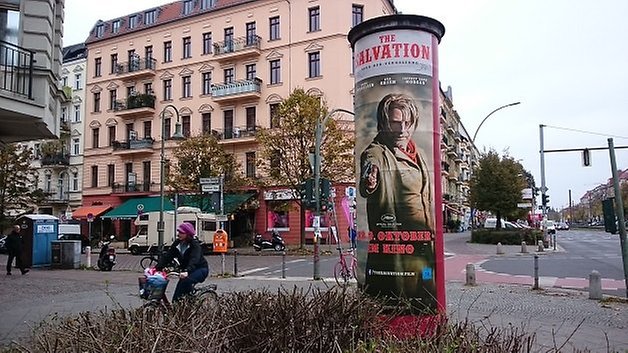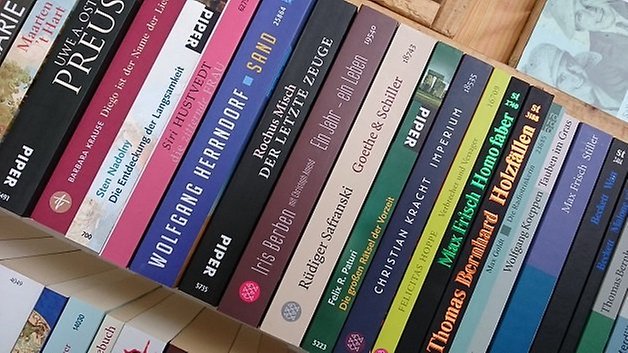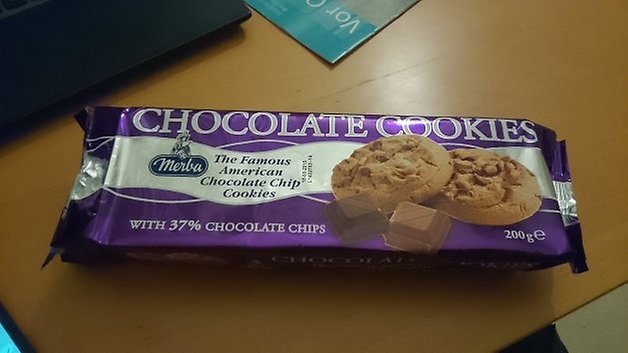 Sony Xperia Z3 Tablet Compact battery
The Z3 tablet compact comes with a 4500 mAh battery and Sony's "two days' of normal use" seal. Is this accurate? Of course it's not. This is manufacturers battery life claims we are talking about, after all.
But the battery life is good. In fact, it's great. Considering how light and slim the device is, and what limitation that must have put on the power pack, it's quite amazing. And this isn't powering low-spec components, this is powering a full-HD display and 801 processor.
But there is a problem with the battery, and it's not how long it lasts. The problem is how long it takes to charge. I would definitely recommend using the supplied wall-charger rather than charging over USB, because otherwise you might be waiting hours to get 10% charge pumped back into it. But even then, don't expect anything like the Nexus 9's turbo-charging.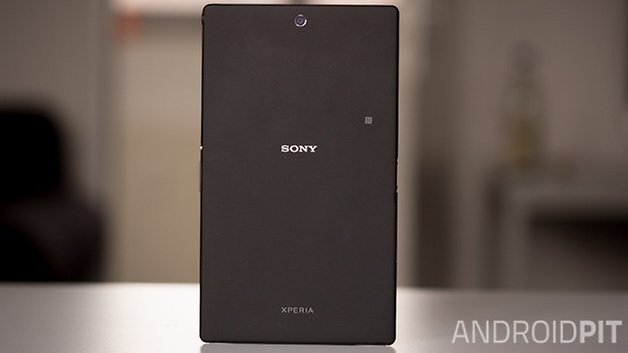 Thankfully, the Z3 tablet compact does house a range of effective power saving modes, like Sony's STAMINA mode (which was first seen on the original Xperia Z smartphone), low-battery mode, and location-based Wi-Fi mode to try and optimize battery performance. The location-based Wi-Fi is a feature that should be available on every device as standard. With this enabled, Wi-Fi will only be activated when in range of a saved Wi-Fi network, meaning your tablet won't waste power trying to connect to any Wi-Fi hotspot that winks at it.
Price and Availability
The Xperia Z3 Tablet Compact is available in three flavors in the UK and can be pre-ordered now from the official Sony website. The tablet is available for £329 for the 16 GB version, £379 for the 32 GB version, and £429 for the LTE/4g 16 GB version.
In the US, Sony only has the 16 GB LTE version available right now, selling for 499.99 USD on the Sony store. Both the UK and US estimated dispatch date is November 2nd.


Sony Xperia Z3 Tablet Compact technical specifications
Final verdict
There is no question that the Xperia Z3 Tablet Compact is a fine tablet - it's actually the best tablet I've ever seen. The size, width and overall design is splendid - you're going to really enjoy just picking the thing up. Not only this, but it's powerful and has an impressive screen to boot.
So what's the catch? Well, value for one thing. A tablet is a tablet: the options you have on the Xperia Z3 Tablet Compact, excluding the yet-to-be-seen PS4 Remote play and potential for bath-time expeditions, are much the same as can be found on any other tablet. And 500 USD is not cheap for a tablet, not by a long stretch, and you'll currently be restricted to that 500 USD LTE version if you're living within the US, without the option of the lower priced non-LTE variations as in the UK.
Also, I don't know if you've heard, but there is that little known tablet called the Nexus 9 teetering intimidatingly on the horizon, which will likely outshine the Xperia Z3 Tablet Compact in a few key areas (notably shaving 100 USD off the price tag for a QXGA screen and out-of-box Android 5.0 Lollipop software).
But if you were to ask if I could safely recommend this tablet, not just as an 8-inch Android tablet, but as a tablet of any size, shape or form? The answer is yes. Absolutely.
Are you considering a Xperia Z3 Tablet Compact purchase? Let us know why or why not in the comments below.