Xiaomi Mi Max: A phablet with limitations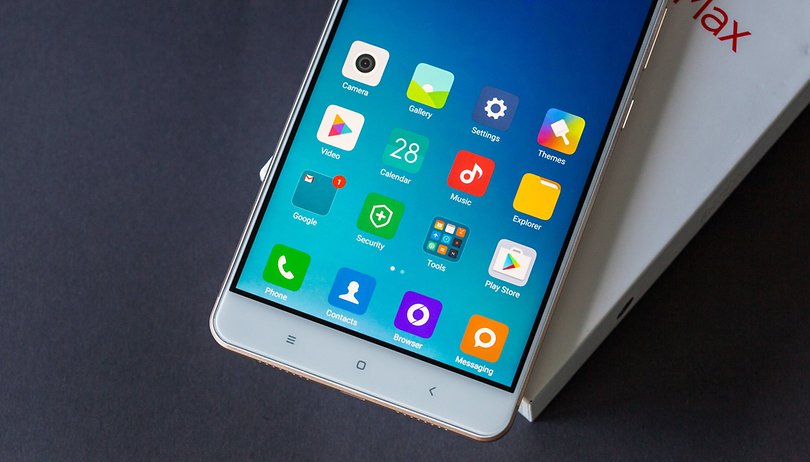 Xiaomi was launched to shake up the smartphone market and has always tried to make appealing products for users. This search has led it to offer devices with very different specifications but that all share one common attribute, a low price. The Xiaomi Mi Max is a device that is geared towards those looking for an immersive gaming and multimedia experience.
Good
Screen size

Design

Performance
Xiaomi Mi Max release date and price
The Xiaomi Mi Max is available in three colors: silver, gold and gray. All three have a white front. The price in China starts at 1,499 Yuan (around $225) for the 32 GB version. The 64 GB version is priced at 1,699 Yuan (around $250) And a Mi Max with 128GB and 4GB of RAM comes to 1,999 Yuan (approximately $299).
Xiaomi Mi Max design and build quality
The first surprise of the device is its size; this was expected. It has a length of 173 mm and a width of 88 mm, which is much bigger than the palm of my hand. Luckily, the device is thin, only 7.5 mm, but the width and weight of 230 g makes it difficult to use it with just one hand (although there is supposedly a software solution, but we shall see).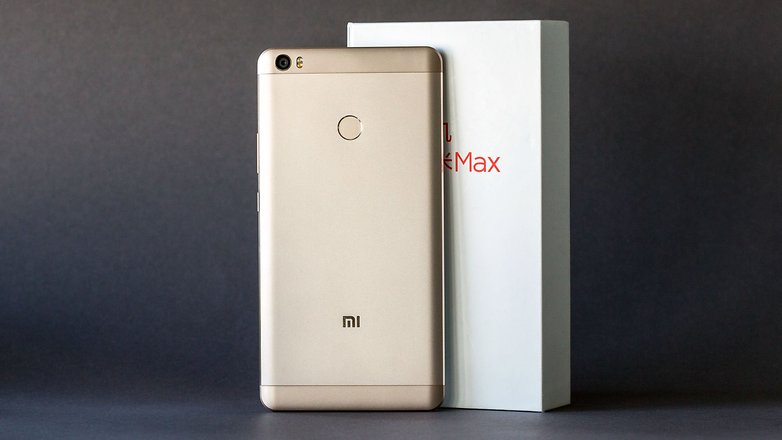 With two hands, using the device is no problem. The feel is smooth but a little slippery, which gives me an insecure feeling when I hold the device with just one hand. But, overall, it has a premium feel. The device didn't fit in any of the pockets of my pants. And it stuck out in my shorts too. Depending on where you keep it, sitting and crouching is a bit uncomfortable.
Aside from the cumbersome shape, the Xiaomi Mi Max is a very elegant device. The aluminum rear leaves space on the upper and lower sides for two plastic areas, which of course retains the same color. On this side, we have the fingerprint sensor in the upper corner and the main camera with a dual-tone flash.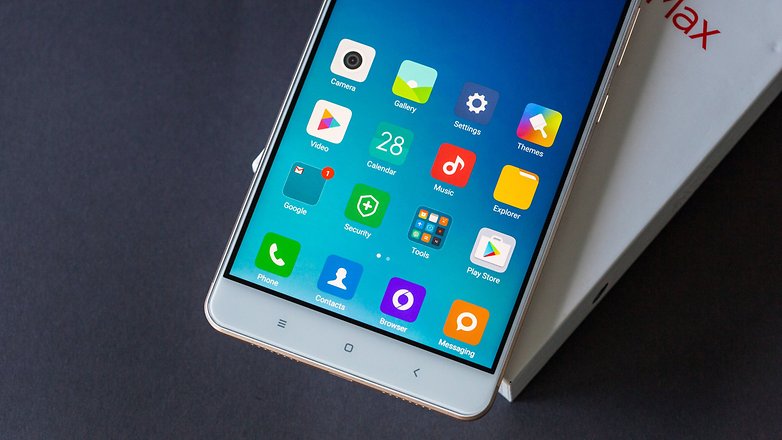 The power button is on the right side of the frame, which is the little square with a bevel at the corners. Below the screen, sits the capacitive buttons.
Xiaomi Mi Max display
The screen is definitely a peculiar size, measuring 6.44 inches diagonally. The resolution of this IPS LCD Full HD screen is 1902 x 1080 pixels. The protective glass is Corning Gorilla Glass 4, standard for smartphones and tablets this year. As for the brightness, I wish it were slightly brighter but further illumination could cause a strain on the battery.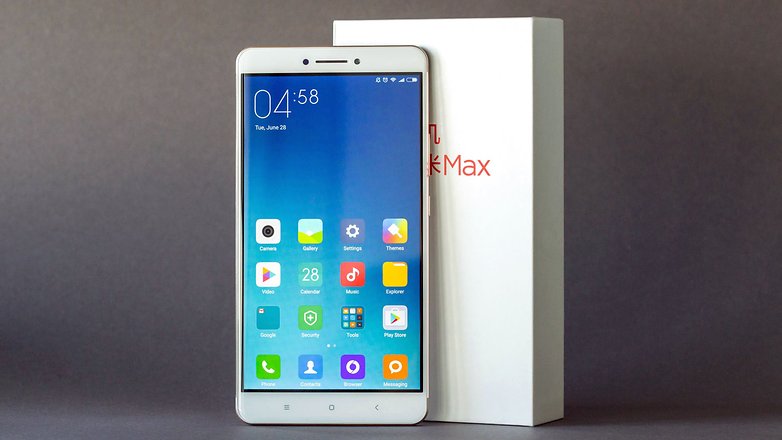 The size of the display is close to 7 inches, which is near the limit of where a phablet ends and a tablet begins. The relationship between body and screen reaches almost 75 percent, while a traditional 7-inch tablet would cover 62 percent of the front.
It's biggest screen you are able to carry with you. You can enjoy games, videos and movies in any situation.
Xiaomi Mi Max special features
The Mi Max is a Dual SIM phablet, like all devices from Xiaomi. In the extra slot, you can choose to enter a second SIM or a microSD card.
In the top frame, there is an infrared sensor next to the headphone minijack connector. I was surprised not to find the application dedicated to control this sensor called 'My Remote' as in other devices of Xiaomi. But you can download it from Google Play.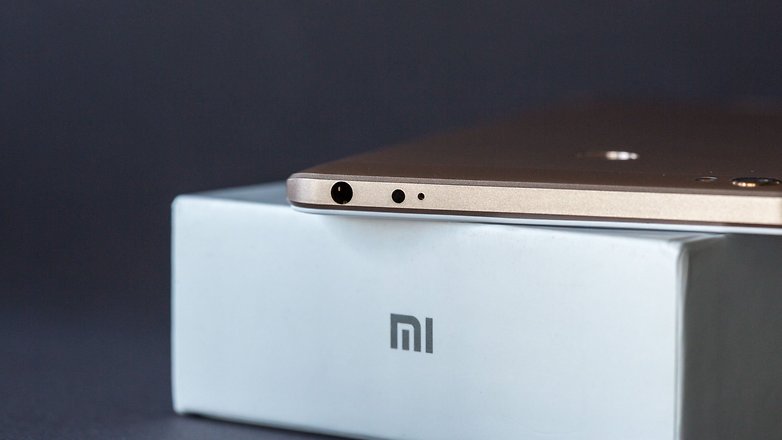 Xiaomi Mi Max software
This great phablet comes with the standard MIUI 7.3 based on Android 6.0.1 Marshmallow with a security patch from May. This MIUI version in our test device is the Global version, but the Chinese version is now available with MIUI 7.5. You can see it listed in the picture below.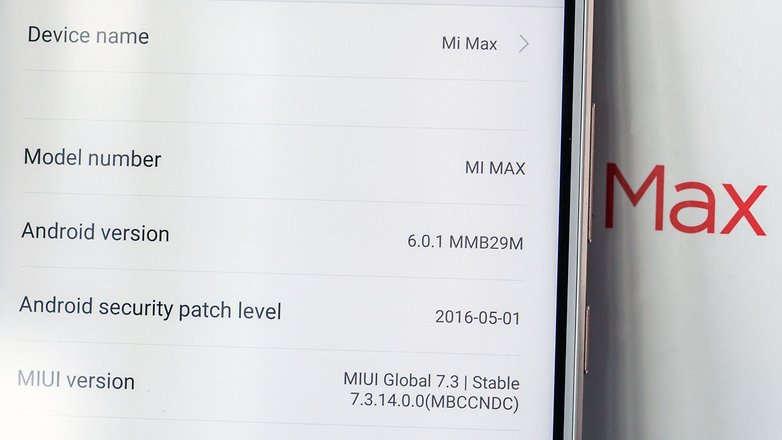 The good part of having a standard global ROM is that you can install Google services, Google Play and Gmail. The bad part is that system updates are often too infrequent.
The most characteristically MIUI feature is the lack of an application drawer. Also, the menu settings has its own organizational structure. When you install new apps, the icon automatically appears on the home screen. But you can quickly sort applications into folders to improve its organization.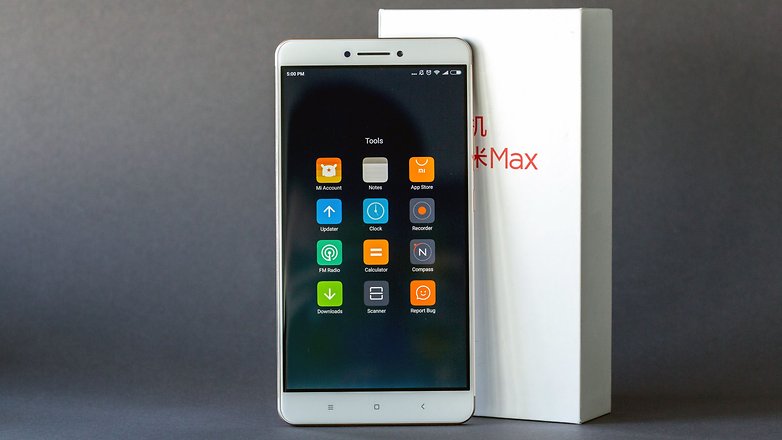 Other applications pre-installed are the FM radio tuner, notes, compass and code scanner. It also has an application called 'Security' with which you can clean the system files that are not in use, control the use of the data rate, manage the list of blocked contacts, manage battery usage, scan for viruses and monitor applications.
Within 'Additional settings' you can find some interesting features. You'll see a 'one - handed mode' in which sliding from the start button to the side will reduce the screen to an accessible surface for the thumb. Another highly recommended option is 'Equalizer' for when you connect headphones. It's a good feature to utilize on any Xiaomi device equipped with this.
Xiaomi Mi Max performance
The Mi Max comes equipped with a Snapdragon 650 six-core processor; two of these clock up to 1.8 GHz and the other four to 1.4 GHz. There are several models (as mentioned above) but we tested the most basic with 32 GB of internal memory and 3 GB of RAM.
The fluidity of the system is very good and I have not experienced any forced closure of applications. With videos and most games, it performs adequately. When I played Need For Speed: No Limits on the device it was a real pleasure in part due to the screen size. I also noticed that I did not need to bring the device closer than 10 centimeters from my face when I wanted to focus on the details of a video.
Benchmarks also went well, reaching 73,000 points on Antutu 6.1.4.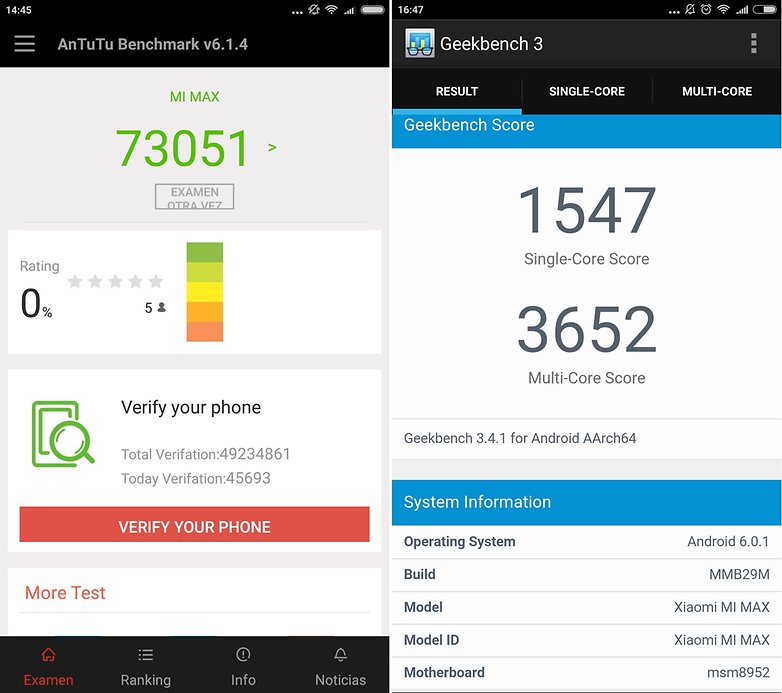 Xiaomi Mi Max audio
Behind one of the perforations in the bottom is a speaker for ambient sound. The quality is not bad for the price but you can forget about using it on a low setting if you listen to music through this speaker.
The sound through the headphones is pretty customizable thanks to the equalizer I mentioned earlier and has a wide range of volume levels. The sound on calls is as good as the network allows and thanks to the second noise canceling microphone, your voice is transmitted pretty clearly.
Xiaomi Mi Max camera
The main camera is 16 MP with an aperture of f / 2.0 and is accompanied by a dual LED flash dual tone. The picture quality is quite acceptable for the price of the device. The definition is pretty good as long as you support the device to take a picture and have good lighting.
HDR mode has very good results, the images do not seem as surreal as other devices. The default application has some modes like panorama or fisheye but also one manual. In it, we can change the white balance, focus, exposure and ISO. Unfortunately, the images cannot be saved in RAW format.
The front camera is 5 MP with a great beautification function for sharing your photos on social networks.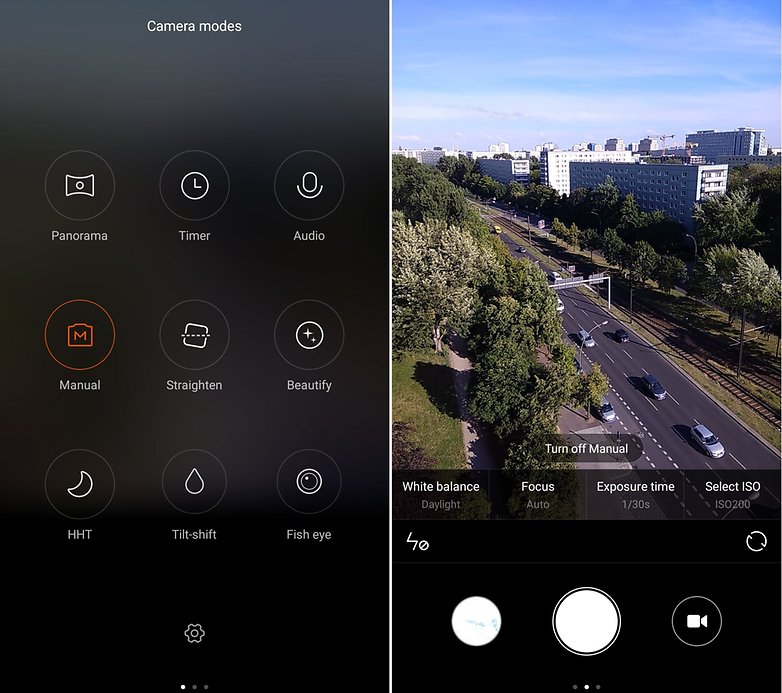 Xiaomi Mi Max battery
The Mi Max battery is unusually large at 4,850 mAh, but it doesn't extend the life of the device as much as I hoped. The screen is large and consumes a lot but the background processes are quite taxing on the battery.
In the next picture, the device was used for one day and 13 hours. During this time I played games, watched videos and listened to music. At the end, I clocked two hours 41 minutes of screen usage. On another day, in which I used the device more frequently, I clocked nearly four hours of screen use.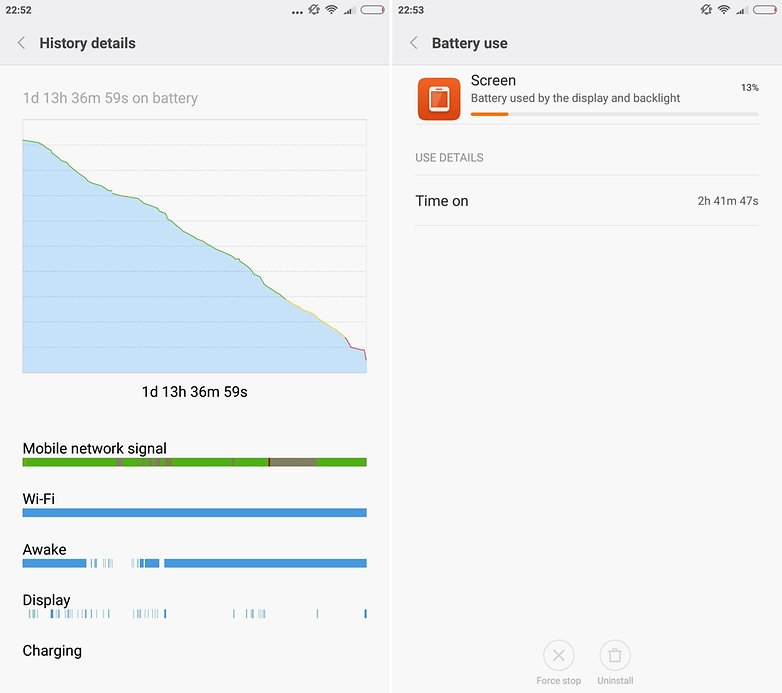 Xiaomi Mi Max technical specifications
Dimensions:
173.1 x 88.3 x 7.5 mm
Weight:
203 g
Battery size:
4850 mAh
Screen size:
6.44 in
Display technology:
LCD
Screen:
1920 x 1080 pixels (342 ppi)
Front camera:
5 megapixels
Rear camera:
16 megapixels
Flashlight:
Dual-LED
Android version:
6.0 - Marshmallow
User interface:
MIUI
RAM:
3 GB
4 GB
Internal storage:
32 GB
128 GB
64 GB
Removable storage:
microSD
Chipset:
Qualcomm Snapdragon 650
Qualcomm Snapdragon 652
Number of cores:
6
8
Max. clock speed:
1.8 GHz
Connectivity:
HSPA, LTE, NFC, Dual-SIM , Bluetooth 4.2
Final verdict
The Xiaomi Mi Max isn't for everyone. It is reserved for those who play a lot of games or watch a lot of content. Be it YouTube videos, movies, TV shows, the Xiaomi Mi Max will come through. And, although it is large, it's easier to carry than a tablet.
The performance is excellent, it has acceptable cameras and a reasonable price. Overall, this mega-phablet is the best choice for those seeking a large screen. If you are someone who believes a 5-inch device is too big then it's better to look elsewhere.
Xiaomi Mi Max - where to buy?