Xiaomi Mi4c review: the half-price Nexus 5X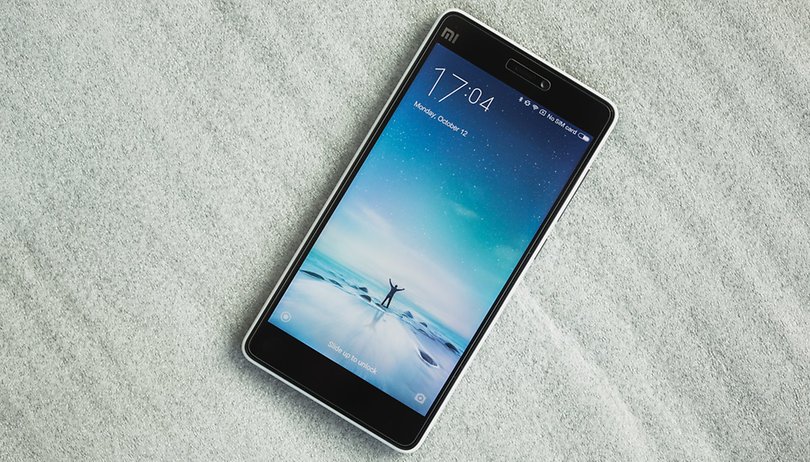 The Xiaomi Mi4c is now available, with a specs sheet that's very much like the Nexus 5X's, at half the price. In many ways, it's the phone we all wanted the 2015 Nexus to be. I spent a few days getting to know the Mi4C, putting it through its paces and seeing how it compares to devices that cost double or triple the price. Find out how it performed in our full Xiaomi Mi4c review.
Good
Great Full HD screen

Very responsive software

Latest version of Lollipop

Well-finished design

Useful additional features

Solid picture quality

Infrared to control the TV

USB Type C

Good battery
Bad
Non-removable battery

No microSD slot

Slippery in the hand

No Google Play Store (but it can be added)

Not officially available in the US

Weak speaker
Xiaomi Mi 4c release date and price
The Xiaomi Mi4c release date was September 22 in China. At the time of writing, the Xiaomi Mi4c is available through several retailers across China and Europe. Although it is not officially being released in the US or UK, you can pick it up through various import sites (Xiaomi sells its devices unlocked). As always, just check the LTE bands and so on to ensure it is compatible with your carrier.
The Xiaomi Mi4c price will vary depending on which of the two models you opt for and the retailer you buy it from. In China, the 16 GB version with 2 GB of RAM goes for 1,299 Yuan, and the 32 GB version, with 3 GB of RAM, for 1,499 Yuan. That's the equivalent of around US$205 / £135 and US$235 / £155 respectively.
The Xiaomi Mi4c is available in several color options, including black, white, yellow, blue and pink. It ships with an USB Type-C charging cable. We got the European version, which came with a US adapter and a European extension.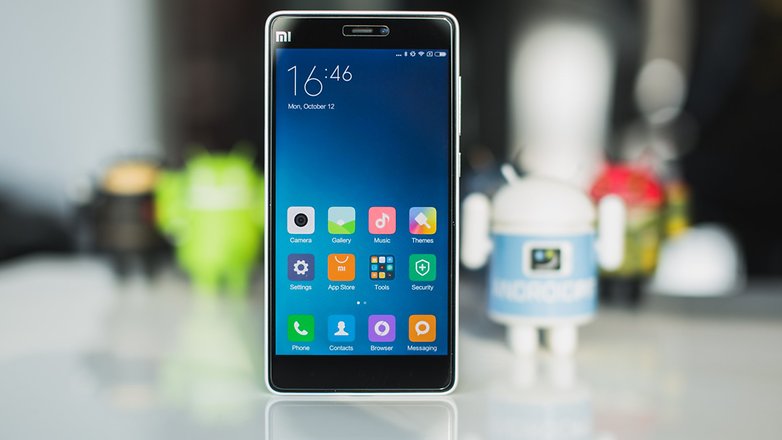 Xiaomi Mi 4c design and build quality
You'll get a distinct sense of déjà vu when you see the Mi4c. It looks an awful lot like every other Xiaomi phone of recent times, which, in turn, take design cues from several other sources, most notably the iPhone 5c. Is a boring design acceptable on a phone that's this cheap though? Absolutely.
You shouldn't let its pedestrian exterior fool you. The Xiaomi Mi4c may look tame, but inside it's a beast. As mentioned above, it has a very similar (if not better) specs sheet to the newly released Nexus 5X, and that phone costs twice as much. The Mi4c won't come with any Google apps (including the Play Store), but you can install them yourself easily enough.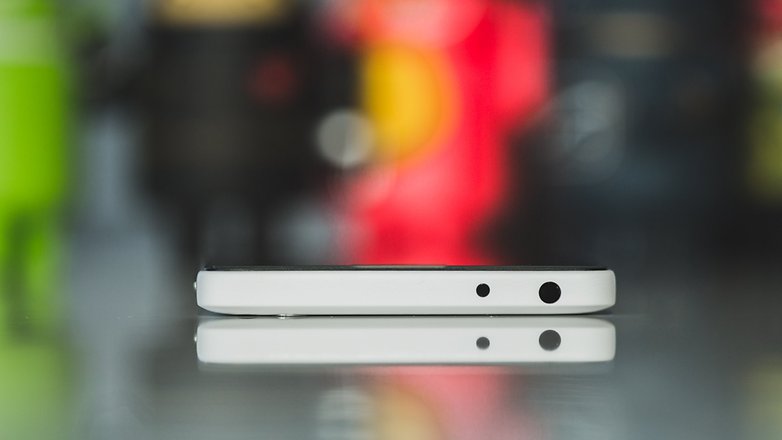 The Xiaomi Mi4c has a fully plastic exterior with a non-removable back cover. This means that you cannot change the battery or add a microSD card slot. While the slightly curved edges of the phone are comfortable in the hand, it is a very slippery phone. If you're at all clumsy you're going to want to invest in a non-slip cover or bumper case.
It measures 138.1 x 69.6 x 7.8 mm, which is basically identical to the original Nexus 5, but a little thinner. The upper edge features an infrared blaster alongside the headphone port, and the bottom edge has a centrally located USB Type-C charging port and a pinhole mic. The left-hand side has a pop-out tray for dual micro-SIM cards and the right-hand side has the power and volume buttons.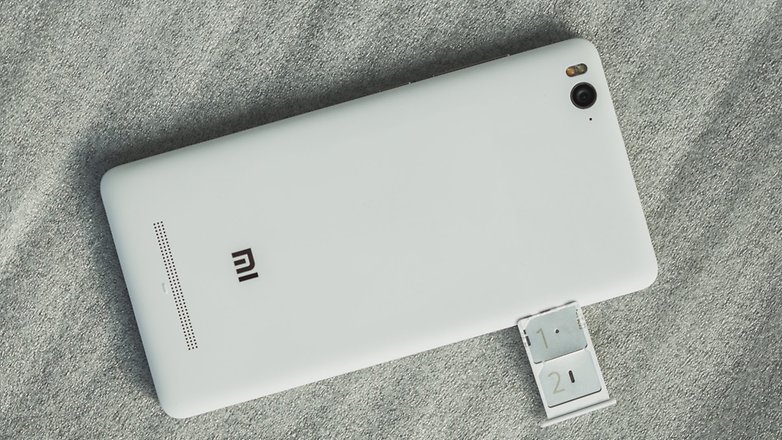 The speaker is located at the bottom of the back of the device. Like on the Sony Xperia range, the camera lens and two-tone LED flash are pushed right up into the corner of the back of the phone, and a tiny pinhole mic next to the camera lens picks up audio for video. At 132 g the Mi4c is nice and light and its plastic construction means it should be reasonably shock absorbent if dropped.
The Xiaomi Mi4c is a great looking phone. The build quality is top notch for a phone in this price range and the inclusion of an IR blaster, LED notification light and FM radio shows that Xiaomi has no interest in cutting corners in order to keep the price down.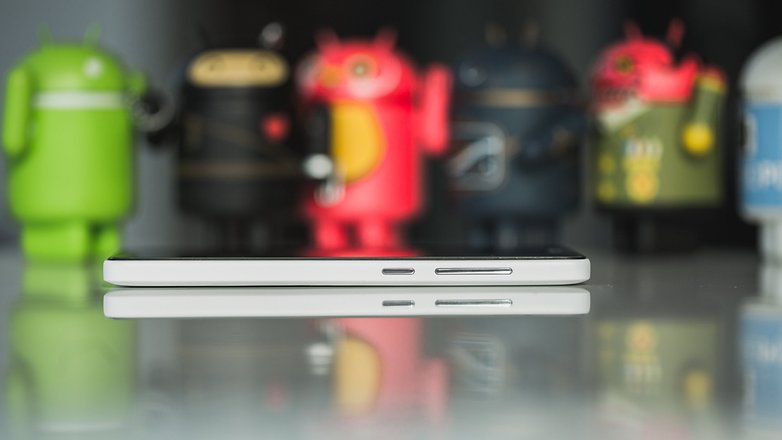 Xiaomi Mi 4c display
You'd probably expect to find an HD display on a phone around the US$200 mark. Not so with the Mi4c, which comes with a 5-inch Full HD display. It's not just a Full HD screen though, it's a really good Full HD screen.
The colors are very realistic, it's very vibrant, and the contrast is well managed and well balanced. The IPS LCD is clearly visible outdoors, even under direct sunlight. Xiaomi has delivered extremely good results at a low price point.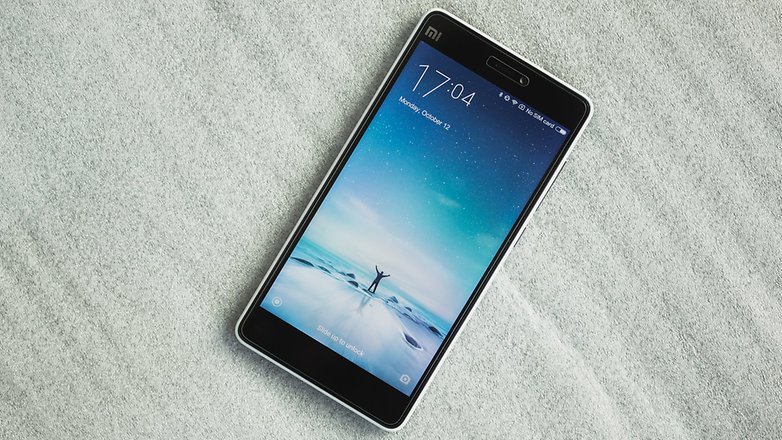 With a pixel density of 441 ppi, the Mi4c is right in the middle of the pack when it comes to image sharpness but ahead of the rest of the Full HD pack in terms of the quality of the display. The viewing angles are great, the image is stunning and touch responsiveness is top notch.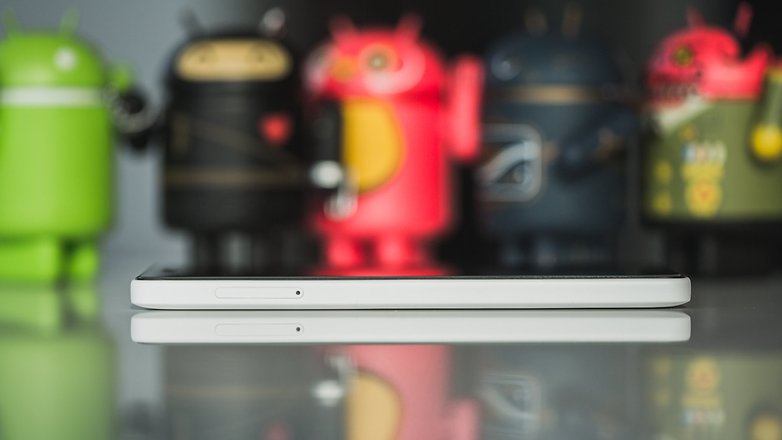 Xiaomi Mi 4c special features
Fast charging, dual-SIM support and infrared sensors are hardly unique selling points these days, and the Xiaomi Mi4c has all three of these. It charged to 40 percent in one hour using Qualcomm's Quick Charge 2.0 standard. USB Type C is the biggest differentiator in the Mi4c arsenal.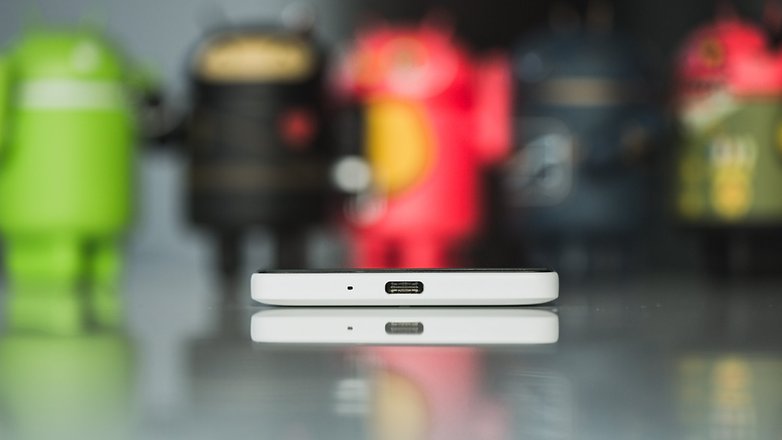 The included USB Type-C cable is like the one shipped with the OnePlus 2 though: a reconfigured USB 2.0 cable rather than a true USB Type-C. This means you won't enjoy faster data transfer speeds straight out of the box, just the convenience of having a reversible charging cable. You'll need buy a real Type-C cable to enjoy all the benefits of this new USB standard.
Xiaomi Mi 4c software
The Mi4c software is Xiaomi's own MIUI 7 interface running on top of Android 5.1.1 Lollipop. It's important to note, however, that the Google Play Store and suite of standard Google apps is not pre-installed on this phone. There's nothing stopping you from installing them though, so don't let that deter you if are thinking about importing this phone, because it's a really good buy (as long as it will work with your carrier bands).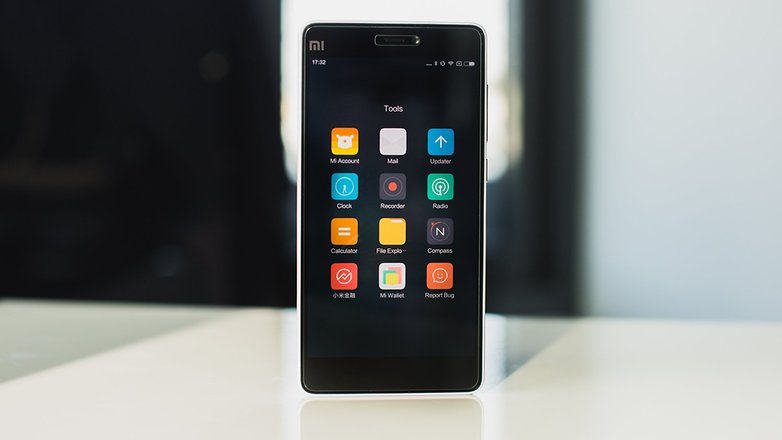 MIUI may not be the best-looking manufacturer skin around but it's not the worst either. Xiaomi puts theming front and center, so you can switch the look of things very easily. If you don't like the way MIUI is set up you can quickly and easily substitute it for an alternative launcher such as the Google Now Launcher to get a more familiar Android experience on your Mi4c.
Fans of MIUI will find the latest version very nice indeed – it has some great additions and features. Not only is everything nice and flat, but the speed and fluidity of the interface is remarkable. The Mi4c runs faster than many phones that cost double the price. It's easy to change the way a phone looks, but making it faster is harder. Xiaomi certainly got the speed of the Mi4c right.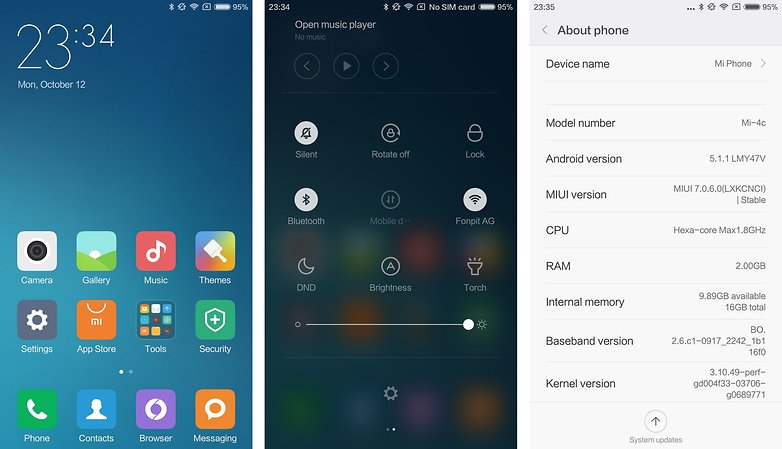 Over time, MIUI has matured to sit comfortably alongside its competition, offering nifty features such as edge controls, whereby you can double tap the left side of the phone (not the screen) with your thumb to go back. Doing the same in the camera app will shoot photos (as will using the on-screen shutter button or the volume button). In addition to providing all the basic functions of Android, Xiaomi has done a lot where customization is concerned.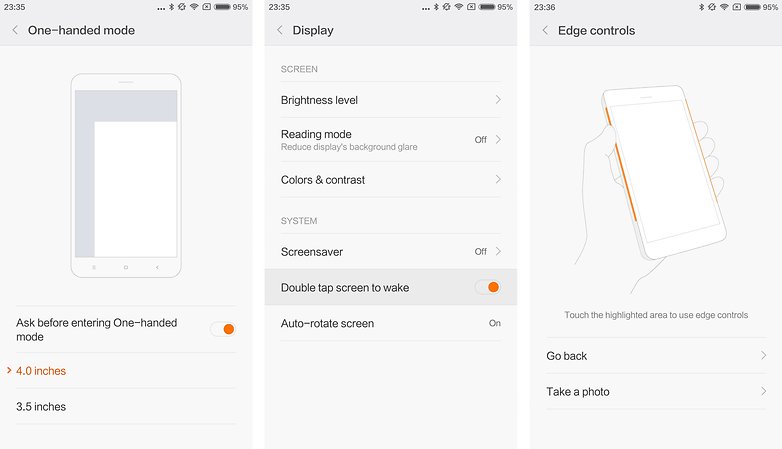 But what it all boils down to is how fluid and responsive the interface is, regardless of which launcher you use. Xiaomi has once again proven it knows how to build fast phones, even on a very tight budget. I couldn't say the Mi4c is as fast as a Nexus 5 on Android Marshmallow, but it's not too far off. It's definitely punching above its weight though.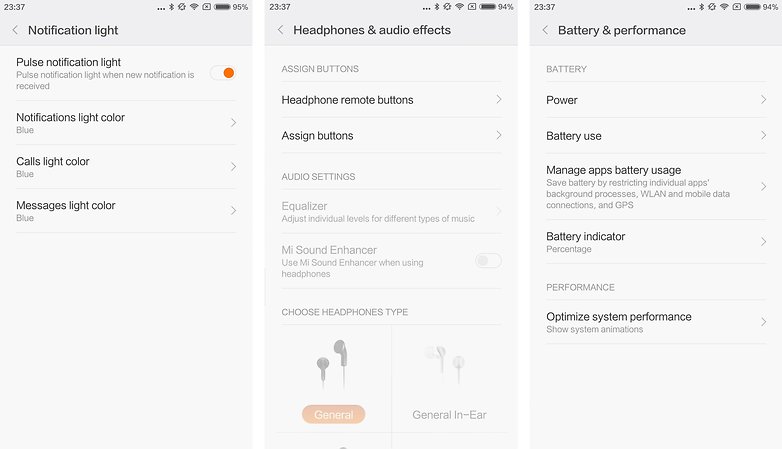 Xiaomi Mi 4c performance
The Xiaomi Mi4c performance is staggering. It consistently posts mid-50K results in AnTuTu, and gives solid results in Geekbench as well. The Xiaomi Mi4c specs include the Snapdragon 808 CPU, the processor of choice in 2015 for all those manufacturers trying to avoid the issues of the Snapdragon 810.
The Snapdragon 808 is a hexa-core processor that has also appeared in the LG G4, Moto X Pure Edition and Nexus 5X. It has four cores clocked at 1.4 GHz and two high-performance cores clocked at 1.82 GHz. It may not be the fastest processor available right now, but to find the same CPU in a US$200 phone as found in high-end flagships is a very rare thing indeed.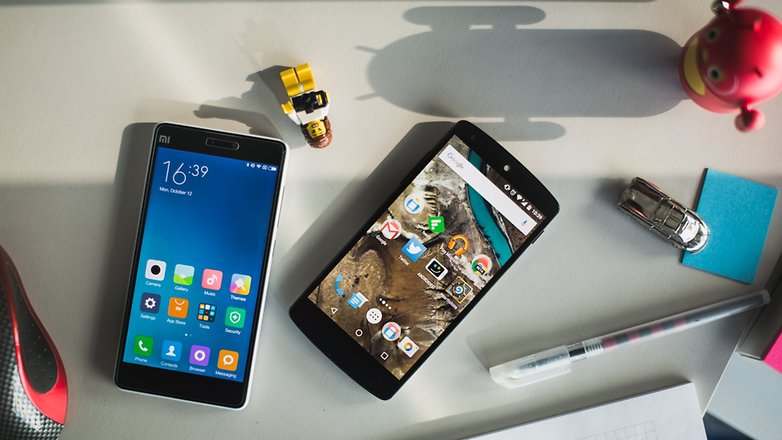 The two versions of the Mi4c (16 GB and 32 GB) offer different amounts of RAM. The smaller capacity phone offers 2 GB and the larger storage option provides 3 GB. Considering the minor price difference (around US$30 ), you may as well opt for more storage and RAM. (Just to be clear, the version we're testing here is the 16 GB, 2 GB model.)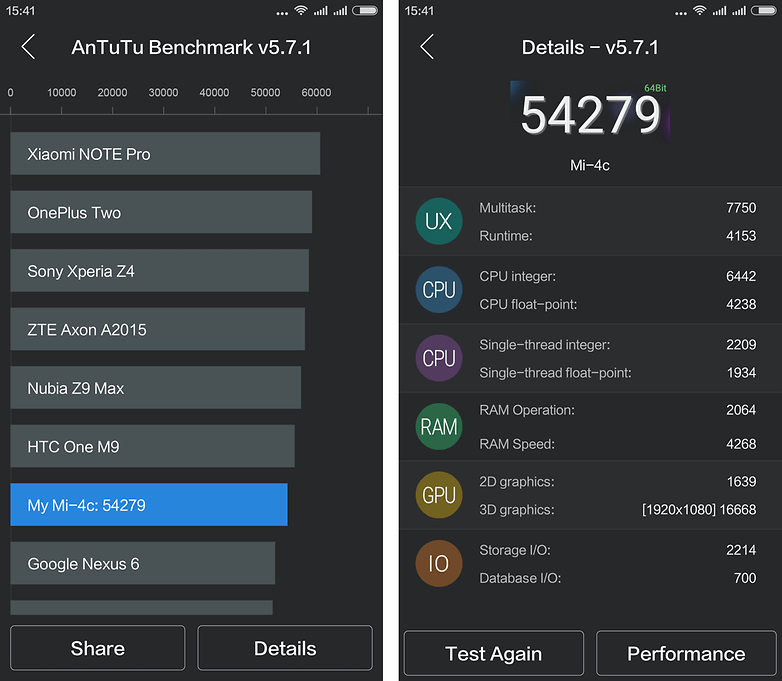 Considering how solidly the 808 performs with 2 GB of RAM, we can only expect even better multi-tasking and app switching from the 3 GB version. Pushing pixels around a 5-inch Full HD display doesn't tax the processor that much and the battery benefits as a result too.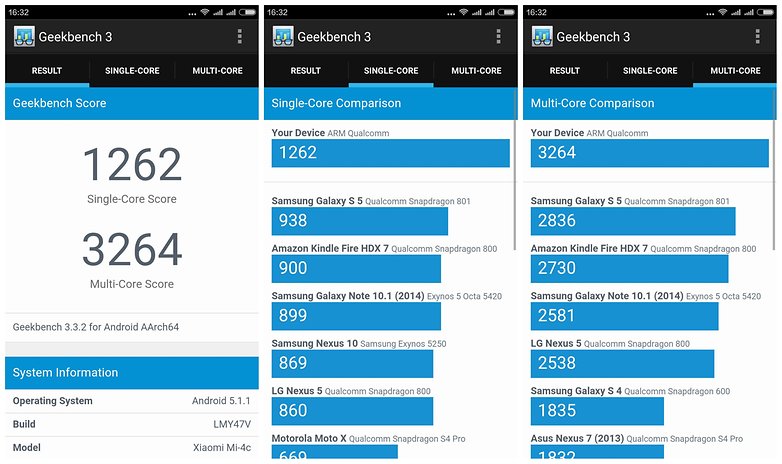 Looking beyond basic speed and responsiveness, the Xiaomi Mi4c performs well in other areas too. Wi-Fi connectivity is very stable and fast, connecting to LTE where you'd expect it to and providing reliable download speeds. The inclusion of a dual SIM card tray is a bonus for those juggling multiple SIMs.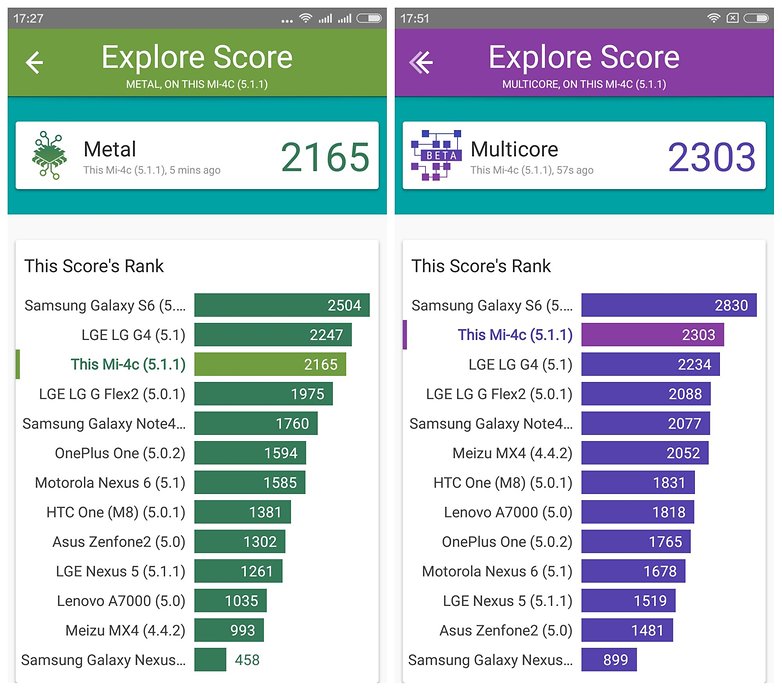 Xiaomi Mi 4c audio
We experienced some crackling during phone calls but that is more likely to be caused by mismatched carrier frequencies than a hardware problem. Subsequent calls performed better (when cellular reception was at full strength) and audio quality was good. Again: we remind you to check your carrier's bands against the Mi4c before buying one.
Xiaomi set the multi-media bar very high, but you can't expect the Mi4c to live up to US$700 phones in all areas, and the speaker is one area where it falls short.
The speaker's positioning, on the back of the Mi4c, means it's easy to muffle with a finger and the sound quality is not up to scratch, especially at higher volumes. It's much the same as most other tinny smartphone speakers – but don't expect anything too impressive.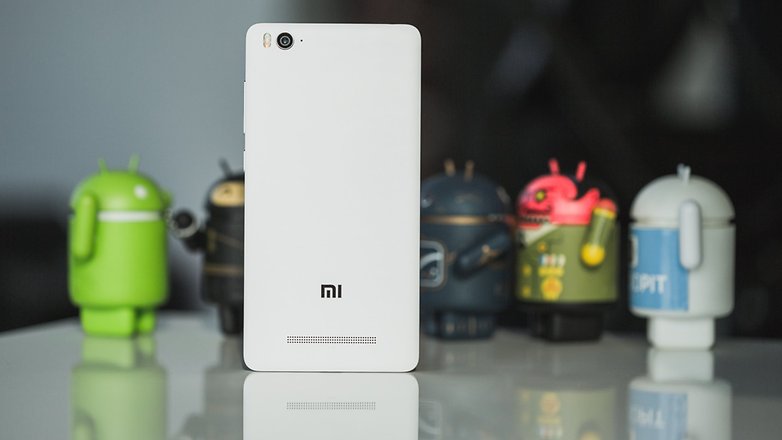 Xiaomi Mi 4c camera
The Mi4c main camera shoots at 13 MP and the front-facing camera shoots at 5 MP. That's not bad for a cheap phone. But resolution isn't everything, as we've discovered time and time again with other devices. Software makes all the difference, so how does the Mi4c compare?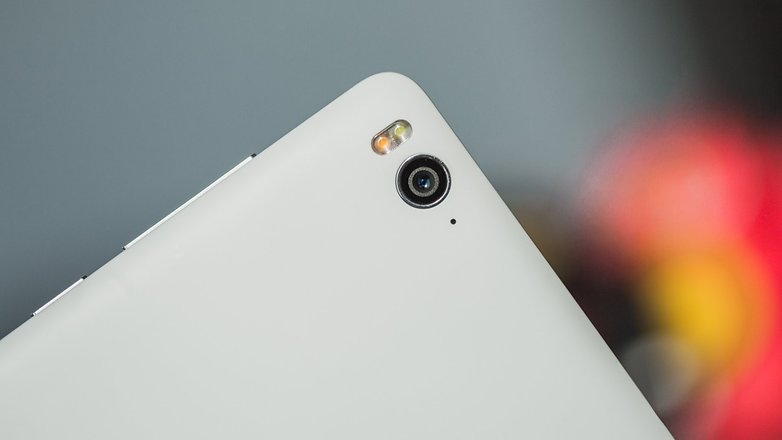 Very well. I wouldn't go quite so far as to say the Mi4c produces comparable results to high-end smartphones like the LG G4 and Galaxy S6, but it's close, and it blows other mid-range phones out of the water.
Xiaomi uses two different sensors interchangeably in the Mi4c, a Sony sensor (IMX258) and a Samsung (S5K3M2). Both are good but the Sony sensor will provide slightly more detailed and sharp images. More importantly, the Mi4c auto-focus speed is less than 0.1 second. Take a look at these sample photos and judge for yourself.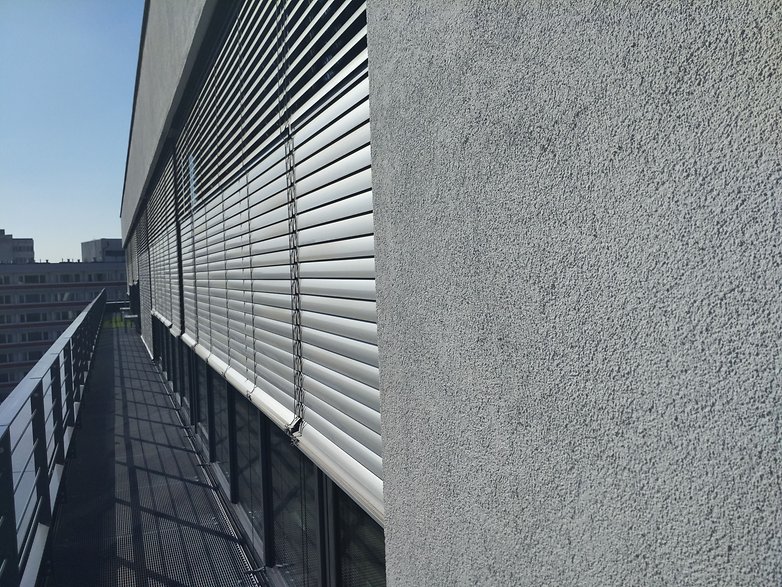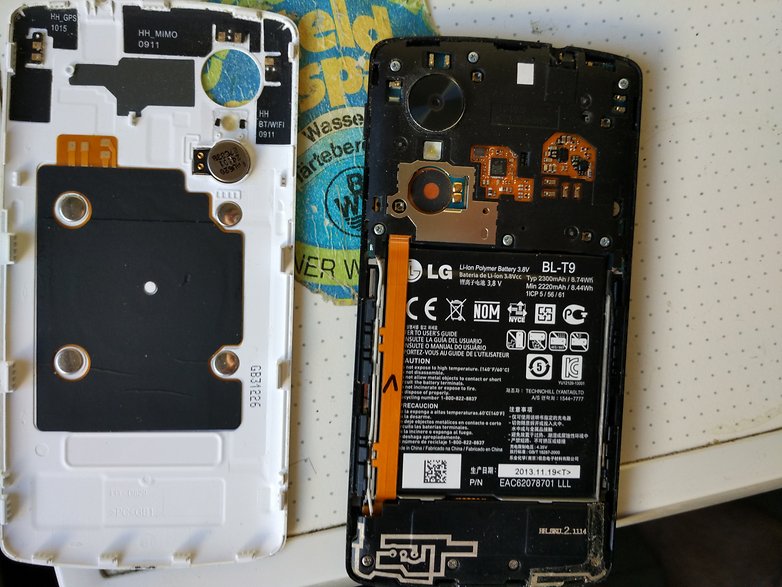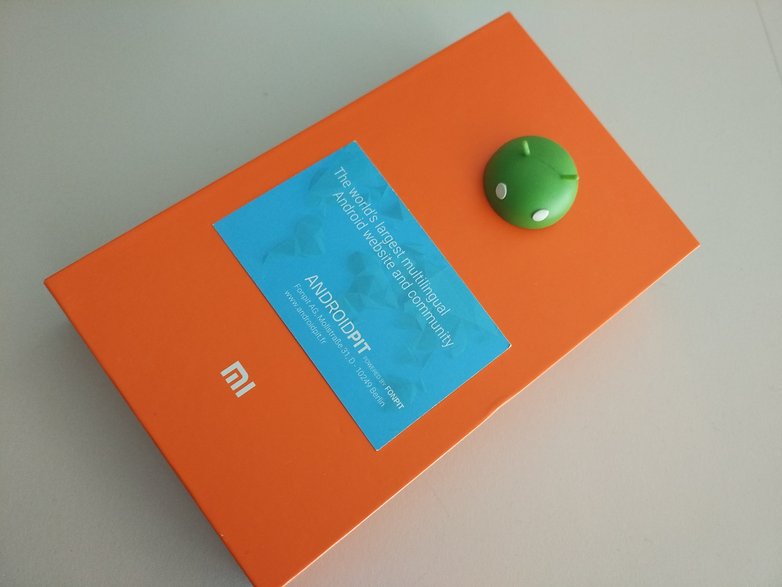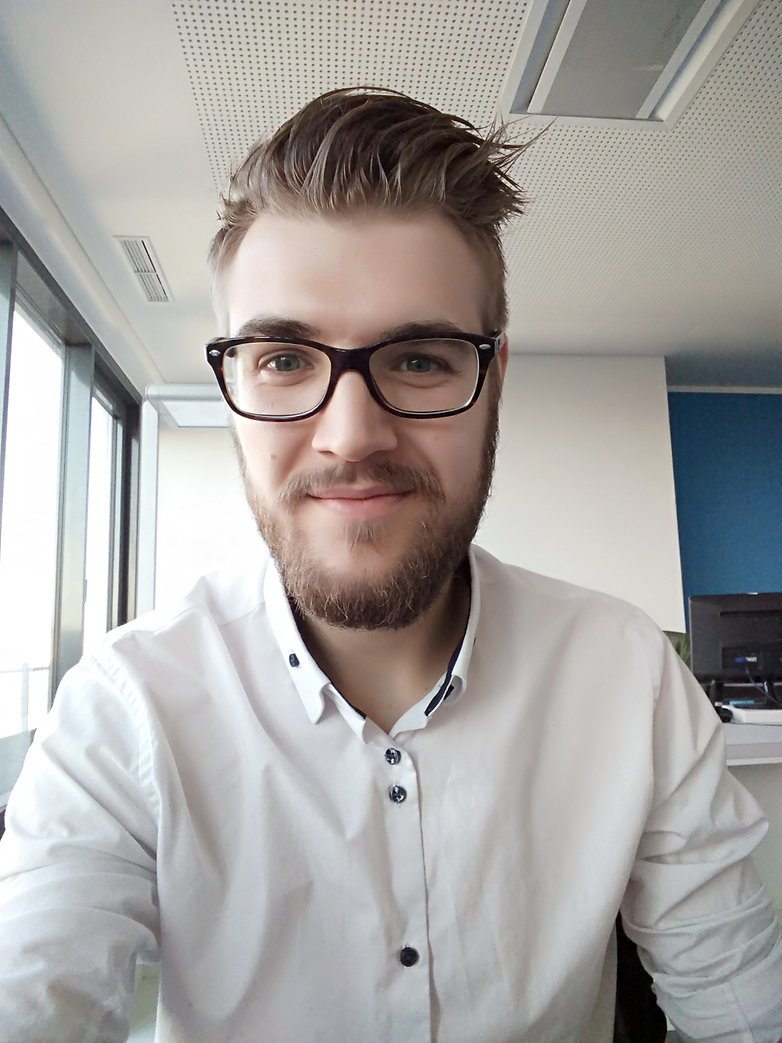 Xiaomi Mi 4c battery
So, Xiaomi got performance and camera right, but how about the battery? Once again the Mi4c outperforms its price point. With a 3,080 mAh battery the Mi4c looks good on paper, but the software and hardware optimization are also up to the task, and the Mi4c easily delivers a full day of battery life. If you're not as heavy a user as us here at AndroidPIT, you can likely drag that battery life out to two days.
We're pleased by not surprised by this; a low-resolution display combined with a high-end processor and a good-sized battery is always going to produce good results (a fact we wish other manufacturers would learn, especially those that keep shrinking battery capacities in their latest phones).
The Mi4c is also the first USB Type-C device to support Qualcomm's Quick Charge 2.0 standard, providing faster charging speeds than the OnePlus 2 for example.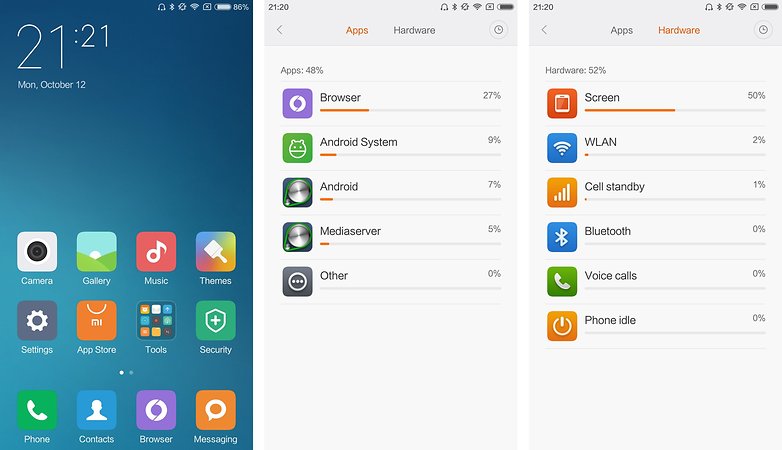 Xiaomi Mi 4c technical specifications
Final verdict
You might not expect to get top-tier Android experience in a device that costs less than US$250. But don't discount the Xiaomi Mi4c on account of its price, because you would be missing out on one of the best budget phones of the year. With a specs sheet equivalent to many flagship phones that cost two or three times as much, the Mi4c delivers incredible performance at an unheard-of price.
This smartphone is extremely impressive in many ways: solid hardware, great performance, good camera and battery and a rock bottom price. Sure, the speakers aren't great and there's no microSD expansion, but you can't have everything. For this price you'd be hard-pressed to find anything better.