LG G3 vs Galaxy S5 (part 2): software, hardware and camera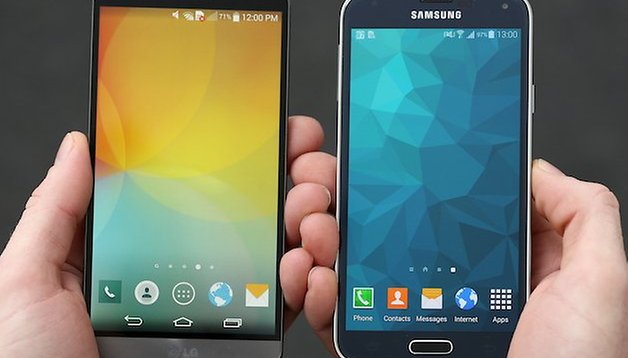 This is the second part of my LG G3 vs Galaxy S5 comparison. The first part dealt with the pretty stuff: design, display and user interface on the G3 and S5. This part deals with the useful stuff: software features, hardware and specifications and the all-important camera performance. In Part 1 the G3 came out on top pretty clearly for me, but something tells me the Galaxy S5 isn't out for the count just yet. Let's see who comes out on top in the functionality stakes.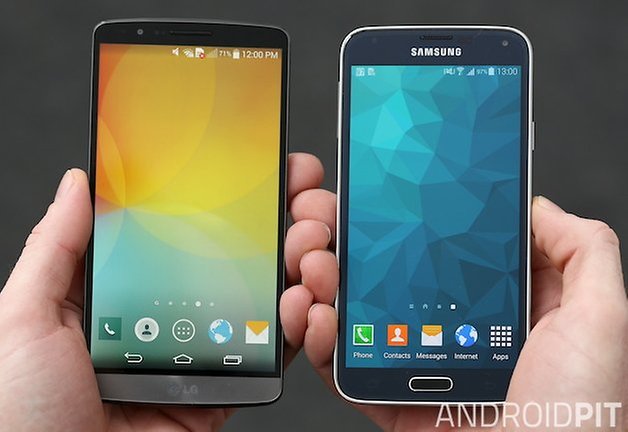 Software
Both manufacturers declared a ''back to basics'' approach in their 2014 flagships. The Galaxy S5 certainly did away with a lot of the ''gimmicks'' found on the Galaxy S4, but the response to the S5 seemed to be pretty lukewarm anyway, even if it very quickly shipped more units than the S4. I actually quite liked the Galaxy S5, especially in terms of the new software, excluding my issues with the new-look TouchWiz. Interface-wise there's a few similarities we covered in part 1, and there's no surprise that LG are following Samsung's efforts very closely and trying to improve on them, but let's look at what both actually did.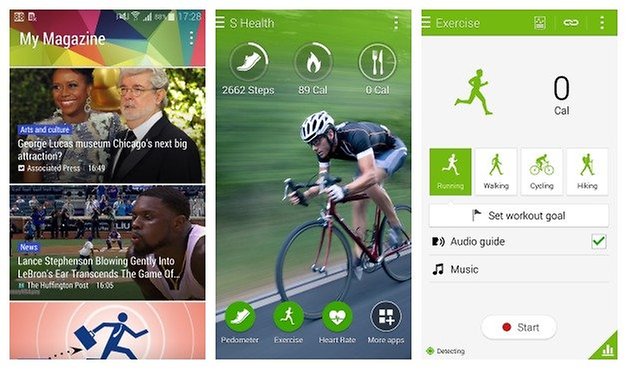 Samsung opted for ''useful'' features like the fingerprint scanner, heart-rate monitor and better better battery management. Samsung has their My Magazine home screen, and S Health fitness information that is tied into the heart-rate monitor on the back of the device and the built-in sensors and accelerometer. Health is also tied to wearable accessories like the Gear Fit. Samsung brought a great Download Booster (that was sadly crippled on many devices bound for the US) and impressive Ultra Power Saving Mode on the S5, which compliments the very good optimizations made by Lucid Logix to general battery management. While the heart-rate monitor copped a bit of flak as just another gimmick, I actually think Samsung succeeded in their back to basics mantra on the S5.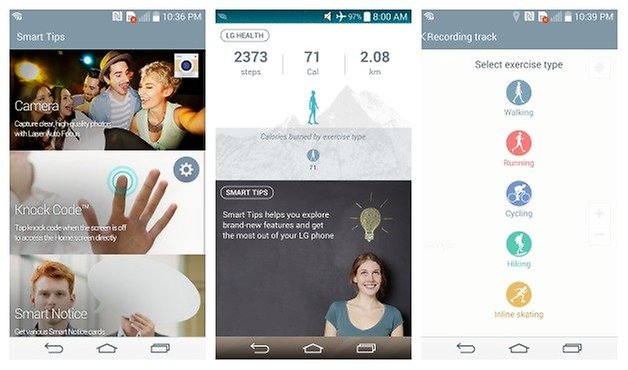 LG have taken a similar ''simple is better'' approach, but with different results. LG brings LGHealth to the foreground but without the heart-rate monitor or existing wearable tie-in – which one is ''better'' is up to you. Where Samsung brought the Flipboard-styled My Magazine, LG introduces Smart Bulletin and Smart Notices, which challenges Samsung's magazine widget with a Google Now type feature. LG has a battery saving feature in the G3, but it is not as sophisticated as the S5's, and the S5 also has a regular power saving mode like the G3. The G3 does bring some gesture-based controls along with it and the impressive Knock On and Knock Code. LG also has the useful QMemo+ note-taking tool and floating apps and dual window screen sharing, along with the adaptable Smart Keyboard.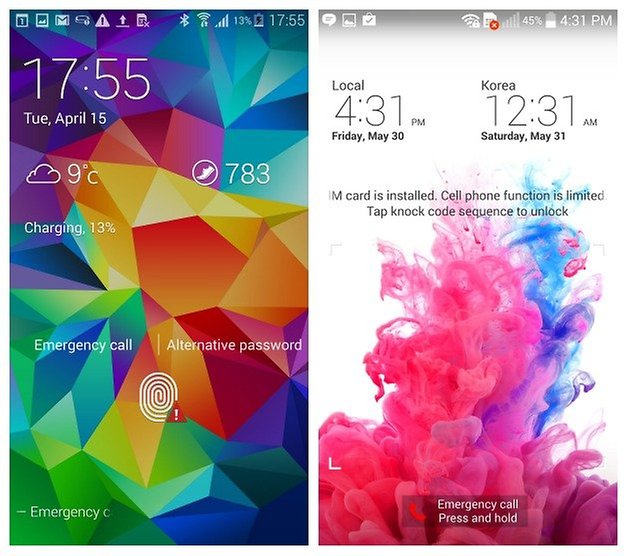 Without having been able to fully test LG's Smart Bulletins through the whole gamut of what LG promises, it's hard to say just how useful the feature will be. Then again, the same goes for My Magazine, I disabled it as soon as I started using the S5. The usefulness of Samsung's Toolbox and multi-window is also up to personal habits, as is the G3 dual-window and QMemo+. Both have screen-sharing, easy mode and one-handed operation. Both have fairly limited gesture controls. If I had to pick a winner though, I'd have to say the S5 integrates its software features better and takes them a little further than the G3. I also appreciate the S5 removing some of the more gimmicky features of the S4 and replacing them with more useful additions, even if the G3's Knock On and Knock Code is one of my favorite software features ever.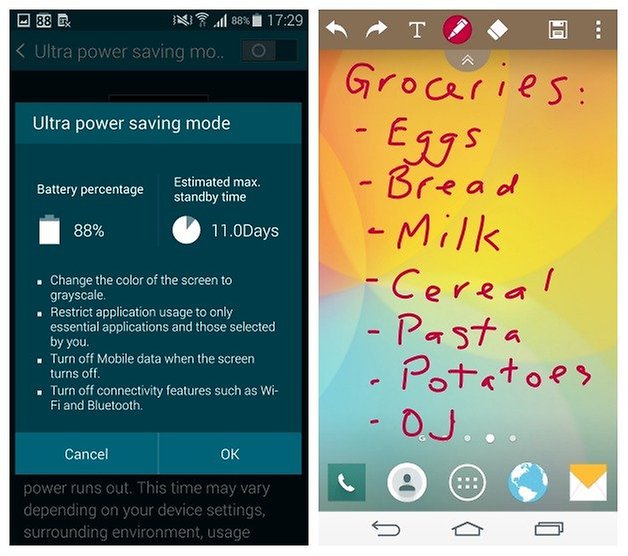 Hardware
There's not much to be said here you can't spot in the specs table, but on paper the G3 may look better than the S5 in terms of processor, RAM and display, but in all fairness you really won't notice too much of a difference in everyday usage. You don't particularly notice the Quad HD display when you're writing a text or scrolling through menus and TouchWiz may be super laggy, but the G3 isn't exactly snappy either (although we do have a pre-production version with non-final software). The G3 does have a 3 GB of RAM option with the 32 GB memory model, but everyone wanted the Snapdragon 805. The reason this didn't make it is because it doesn't have an integrated modem and carriers weren't yet supporting the additions the 805 brings (or will, when it is eventually ready).
| | LG G3 | Samsung Galaxy S5 |
| --- | --- | --- |
| System | Android 4.4.2 Optimus UI | Android 4.4.2, TouchWiz |
| Display | 5.5-inch IPS+ LCD, 2,560 x 1,440 pixels, 538 ppi | 5.1-inch Super AMOLED, 1,920 x 1,080 pixels, 432 ppi |
| Processor | Quad-core Snapdragon 801, 2.5 GHz, Adreno 330 | Quad-core Snapdragon 801, 2.5 GHz, Adreno 330 |
| RAM | 2 GB (16 GB model) / 3 GB (32 GB model) | 2 GB |
| Internal Storage | 16/32 GB + microSD (up to 128 GB) | 16/32 GB + microSD (up to 128 GB) |
| Battery | 3,000 mAh, removable, Qi charging | 2,800 mAh, removable |
| Camera | 13 MP (rear) with OIS+ and laser auto-focus, 2.1 MP (front), 4K video | 16 MP (rear) with real-time HDR, 2 MP (front), 4K video |
| Connectivity | GSM/HSDPA/LTE, Wi-Fi 802.11 b/g/n/ac, Bluetooth 4.0, NFC, USB 2.0, IR | GSM/HSDPA/LTE, Wi-Fi 802.11 a/b/g/n/ac, Bluetooth 4.0, NFC, USB 3.0, IR blaster |
| Dimensions | 146.3 x 74.6 x 8.9 mm | 142 x 72.5 x 8.1 mm |
| Weight | 149 g | 145 g |
| Price | 499 GBP/549 EUR/599 USD (32 GB/3 GB with T-Mobile) | 599 USD (approx) |
If all you want is bigger and better, then the G3 is the device for you: bigger screen, better resolution, better processor, wireless charging and so on. But we'll see in a minute that the S5 has a lot going for it as well. For starters, the Galaxy S5 is water-resistant and dustproof. If you're a fitness freak then the heart-rate monitor and wearable integration is going to keep you happy and the battery life is exceptional, something I doubt LG could compete with even if their optimization claims turn out to be true. All things considered the G3 beats the S5 on paper. But some things are hard to quantify - like battery usage - and we haven't even touched on the camera yet. As far as speakers go, the S5 is loud and clear, but the 1 Watt speaker on the G3 outdoes it nicely in terms of loudness as well as richness of tones (it produces 24-bit hifi-quality audio).
Camera
One of the most important aspects of any phone these days is the camera, which straddles both the software and hardware categories. There were a few raised eyebrows when LG announced the G3 had the same resolution camera as the G2, but with the added improvements of OIS+ and laser auto-focus. Sure, the sensor is better but we all know everyone wanted a 16 MP camera, not a 13 MP camera. Still, the addition of the laser auto-focus module on the back of the device makes shooting pictures, especially in low-light situations extremely fast, even faster than the Galaxy S5's crazy fast auto-focus (0.276 seconds vs 0.3 seconds). The G3 has fairly limited camera modes and settings, but this may change in the final software. The pictures look pretty good in daylight but are a little washed out, focusing is super-fast but we still see the heavy post-processing we witnessed in the G2. Low-light performance is pretty good, but it's still fairly grainy. Stay tuned for more camera comparisons.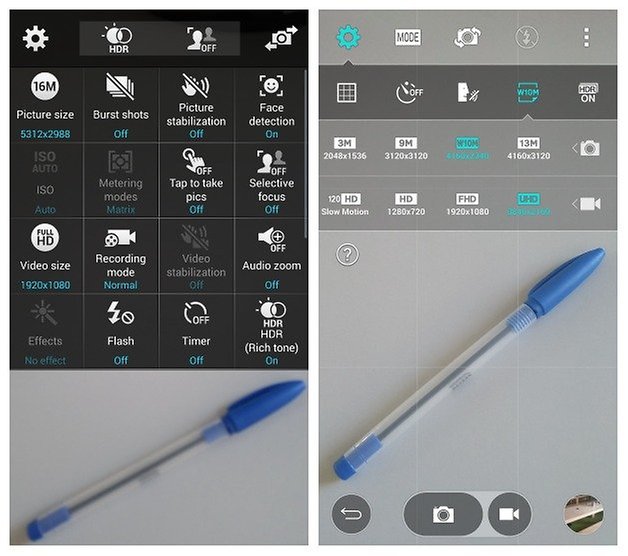 The S5, on the other hand, beefed up the resolution of the camera, added an ISOCELL sensor and also brought super-fast focus (when the difference is only about 25 milliseconds, it's safe to say they're the same!) The S5 has real-time HDR and more settings and modes than the G3, even if Samsung removed some of the less-used modes and made them downloadable options instead. The Galaxy cameras have always been great and the S5 is no exception. The S5 has a selective focus (the G3 has Magic Focus that does much the same thing) but neither device does it very well. So while the G3 camera is perfectly good the Galaxy S5 is still better in my mind, producing richer colors in daylight, darker but less grainy low-light pictures, and definitely beating the G3 in high contrast HDR settings. At close range both are equal. We'll do a full camera comparison soon, when we get a final version G3, but at this stage it looks like the S5 trumps the G3.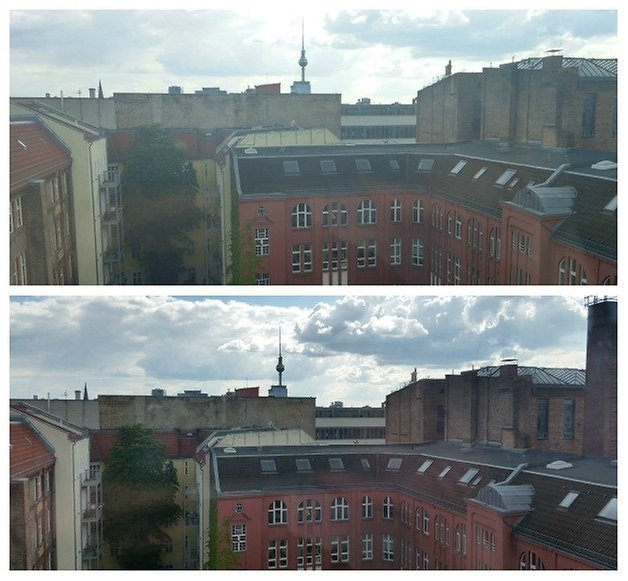 Conclusion
Well there you have it. Where I tended to rate the G3 over the S5 in the looks department: display, design and user interface, the S5 has made a nice comeback in the functionality stakes. It brings slightly better integrated software features and undeniable battery performance along with the useful Download Booster. I love Knock On and Knock Code though, but there's not much in the way of software that LG does any better than Samsung. The G3 clearly has better specs than the S5 though, but it came out several months after the S5 and therefore has a natural advantage, even if it missed out on the Snapdragon 805. The S5 adds a few more hardware features that may be useful for some and not for others, but they are there.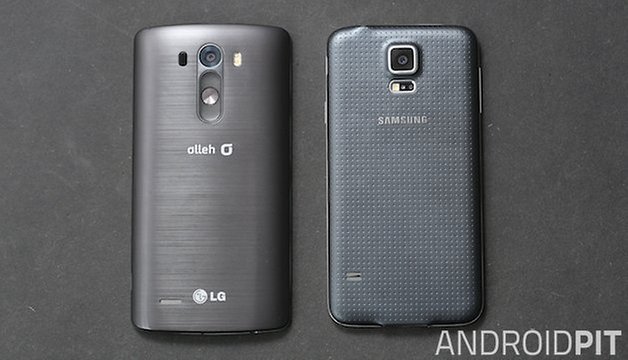 The camera comparison is another story, Samsung has improved on a great recipe by paring down the unnecessary stuff, and while LG made some camera improvements, it's impossible to call a winner without a really detailed comparison, even if the S5 has more features (which may not be your thing anyway). So it's a ''one each, one tied'' result in part 2 for me. If we add our two-wins-and-a-draw LG victory in part 1 to these results that puts the G3 slightly in front of the S5, but, as always, you're welcome to disagree with my conclusions and even my categories (of course, battery could have been its own category and so on)! But I have to say, even without breaking it down before this article, my first impressions that the G3 was one of the best smartphones of the year and the S5, not so much, feel justified. But I'd love to hear your thoughts in the comments!
Who do you think comes out on top in the functionality stakes? Which device is better, all round, in your opinion and why?