Google Pixel 2 XL review: It's all in the optimization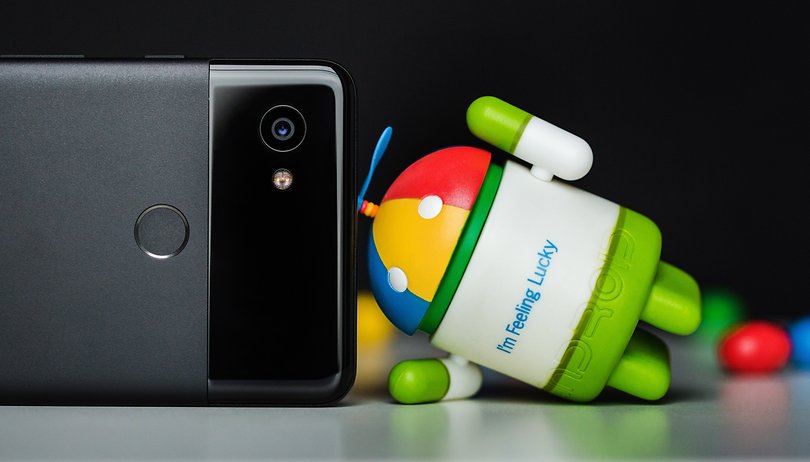 It's now been two weeks since the arrival of the Google Pixel 2 XL in my hands and it's time to tell you about my experience. After getting over the novelty factor, I've had time to examine the larger Pixel 2 in depth and there's certainly more to it than what appears at first glance. Now, I feel confident to deliver a critical verdict on Google's latest mobile offering. Prepare yourself, because perhaps it will not be completely pleasant....
Good
Design (believe it or not)

High quality cameras

Stereo Speaker

Android in its purest form

Excellent battery

Always-on display

IP67
Bad
Display

Small software bugs

Fingerprint reader

3.5 mm headphone jack missing
Google Pixel 2 XL: All deals
Google Pixel 2 XL release date and price
First off, the Google Pixel 2 XL is not for those who are looking to save a buck—very much the opposite. Starting at $849 for the 64 GB model, the Pixel 2 XL is even more now on the expensive side. The Pixel 2 XL is now available through the Google Store and at participating retailers.
At the moment, Google are running a promotional offer, meaning you can save $200 on the Pixel 2 XL when you purchase the device on finance, which will bring the total cost to around $649 for the 64GB version, or $749 for the 128GB version. Be quick - the deal ends on March 31. Find out more here: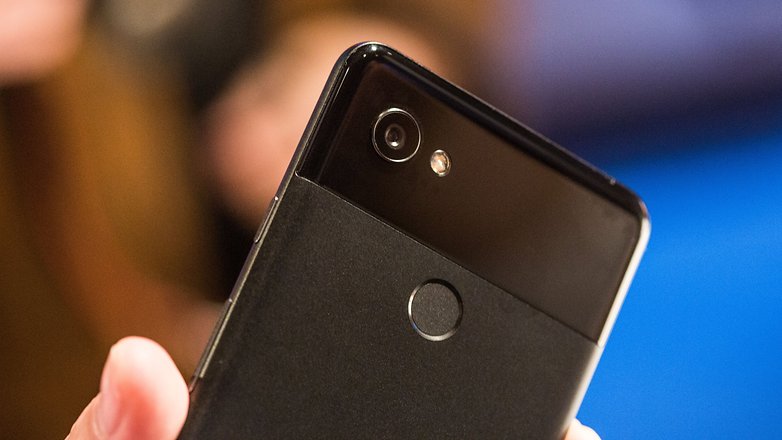 For those who need some extra storage in their phone, there's also a 128 GB version available for $949 dollars.
Google Pixel 2 XL design and build quality
When it comes to design, the new Google smartphone leaves me feeling ambivalent. I liked the first generation of Pixel very much, with its mostly unique design and the glass window placed on the back of the smartphone to create contrast with the metal body. Also, the absence of a protruding camera was definitely a pro.
With the Pixel 2 XL, it seems that Google has taken a step backwards by smoothing the edges of the smartphone and shrinking the glass part. In the black color variant, which is the one I'm using, the device can be summed up with a single word: boring.
I appreciate the aluminum unibody body although this has prevented Google from inserting wireless charging. In addition, the paint with which the aluminium has been coated makes the smartphone feel like plastic.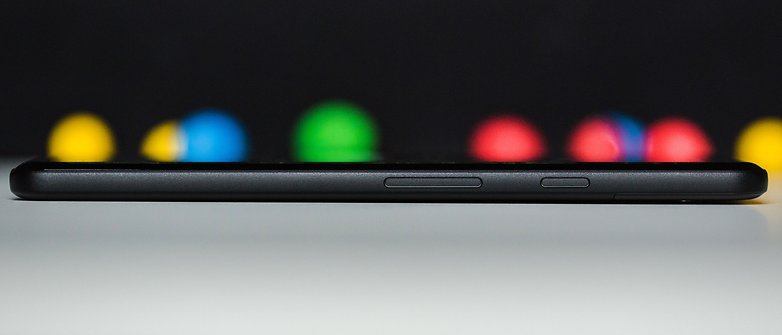 Don't get me wrong, the smartphone's build quality is excellent and feels solid in-hand, but we are far from the feeling of the "naked" aluminum last year and the HTC devices of the golden times. Thanks to this coating, your smartphone doesn't slip in your hands or on smooth surfaces, which is good.
The front part, on the other hand, made me fall in love from the very first moment. The glass that covers it on the front has extremely curved edges and the play of light reflected from the screen is really beautiful in my opinion. Aesthetically, I also appreciate the positioning of the stereo speakers exactly where the curvature starts and, in the Black & White version, the contrast between the black front glass and the white aluminium edge is fabulous.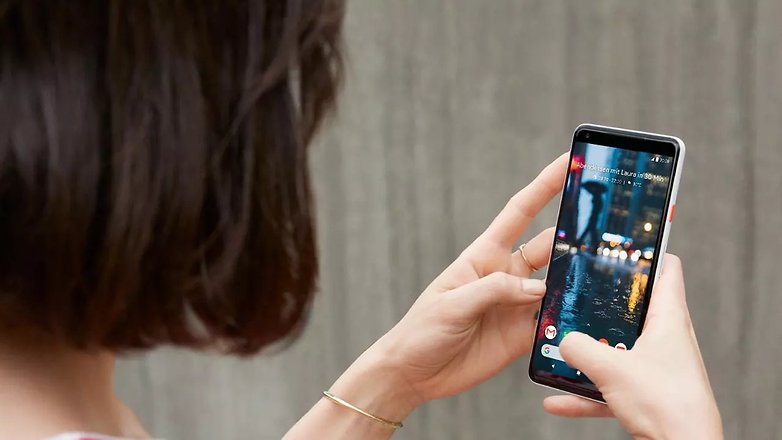 It's true, the side edges of the smartphone are not at all comparable with those of S8 and S8 Plus, but the extra space was necessary to introduce the Active Edge function that I will talk about later. It should be noted that in the black version, the edges look even wider than the two-tone counterpart.
The fingerprint reader is no longer integrated into the glass window but is located directly below. It is well positioned and easily reachable but it's not quite as fast Google promised. More often than not, it doesn't work and needs a few tries.
Google Pixel 2 XL display
The Pixel 2 XL display has proved to be a divisive issue, with Google recently addressing user complaints in a software update that will allow your smartphone the ability to saturate more colors. Although in my experience, it has not been a problem, though I appreciate that it is a subjective topic.
The panel is a 6-inch POLED produced by LG with QuadHD+ resolution (i.e. 2,880 x 1,440 pixels) and 18:9 aspect ratio. The resolution is great for enjoying multimedia content such as photos and videos, although we can hardly ever enjoy the full range of colors this display is capable of.
There is support for HDR content, but currently only the YouTube platform supports playback: no Netflix or Amazon Prime Video in HDR. You can use a media player such as VLC to watch offline HDR video content, if you have it available. During the playback of these videos, the colors are alive, bright and pleasant, but there's just not that much HDR content available right now.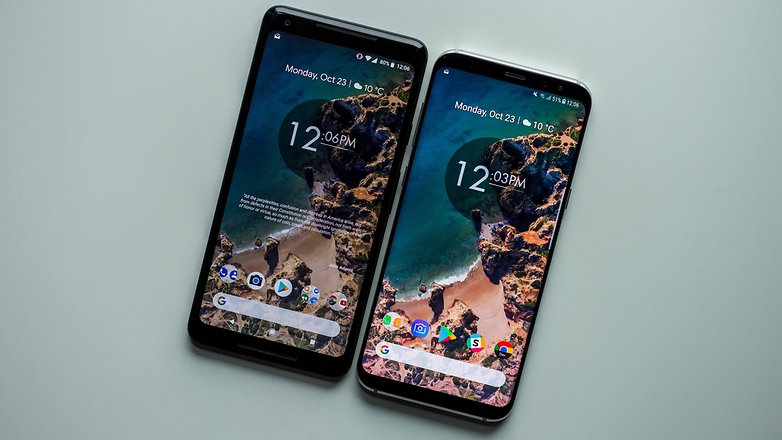 In all other aspects of smartphone use, flat and washed out colors are the norm on the Pixel 2 XL. But, I have to admit that after two weeks my eyes have already gotten used to it, and looking at the S8 Plus, I sometimes wonder how it made me like overly saturated colors so much in the first place. It really just depends on what you're used to seeing, even if the Pixel 2 color problem undeniably exists. If you want extra explanation about the calibration of colors on the Pixel 2 XL, I suggest you read this Google+ by the famous developer Supercurio.
Google Pixel 2 XL special features
Active Edge
This Google Pixel 2 XL has the Active Edge feature already seen on the HTC U11, as does its little brother. In practice, you can "squeeze" the side edges of your device with a slight pressure (adjustable from the settings) to summon Google Assistant.
Unfortunately, the function is not removable and can only be used for this purpose, but as we already know, the heart of the Pixels (even the first generation ones) is the digital assistant of the company so this comes as no surprise. Fortunately, Google Assistant is infinitely more useful than Samsung's Bixby so the use of the assistant doesn't get too annoying. On the contrary, you will find yourself evoking Google Assistant much more often than expected and discovering its great potential. Interestingly, you can use the function even when the screen is off.
It takes some time to get used to this new way of interacting with your smartphone, but after a while, I now find it very natural and intuitive. Thanks to the immediacy of Active Edge, I've ended up using Google Assistant much more often than I used to.
Google Pixel 2 XL software
The Android version on this smartphone is Oreo 8.0, although Google has not yet updated its smartphone to the latest security patches in October. Seeing as the Pixels are supposed to update faster than other smartphones, its strange to see some Sony and Samsung smartphones overtake them. However, it must be said that, theoretically, you can also try the beta of Android 8.1 with updated patches.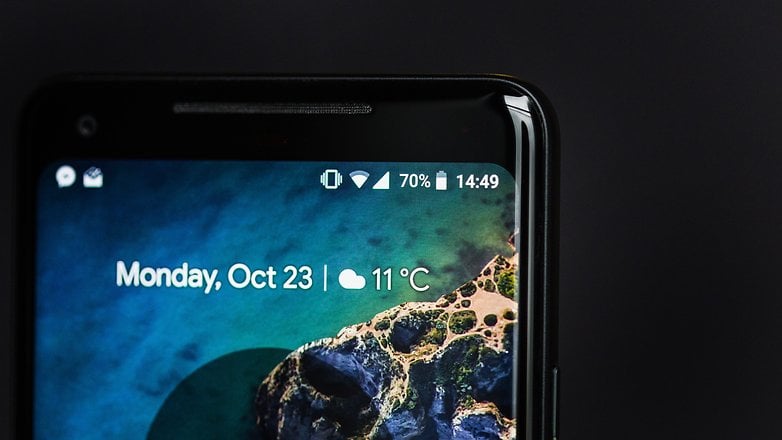 If you expect stock Android on a new phone, even a Pixel, you're making a big mistake. Android stock is no longer enough and on this Pixel we find a version retouched by Google, though slightly, in almost every aspect to offer a higher level experience. Obviously, customization has nothing to do with what the various OEMs like LG, Samsung or Huawei do to their smartphones.
Starting from the off display, we can find a couple of new features: Always On display and the recognition of ambient music that I will talk about later. I am grateful to Google for adding the Always On display as I really missed it on the first Pixel.
Continuing on, you can unlock your smartphone with a double tap and this is also a handy addition. We then go back to the home, and here we find the Pixel Launcher with its new graphics. The Google search bar has been moved down and also works as a local search for your smartphone, with slightly different graphics than usual. At the top of the main screen, where the search bar was previously located, is a new widget called At a Glance that shows us weather, date, next calendar appointment and traffic information.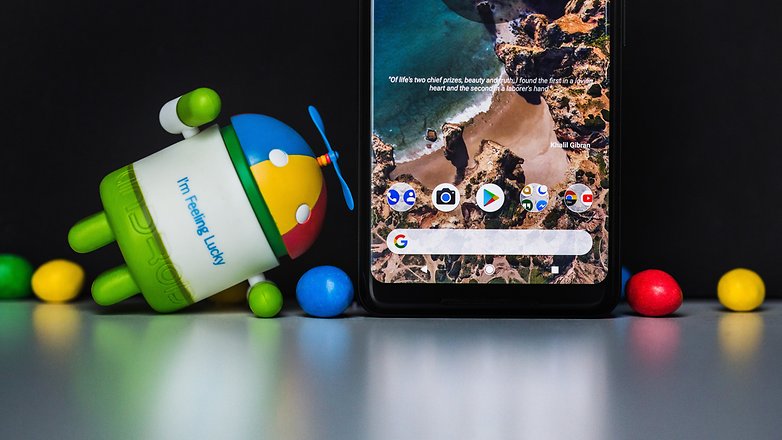 Still talking about home screen we find the new Living Universe wallpapers that are really wonderful and hard to tear one's eyes away from. There is also a dark theme that is activated on the Pixel Launcher and Quick Toggles when a mostly black background is set.
Even the shutdown menu is customized compared to Android stock and although with the Android 8.1 beta Google has introduced these graphic changes even on the old Pixels, that does not mean that they are part of pure Android (i.e. that of the AOSP project).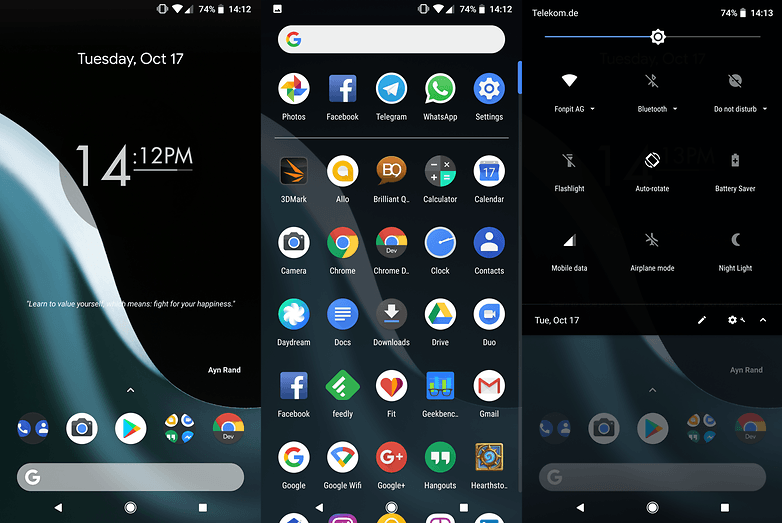 The three year warranty of system updates (not just security patches but updates to the entire OS) also increases the longevity of your smartphone way beyond the average, which makes the Pixel 2 XL's price seem more justified.
Google Pixel 2 XL performance
On paper, the Google Pixel 2 XL has nothing special to offer when it comes to hardware and performance. We find the same features that can be found on any high end 2017 smartphone, and Google doesn't expand on anything. The processor is the usual Snapdragon 835 that we already know, the GPU is the inseparable Adreno 540 integrated in Qualcomm's SoC and we find 4 GB of RAM which is more than enough. Google isn't trying the now commonplace trick of stuffing a phone with an excessive amount of RAM purely for marketing reasons.
With regard to the specs, smartphone doesn't seem exactly bleeding edge, and the benchmarks I've made confirm this statement by setting the Pixel 2 XL on scores similar to its rivals:
Google Pixel 2 XL: benchmark results
| Smartphone | 3D Mark Sling Shot Extreme ES 3.1 | 3D Mark Sling Shot ES 3.0 | 3D Mark Ice Storm Unlimited ES 2.0 | Geekbench 4 - single core | Geekbench 4 - multi core |
| --- | --- | --- | --- | --- | --- |
| OnePlus 5 | 3736 | 4441 | 40819 | 1944 | 6555 |
| Samsung Galaxy S8+ | 2527 | 2787 | 31829 | 1522 | 5403 |
| Apple iPhone 8 Plus | 2675 | 3663 | 63361 | - | - |
| Google Pixel 2 XL | 3581 | 4763 | 38069 | 1873 | 6291 |
Apple has taught us, however, that the numbers printed on the datasheet and benchmarks don't always tell the full story. Google has in fact worked hard to optimize hardware and software with a philosophy that is closer every year to the one used by the Cupertino company. The results are clearly visible to anyone.
This phone flies! Slide fluidly between the various apps as only Google and Apple smartphones know how to do. Opening apps is fast and you will never find yourself in situations where your smartphone must stop to "think" during even the most extreme multitasking.
Heavy 3D games don't stress the Pixel 2 XL, but it has to be said that no smartphone with similar hardware has any real problems in this respect. Web browsing has never been a problem, and in general, browsing between web pages, social media feeds and other apps has never been so enjoyable for an Android user.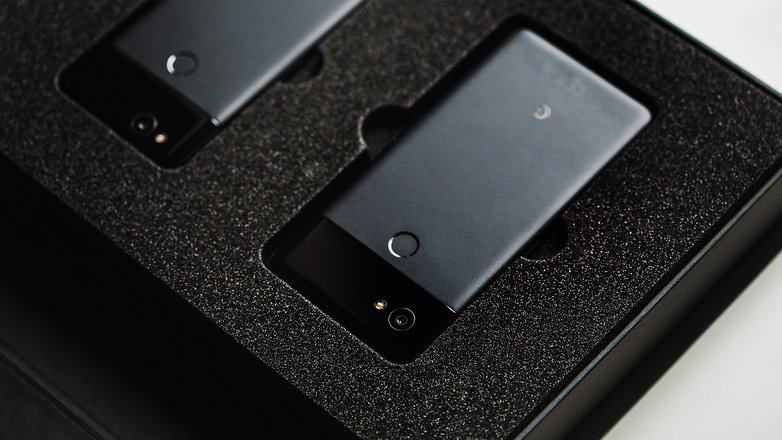 It's certainly not hardware that makes this Pixel 2 XL special, but you won't regret the purchase of this smartphone in favor of models with more exaggerated specifications. The great experience it offers is able to make anyone who uses it understand that better specifications don't always mean a better final experience.
As far as the rest of the hardware is concerned, we obviously find NFC, Bluetooth 5.0 and all the connectivity we need as LTE cat 15 and WIFI a/b/g/n/ac Dual Band antennas. The USB Type-C 3.1 USB port is excellent for connecting to a PC, which guarantees higher transfer speeds than the average for smartphones with USB Type-C 2.0.
Google Pixel 2 XL audio
Google has included two front stereo speakers in both its new smartphones. The resulting sound is strong, sufficiently rich and pleasant. If you're a fan of the old Boomsound of HTC, you'll also be satisfied with these speakers.
The volume doesn't reach the speaker levels of the iPhone 8 Plus, when watching videos and playing games, you'll appreciate the positioning. You won't cover either of the speakers with the palm of your hand when grabbing your smartphone as is the case on many competing devices.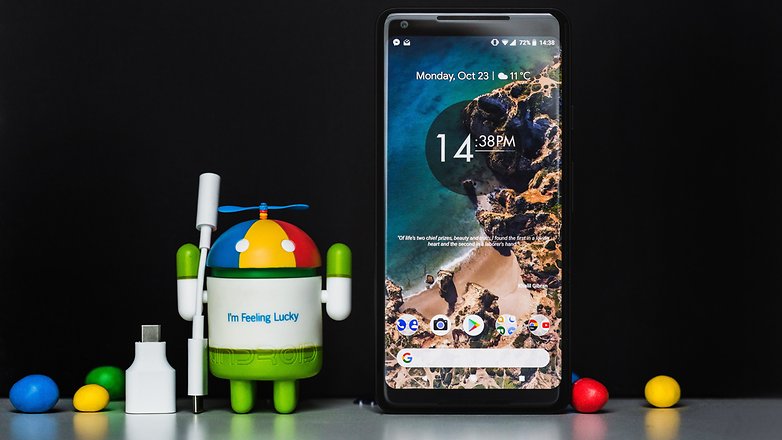 One of the original Pixel's main selling points last year was the presence of the 3.5mm headphone jack, so it's a pity that Google changed its mind and decided not to include it this time. You will still find a USB Type-C mini-jack adapter in the box, but no headphones are included.
Having to rely almost certainly on Bluetooth headphones, it is pleasing to note that at least many efforts have been made with regard to wireless audio quality. All high quality Bluetooth codecs such as Sony's LDAC and Qualcomm's aptX/aptX HD are available.
Google has also introduced the recognition of offline music directly from the Always On display without even the need to ask. Your smartphone can listen to the surrounding environment every 60 seconds and, if it recognizes a song, a small message appears at the bottom of the always-on display with track title and artist.
The recognition can count on a catalog of about 10,000 tracks that can be recognized completely offline and without sending data to Google servers, which is fine. Tracks will be constantly updated and automatically changed under a Wi-Fi network. Clicking on the small note at the bottom of the screen brings up Google Assistant with all the information related to the recognized song.
Google Pixel 2 XL camera
The front camera is 8 MP with f/2.4 and fixed focus. With regard to the rear camera, Google opted for a single 12.2 MP sensor and f/1.8 aperture. In both sensors, the size of individual pixels is 1.4μm, but the rear camera has dual pixel technology, which is used for PDAF focusing (helped by laser) and bokeh effect application without the need for a double camera.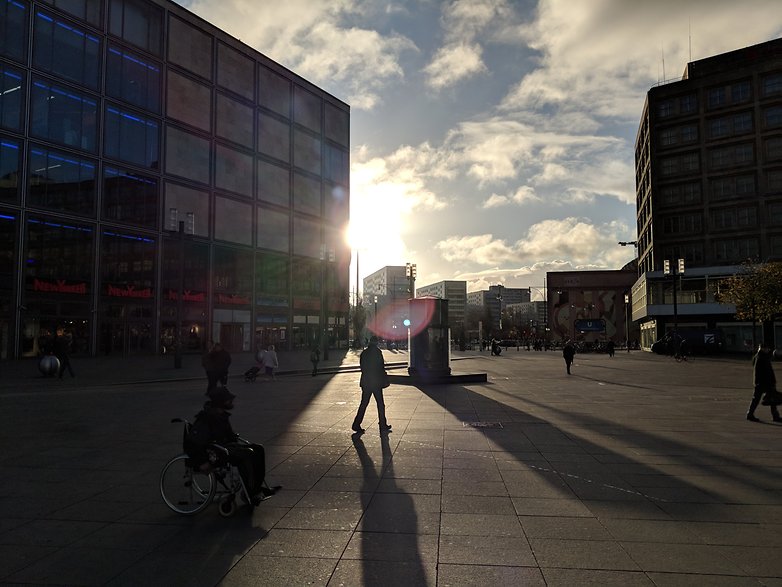 When taking a picture in portrait mode, the camera is able to create a depth map of the scene by calculating the differences detected by the two adjacent pixels in the sensor, which are then processed to blur the background into the picture. The front camera also has this mode but uses a different and less precise system. The process is much more complex than that, and an in-depth study of the subject will certainly come.
The smartphone can record 4K and 30 frames per second video using a hybrid image stabilization system that combines OIS (of which the rear camera is equipped) and EIS with excellent results. Google has equipped the Pixel 2 phones with a chip dedicated to image processing, designed in collaboration with Intel, which will be activated with Android 8.1 called Pixel Visual Core.
The Google Pixel 2 XL is also equipped with Google Lens functionality that will allow you to have additional information from your photos. In his review of the Google Pixel 2, my colleague Benoit Pepicq will go into more detail about the function.
Google Pixel 2 XL battery
My expectations about battery life were very low from the beginning. The old Google Pixel XL that I owned certainly didn't stand out for the duration of its battery life, and the other Android smartphones like S8 Plus and HTC U11 at most guaranteed me five hours of use for 13-15 hours of being powered on. But, Google has managed to amaze me.
Don't get me wrong, it has not yet achieved the stratospheric result that I achieved with iPhone 8 Plus, but I was surprised. Despite the QHD+ display, the ever responsive high performance processor, the recognition of music and the "OK Google" hotword always available and intensely uses, the 3,520 mAh battery was able to give me more than seven hours of screen time during my typical day. To get this much life out of a top-of-the-range smartphone with excellent performance is really impressive.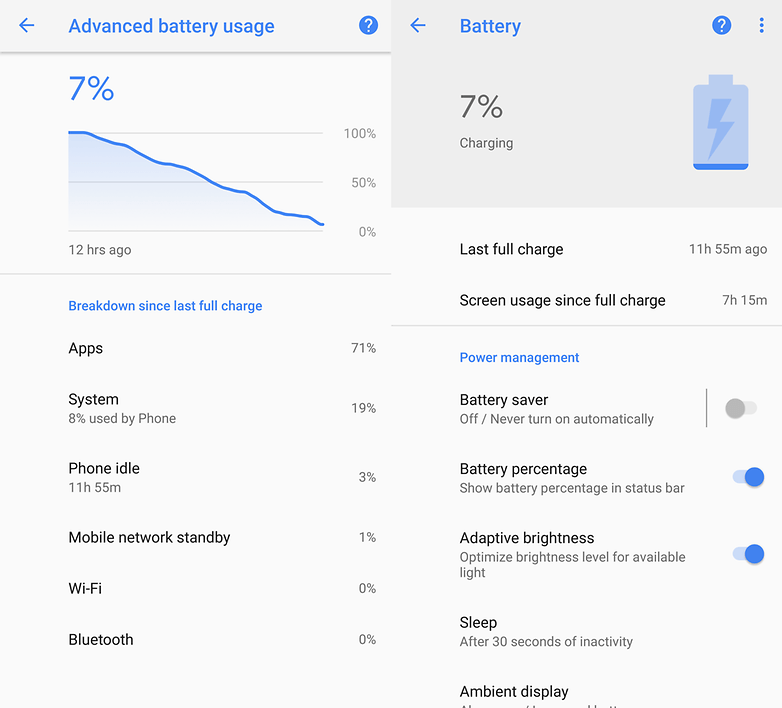 And the best thing is that the results are consistent. The optimization of Google's specific hardware and software for this device really makes a difference.
Fast charging up to 18W is available and any Power Delivery compatible charger can also be used. Even if compatible chargers reach 27W the smartphone will only charge up to 18W, which is enough to give us seven hours of battery life with 15 minutes of charging according to Google. And, in fact, charging is fast enough, comparable to other smartphones in this price range. It's a pity that we lack wireless charging right now.
Google Pixel 2 XL technical specifications
Final verdict
Google has finally started to pay attention to every aspect of the smartphone, even changing the graphics and creating a clean UI, fast and pleasant to use. The software experience is complete thanks to the full suite of Google apps, which are always speedy and, above all, intelligent. Every single part of this software is designed to make life easier: Google Assistant, the new Pixel Launcher, quick search in settings, the incredible camera with a chip dedicated to artificial intelligence, recognition of offline music and more.
Despite the various problems reported in the displays, despite the hardware being nothing special, despite the design that did not convince me 100 percent...Google has been able to enchant me with an excellent overall experience and that leaves no room for negative conclusions. Google has filled the main gaps that have separated me from the first generation Pixel, such as the lack of IP67 certification and the always on display, and I'm more than happy with this.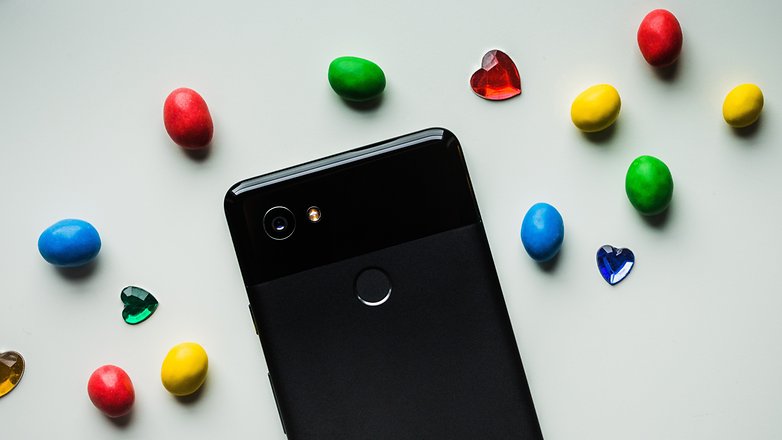 Although one might object to many of Google's decisions when it comes to the Pixel 2 XL, I would still choose this smartphone over the competition again and again, because this is still undeniably the best Android smartphone, as far as the final user experience is concerned.
You can't say that you have really tried Android until you've owned a Pixel, and once tried, it's really hard to go back. Your bank account might not exactly love you for the paying the price of this knowledge, however.