Oct 10, 2019, 12:16:48 PM via Website
Oct 10, 2019 12:16:48 PM via Website
The topic of Sound apps is difficult to cover because of these apps make the noise of the apps make a lot of noise. there are a lot of apps that have nice and funny sounds like Animal sound, sleep sounds, nature sound music sound, and many more. you can select these apps for your Mobile phone Ringtones to make some fun with your call ring. So we have collected the best Animal sound ringtones applications for android users.
Animal Ringtones 2019 - This is really amazing apps especially design for kids. because there are a lot of animal sounds in which the kids can learn and understand the different sounds of animals. This application is the source of understanding of animal sounds and this is a very useful app for kids. the interface of this app is very simple and good.
Dream sound apps - This is an android application there is a verity of sound in these applications including animal sounds, sleep music sounds, nature sounds, baby sleep sounds and many more. all of these sounds are very clear and good.
New Ringtone - The New Ringtone App provides a large number of New Ringtone for the android users which they can easily select the best ringtones for their Mobile Phone. the New Ringtone contains animal sounds, baby ringtones, music remixes, funny ringtones and many more. the user interface of this app is outstanding.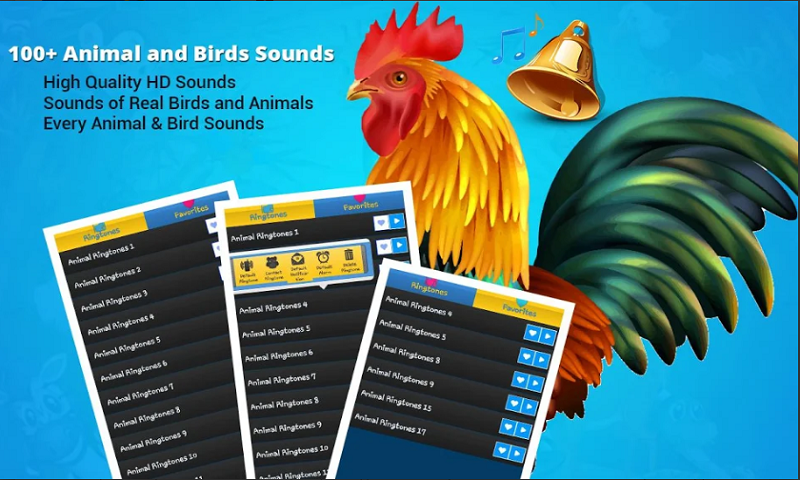 Mobiles Ringtones - this is one of the best application for android. this application consists of the different verity of the latest MP3 Ringtones. the best things about this app is that, that the interface is very clear and eye-catching most of the people are using due to their good interface.
Ringtone Maker - Ringtone Maker is one of the best Applications for ringtone makers. through this application, you can make your own ringtone from your favorite songs or music and from another source. this application support all type of format like MP3, WAV, AAC, AMR, etc. So this is an absolutely good application for Ringtones.