Jun 1, 2018, 9:53:14 AM via Website
Jun 1, 2018 9:53:14 AM via Website
Oftentimes, mobile users connect their devices to computer using a USB cable whenever they want to export or import data. However, it gets annoying when the phone disconnects every single time because of a loose cable. Fortunately, there are many applications on the web which allows one to wirelessly link their phone to PC. Since this is the case, most of the apps ask for payment in return. So, if you're looking for the best file transfer app for Android/iOS, refer to the tool introduced below.
AirMore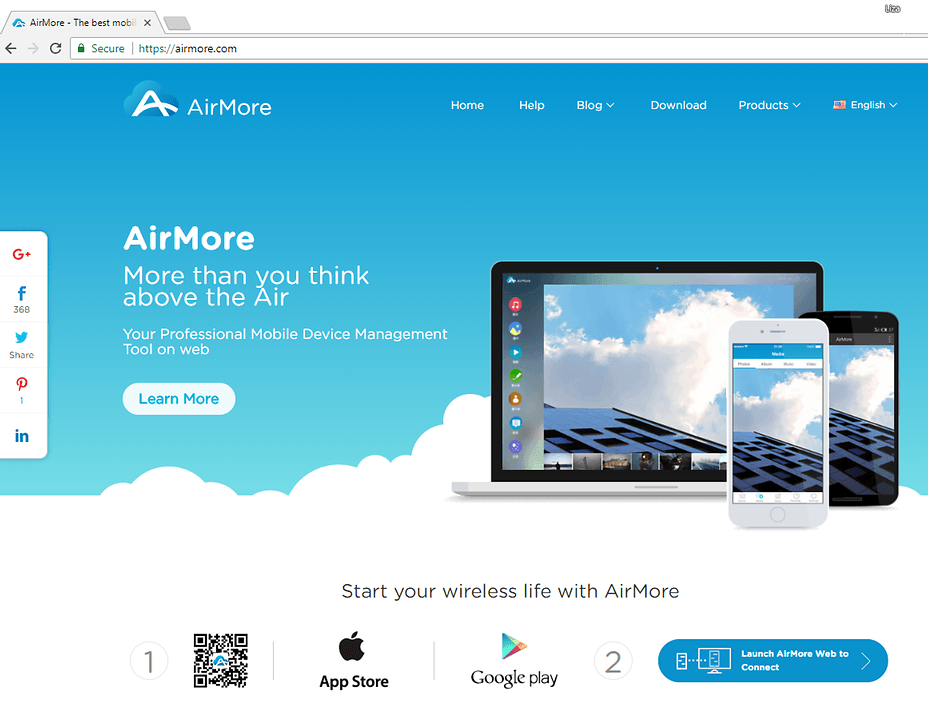 AirMore is one of the best transferring applications over the web. This is a cloud-based platform that enables users to access their Android/iOS files using Safari, Chrome, and Mozilla browsers. This means that you don't need to install any software on your computer to make the app functions. It supports various Android models like Samsung, Motorola, Huawei, HTC, and all iOS devices running iOS 8.0 or later. The app can handle different kinds of files which include pictures, music, videos, contacts, messages, documents, and applications.
With this, you may transfer from your phone to computer and vice versa as well as removing bulk files. Moreover, it allows you to manage contacts, send messages, install/uninstall apps, and organize folders. There is also a built-in media player that enables you to play songs or movies. The latest version of the app added a Clipboard feature which is capable of copying clipboards between phone and computer. All these functions are free of charge and does not require any signing up or creating an account.
As for connecting your devices, it offers two ways: QR code and Radar. These two works well and does not affect your transferring speed and file quality. To ensure that your data are secured, the app asks for confirmation beforehand. Interface-wise, it has a basic and clean design which is extremely easy to use, you just need to follow several steps:
Note: The steps apply to Android/iOS and any browser.
Download and install the mobile version of the app on your phone.
On your browser, navigate to the official website of AirMore and click the "Launch AirMore Web to Connect" button.
From here, choose whether you want to connect using QR code or Radar.
QR code. Launch the app on your phone and tap "Scan to connect". Use your phone's camera to scan for the code. Make sure that Camera is enabled from the App permissions.
Radar. Click on Radar on AirMore web and open the app on your device. Once your phone has been detected, click on it and tap "Accept".
Upon connecting your Android/iOS device, you can already transfer files.
Transferring from phone to computer. Go to the tab that contains the content that you want to send. For example, you want to share pictures. Simply click on "Pictures" and check the images that you want. After this, click the "Export" button. Tip: You can tick the "Select All" button to highlight all the photos stored on your phone.

Transferring from computer to phone. If you need to move files to your device, press the "Import" button and choose if you want to upload a single file or a folder.

To disconnect your phone, click the Home icon then press the power button. Confirm the process by clicking "Yes".
OTHER FEATURES OF AIRMORE
Mirror screen to PC. Aside from its ability to transfer files, you can use this when you need to view your mobile screen on computer. It has a reflector function that you can enable from the home interface.
Take screenshots. The app can also assist you when you need to take a shot of your screen. With just a click, you can capture the interface of your mobile phone.
Supports multiple languages. To make the app helpful to many users, AirMore comes in different languages. As of the moment, it supports 19 languages including Chinese, Spanish, French, and Japanese.