Oct 27, 2017, 2:41:07 PM via Website
Oct 27, 2017 2:41:07 PM via Website
DataVault Password Manager for Android stores confidential information related to credit cards, bank accounts, logins, memberships, etc. using Advanced Encryption Standard (AES), widely recognized as the most powerful technology to secure data. Powerful features and advanced security have made DataVault the leading password manager for Android Phones and Tablets.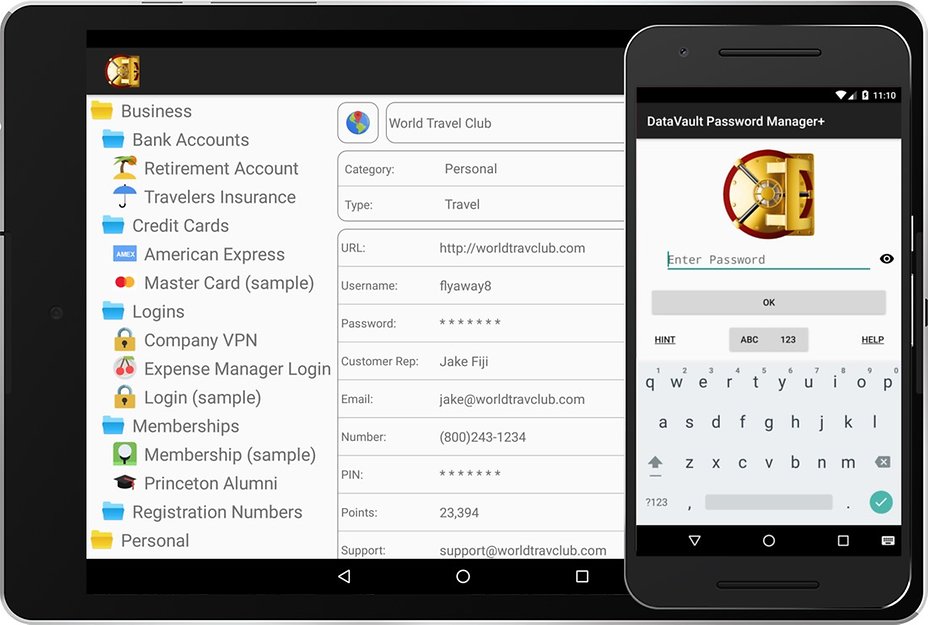 Customer Reviews
"Great app!!!

Intuitive design. Easy to sync. Each update makes the program better & better."
"The best APP If you have several accounts with passwords and other information... I give 10 stars if was possible."
"Great App, Great Support I love this app. I like the fact that I can synchronize the encrypted password/information database across desktop and mobile devices."
"Excellent app, been using it for years! Very functional app and easy to use. I highly recommend DataVault!"
"This has been such a helpful app. It sync's with my cell phone and my laptop so as to have my data available whenever I need it."
SECURE YOUR LIFE
DataVault encrypts your information using AES, the global standard for data protection. Your master password isn't stored anywhere on the device. Not even Ascendo has the key. Only you can unlock your data.
Free version employs 128-bit encryption as used by online banking sites. Upgrade to 256-bit encryption with PBKDF2 and salting to insure the highest level of security of any password safe.
Set a Security Timeout to require login after an inactivity delay.
Set Maximum Login Attempts to wipe your data after successive failed login attempts.
Set a Master password hint in case you forget your master password.
Use Field Masking to shield data from prying eyes.
POWERFUL FEATURES
Fingerprint Authentication to login quickly and securely.*
Backup your data automatically to insure you never lose your important information.*
Create strong passwords using build-in Password Generator with settings for length and types of characters.
Strength Meter tells you if you passwords are weak, good or strong.
Securely synchronize date using Dropbox or Wi-Fi with DataVault for Windows, DataVault for Mac & DataVault for iPhone, iPad & iPod touch (sold separately).*
Premium & Paid versions.
SIMPLE TO USE
View items in list or folder view.
Use Templates for rapid entry of common items such as bank accounts, credit cards and logins.
Select from 25 default templates or create your own.
Use categories and types to organize items.
Duplicate items for faster entry.
Search Settings including fields to search and case sensitivity.
And a whole lot more...
Full tablet support with split screen display.
200 icons to personalize your items.
Import from 1Password, Dashlane, SplashID, Lastpass, mSecure, Keepass and other 3rd party password keepers using DataVault for Mac or DataVault for Windows.
Best email support of any password keeper.
— modified on Nov 18, 2017, 2:28:09 PM