Jan 23, 2017, 4:58:11 AM via Website
Jan 23, 2017 4:58:11 AM via Website
Digital Book Shops is the ultimate digital library of ebooks, video training classes and software products. With literally thousands of products you can find mostly anything you could think of from various categories.
The app has a minimalistic design to help you navigate faster and find what you need. The focus is clearly usability.
Do you want to find the secrets of faster learning? Or learn how to sketch? How about a software product to help you relieve stress? Digital Book Shops has thousands of solutions, no matter what your goal is.
Main Features:
10,000+ Digital Products. This app is a digital library of ebooks & products that you can easily browse to find what you need. From informational ebooks to software products there are well over 10,000+ products on various topics.
Dozens of product categories. Products are neatly organized in 23 different categories, from Education, Games, Mobile to Software, Sports & Travel. Each category has its own list of subcategories for easy browsing and finding products faster.
Minimalistic. The listing view of products is minimalistic to help you navigate faster. For each product you see a thumbnail and a short description.
Smartphone & tablet compatible. The app is designed to fit correctly on smartphones and tablets too. Thus, no matter the view (i.e. landscape or portrait), you can easily navigate through categories and find products.
Ad free. Digital Book Shops doesn't contain any ads whatsoever. It is a simple digital library that you navigate through to find products. Some of the products are paid, but those are displayed on their external sites.
store/apps/details?id=com.digitalbookshops.digitalbookshops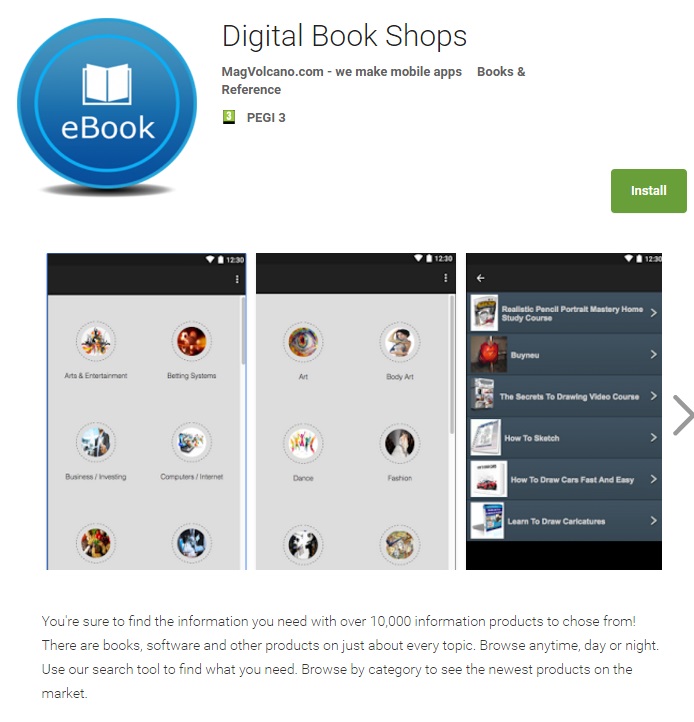 — modified on Jan 23, 2017, 6:26:21 AM