Oct 3, 2016, 3:45:54 PM via Website
Oct 3, 2016 3:45:54 PM via Website
LeEco, the global Internet company launched its new line of smartphones – the Le 2 and Le Max2 a few months ago to an overwhelming response from Indian consumers. More recently, the company announced a special offer for Diwali where its flagship, the Le Max2 is available at an exciting price of Rs. 17,999 on LeMall, Flipkart, Amazon and Snapdeal – this is a steal deal!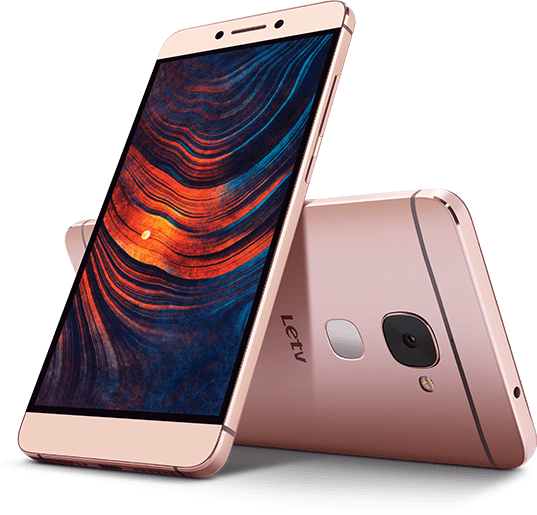 On the other hand, OnePlus has been a trendsetter in India for the past few years and has consistently released promising smartphones at rock bottom prices. For the first time in its history, OnePlus decided to go the "open sale" route and consumers do not need an invite to purchase the OnePlus 3 from Amazon. While the company hasn't shared any sales numbers yet, we hear that it's not too shabby!
 
LeEco's and OnePlus' respective flagships, the Le Max2 and the OnePlus 3, usher in the era of 6GB RAM on smartphones. Setting aside the debate of "do we need it", let's take a quick look at what's inside these stars…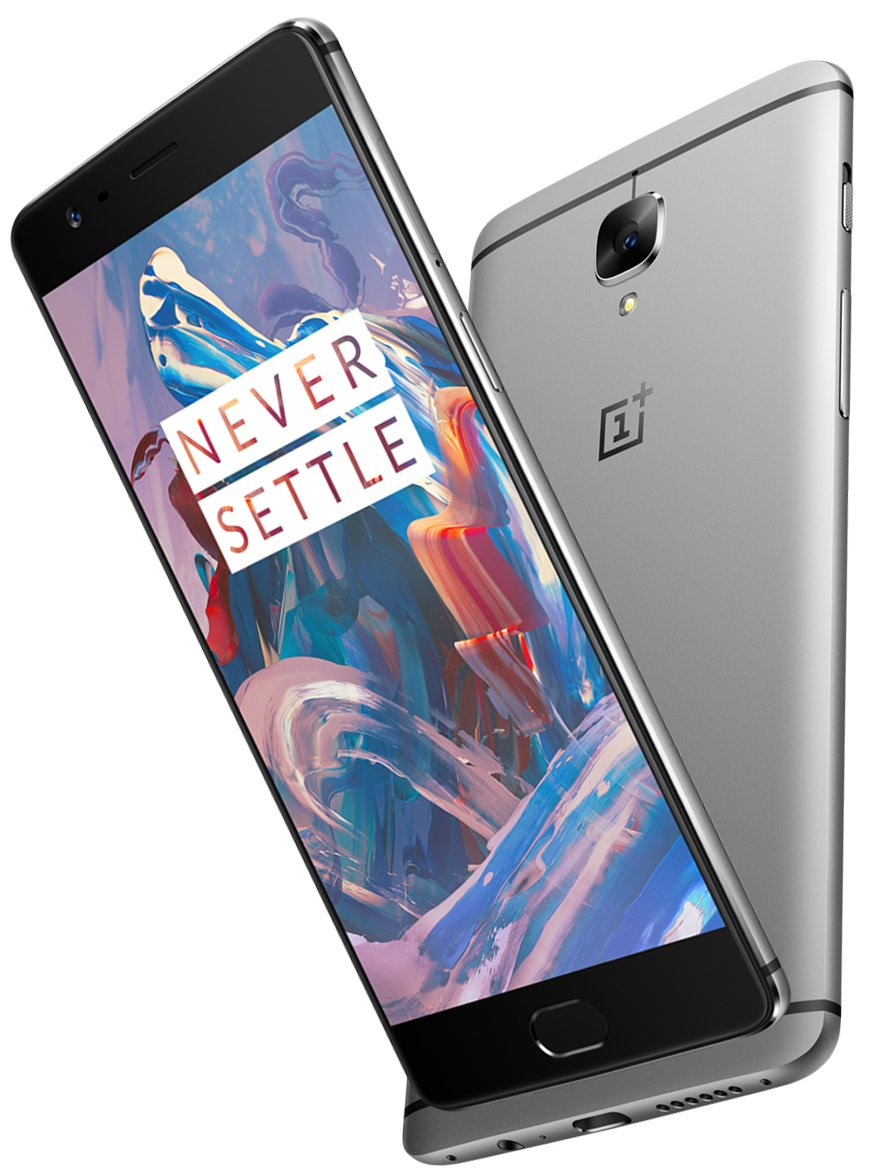 To start off, both the Le Max2 and the OnePlus 3 boast of top-end specifications in almost every department – 6GB RAM, 64GB Internal Memory, at least a 3000 mAh Battery, support for the latest Wi-Fi standards and almost all network frequencies! As a result, both are snappy, fast and powerhouses when it comes to performance - playing high-end games on either of these phones is a breeze! So, what sets them apart? A few things…
DISPLAY
The OnePlus 3 has a vivid 5.5-inch Optic AMOLED display that has Full HD resolution. Colors are bright and it's a good display. However, the Le Max2 boasts of a 5.7-inch IPS display with 2K resolution - that's just out of the world! Place these smartphones next to each other and the difference is obvious! While a higher resolution display usually means less battery life, LeEco has done a good job in tweaking power consumption and the extra 100 mAh battery on the Le Max2 helps!
DESIGN & BUILD
OnePlus tried something new this time - an all-metal build! They've done a good job with this and the smartphone is light and feels solid. On the other hand, LeEco has become a pro at creating premium all-metal smartphones! They've been doing this since their first smartphone - the Le 1, and their design has just gotten better and better. Symmetry rules!
CAMERA
In this department, while the Le Max2 has a higher Mega Pixel count, that's not the end of the story. As serious photographers will tell you, Mega Pixels matter, but so do other things like Aperture and Photo Processing. OnePlus has a standard camera on their flagship – its good but not great. The Le Max2 captures better low-light photos and natural color tones!
SOUND
The OnePlus 3 has the usual 3.5 mm analog audio port but LeEco is trying something new with its Continual Digital Lossless Audio (CDLA) standard delivered through the USB Type-C port! We've seen prior studies about audio quality drops when routed through the 3.5 mm analog port and some blind tests on the web show better quality music through CDLA but we wanted to try it ourselves. And guess what? It is true! Listening to music on the Le Max2 with the CDLA earphones was, literally, "music to our ears"! The bass, the trebles, the mids and the highs – it leaves nothing out, and we felt that we were listening to the song as the composer meant it to be heard! Forget all the hoopla about custom DACs on smartphones, if the industry follows this, we'll not need to worry about audio quality at all – for the vast majority of us.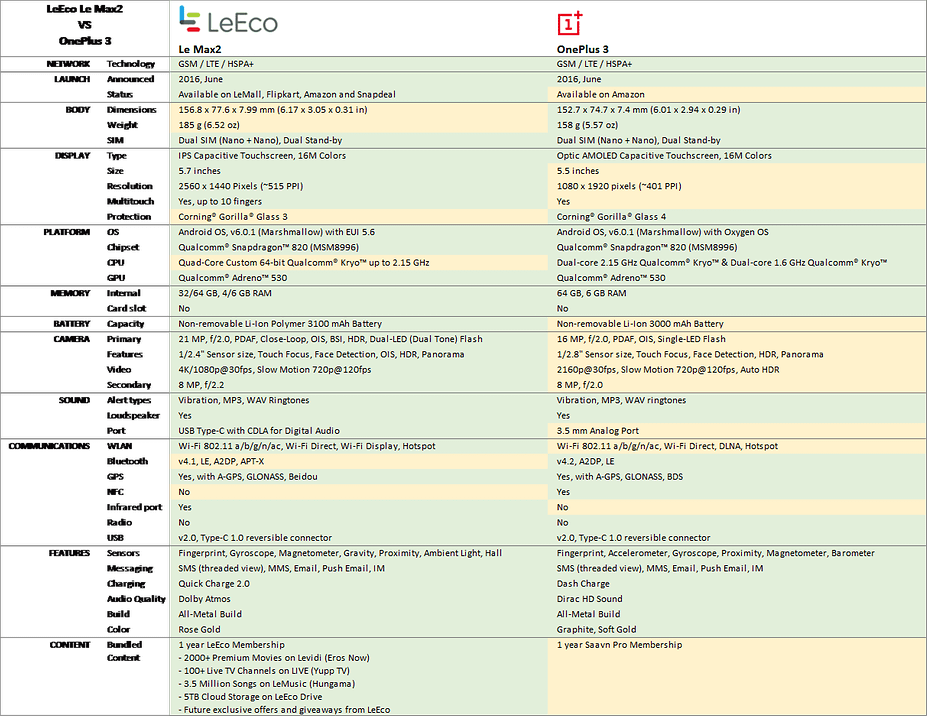 CONTENT
The future is here and content is king! This revolution in India was started by LeEco in February this year and we can already see major players scrambling to bundle some kind of content with their smartphones. Xiaomi gave away a few months of Hungama Music along with their smartphones, and now OnePlus gives users a 1-year subscription to Saavn Pro for all their music listening needs. But, as you'd expect, LeEco is the king of this business-model, and the 1-year LeEco Membership that comes bundled with the Le Max2 is huge! LeEco is also working to bring Live Concerts to their customers' smartphones – this is entertainment like never before!
Well, that's about all we could think of as key differentiators between these two flagships! But there's one last thing…
PRICE
The OnePlus 3 comes in only one storage variant and will set you back by 28K. But the Le Max2 comes in two storage variants – the 4GB RAM and 32GB Internal Storage variant will cost you 18K while the 6GB RAM and 64GB Internal Storage variant will be a little more expensive at 30K.
VERDICT
In our opinion, the Le Max2 4GB RAM variant is a smart buy because it gives you reasonable storage, good performance, better audio quality and, most importantly, the biggest catalog of content! There are so many ways that the LeEco Membership adds value to the end-user that it boggles the mind – you can't consume all that content even if you try!
To sweeten the deal, the Le Max2 costs about half as much as the OnePlus 3, redefining the phrase "value for money" because you'll not have to worry about any additional costs when you want to listen to music, watch movies, catch the latest news from your favorite TV channel or even when you want to store your data in the cloud!