Nov 19, 2015, 6:18:03 AM via Website
Nov 19, 2015 6:18:03 AM via Website
Hi All, My name is Ilya, I'm developer of Monetal, the popupar finance tracker on Windows Phone platform. Today I'm pleased to present Monetal to Android users. Monetal is my vision of the personal finance application. It uses "tap-tap-tap" technology, which provide very fast way to add new transactions. I hope you'll like it. Thank you.

Monetal - the Finance Tracker For Android. Offering a clean and intuitive interface, the application makes it super easy and fun for you to track expenses, visualize and analyze data to see where your money is going.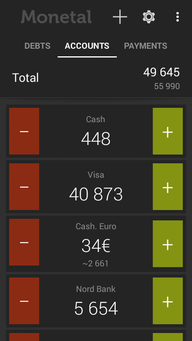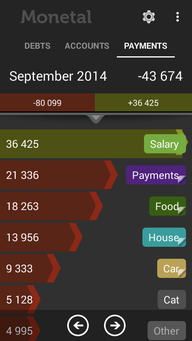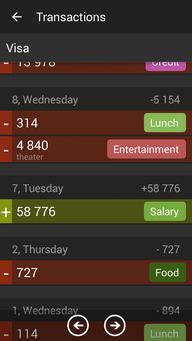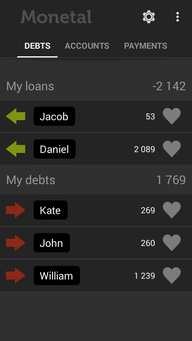 Monetal allows you to create several accounts for cash, credit cards, electronic money, and then log income and expenses for each account via plus and minus icons on the main screen. The process is very fast. When you're about to pay for gasoline, for example, quickly open Monetal on the phone, click minus, type in the amount, select a tag from the list of commonly used categories, and you'll be done before you get your change back.
Why Monetal is so convenient:
✔ Instant loading
✔ Add transaction with 3 clicks
✔ Considers the costs, revenues, and debts
✔ Detailed payment history
✔ Password lock
✔ Autobackup to Dropbox
✔ Month reports to email
✔ It's charged with positive energy
✔ Attracts wealth
If somebody is looking for the app to review
If somebody is looking for the app to review it on his site or blog, please consider the Monetal. Moreover it is solid app and and not famous, its has another advantage. Since I implement in Monetal an activation system, I can make it free for some time to let your users download Premium version. Monetal also can be activated by the code, so you can make a challenge or competition and reward your users. Please get me by support@mymonetal.com to help you to enjoy your users.
Download Monetal: play.google.com/store/apps/details?id=com.clickland.monetal.free
Free version of Monetal has three account limitation, and doesn't allows you to create password lock.
— modified on Nov 19, 2015, 7:09:14 AM