Sep 9, 2015, 8:56:21 PM via Website
Sep 9, 2015 8:56:21 PM via Website
Hi, all. We are a team of developers that works on one awesome app. Just a few days ago, we opened access to our application we have already work more than a year. And we sincerely hope you can help us to test it and provide as many feedbacks as possible. You can find us easily on Google Play - just enter "CryID" in search box. Thanks a lot!
What is CryID?
Cryid - is a secure instant messaging service that allows you to communicate easily with your colleagues, partners and family without fearing for the safety of your correspondence.
You may ask, what's the point? There are a lot of secure messaging services on the market... But most of them are using centralized architecture, which not warrant you, that your messages and encrypted keys won't be saved on provider servers and transferred to a third party.
Our service give you more. Using peer-to-peer architecture we deliver your messages and other data directly to your companion. We don't save any type of your private data, even your password - authorization take place on client side and we don't have access to it. We don't have the technical capability to monitor our users messages. We belief that private communications are a universal human right, and our Services are designed to enable secure end-to-end communication.
Our features and advantages:
- Hybrid Peer-to-peer secure network
- Send your messages and data directly to the other party
- AES128 / RSA 1024 encryption for all types of content
- Support for multiple devices
- All of your information, secure keys and correspondence stored only locally on your devices
- Device side authorization(we don't know your private password)
- Encrypted local database
- Cross-platfrom
And this only beginning! We plan and work hard to add a lot of interesting features, some of which you will not find in any other applications. And we like to make our best and to release something real cool and stable. For now we sincerely hope you can help us to test our basic version of application and provide as many feedbacks as possible to make a firm foundation for new opportunities on which we are working right now. So try it yourself and invite your friends and colleagues for best experience!
BONUS
For all active participants, that will take part in testing and make feedback till November 1st 2015, we will give a bonus - a lifetime subscription to the advance version of application which will be with all of our main features.
We also plan to open most of our sources for our dev community in the coming months.
To send direct replies or contact with developers, use the following adress: contact@cryid.com
Please contact us in any convenient way - directly or in the comments to this thread.
Ask us any questions you have and write your ideas and feedbacks. We also like to know what you all think about peer-to-peer technologies and associated features which you think can be usefull and interesting.
Thanks for your attention and your help!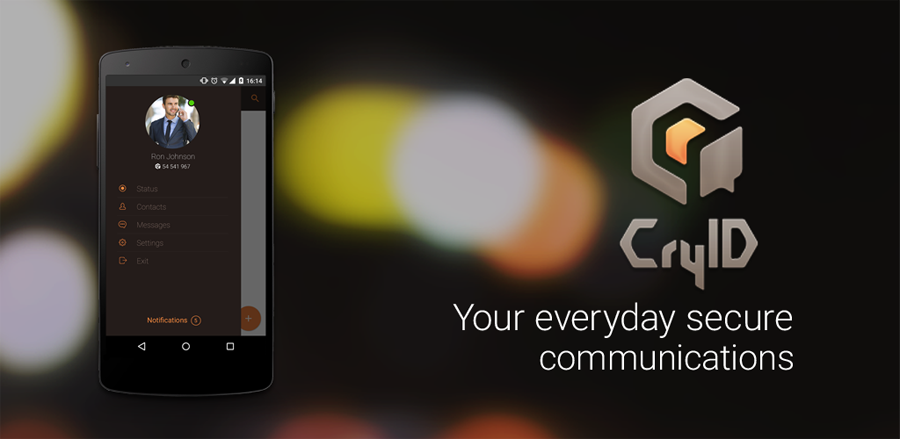 — modified on Sep 9, 2015, 9:05:32 PM