Sep 18, 2014, 5:36:56 PM via Website
Sep 18, 2014 5:36:56 PM via Website
Hello AndroidPit
Allow me to introduce Time Boss
A clear, intuitive, yet powerful timer application that allows you to set multiple timers at once that run in the background.
Time Boss is full-featured, but easy to work with:
Tap on a timer to start or stop it
Hold a timer to show the options for that timer
Google Play Store link:
https://play.google.com/store/apps/details?id=com.xpresspe.stopwatch
Website (with basic operation guide):
https://sites.google.com/site/timebossapp/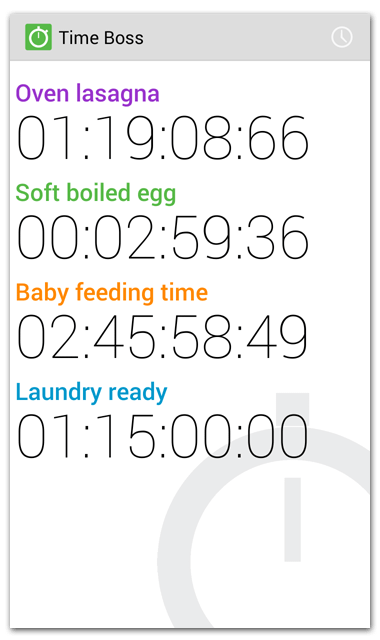 YouTube demo video:

Hope you like it!
Don't be shy to give comments/feedback/suggestions/improvements/typos/etc...
— modified on Sep 29, 2014, 12:27:13 PM