Apr 7, 2014, 5:41:59 PM via Website
Apr 7, 2014 5:41:59 PM via Website
If you've already tried a
Factory Reset
on your
HTC One M8
and it hasn't solved your problem, the next step might be a Hard Reset. A Hard Reset is basically the same as a Factory Reset but you do it manually with the hardware buttons. You also have a little more control over what gets deleted.
First of all you need to first make sure
Fastboot
is disabled in Settings > Power.
With your HTC One M8 switched off, hold down the
Volume Down button and press Power
until you see the screen with three Androids at the bottom. If you just want to do a Factory Reset with the hardware buttons you can do it on this screen. Using the Volume buttons, scroll down to Factory Reset and use the Power button to confirm. This will Factory Reset the device.
If you want to wipe the cache partition as well (what I consider a Hard Reset), simply do your reset via the Recovery Menu. Instead of scrolling to Factory Reset scroll down to Recovery and hit Power to confirm. You will briefly see the HTC screen then you want to press Volume Up and Power to access the Recovery Menu, then all the way to the bottom to Wipe Cache Partition. Once you've done this you can then Factory Reset via Recovery and reboot.
Once your HTC One M8 reboots you'll be prompted to log in with your accounts again and restore all of your data and settings, depending on the Backup account you have enabled.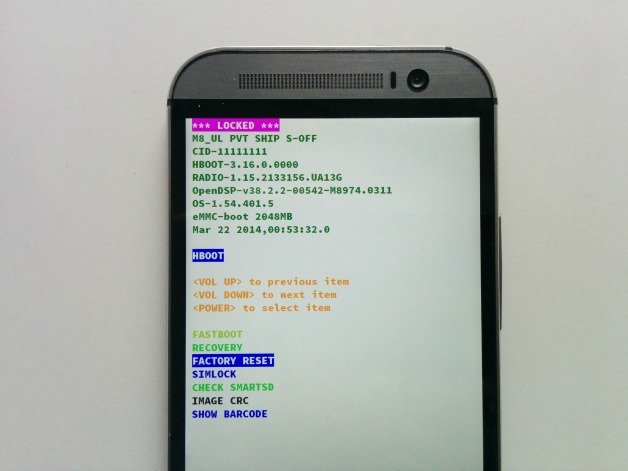 — modified on Apr 7, 2014, 5:46:21 PM by moderator