Apr 7, 2014, 5:28:10 PM via Website
Apr 7, 2014 5:28:10 PM via Website
The easiest way to perform a Factory Reset on your HTC One M8 is from within the menu settings:
Settings > Backup and Reset > Reset Phone > Ok > Ok.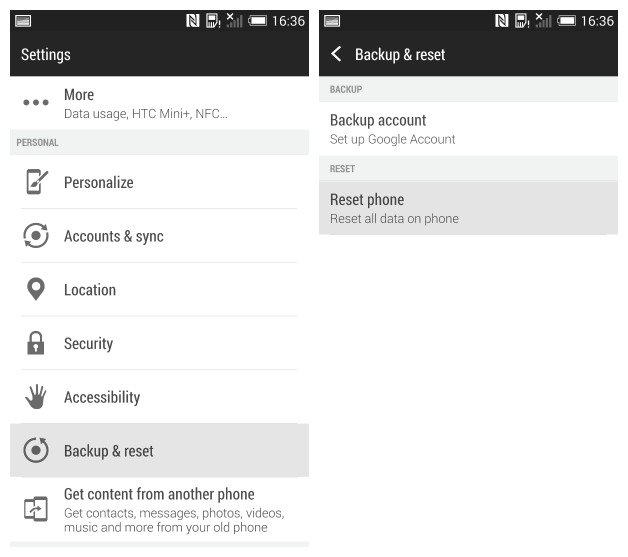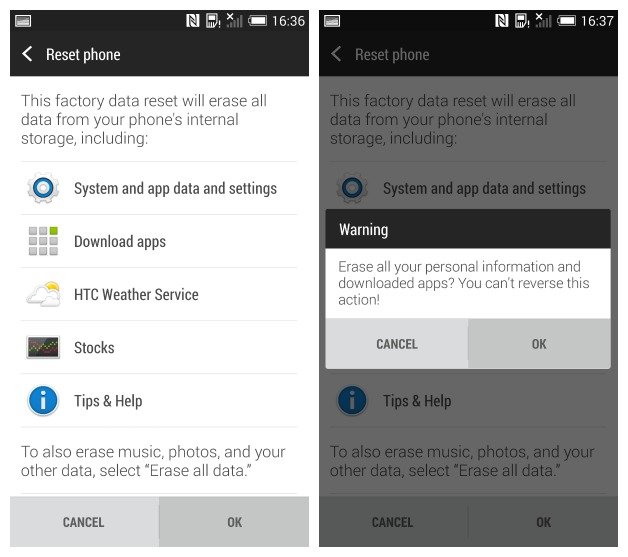 Please remember to back up any data you want to keep first! If you have a HTC Backup account set up you'll have some additional options. If you use your Google account you'll have slightly less.
With HTC Backup, on the Backup and Reset screen you also have the options for Automatic Backup, Backup Now and App Data and Settings Restore. With a Google account you'll just see Backup My Data and Automatic Restore. These are good options to enable before you Factory Reset if you're not too sure how to do these things on your own with apps and other services.
On the next screen, you'll also be prompted to decide whether you want your photos and music files to be deleted along with everything else on both your internal memory and your SD card (if you have one installed). I for one really like the clarity of this explanation.
If you're at all paranoid about your SIM card or SD card contents just take them out before you do the Factory Reset. Attention: if you reset your device to the factory default with SD card encryption setting enabled, the device will not be able to read your encrypted files. Disable this setting before resetting the device.
If a Factory Reset doesn't solve the problems, you can try a Hard Reset, the instructions for which are here.
— modified on Jan 14, 2015, 11:07:51 AM