Feb 2, 2012, 4:42:17 AM via Website
Feb 2, 2012 4:42:17 AM via Website
I can't touch or drag in the far right 15% (roughly) of the screen.
It's as if the finger X-position seen by software is being clipped or limited. When I drag my finger into the inaccessible area, software thinks my finger is at the far right edge of the usable area, but it won't go any further rightwards.
The screen display is not affected; just the touch input.
The unusable area matches the application dock area when I was using Zeam Launcher.
This has happened twice now, both while Zeam Launcher was enabled. I can't remember how I "fixed" it last time.
I've uninstalled Zeam Launcher and the problem is still present. I'm trying Launcher Pro and its dock is also unusable (it's in the same area of the screen).
I've tried a power-cycle (remove/refit the battery),
HTC ChaCha h/w version 0128 Android 2.3.5 Sense 2.1 s/w 1.54.401.2 kernel 2.6.35.10-g086f758
Edit 2012-02-04:
Here's an image that shows the problem.
I drew a diagonal line with my finger, starting from near the bottom left corner and ending near the top right corner.
To start with, the line on the display followed my finger exactly.
As you can see, when my finger reached the "unusable" area at the right, the line wouldn't follow my finger rightwards, though it continued to follow my finger upwards.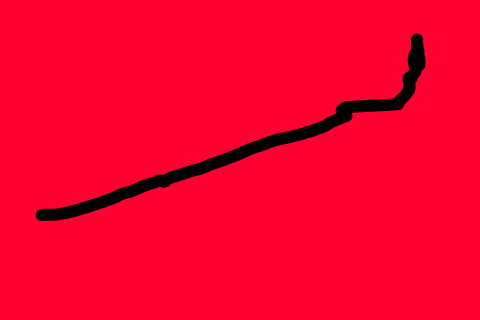 Thanks for ANY suggestions!
KrisBlueNZ
— modified on Feb 3, 2012, 5:53:18 PM