Asus ROG Phone review: this flagship has all the big guns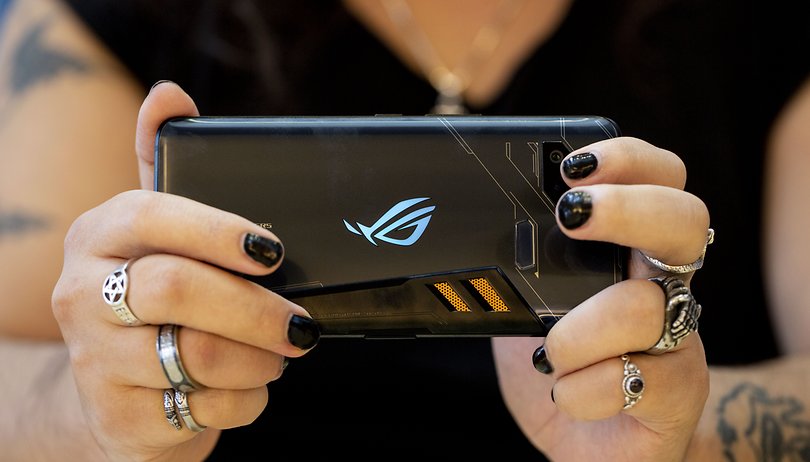 2018 was the year of the gaming smartphone. A range of devices boasting flashing lights, souped-up specs and various gaming gimmicks followed in the wake of Razer's initial offering. The new Asus ROG Phone stands at the top of the pile in terms of specs, but also price. In this review, we'll see if the Republic of Gamers smartphone deserves the top spot.
Good
Powerful performance

Fast AMOLED display

Specialized software for gaming

Powerful speakers

Lots of storage
Bad
No wireless charging

Screen somewhat dim

No MicroSD slot

Camera is outclassed in this price range
Asus ROG Phone: All deals
Asus ROG Phone release date and price
While we fully expected this over-the-top gaming smartphone to break the $1,000 dollar barrier, it looks like Asus' asking price is a little more restrained than that...but only just.
The ROG Phone can be ordered from the ASUS Store, Amazon, and Microsoft, with a starting price tag of $899 (£699.99 to pre-order the UK) for a version with 128GB of internal storage, but there's also a 512GB storage variant available for $1,099. The color options? Black, and nope, just Black.
Extravagant but still stylish
Asus has done a pretty good job of blending the trends of today's current top smartphones with the flashy gamer aesthetics characteristic of the ROG sub-brand . No, that doesn't mean there's a notch! Only that the metal and glass body with rounded edges and corners are in line with other high end flagships on the market.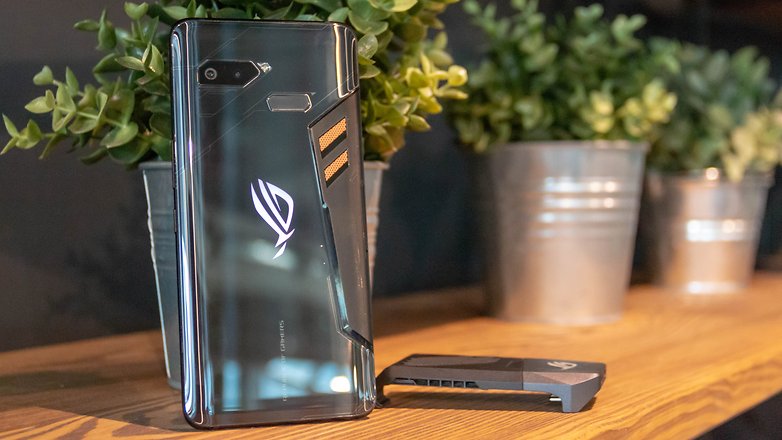 On the front we've got the classic top and bottom bezels, with attractive copper-accented speaker grilles, plus a selfie cam on top. On the bottom, a USB-C port plus the very welcome 3.5mm audio jack. The right side has the volume rocker and power button, while the left carries the dual SIM (no microSD) slot plus a special socket for accessories such as an extra cooling fan, but we'll get into that later.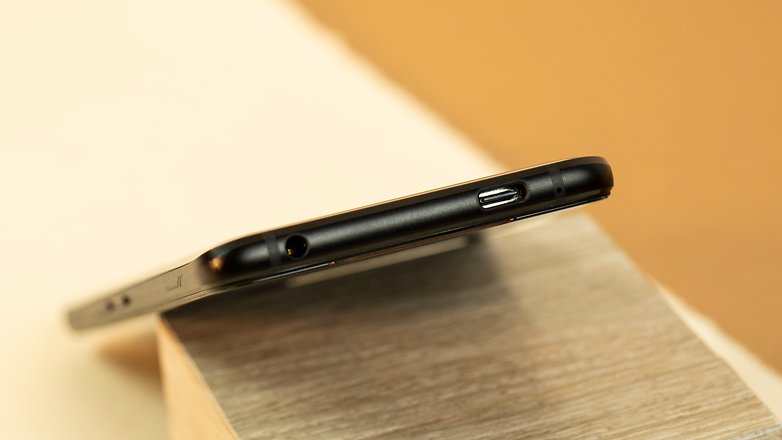 It's a party at the back with an odd, angular and asymmetrical design representative of the ROG brand. It lets everyone know - yes, this is a gaming phone in your hands. If there could be any doubts, the light-up ROG symbol on the back (configurable for different colors/patterns) will dispel them. But it's not all for show, of course. The dual camera, fingerprint sensor and cooling vents are present too.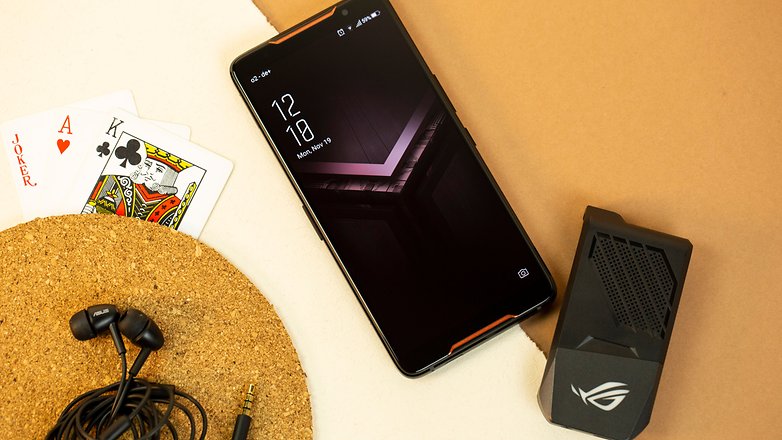 Overall the Asus ROG Phone makes a good impression and is more attractive and elegant than the promotional images suggest. Aggressive lines that seemed protruding and awkward on pictures were actually smooth to the touch and the phone is well-balanced in the hand. It's good to hold a device that wasn't made chunky and unwieldy in the name of gaming.
Design-wise, I would've preferred a more symmetrical design on the back, though this is a matter of taste. The fingerprint sensor was also located rather high on the body for my liking - the phone would slip down my hand when I tried to use it. Thankfully there are other options.
A fast AMOLED for good graphics
For your viewing pleasure, the ROG Phone packs a 6-inch, 18:9 AMOLED display that runs at 90Hz , which means a 90 fps refresh rate. Not quite as smooth as Razer's 120 Hz display, but still the fastest OLED smartphone display and a marked improvement over standard smartphones when it comes to gaming.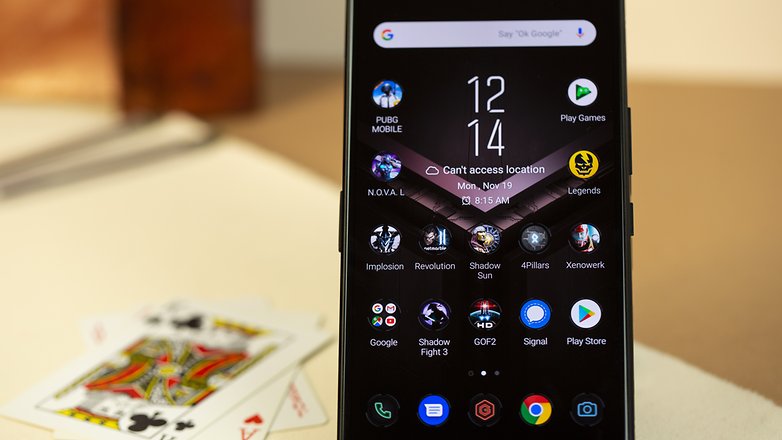 AMOLED means sharp details, crisp colors and high contrast. The display is attractive to look at, whether browsing the UI or running multimedia. The resolution is not QHD, but rather Full HD+ (1080x2160) resulting in a decent, if not mind-blowing, 402ppi.
Even if the display is pleasant in most situations, it still suffers from the classic issue of being hard to read in bright daylight, even with brightness cranked all the way up.
Shoulder buttons, kind of
The Asus ROG Phone is a Batman utility belt of gimmicks . I was most excited by the AirTriggers, which are basically ultrasonic inputs along the side that can be used as shoulder buttons. In practice, however, most games aren't ready to support this, as shortcuts to otherwise cumbersome inputs. What you do is assign them to a spot on the touchscreen, that can be duplicated by a tap on the AirTrigger. So for example, I tried assigning the command to Fire in PUBG, and the Shadow Ability in Shadow Fight 3.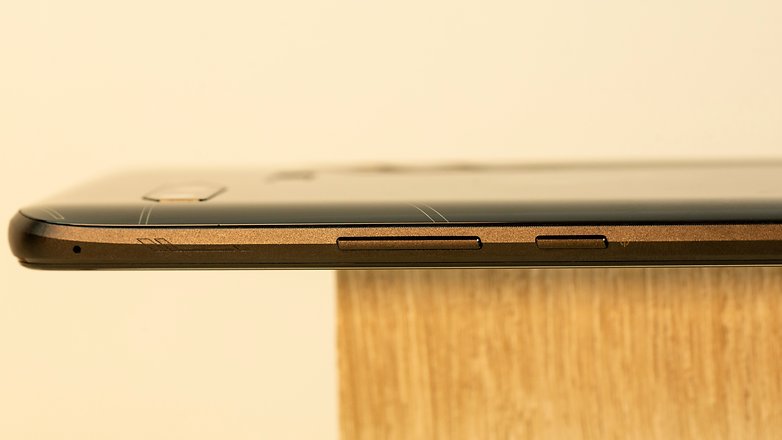 While the response time on the AirTriggers was satisfactory, I can't say that it has a huge added value to gaming - yet. If Asus ROG partners with developers to support these inputs, I could see them really adding to the user experience.
Then there's the special clip-on cooling fan. The idea here is to provide extra cooling to keep the innards running fast during long gaming sessions, though I found that the ROG Phone can manage pretty well on its own most of the time. If you're really going to go for hours though, it can help.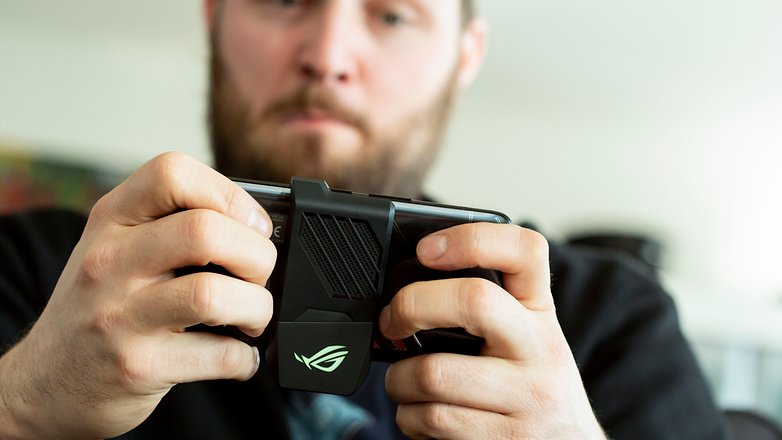 What I liked more was the fact that the accessory also lets you plug in both the charging cable and audio jack from the long side of the phone. This means that you can just plug in and immerse yourself in a game at top performance, without battery woes or cables getting in the way of your fingers. The downside? The plastic fan does feel kind of cheap, but the main thing is the rubber stopper that covers the input for it. That little thing is just begging to be lost between sofa cushions.
The ROG Phone supports a bunch of fancy accessories including an extra screen, controller, and a mouse and keyboard dock. We'll see how they fare as they become available. They aren't taken into account in this review, as they are sold separately.
Software optimized for gamers
PC Gamers may already be familiar with the ROG Game Center app. The phone doesn't go without it. This dedicated app lets you monitor performance such as CPU / GPU frequency and temperature, memory usage and other handy information. You can manage your games individually too, toggling CPU speed and anti-aliasing, for example.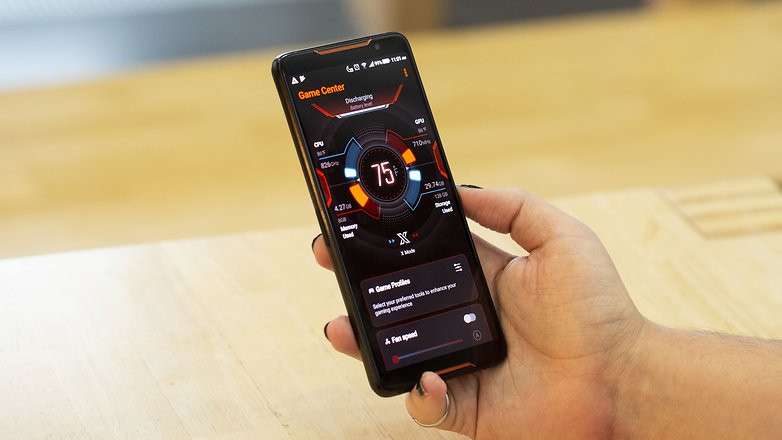 The Game Center is also where you control fan speed and the Aura Lighting for the ROG symbol on the back. From here you can toggle X-Mode, which effectively unlocks the highest clock speeds for the CPU.
X-Mode (also accessible via edge squeezing or the Quick Settings drop-down dock) gives your whole UI the Extreme Gamer Style by lighting bright red circles around your icons. There's a cool animation in the background when it happens too. Yes, a little cheesy, but it made me smile.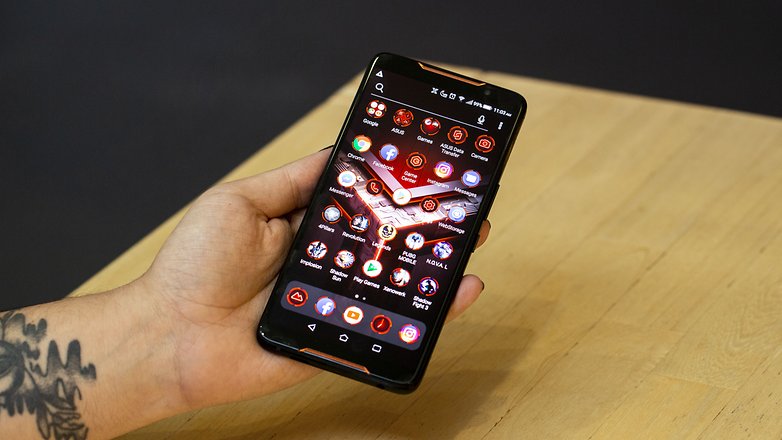 Aside from Game Center, you've got Android 8.1 Oreo with some software from Asus, including a silly looking Mobile Manager cleaning app and a Theme Store with some nice looking designs exclusive to the ROG Phone. Two games (Free Fire and Asphalt 9) are included from the get-go, as is the (uninstallable) Facebook and Messenger app.
When you're gaming, a quick swipe in from the side brings up the Game Genie app. It offers a range of options, such as toggling AirTriggers, freeing up memory, displaying an overlay of real-time stats (GPU usage, fps, temperature etc.) and even livestreaming to Youtube or Twitch. It's clear that the ROG brand has thoughtfully brought as much of the PC gaming experience as possible to its first smartphone.
The Asus ROG Phone runs Android 8.1 Oreo, but in a very modified form. Asus has not only adapted the look to the gamer theme, but has also provided the smartphone with features specifically designed for games . This includes controls for the fan and lighting, but also the particularly fast X-mode. Game Genie can be accessed while playing to customize other options.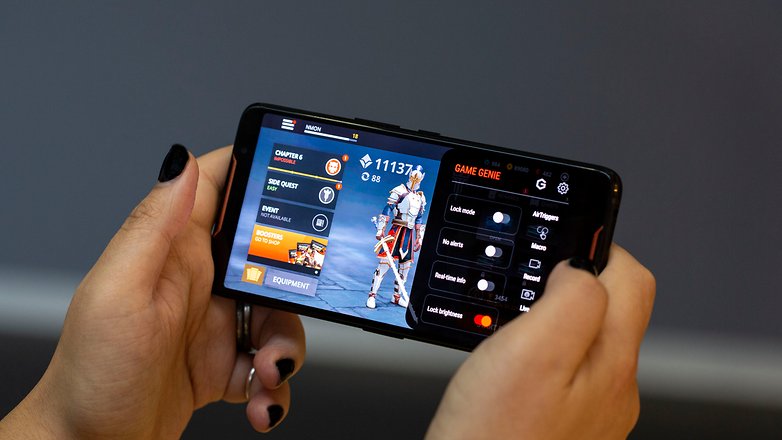 Clocked for max power
Every gaming phone worthy of the name will tout top performance, and Asus boasts of a particular advantage for the ROG Phone. It carries a special speed-binned version of Qualcomm's Snapdragon 845 clocked at 2.96GHz, rather than the regular 2.8GHz . SD845's best friend, the Adreno 630 GPU, is here to help with the heavy graphics lifting. Vapor-chamber cooling keeps them both from running too hot.
Add 8GB RAM to that and you have a genuine powerhouse of a device. And yes, it's noticeable from the user end. It just flies during regular use and runs the most demanding modern games without a stutter - Lineage II Revolution, PUBG Mobile, Fortnite, Shadowgun Legends, Tekken Mobile - you name it. The next generation of premium mobile games will have a comfortable home here. Given that newer high-end mobile games can often take up several GBs of storage space, the base 128GB capacity is very welcome. 512GB still sounds quite excessive for a smartphone, but a variant exists in case you must have absolute top numbers in everything.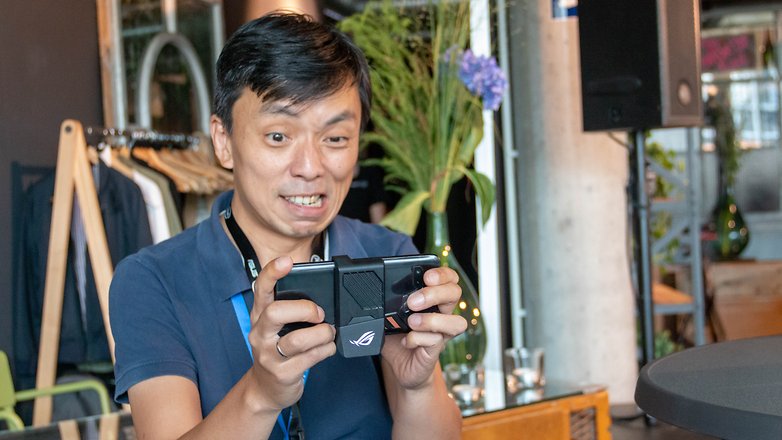 In our benchmark tests, the ROG Phone handily smoked the competition from top flagships and gaming phones in the 3DMark Sling Shot Extreme tests, though it's another story on Geekbench. It's worth noting that the ROG Phone prompts you to engage X-mode before running benchmarks...cheating, or just making sure it's doing it's best?
ROG Phone: benchmark comparison
| Smartphone | 3D Mark Sling Shot Extreme ES 3.1 | 3D Mark Sling Shot ES 3.0 | 3D Mark Ice Storm Unlimited ES 2.0 | Geekbench 4 - single core | Geekbench 4 - multi core |
| --- | --- | --- | --- | --- | --- |
| Asus ROG Phone | 4376 | 4963 | 62481 | 1528 | 6627 |
| Razer Phone 2 | 4001 | 5084 | 63325 | 2352 | 7953 |
| OnePlus 6 | 4073 | 5583 | 62113 | 2448 | 8970 |
| Samsung Galaxy S9+ | 3257 | 3910 | 38302 | 3771 | 8923 |
Good performance as expected, but however, I did have an alarming hitch the first time I ran tests on the Asus ROG Phone. During the Vulkan API test, the device crashed, locked up and started to get worryingly hot. Nothing that a manual restart couldn't solve quickly, and it only happened once in about a dozen different tests. A disturbing occurrence nonetheless.
This phone can blast
This phone has powerful front-firing speakers to rival Razer's. It gets loud enough to fill a room with sound, if you're down to party. At lower volume levels it provides all those environmental details you need to react to enemies or objects in-game. It has Headphone:X™ 7.1 virtual surround sound for headphone support and AudioWizard software to optimize for certain listening profiles. There's also an outdoor mode that appears to punch up the voice in the mix, handy for listening to someone in a crowded place.
Cameras are good, not great
Cameras tend to be less of a priority for manufacturers of gaming phones, but that doesn't mean that Asus ROG Phone's photographic capabilities are bad . The dual front sensors (12MP/8MP) take pretty good shots, capturing a lot of detail with good colors and saturation. The zoom isn't great though - you lose a lot taking photos at a distance. Instead, we have a wide-angle secondary camera with a 120-degree view. Low light shots aren't so good.
The selfie cam is an unremarkable 8MP, and like the front cams, it's decent, but not amazing. There's the trendy beauty mode in the camera app that smooths all the character out of your face, if that's your thing. You can use it for face unlock, which I always found fast and reliable on this device.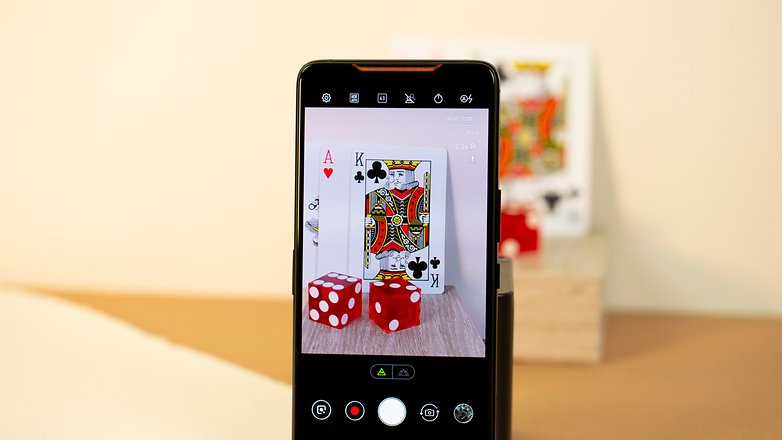 Video options are decent, with 4K UHD (3840 by 2160) recording available, plus slow motion.
For all the tricks and options, this is a high-end gaming phone, not a high-end camera phone, so while the photography department does a decent job, the ROG Phone can't compete against the Galaxy S9 or Pixel 3 for photo quality in this price range. But it won't embarrass you either.
The battery can keep up
Obviously a high-end gaming phone demands a powerful battery that can keep up. The 4,000mAh unit on the ROG Phone does a decent job . Long gaming sessions weren't a problem during the test, and if you need to conserve battery life, there's a lot of customization options in the Game Center to help you manage consumption.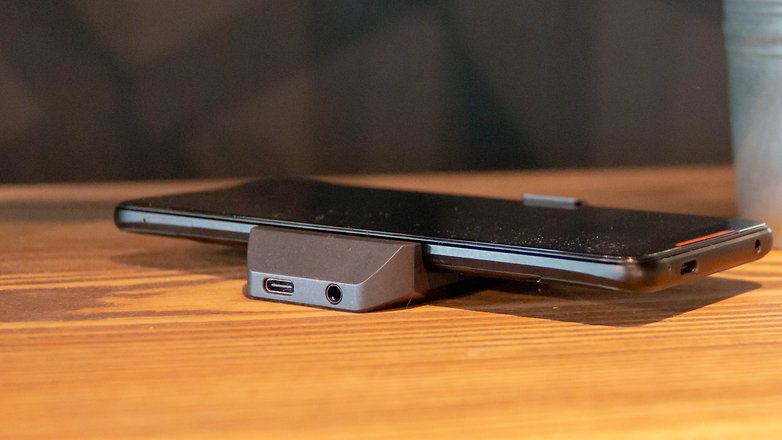 In the PCMark battery test, we got almost 9 hrs out of the ROG Phone, which makes it one of the better devices at battery management. Charging the the morning after the test managed a nice 60 percent refill in just over half an hour - nice.
However, there's no support for wireless charging, glass back notwithstanding.
Asus ROG Phone technical specifications
The top-class smartphone for gamers
While Asus ROG's PC gaming line was never really my favorite, I have to admit that the Asus ROG Phone has really impressed me. If you've got $900 to burn and you're in the market for a top smartphone that doubles as a high end handheld gaming device, then you've got it right here. Just don't expect it to match 'mainstream' Galaxy S phones or iPhones in photography.
If you don't want to prioritize gaming in your smartphone life, then you've got better options for the price. The Galaxy S9 or even the OnePlus 6T are still good for quality gaming sessions on the subway, the waiting room or on the toilet, and for most people that's all the mobile gaming they'll need.
For the hardcore gamers, naturally the Razer Phone 2 comes to mind as another consideration. While I would say the pricier ROG Phone may be a better all-rounder on balance, the Razer Phone 2 still has the advantage in certain areas, which I'll go into in a future detailed comparison.
Are you thinking of getting a gaming smartphone? Does the Asus ROG Phone tempt you?