Feb 19, 2020, 10:44:10 PM via Website
Feb 19, 2020 10:44:10 PM via Website
Vampire Halloween — an all-new challenging action-packed adventure game with different missions throughout the world.
The chaos is spreading everywhere! There is no time to wait because only you can make it right! Everything is set already.
So, begin your journey through the die-hard missions, kill all types of evil monsters and their super bosses using your sword and machine gun or jump over them, unlock and finish the levels one by one, and save the world.
Break the destroyable block and kill the enemies to collect coins, bullets, and extra lives. As more levels, you'll pass more challenging and adventurous the missions will become. So, always keep your eyes on, and enjoy nicely designed levels in 4 different places of the world, beautiful graphics, simple yet challenging gameplay, soothing background music, cool sound effects, and much more.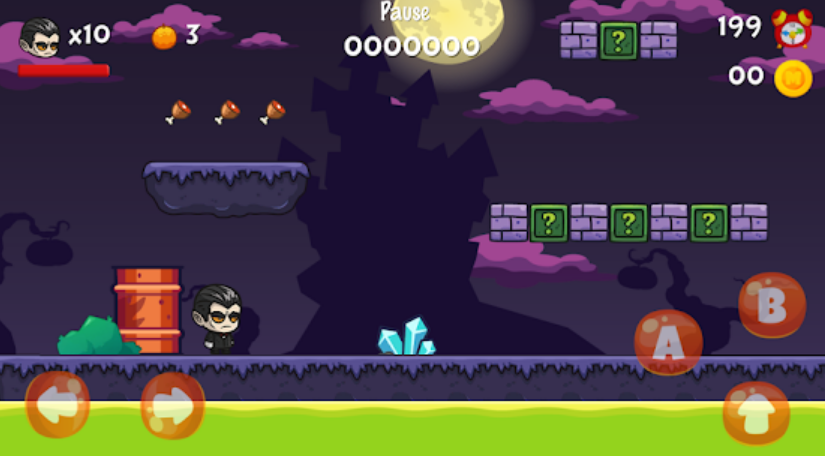 How to play:
Use the floating buttons to jump, move, fire, and to use your sword.
Jump standing under the destroyable boxes to break out additional items to collect
Collect the oranges to get extra lives to stay alive for more time to defeat all monsters to
reach the end.
Collect more bullets to shoot from distance for easy killing
Most of all, keep your eyes on the timer so it doesn't late to finish the level
Features at a glance:
Beautiful and cool high-resolution graphics
Smooth user interface for a great gaming experience
Easy and intuitive controls with an on-screen floating controller
Powerful weapons
Soothing background music and sound effects
Free to play, no direct or in-app purchase required
Compatible with Android Phones and Tablets
Destroyable bricks and blocks, and moving platforms
Different types of evil monsters
Suitable for kids & all ages to have lots of fun
Download Vampire Halloween for Android