Feb 19, 2020, 10:41:24 PM via Website
Feb 19, 2020 10:41:24 PM via Website
Bubble Unicorn — the all-new classic bubble shooter game is here!
Now, it's time to immerse yourself into the world of incredibly interesting and adventurous match 3 bubble shooter bubble pop game franchise! With nice graphics, beautiful animation, 100+ levels, and relaxing family-friendly gameplay, it will spread the joy of playing bubble shooting games to have lots of fun!
All you need to help your cute baby unicorn aim and shoot correctly to match at least 3 same type bubbles to burst them until the mission is complete. Switch the shooting-bubble if needed. Need extra help in difficult situations? Use the power bubbles to bust without matching. Out of bubbles? Add extra bubbles using coins. Just finish the challenge to make your sweet unicorn happy!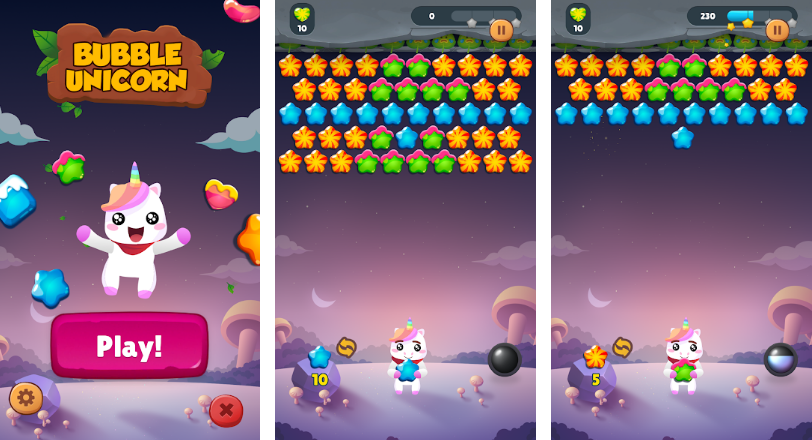 How to Play:
Correctly aim, shoot and match 3 or more bubbles of the same color to burst them
Interchange the shooting-bubble when you need
Shoot the power bubbles in hard situations to burst a group of bubbles, don't need to
match
Out of shooting bubbles, no worries, add extra bubbles using coins
And, finally, complete the challenge
Features at a glance:
Free classic bubble shooter game with a new look
There is no cost or in-app purchase
More than 100 beautifully designed challenging and adventurous levels
(more will be added soon)
Different missions throughout different levels
Cheerful, relaxing and family-friendly gameplay
Nice graphics, beautiful design, and cool animation
Soothing background music with amazing sound effects
Download Bubble Unicorn for Android