Nov 19, 2019, 7:05:14 AM via Website
Nov 19, 2019 7:05:14 AM via Website


Are you looking for stylish text or stylish Name for your Facebook and other Social media? if yes, then you're in the right place. Because we have picked some of the good Stylish name maker apps for free that can help you to make your name a very stylish text for Facebook, Twitter, Instagram, or another social media platform? We have designed the best App for Making the name in a different style text and font you must to try it.
Stylish Nickname generator - This is one of the best app making stylish text. You can decorate stylish text by putting your favorite text in the box and then you can select the different styles of text, symbols will be generated in the box. This converted text will be a special character from the Unicode standard. we have collected a bundle of different stylish, text, symbols, alphabets and then made them into a generator. You can easily use this converted text for Facebook names, for Tumblr, for Twitter, for Instagram, or for almost any social network that you wish.
Stylish Name Maker free is a bracelet maker application to make your name brackets, symbols and text. Stylish Name Maker can write your nickname in different unique styles with beautiful pictures and you can use these pics in different social sites like Instagram, Facebook, Linkedin, etc. Not only you can write your own names but you can write your baby boy or baby girl name in a stylish manner using best stylish fonts effects.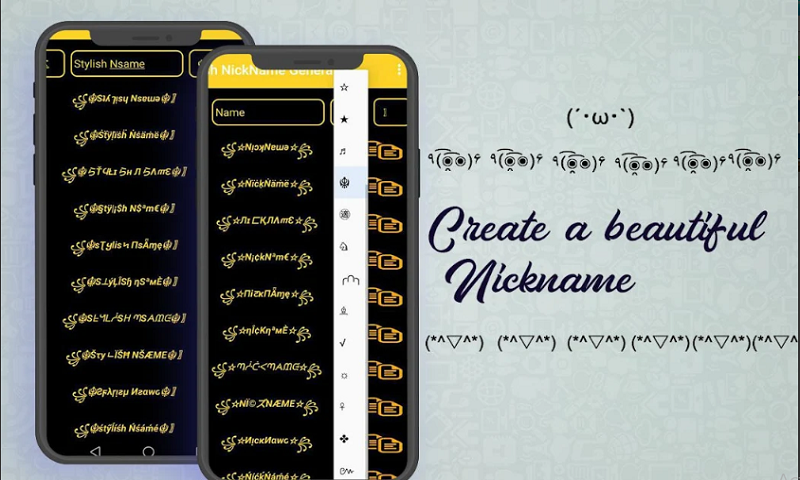 stylish name maker is of the most popular app to wish birthday text in a different style. there birthday cake pics in a different collection. so you write a birthday cake name with different styles, symbols, and text and wish to your friends, family, and another lover. you can also poetry on the given collection.so write poetry and make your own collection. Stylish text maker latest is a style y text app contains many collections of the test, character, and symbols.
Fancy Text And Card Creator - This application will help you to decorate your text by selecting different, symbols, font styles, and text you just need to copy them to your clipboard and share on different social media profile names or chat conversations. you can also use fancy art for creating fancy cards for special occasions and festivals and greet your dear ones by decorating them with stylish designs & patterns.
nickname generator - The nickname generator app has basic knowledge of the language and features several algorithms and rules to generate nicknames that are actually pronounceable. It also features a complexity slider with 3 steps, to go from simple short names to longer and more complex ones. Complexity, in this case, does not always mean length, but also the choice of letters and the "weight" and "impact" of the name. If you have found your perfect nickname, the nickname generator allows you to instantly copy the name to your clipboard, share it with your friends via social media, or directly paste it into the application or form that you need.