Oct 22, 2019, 5:31:42 PM via Website
Oct 22, 2019 5:31:42 PM via Website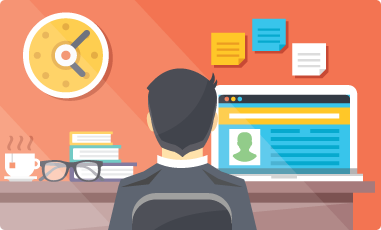 GPS tracking, biometric clock-ins, computer activity tracking. All of these things sound new and modern but the history of employee monitoring goes way back to the beginning of the 20th century. However, the means have changed dramatically since then and now it's not the employees directly that are being monitored but the technology they use - their phones and computers.
The general trend seems to be that businesses are past tracking just one aspect of employees' work, most commonly attendance, and now aim to get a lot more information on several factors related to performance at work. In this article, we'll go over both computer and phone tracking and explain what each method can tell you about your workers as well as where you should draw the line so that you don't go too far.
Computer Monitoring Software
Computer-based software for employee monitoring can probably give you the most data on employees' daily activities and performance. After all, a huge portion of employees' workload is performed on their computers, so tracking what they do there can provide a lot of insights.
So how does this method of employee monitoring work?
The system is installed on all corporate computers and it works in the background, which means that it's completely unobtrusive to employees. The basic functionality includes detecting which apps and websites are being used. Therefore, the question of how to see what your employees are doing online and which files they're accessing on their computers is solved.
However, employee monitor download and implementation will give you so much more than that. You'll also be able to track not just which programs employees use, but also how much time they spend on those tasks. You can categorize those apps based on whether or not they're work-related, then get reports on how productive your employees are and how their productivity has changed over time.
Employee monitoring based on computer activity can also be used for attendance tracking and some systems give you automatically generated attendance timesheets for each employee. On top of this, some of the more sophisticated security-oriented platforms allow you to take screenshots of your employees' computers or even record their keystrokes.
Based on all of this, it's obvious that an employee monitoring system can tell you a lot about your employees, but the question you should now be asking is 'How do I monitor my employees' computer activities without going too far?'
The primary thing you should worry about is respecting your employees' privacy. Striking this balance is particularly hard because these systems are largely automatic. But knowing when to turn them off is the key and the general advice is to track only what you need directly for improving your business. This means no tracking of personal machines or outside working hours and no screenshots while employees' are using their personal online platforms.
Phone Tracking
Phone tracking is a little bit different in terms of what it can tell you. This type of employee monitoring can also be used for several different purposes.
One of the common ones is attendance tracking. Employees can use an app to clock in and some of these apps even include biometric methods to recognize the user, such as facial recognition and fingerprint scanning.
A couple of things that are especially different from computer tracking software are phone call recordings, which let you listen in on your employees' phone calls with clients, and GPS tracking, which lets you locate your workers in case they're doing field work.
While the last two functionalities have their own uses (for example, call recordings for customer support agents and GPS tracking for delivery service), it's very easy to take this too far into employees' personal lives. Which is why you should only do the monitoring on their corporate phones, which they don't take home.
Phones have become such an integral part of all of our daily activities that tracking the one for personal use can cause serious issues for employees' privacy.
Conclusion
As employee monitoring slowly becomes commonplace in the corporate world, you need to know how to maintain the harmony between the benefits that all this data gives you and knowing when to stop in order to keep your employees' privacy intact. Only by tracking actual business metrics can you be sure that computer and phone monitoring is both ethical and beneficial to your business.
— modified on Oct 22, 2019, 5:34:05 PM