Mar 31, 2019, 6:56:25 PM via Website
Mar 31, 2019 6:56:25 PM via Website
Are you interested in medicine? Then this game is for you! Faster paramedic - provide venous access, charge the defibrillator and drive!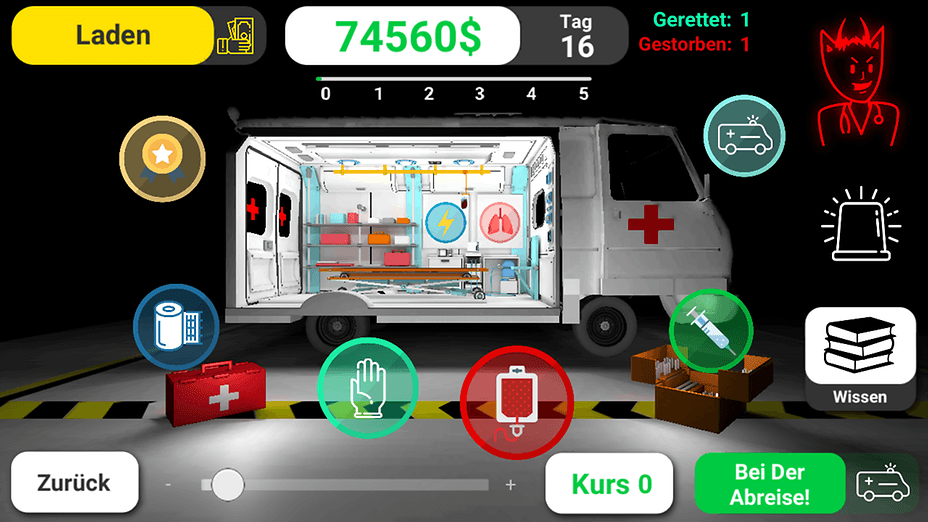 Reanimation inc is a completely realistic simulator - real emergency conditions and diseases, real help protocols used in an emergency, realistic simulation of the body! Do you like realistic games about medicine and simulators, games in which you need to think? You will be satisfied!
In the game there is a real ECG monitor that shows ECG, heart rate, pressure, Pleth, oxygen saturation of the blood / oxygenation / SpO2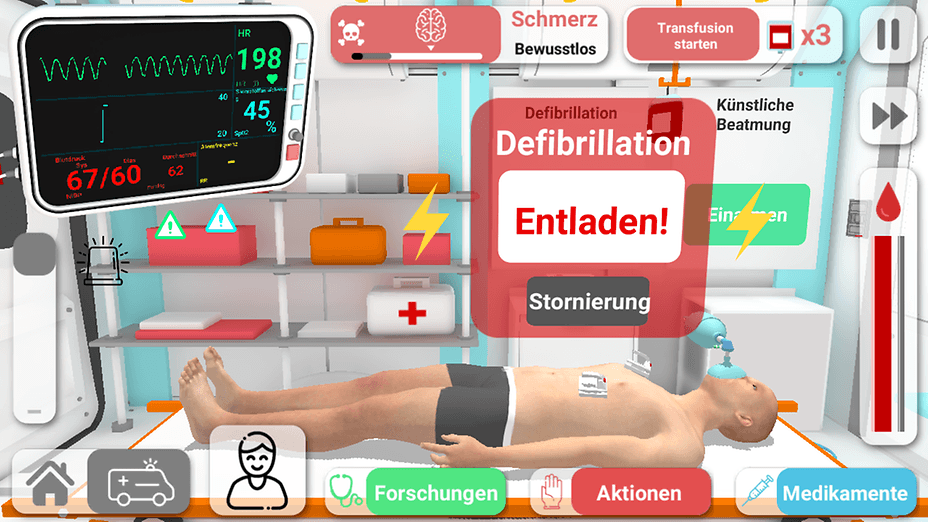 How to help the patient without real knowledge? In this medical simulator, I carefully worked out the theory system - it is simplified, but explains almost all the manipulations performed by medical assistants and emergency paramedic and EMT
What is interesting in this medical simulator of resuscitation and ambulance?
The idea.
I decided to create the most realistic ambulance simulator that will be able to explain the device of the body, the algorithms of first aid and medical aid to the player. I know - everything in the world can be explained!
Who knows, it is possible that, cause of Reanimation inc, one of the players recognizes a stroke and will call an emergency, saving life.


Defibrillation.
Yes! You will learn how a defibrillator actually works and use it many times! You learn what is meant by "cardiac arrest", learn to test ventricular fibrillation, flutter, asystole, heart attack on an ECG.

Resuscitation.
You will have to carry out CPR (indirect heart massage, perform artificial respiratory ventilation, inject drugs, defibrillate), urgently take the patient to the emergency car in the hospital.

Realism.
I was advised by doctors, paramedics, ambulance workers, EMT. Medical Students took part in the testing.
22 diseases, 17 drugs, 8 actions, research.
Real algorithms of medical care, real resuscitation.

A huge number of medical improvements!
Ambulance Improvements
Defibrillator enhancements
The opening of new medical courses
Lung ventilation improvements
Improving endurance with an indirect heart massage
Improve bleeding
Buying drugs
Dropper improvements

States
What medical simulator can do without these diseases? There are 22 of them in the game! By the way, it's not so easy to diagnose them.
Myocardial infarction (you will have to determine it by ECG and distinguish it from angina)
Heart failure
Pulmonary pulmonary edema
Bleeding, including internal
Anaphylactic shock
Stroke
And many, many others!

Medicines
Do you know why adrenaline is used? And what to use in stroke or exacerbation of COPD?
The game has a huge amount of drugs for all occasions!
You will have to master a lot of knowledge of the emergency doctor to save the patient.

Gameplay
What can Reanimation inc - a biomedical simulation strategy offer?
You have to become an ambulance doctor - go to the challenges, diagnose the disease, urgently assist! Sometimes, the patient's condition is so hard that it is already impossible to help him - the deadly disease will not wait.
Every patient is unique. Every disease is generated randomly. Therefore, your passage of Reanimation inc will be unique!
Features:
Reanimation inc is a relaistic bio medical strategy simulator.
Great graphics!
Reanimation inc is a realistic anatomy and device of the body.
3D models of ambulances!
Reanimation inc are real Ambulance Algorithms!
Medical theory in Reanimation inc is divided into courses and given to the player gradually.
You will definitely be interested in Reanimation inc if you are a doctor: doctor, student, paramedic, or just interested in medicine or like simulators.
Reanimation inc contains a large number of drugs!
The number of diseases in Reanimation inc - 22!
In Reanimation inc there is a real defibrillation, mechanical ventilation and CPR!
Reanimation inc is translated into English, French, German and Russian. Further translations and improvements to existing ones are planned.