Oct 11, 2018, 4:50:45 PM via Website
Oct 11, 2018 4:50:45 PM via Website
Show WiFi Password Needs Root Permissions
Hello guys,
I know already there are a bunch of apps that do the same task and it's not that hard does this manually too. However, this is my first app posted to the play store too. And it will be great to hear your opinion about my app.
Here is the App Id Get it on Play Store - com.myapp.thiranja.showwifipassword
(Simply make a search with App ID there it will)
Features of the app
Support all Android version above ICS - Including Oreo and above
Show the Connected Network at the top
Most of the times Which I wanted to get the saved wifi passwords, I really wanted to know the password of currently connected networks password(For share with friends or Connect another device). However, I did not found any app which optionally shows the details of the currently connected network. So I added that that feature to this hoping it will save few seconds of your life searching for it.
One Touch Search and Share - Search has been Implemented with a single touch without additional pop-ups
I know that there isn't a much, But I try to keep the app simple and on the Niche
Check out the trailer and the Screenshots below and give it a try
Here is the App Id Get it on Play Store - com.myapp.thiranja.showwifipassword
(Simply make a search with App ID there it will)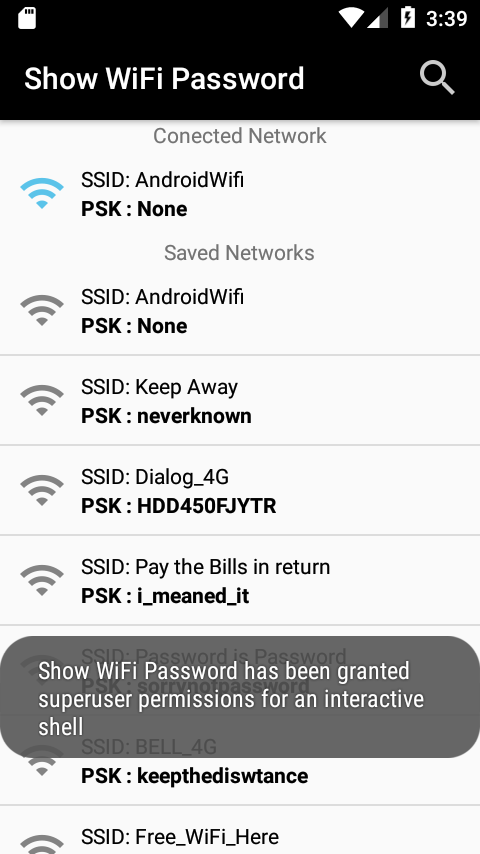 Looking for your feedback thank you ::