Jun 4, 2017, 5:16:54 PM via Website
Jun 4, 2017 5:16:54 PM via Website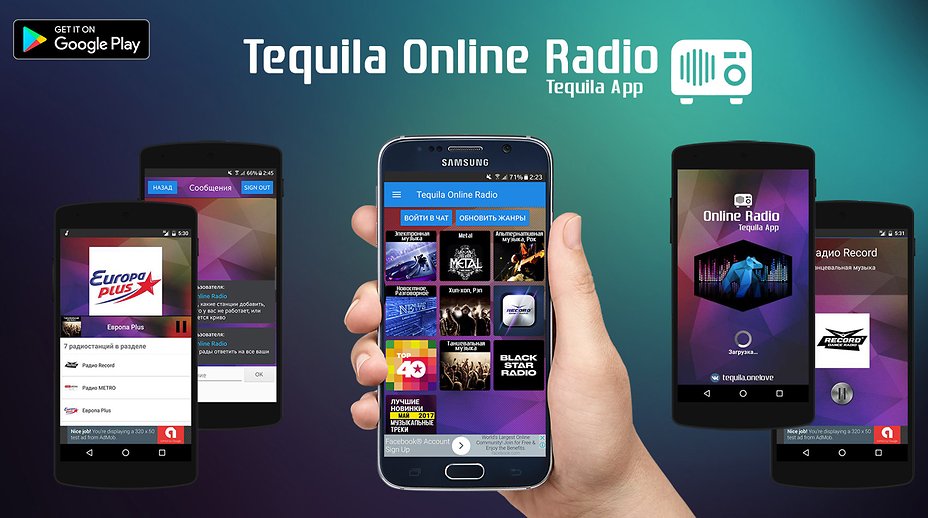 An application for convenient listening to Internet radio stations.
Radio has a lot of different musical genres and directions, embodied in a simple and intuitive interface, with high-quality sound (64, 128, 192 and 320 kbps)
Tequila Online Radio is easy to listen wherever you can go online, while in the car, on the long journey, on travel or just on vacation with friends.
The working capacity of the application is guaranteed in 3G, Wi-Fi, and also 4G (LTE) networks.
Listening to the online radio player, you can also communicate with radio listeners in the built-in "chat" right inside the application!
And also write and ask us any questions, about radio stations, about the quality of playing and much more ..
Be always up to date and listen to the first added radio stations.
Forget obsessive pop-up ads in the app.
The most popular radio stations, in excellent sound quality.
Convenient design and separation of stations for musical genres.
Genres:
Electronic music, Dance music, Pop Music,
Relax, Alternative Music, Rock, Hip Hop, Rap Music,
News, Conversation, Metal, Comedy, and much more!
Listen and be always up to date on the most interesting news on the air of news, music and talk radio Tequila Online!
Hot radio stations are waiting for you in the TOP-40 section,
Popular Radio Record (27 stations),
DFM (8 stations),
Zaitsev FM (8 stations) and much more!
Radio stations:
Lighthouse FM, Radio Ultra, TOP-40 FM, Radio 80's,
Radio METRO, Echo of Moscow, DFM, HIT FM,
Deep House Radio, Medlyak FM, Kiss FM, Radio 90's,
Radio Energy, Record Radio, Hop FM, Lounge FM,
Russian radio, Club FM, Radio Rock, Europa Plus +,
Our radio, Vesti FM, Metal Express Radio, Rock Antenne,
Rock FM Ukraine, PowerRock 107, Wild Rock Radio,
Rap Live Radio, RapRa Radio, Hip Hop Barada, Big Radio,
Black Star Radio, Comedy Radio, Garage FM, Synth Radio,
Melon Radio, Drum & Bass Radio, RedBull Music Radio,
Voice of Russia, Radio Liberty, Local Radio, Gorod FM,
BusinessFM, Humor FM, Fun FM, Chiplduk, KISS FM, and others ..
— modified on Jun 4, 2017, 5:34:17 PM