May 26, 2017, 9:03:40 AM via Website
May 26, 2017 9:03:40 AM via Website
Easy Marathi Keyboard is a phonetic Marathi Keyboard Application developed for those Marathi users who want to type in Marathi Language through normal English keyboard. Marathi keypad enables you to chat on WhatsApp, Facebook, Twitter and many other social sites with phonetic Keyboard which is very easy to use .You don't have to change your keyboard settings and keyboard layout.
Tips for users:
• Install Marathi keyboard with simple steps for Marathi typing. After complete installation go to Settings and Enable Marathi keypad embedded.
• Open Easy Marathi typing keypad to type your text. Start typing on English keyboard and the Roman words you typed will be converted automatically into Marathi words.
• To provide more ease to user the App itself will suggest you the right word for conversation through it's built in database so you can easily send emails, Messages or update status in Marathi Language.
• Marathi typing Keyboard is best for those users who are looking to install Marathi keyboard for WhatsApp status.
• If you want to use Marathi keyboard for Facebook, go to settings and turn on Marathi keyboard for Android and post or share whatever you want to in Marathi Language.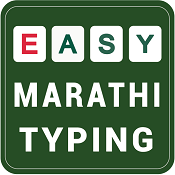 Features:
Some exciting features of this app include:
• It enables you to search in Marathi.
• App will suggest you next word to type.
• Charming interface and its features are very easy to use.