Jul 5, 2016, 11:52:26 AM via Website
Jul 5, 2016 11:52:26 AM via Website
As we know, there are various mobile device managers on the market. Free PC suite to backup & restore data has been more and more popular with people because of its conveniences. You can easily backup and restore your phone's data like contacts, messages, call logs, images, apps, and music etc. MoboPlay has served as a smaller and smarter PC suite that rival similar product like Mr.MobileHelper. So which is better between these two softwares? Let's find out.
First, let's see Mr.MobileHelper. After downloading this software, you will find that it's only 18MB. It often gets popular for its small storage and fancy design.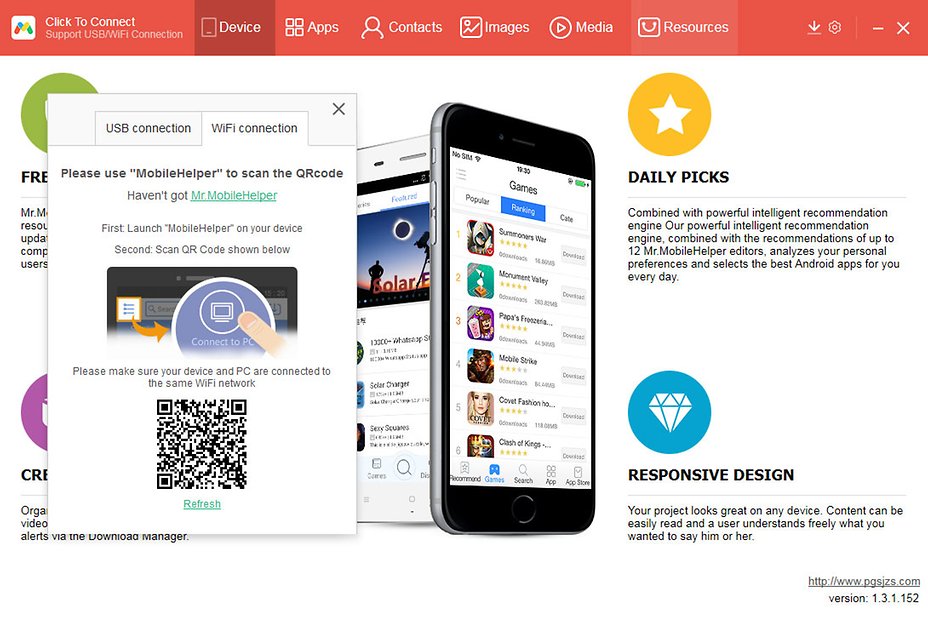 Then we will see 6 options on the top of the interface, device, apps, contacts, images, media and resources. You can select anyone according to your needs. Generally speaking, we may connect PC and our devices by using USB or WIFI. Easily organize our apps, videos and photos when we connect to MobileHelper.
MobileHelper will not only manage your updates and notifications, but also backup your data if you need, organize your music, video, and media files etc. it's worth mentioning that Mr.MobileHelper is compatible with iPhone with ios9 system, and was specifically optimized for the platform.
Mr. Mobilehelper provides tons of free resources such as apps, games, music and photos every day to make sure that their users will get a comprehensive and free global access.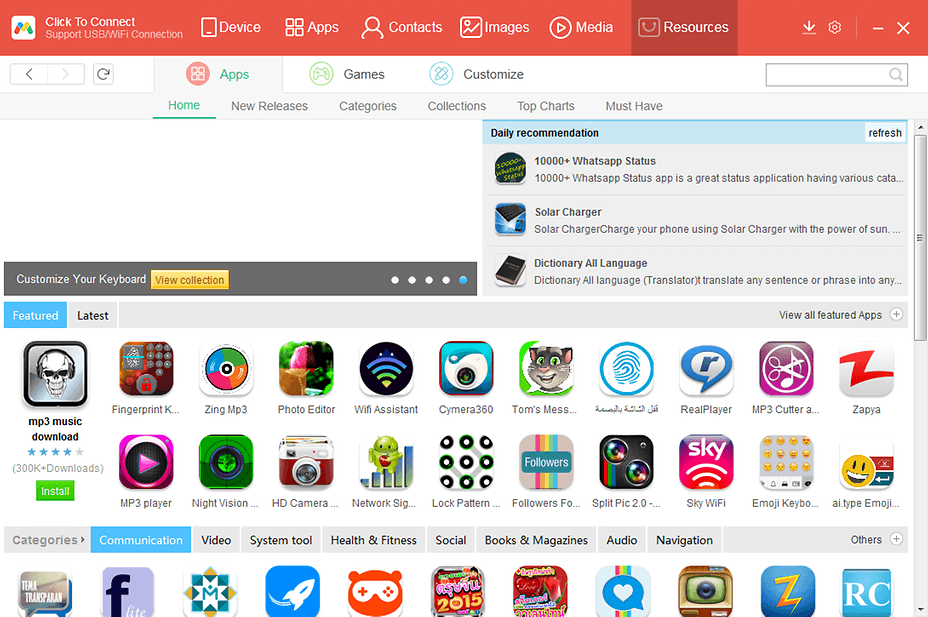 We will find that there is a daily recommendation at the top-right corner in that picture. This software will serve you some apps according to your interest. What's more, it is very convenient for you to select apps what you need because of its precise categories: communication, video, system tool, social and so on. It is remarkable that there is a special option "customize" nearby "Games". We can download various exquisite wallpapers from customize.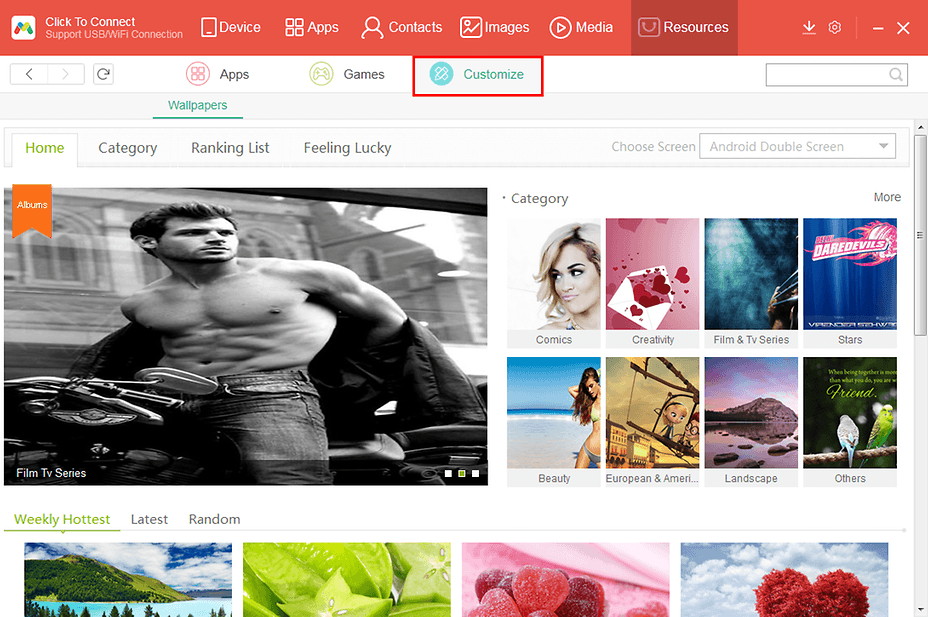 However, only resource is not far from enough. We use it to clean up our phone storage as well. As we can see, a green button named "cleanup" below the storage, which carry out the function of cleaning up our phone's files.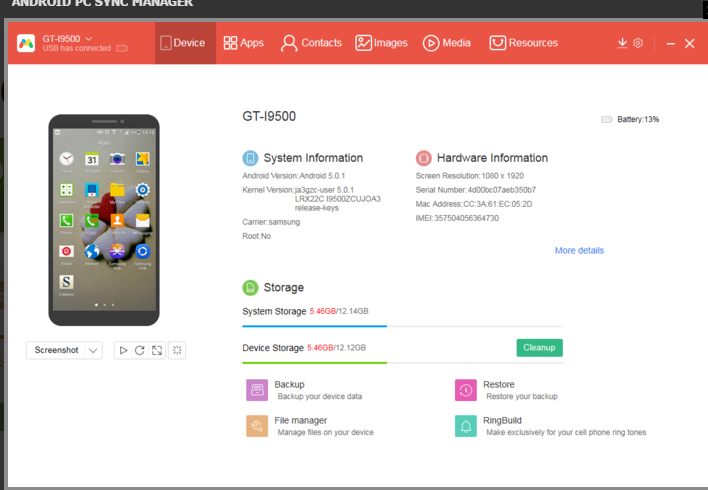 There are also many features such as backup and restore in the layout of device and they have been illustrated well by words. What's more, ringBuild is a particular function for this software.
While MoboPlay presents another good sample of PC suite for us. The first sight is its clean and clear layout. It only uses around 20MB. Maybe it seems that they are very similar with each other on the outside. But in fact, MoboPlay is no less than Mr. MobileHelper in some ways.
MoboPlay is a free Android PC suite to backup & restore Android data, transfer media files, take screenshot of Android from PC, view device in fullscreen, manage files, install apps, manage contacts & messages, etc. We can easily backup and restore our phone's data like contacts, messages, call logs, images, apps, and music. The fullscreen view of the device can help us take better screenshots using the built-in screenshot feature. It also helps us transfer media files like photos and music from your phone to PC and vice versa. You can explore and install tons of apps and games directly to your Android device. If you wish to clear up your storage, then use the "Space Cleaner" to remove all the junk files and free up storage.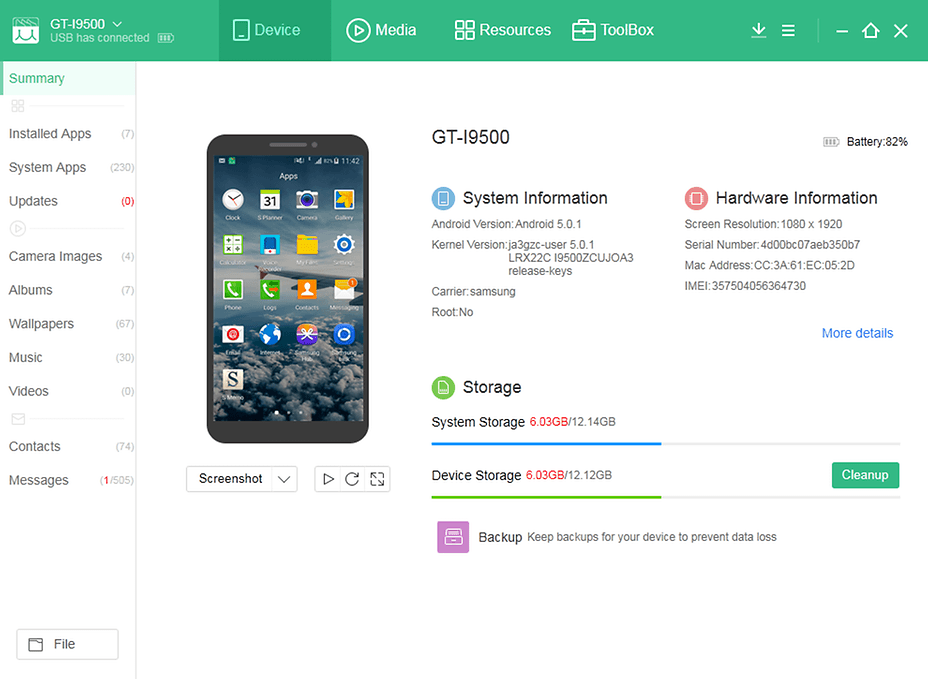 Summary can be seen on the left column of the software. Many useful functions are focused on that, such as install apps, updates, camera images, wallpapers, music, videos, contacts and messages. We can get a better way to manage our phone through MoboPlay on PC.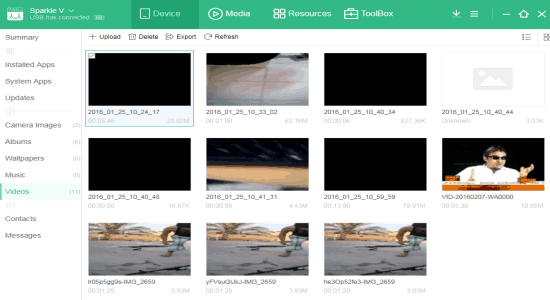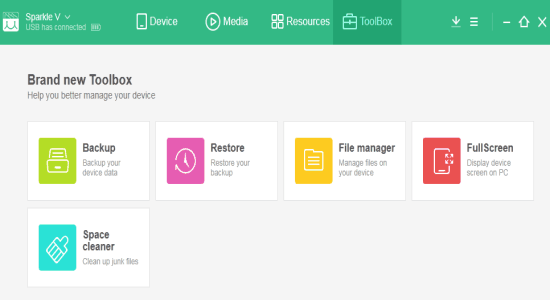 In addition, MoboPlay sets up "toolbox" option to list the main functions for users to help people better manage their device. According to the captions we will better understand the software.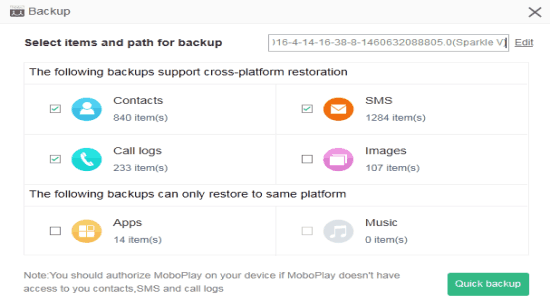 Click the "Backup" option in the toolbox to select items or data of our Android phone which we want to backup. It allows us to backup contacts, messages, call logs, images, apps, and music. We can also set the destination folder where we want the backup to be stored.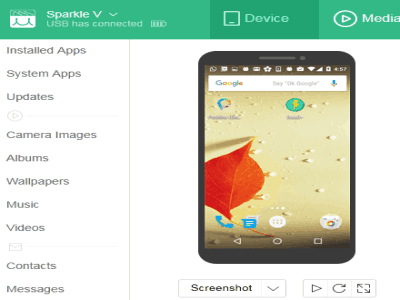 Click the "Device" tab and we will see a "Screenshot" option at the bottom of the device image. Simply click the "Screenshot" option and we will be able to capture and save a screenshot of the device screen. If we want to take better screenshots, then use the fullscreen feature. Go to the "ToolBox" tab and select "Fullscreen" option. A fullscreen window will appear along with the "Screenshot" button at the bottom. Click the button to take screenshots of Android phone as shown below.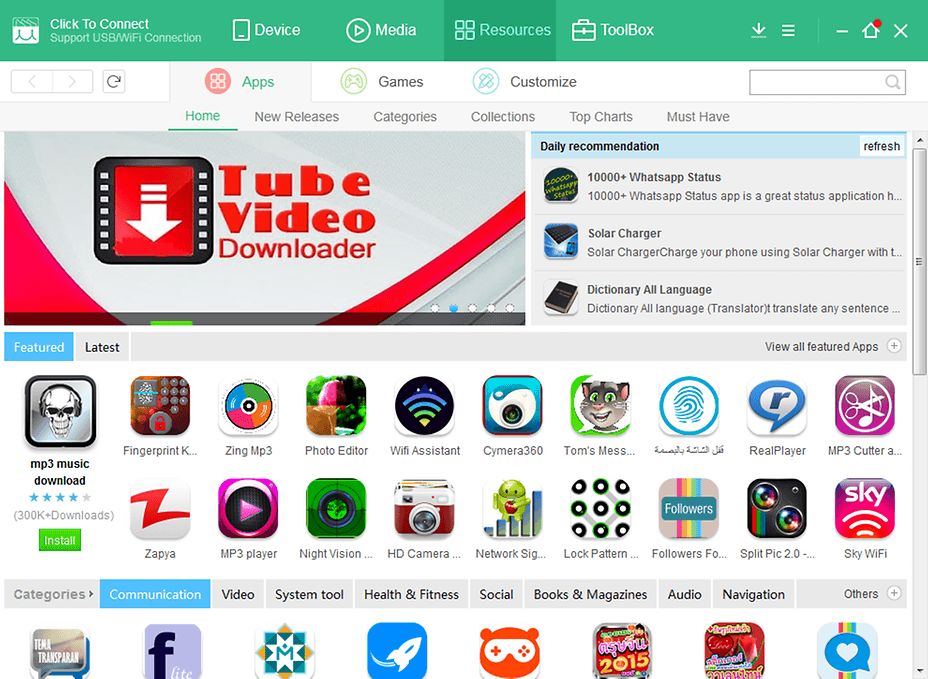 Summary:
All above these introductions present MoboPlay and Mr. MobileHelper's excellent advantages. Both of these two PC suites have their own merits. The most important distinction is that Mr.MobileHelper is not available in iPhone( which means it have not supported IOS system). So it's better choice for iPhone users to manage their device through MoboPlay.
Download them from their website, please search them for google.