Jun 10, 2016, 8:34:39 PM via Website
Jun 10, 2016 8:34:39 PM via Website
Android introduced a CalendarView back in in API 11. I've implemented it in my app and it seems to work fine in the sense that it displays a perfectly normal-looking whole-month calendar and I can select a date and it triggers the appropriate event and I can read the selected date in my code with no problem.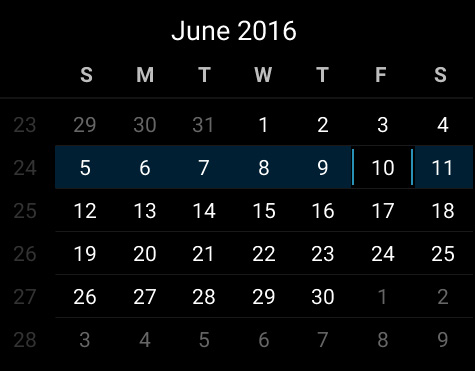 screen shot of my CalendarView
But I can't advance it out of the current month! The documentation says
*A user can select a date by taping on it and can scroll and fling the calendar to a desired date.*

(the "taping" appears in the documentation; I assume it's a typo for "tapping" )
I've tried flinging, swiping, scrolling and nothing happens. Is there something I need to do to enable this feature?
My XML looks like this:
<CalendarView
android:id="@+id/calendarView"
android:layout_width="match_parent"
android:layout_height="240dp" />

How can I scroll or fling to other dates, as the documentation says? Thanks in advance.