May 11, 2016, 11:04:07 PM via Website
May 11, 2016 11:04:07 PM via Website
                                            **

** Angry Roads: Smashy Car City**
---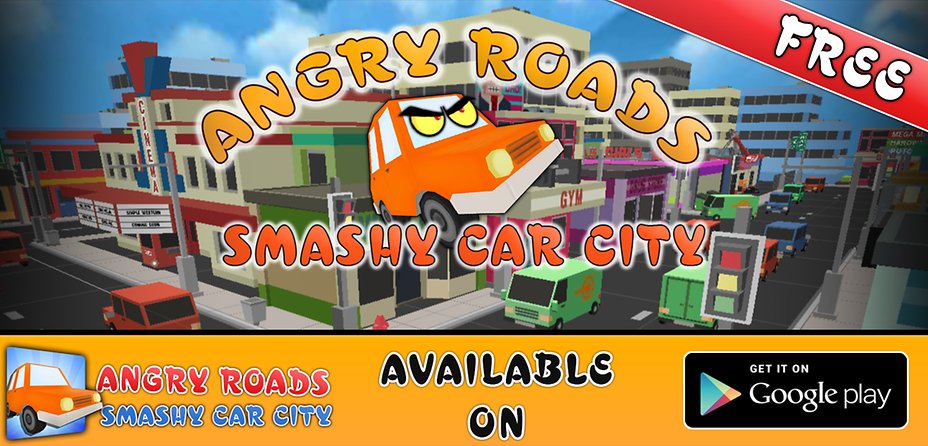 Angry Roads: Smashy Car City a new game of its own kind and nature. Product of Markhor Company, an app and game developing company. This game is unique in its style of all other car racing games. Different tracks are given in this game. The game requires the players to slow down before bends in the track and require some foresight and planning for successful play.
Now get ready to drive a small tiny car, which runs on a road full of traffic. Racing car gives their users pleasure of running fearlessly and racing among big cars, Trucks, bikes and also among jet airplanes, fighting helicopters on airports and on city roads and going zigzag i.e. like slither snake. Car gamers have to go to hospital to get emergency patient medicine; player has to act like a 3D Cross hero here in 3D city car racing games.
The Basic Game:
Rule to play game are here explained in simple terms.
Angry Roads: Smashy Car City has different kinds of driving story experiences and futuristic flying feelings tasks in this racing games. Enjoy this Free Experience in car racing game! Smashy Tiny Car is rushing on roads among giant vehicles…in different stages, gamer have to perform different tasks, to go to barber shop and honk for three times so, a friend at barber shop can listen and come out to pick up the gamer. Sometimes while playing this car racing game, gamer might get feelings of cargo transporter who is madly and ruthlessly running and racing his car like a prince king in spring and trying to be saved himself from police car and helicopter adventure.
Racing in city and now have to reach at targeted destination by driving tiny racer car. When tiny racer car reach at their destination, gamer have to honk thrice to get ticket. Caution !, there are some bicycles, motorbike, car, bus, truck, jeep and hover board races are going on in city in same days, in which baby girls, boys and young are participating, gamer are supposed to be extra careful about them and drive carefully.
Its key features are explained here.
Multiple Stages/Tracks:
The game consists of different stages. Every stage is showing different graphics and impressive theme which must attract the gamer. Developer gave different name to every level just to make its user curious about next level. Only first stage is unlocked, all the other stages are locked. User must have to play the game by applying full effort, and then unlock the second stage. Small tiny car runs on the road at high speed and achieve his goal.
Dual mode:
To play any game by pressing button or by just touching on the screen icons is now old fashioned. Here, Angry Roads: Smashy Car City provides their users a new feature to play the game by tilt your device/mobile. You can turn your car right side or left side by just tilting your mobile device. Through this feature users interest enhance in this field.
HD graphics:
Graphics of this game are fantastic and fabulous. Eye-catching views, running cars, bikes, trucks, flying helicopter, side shops and big shopping marts all are enhancing the attraction level of users. When small tiny car run fastly on the road and all other large size vehicles pass over the tiny small car, its looks interesting.
Angry Roads: Smashy Car City is an interesting and challenging game. Developers tried their level best to make a different game which must impress their users and force their players to play it again and again. Angry road, which becomes angry due full of traffic, and a small tiny car have to cross that road in fast speed. All age group members can play this game and have fun.
Screen Shot: