Feb 24, 2016, 4:31:32 AM via Website
Feb 24, 2016 4:31:32 AM via Website
Microsoft works to polish its People app up on Windows 10 and makes the People app keeps all of your contacts together, rather than keeping a separate list of contacts for different apps— for example, email contacts and messaging contacts. Once you've added contacts to the People app, you'll use the same contact information to send emails, chat, and share files and photos. Hence, if we could sync our Android phone contacts to the Windows 10 People App, it would bring enormous convenient to our daily life.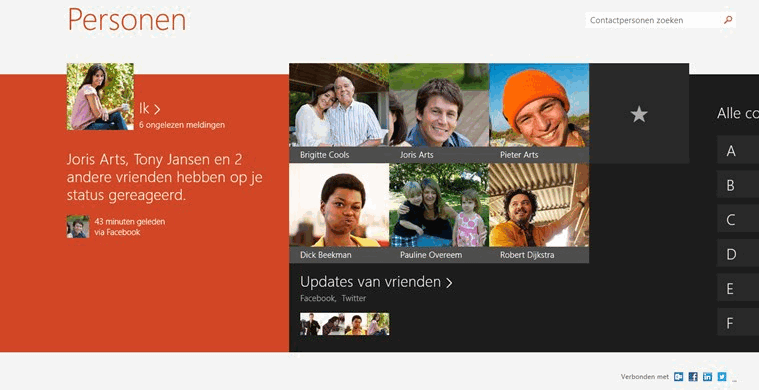 Since, Microsoft does not provide ay native app that allows Android phone users to sync contacts to People App on Windows 10. We would like to turn to a free thrid-pary tool - Syncios Android Contacts Transfer, which is a powerful Android to Windows 10 data transfer.
( Syncios Mobile Manager is a Free Android to Windows 10 contacts synchronizing tool, which enables your to backup or transfer iOS/Android contacts to computer in vCard files, CVS files, text files or sync iphone contacts to outlook with only one click. )
Step 1. Download and install Syncios on Windows 10 computer. Connect your Android with computer via USB cable.
Step 2. Under My devices, click Information on the left panel, choose Contacts. All of your Android phone contacts would be listed on the windows. You can easily edit, delete, import or add new contacts by using the certain feature key.
Step 3. Choose contacts you want to sync to Windwos 10 People App by checking the checkbox and tag on Backup. Then, select Backup to CVS Files. After few seconds, your selected Android phone contacts would be saved on your computer. If you have not changed the backup path, the default backup path should be: C:\Users\XXX(your name)\Documents\Syncios\Contacts.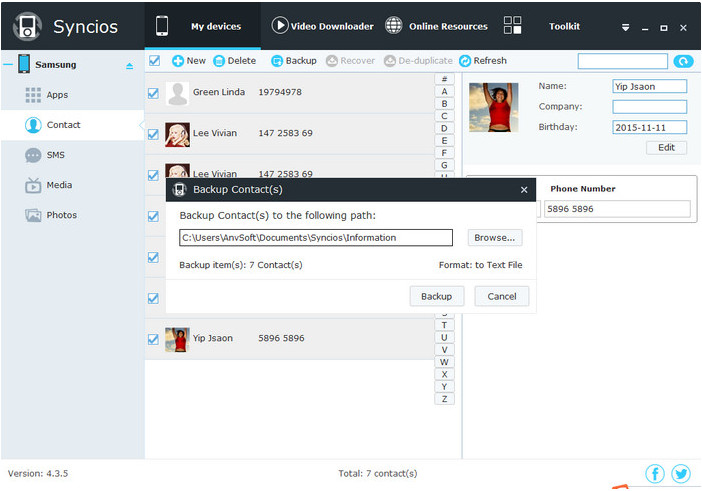 Step 4. Visit http://people.live.com/ and login with the same Microsoft ID that you have synced with the People app.
Step 5. Navigate to "Manage" on the top and roll down to Import Contacts.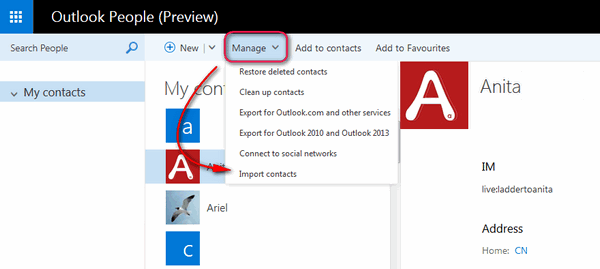 Step 6. Click "Other" to browse and import the CSV file from your computer. It might take some time for the contacts to be updated in the People app in your computer.


Tips: In this page, you are also able to sync contacts from Outlooks, Google, Yahoo, Windows Live Mails to People App.
That's it! You now are syncing your Android phone contacts with Windwos 10 People app. This work-around also applies to Windows Phone 7, Windows Phone 8, Windows 8, Windows 8.1. However, if you have any problem, make sure to let us know in the comment section below. You can also read our previous article to learn how to sync iPhone contacts to Windows 10 universal People App.