Feb 17, 2016, 3:59:17 AM via Website
Feb 17, 2016 3:59:17 AM via Website
With more and more functions such as video-playing, video-recording, game playing etc added in the smart phones, it's easy to forget that your MP3-playing, book reading, web browsing Android phone or tablet is still a cell phone that was originally designed to make phone calls and communicate with your friends and family. Your smartphone manages tons of contacts from your email accounts and social networks, and you may need to sort different contacts into different groups.. Some of the top address book replacement apps for when your built-in contacts app or dialer just doesn't cut it will be introduced in this post.
1. Contacts+ – Free with In-app Purchases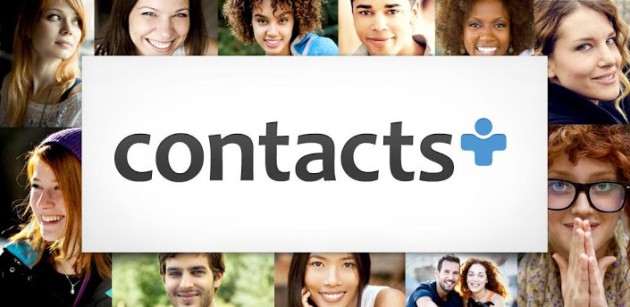 Contacts+ is a well-designed contact app for Android users. This app comes with one of the best looking and user-friendly interfaces. This good looking app also has a very gracious user experience and lets you do everything in a matter of seconds. Contacts+ employs a fantastic way or sorting contacts and groups. Your contacts list is sorted alphabetically by default, but with a twist; the top 10 contacts or so that you frequently talk to will be listed above everyone else. This makes it very quick to find and text your friends, family, and whoever else you talk to most often. Contacts+ can also alert you about upcoming birthdays and it is one of the few apps that are compatible with Android Wear watches.
In-app Purchases: $1.00 – $49.99 per item
Features:
Comes with a call log, messenger and dialer.
There are two distinct themes available.
Favorite contacts are displayed on the main screen.
Notable Feature:
Facebook, Twitter, LinkedIn, Foursquare and Whatsapp are integrated. You can get all the contact options at one place under one name. The app does it all automatically so no need to manually fiddle with contacts.
2. ExDialer – Free Version and Paid Version ($3.99)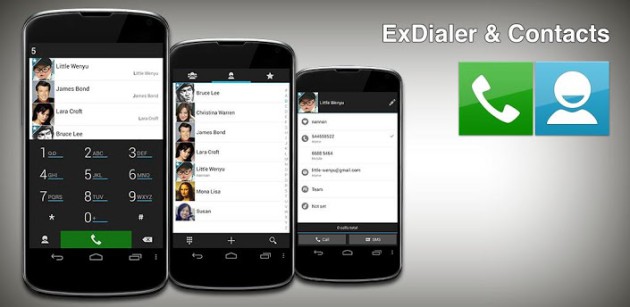 The app comes with a very small size and also features a pretty robust theme system. It also never runs in the background so no strange battery drains are to be found. The default theme looks fantastic and could easily pass for a stock Google dialer.
Another very useful feature for power users is integrated VoIP calling. If you like to use the internet to make your calls instead of a carrier's voice plan, you can use ExDialer to manage your calls through several different providers, including Skype, Viber, Fring, and several others. On top of that, you'll still get over 30 different languages to use.
Features:
*A wonderful and intuitive dialer.
*Storing contacts is very simple.
*Multiple themes are available on the Play Store.
*The free version is actually a never-ending 7 day trial. This means the app will ask you to purchase the paid version but will let you use the functionality indefinitely.
Notable Feature:
You can press the "#" key to perform a phone number search right from the dialer.
Syncios Android Contacts Manager : Free
"-Since I got hundreds of contacts on my Samsung Galaxy phone, it is hardy to organize and edit them on smartphone with small screen. I would like to be able to easily see and edit/manage my contacts on my computer and sync them to/from my Android (two-way sync). It is possible?"
If you are an Android user, you might be experiencing the same concern. Given this situiation, you can use applications like Syncios Android Manager to easily backup, restore, delete and create your contacts from PC. This contact manager offers varying features, simply download it and follow the following steps to manage your phone contacts on PC.
Add and edit Android contacts from PC
In your Android device directory tree, click "contacts". All contacts show up in the contact window. Click "New" to add a new contact. In the pop-up window, you are able to add name, phone number, email address, home address, set a special date, like birthday, and more.
If you would like to edit existing contact, select a item and click "Edit" from right panel, then you can edit it in the same way.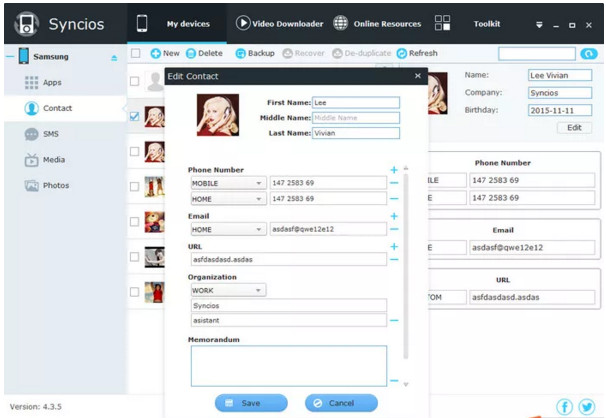 Backup & Restore Android Contacts
Click Start Download button, those videos will be saved on computer first then transfered to your deivce. You are able to select or change the saving path.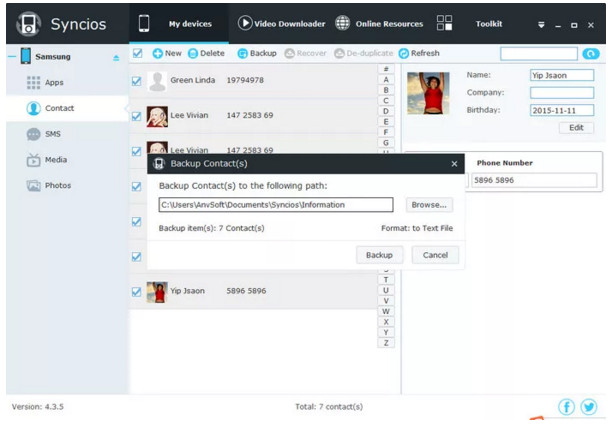 Delete Android contacts in batch or selectively
To delete several contacts on Android phone at a time could be troublesome. However, with this Android Contacts Manager, you are able to delete selective contacts or all contacts on one mouse click. Select the contacts you're going to delete. Click "Delete".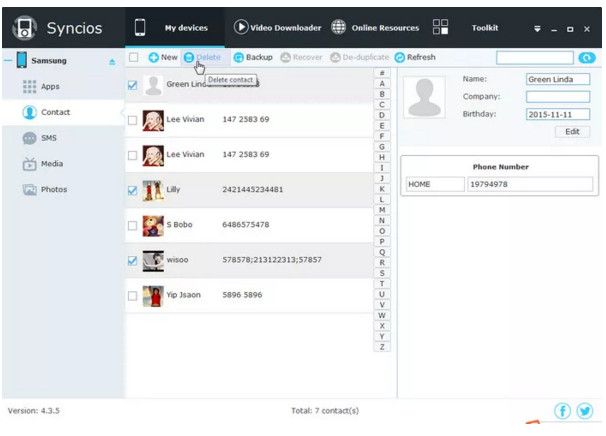 Features:
A powerful contacts manager for Android and iOS.
Backup and restore Android & iOS contacts quickly and safely.
Edit contacts information such as phone number, email address easily.
Delete Android contacts in bulk or selectively.
Support backing up contacts as a .txt file.
Notable Feature:
This Syncios Contacts Manager is an all-in-one data management for iOS and Android. Beside contacts, you can also manage your photos, videos, music, books on the Android or iPhone, iPad, iPod.