Jan 25, 2016, 7:01:54 AM via Website
Jan 25, 2016 7:01:54 AM via Website
Thanks to Android's open ecosystem, if you're not happy with the default SMS app, you can easily change it. There are many thirty-party messaging apps available via Google Play you can try them out. No matter what version of Android you had installed, Android 4.4 Kitkat, Android 5.0 Lollipop or even Android 6.0 Marshmallow, you can simply change to to some other text application like Hangouts, GoSMS pro or Textra.
If you do, or wish to use a custom SMS app instead of the default Messaging one, here's how to set it up for your device:
Go to you phone settings page and click on the "More Networks " under the Network connections.

From here tap on the "Default messaging app" option and a new popup will appear on your screen with the list of other SMS clients installed on your device. Select the app you want and go back to messaging away.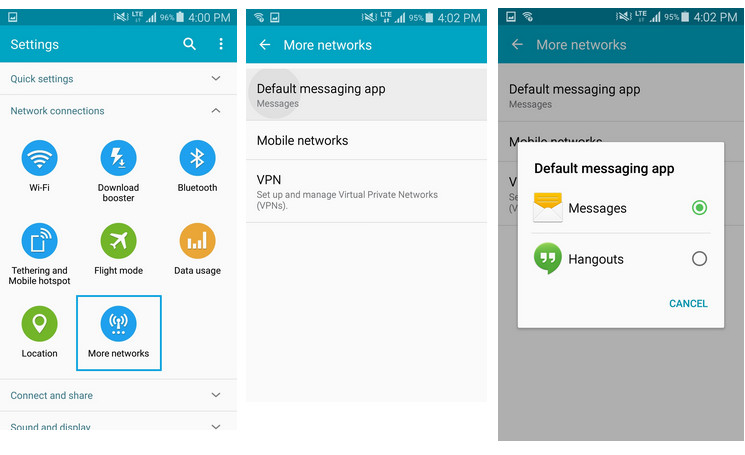 That's it, now you will receive new SMS messages through this client.
How to backup Android Messages on custom SMS app, like Hangouts, GoSMS, Textra?
If you would like to backup messages on Android phone or tablet, Syncios Data Transfer could be your best choice. It backs up messages not only on Android built-in app, but also the thirt-party SMS app, such as Hangouts, GoSMS, Textra, etc. It takes only one click to backup and restore text messages and more.
The program is compatible with Windows and Mac PC. Install any one of them on your computer according to the operating system and follow the below mention guide.
1. Run Syncios Data Transfer, and connnect your android phone or tablet to computer using USB cable.
2. On the homepage, click " Backup". Then tick "Text Messages" option in the middle.
3. Click "Start Copy" button in blue. After a while, all of your messages on default messaging app would be backed up on computer.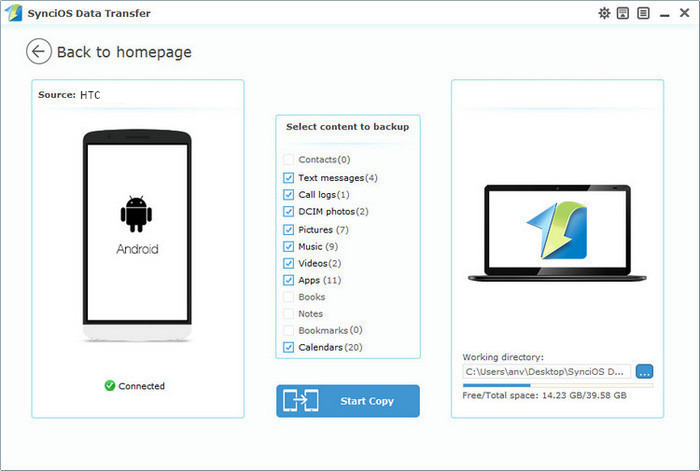 enter link description here