Jan 21, 2016, 4:04:57 AM via Website
Jan 21, 2016 4:04:57 AM via Website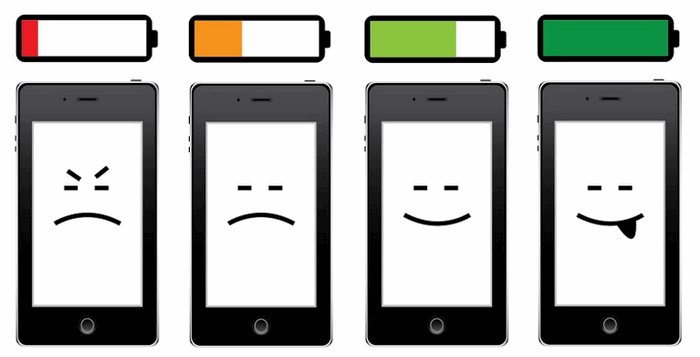 1. See what's consuming your phone's battery
With the arrival of Marshmallow comes a new feature called Doze, which helps you get more out of your device's battery. Along with Google Now on Tap, Doze is the most notable addition to Marshmallow. It is enabled by default and essentially allows your device to enter hibernation mode when it has been sat unused for a prolonged period of time.
Navigate to Settings > Battery to see an organized breakdown of what's consuming your phone's battery. Applications and features will display in a descending list of battery hogs. If you see an application you barely use or a feature you never use, you'll want to uninstall the app or turn off the feature.
2. Turn off adaptive/auto brightness
Auto-brightness is usually way brighter than you really need. It's much better to manually set a super low brightness level that is still comfortable, and then just bump it up when necessary. Access "Settings" then scroll down to select "Display", tap "Brightness ". Uncheck "Automatic brightness," then manually adjust the brightness level to a comfortable level, then tap "OK."
3. Set shoter the screen timeout
Studies report the average smartphone user turns their smartphone on 150 times a day, so if you reduce Screen Timeout it also helps to save battery power. Under "Setting". If you access "Sleep" you can choose between 15 seconds, 30 seconds, 1 minute, 2 minutes, 5 minutes or 10 minutes. If possible then make it 1 min or shorter.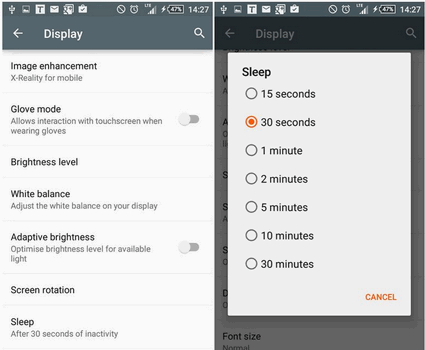 4. Turn unnecessary hardware off: LTE, NFC, GPS, Wi-Fi, Bluetooth, etc
Turn off GPS, Bluetooth, NFC, Wi-Fi and mobile data whenever you don't need them. If your phone has a power control widget, you can use it to quickly turn on/off GPS (the largest power drain), NFC, Wi-Fi, Bluetooth, and LTE. On stock Android, swipe down to bring up the Notification bar, and then tap the icon on the top right corner. This way, you can add an hour or more to your phone's battery life.
5.Close apps running in the background
By killing apps that you aren't actually using, you can drastically reduce your CPU's workload and cut down on its power consumption. In Android, from Settings > Apps, swipe to the left; you'll see a list of apps that are currently running. Tap on each one to see what they're for; you can stop any apps that you don't need running in the background.
Some apps themselves are particularly heavy on battery life. For example, Facebook and Spotify could be to blame for significant battery drain.
6. Turn on battery saving mode
Battery saver has one more trick it can pull off—it can kick in automatically when your battery gets low. Open the Settings app, then navigate to the Battery section—it's under the Device heading. You can get here more quickly by tapping the battery percentage reading at the top of the Quick Settings shade.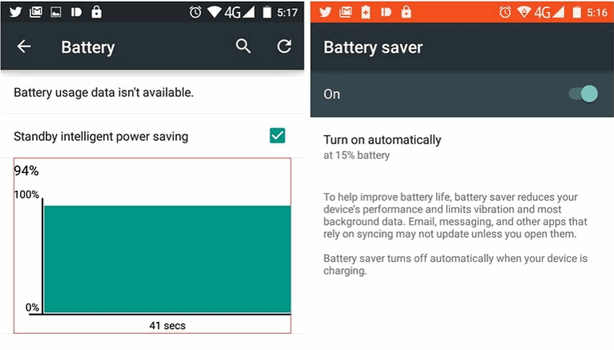 7.Keep your battery cool
Batteries work best in cooler temperatures, with prolonged warm periods gradually lowering their efficiency over time. Try to take off the cell phone cover, otherwise it will generate heat which is very harmful for your battery. Putting your phone in a looser pocket might also help.
8. Dump the home screen widgets
Do you really need a constantly updating Facebook widget on a Home screen? Ditch widgets you don't really need, especially those that are connected to the internet like weather widgets, Twitter, reddit. Don't ever think that Home screen Widget we are using didn't not consume power.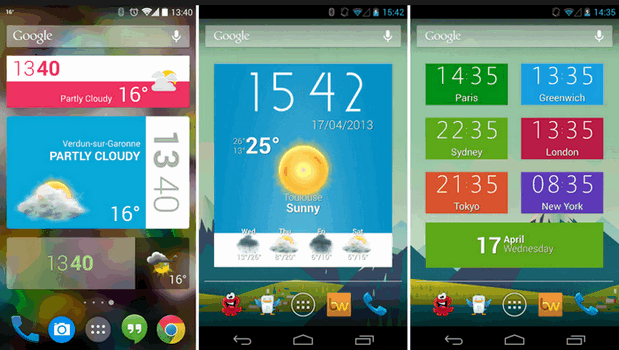 9. Close Mobile Vibration
Every one knows vibration in mobile consume lots power so try to use this feature of Android device when you are every noisy place or at meeting otherwise try to ignore this feature. Unless you really need that added awareness, turn off vibration alerts for incoming calls.
10. Reboot your phone occasionally
Finally, as we've mentioned, it's worth rebooting your phone from time to time, rather than leaving it in sleep mode all the time. This can sometimes cure otherwise inexplicable battery draining problems.
Related Articles:
Transfer Files between Android and PC