Jan 14, 2016, 4:56:42 AM via Website
Jan 14, 2016 4:56:42 AM via Website
Internet calls, through Voice over IP, are mostly free, with tools like Facebook Messager and WhatsApp. But for these calls to be completely free, you need to be talking to people who are using the same app and are on the same service; they need to be using Internet calling through their computers or portable devices. But when you have to call people on their traditional landline phones or their cell phones, it is not free anymore. There is still that traditional part where the line is to be dedicated for the call and that costs much. But you can use Internet calling or VoIP to make these calls much cheaper than what they would have been with traditional telephony. Here are apps and services you can use for that. 


1. Skype
Skype is the most famous VoIP app and service in the world and has even become a verb for some.Now, besides the pay as you go per-minute billing, there are packages for worldwide calling, with flat rates upon subscription for calling to selected destinations at interesting rates. Skype offers lots of features including emoji and video call but it charges a connection fee for each call you make, which in a long term is not so economical.
More information: skype.com


2. Ringo
Ringo brings a new model of calling international numbers for cheap. Since the dependence on a good Internet connection hinders proper calling and affects voice quality, this service does away with it and offers you a way of calling people abroad at local rates. When you call a person, Ringo substitutes your number with that of a local number in the person's area code. You therefore pay a normal local call plus the small rate of the service. The service is good however it has only covered a small amount of countries for now and requires registration on both ends.
More information: ringo.co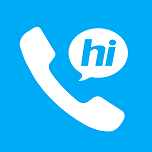 3. Hicall 
Hicall is a telephone service that allows users to make high-quality international phone calls with much cheaper cost. No registration, no advertising,
Hicall network has covered over 200 countries globally and it can access any mobile number or land line no matter you are home or abroad. On one hand, Hicall could be used with 3G/4G network or Wi-Fi and the rate can go as low as less than $0.02 per minute to some destinations like the United States, Canada etc. The disadvantage is video calls are not available.
More information: hicall.cc


4. Nimbuzz
Nimbuzz is firstly a VoIP app and IM with features for people to communicate freely, including chat rooms and other stuff. It also has a product called
NimbuzzOut, which allows you to call phones at low rates. Its rates are quite low, and go down to less than a cent for some destinations like the US and some countries in Asia. It works best in India and some other countries, but the call signal is not considered stable.
More information: nimbuzz.com


5. Rebtel
Rebtel is a Swedish VoIP company founded in 2006 whose services include international calling, messaging and mobile money delivered in apps
for Android, iPhone and Windows Phone. By converting international calls to local calls,Rebtel provides cheap international calls and SMS to nearly 100 countries. Like Ringo, it requires registration on both ends.
Edit by Admin: Link to external site removed.
— modified on Jun 12, 2018, 10:15:14 AM by moderator